Penny the Trailer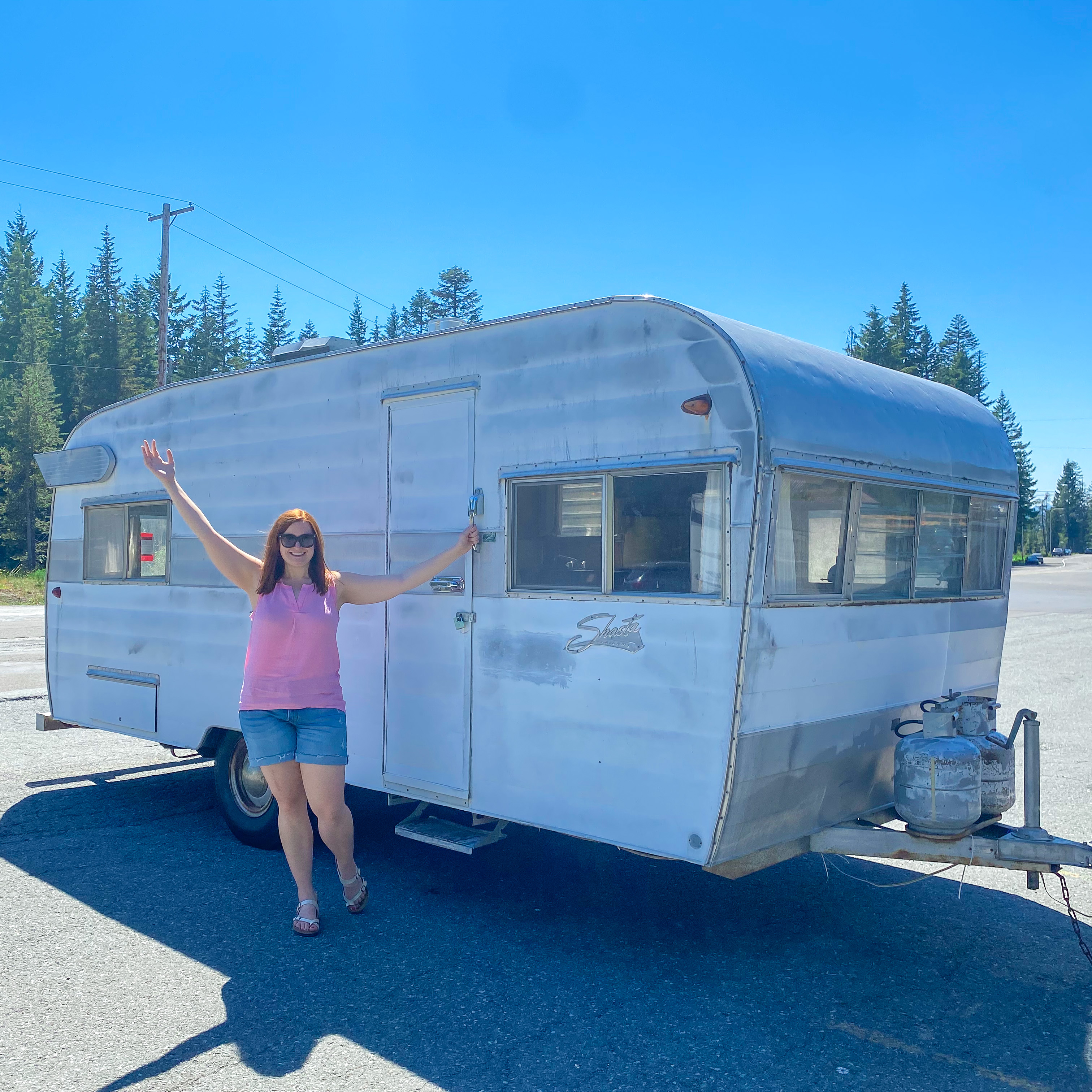 Oops, we did it again. We bought another trailer to renovate! We've named this canned ham Penny and we're building this one to be camping ready!
Since I started sharing this new adventure on my Instagram, I've received a lot of questions about our next project, so I've decided to answer them all here!

Why did you buy another trailer? Don't you already have one? 
Yes, we do already have a vintage trailer that we've restored. Her name is Tinsel, and she was built to be the bar at our wedding. We never intended for her to be a travel trailer, so she wasn't built to have camping accommodations (in other words, no bathroom). Our intention is still to rent Tinsel out for weddings and events. On the other hand, Penny will be just for our personal use.
What type of trailer is Penny? 
Penny was listed as a 1967 Shasta Deluxe however, as we started researching that particular model, we found that none of it lined up with her layout and body styling. I eventually stumbled upon the Shasta Model Twenty which was a dead ringer for our Penny. While the original VIN is missing, based on our internet sleuthing we believe we have a 1964 Shasta Model Twenty.
This yellow Shasta brochure appears to be our trailer down to the shape of it and the window placement. Looking for clues in this brochure, I saw that it references "23 years of experience" and adding that to the year that Shasta's started being produced (1941), I came up with 1964. Additionally, the other few Shasta Model Twenty's I've been able to find online have been 1964 models and look identical to ours.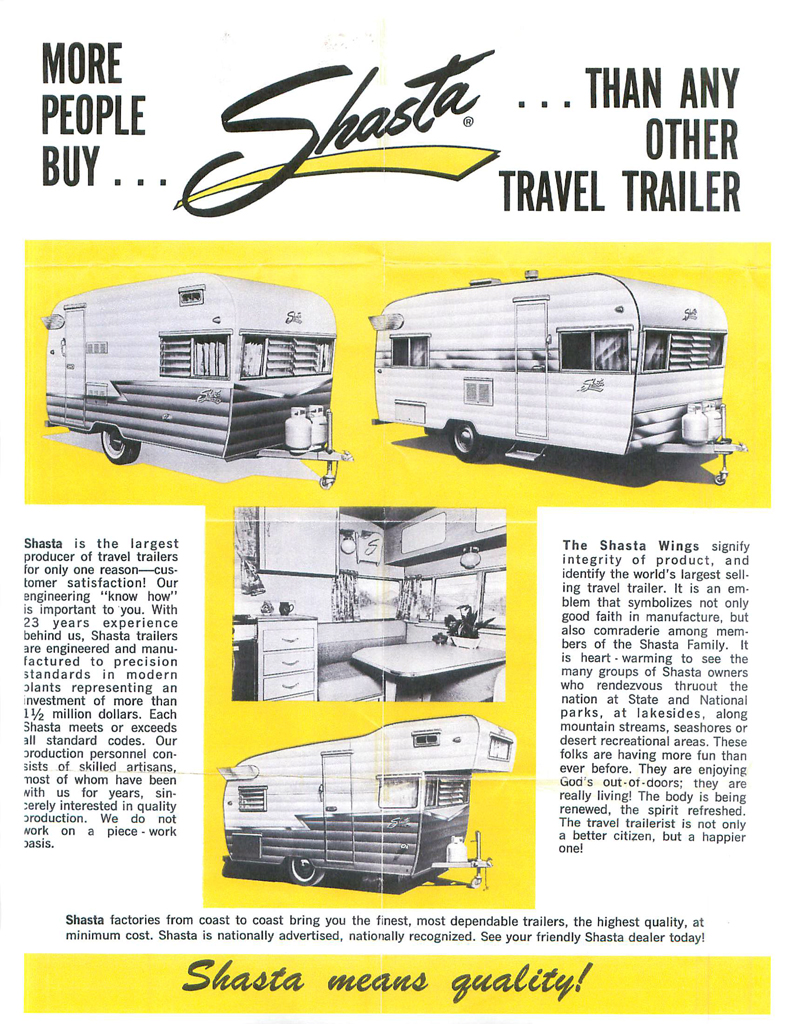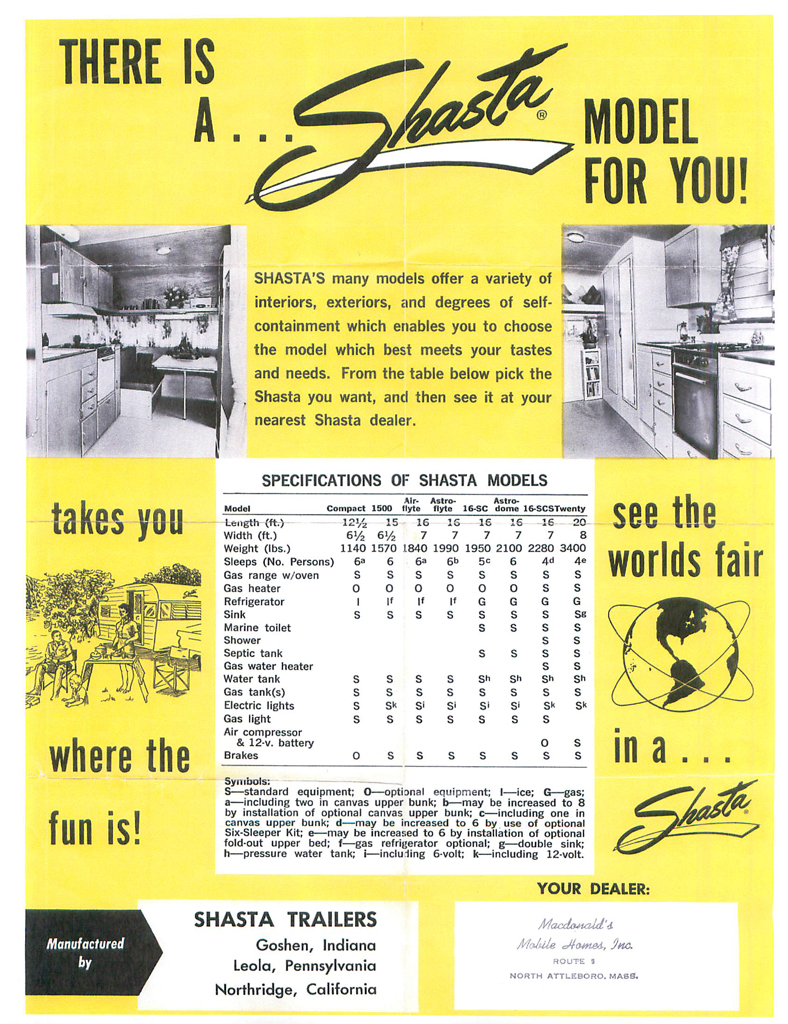 This marketing brochure appears to be an exact match to Penny and her layout and the exterior body matches that of the yellow brochure, so I assume that this is also a 1964 Shasta Model Twenty.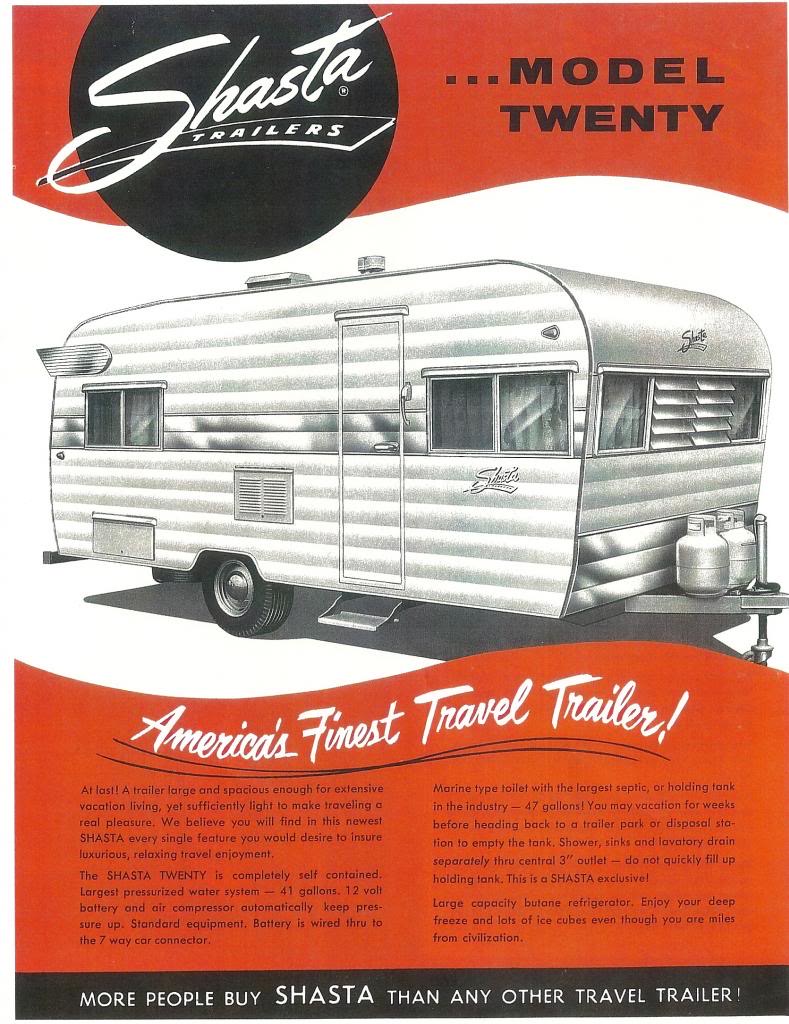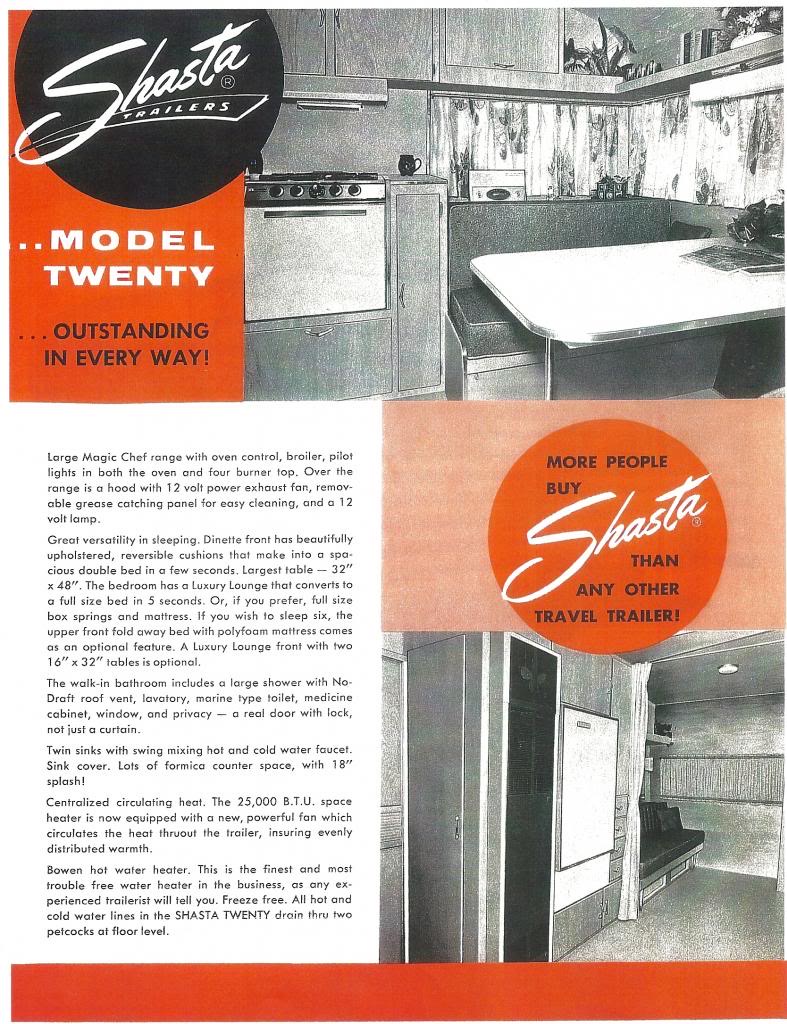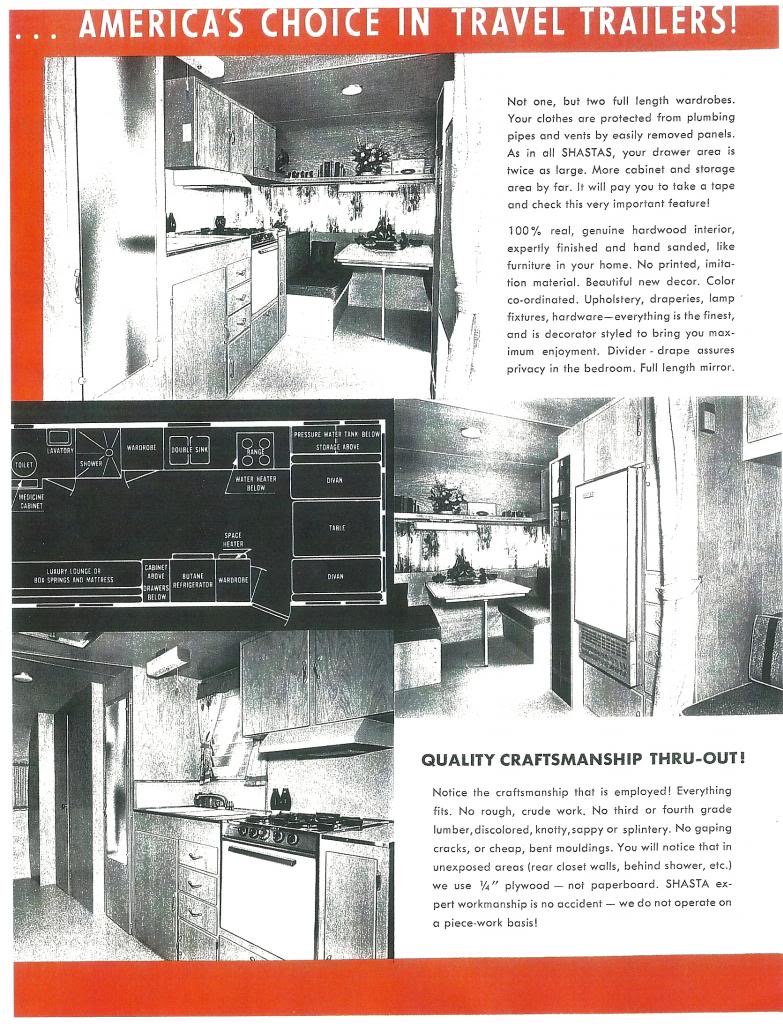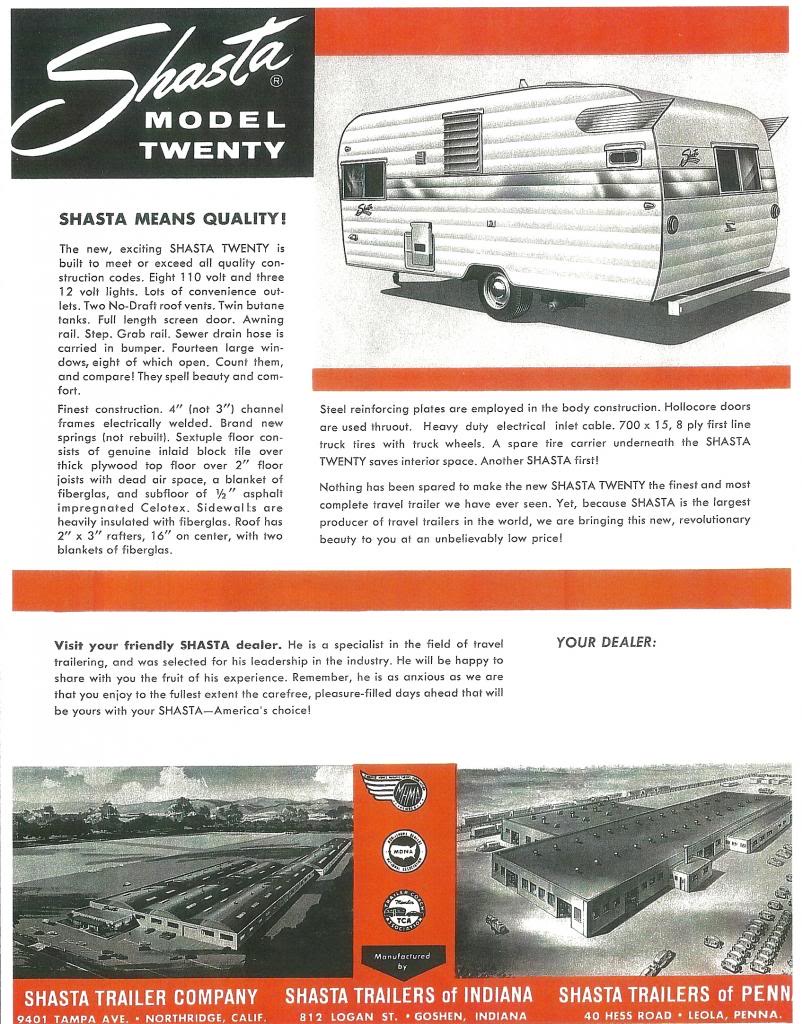 This marketing brochure appears to be more recent. By the mid to late 1960s, Shasta trailers had taken on a more boxy shape. While not the same year as our trailer, the layout of the interior and the specs are the same.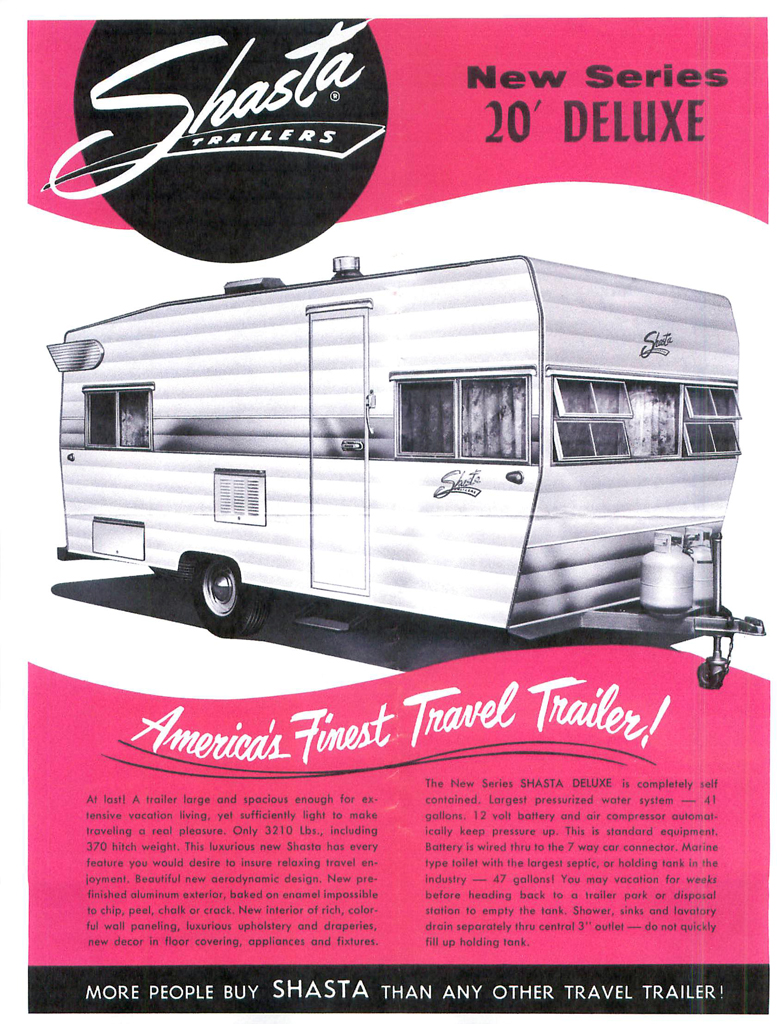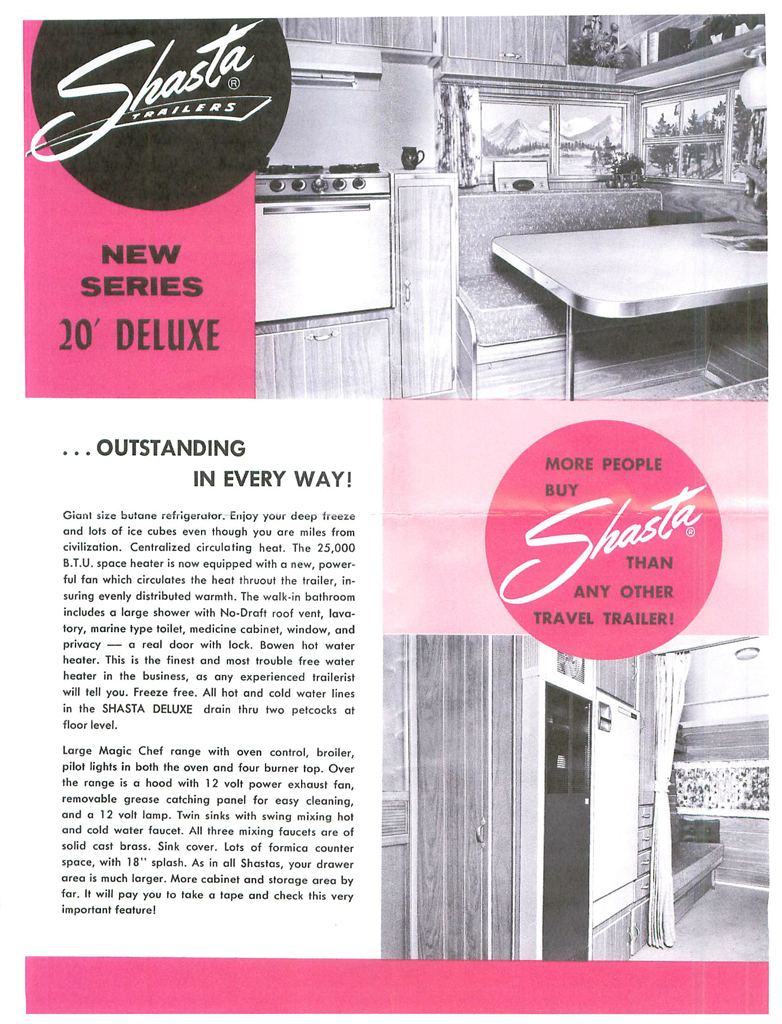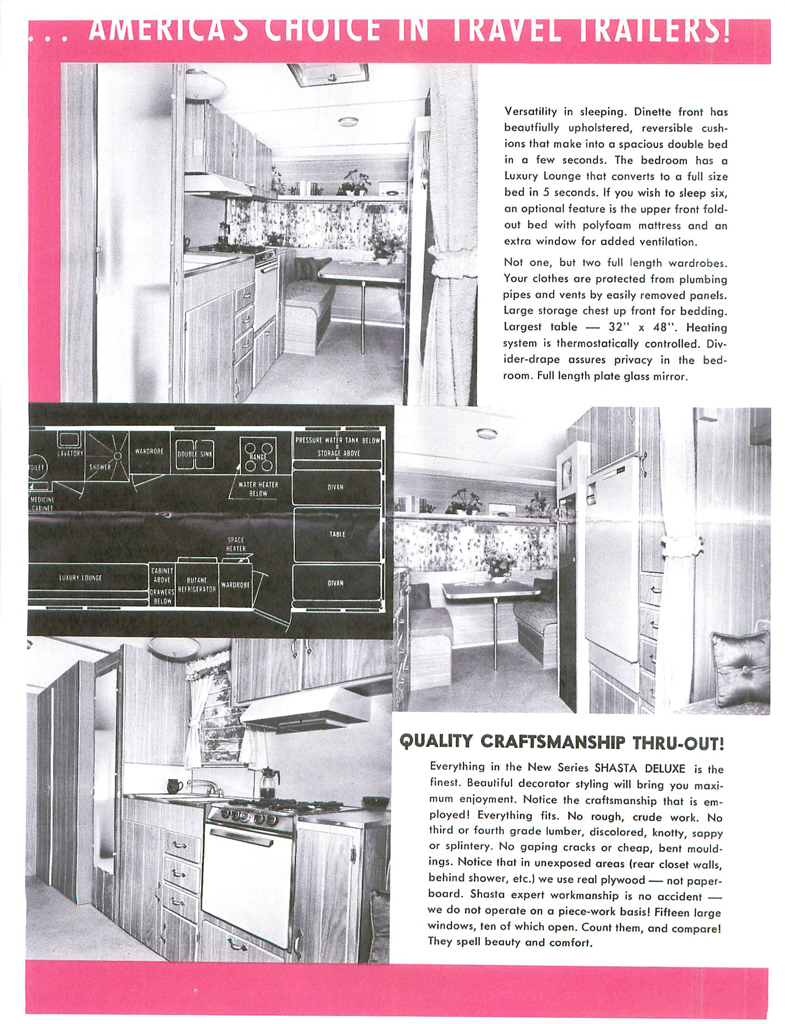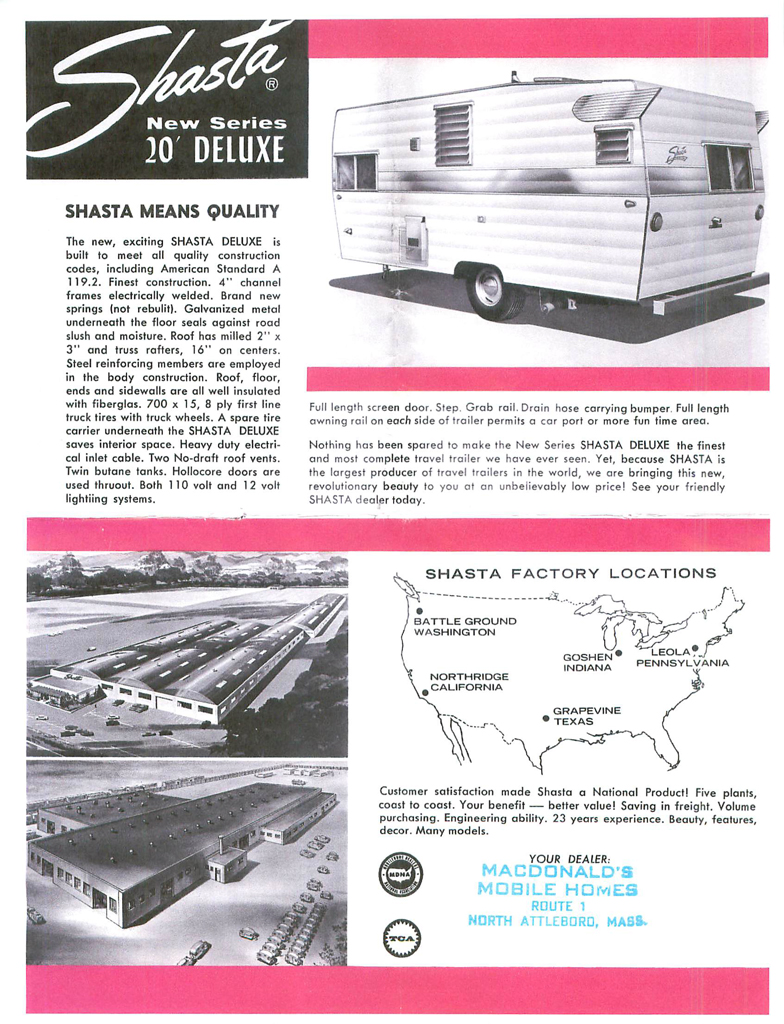 What's the story behind her name? 
We agreed with the seller to buy Penny for $5000.  However, when I paid for Penny, I maxed out the weekly Venmo transaction of $4,999.99. I told the seller I'd bring him a penny. When we picked her up, I brought a penny but he wouldn't take it. As we were on our drive back home and we were brainstorming names, I suddenly blurted out "Penny!" and thus, Penny the Trailer was born.
What updates will you be doing? 
Since we're still in the early stages of pulling her apart to assess any hidden water damage, it's hard to tell entirely what will be needed. In addition to fixing any water damaged wood, we will update the electrical, water tank, water heater, water pump, furnace, lighting, outlets, and tires. For cosmetic updates, we'll be updating the flooring, getting new upholstery for the seats and beds, updating the table, as well as countertops, backsplash, and light fixtures. There's likely to be a lot more that we uncover or decide to do along the way!
How did you find and decide on this trailer? 
When Jon and I decided that a trailer was in our future we researched all sorts of trailers from old to new to teardown projects to completely redone. After doing a lot of searching, reading, and talking we settled on our parameters for a trailer:
It needed to have a bathroom, shower optional
It needed to have at least a full size bed for us and ideally sleeping space for a few more people
Not a complete teardown project
Ideally 18-20 feet long
Had to have a dinette
Produced between 1950-1969
Needed to weigh less than our vehicle's towing capacity (less than 5,000lbs, ideally around 3,000lbs)
Jon and I had been searching Facebook Marketplace, Craigslist, and OfferUp for vintage trailers that fit our parameters. Even though we found some that fit our parameters, none of them felt or looked right. We expanded our search to include essentially all of the Western U.S. and discovered that a large number of vintage trailers are located in Bend, Oregon. We became interested in a Boles Aero trailer located in Oregon, but I wasn't completely sold on it for some reason. Then I noticed that the same seller of the Boles Aero had a larger Shasta listed for sale on Marketplace as well. After talking to him more, we knew it was the one. Going against all vintage trailer buying best practices, we bought it sight unseen.
How did you learn to renovate a trailer?
Jon loves to build things and he taught himself by reading blog posts and watching YouTube videos. He was already pretty handy with anything that required building so this was just a new challenge for him. I'm just good at following the directions he gives me!
Where can I follow your trailer renovation?
While I will post periodic updates here, the best place to stay up to date is by following my Instagram or Facebook and watching my Stories!