Learning to Dance with AIDA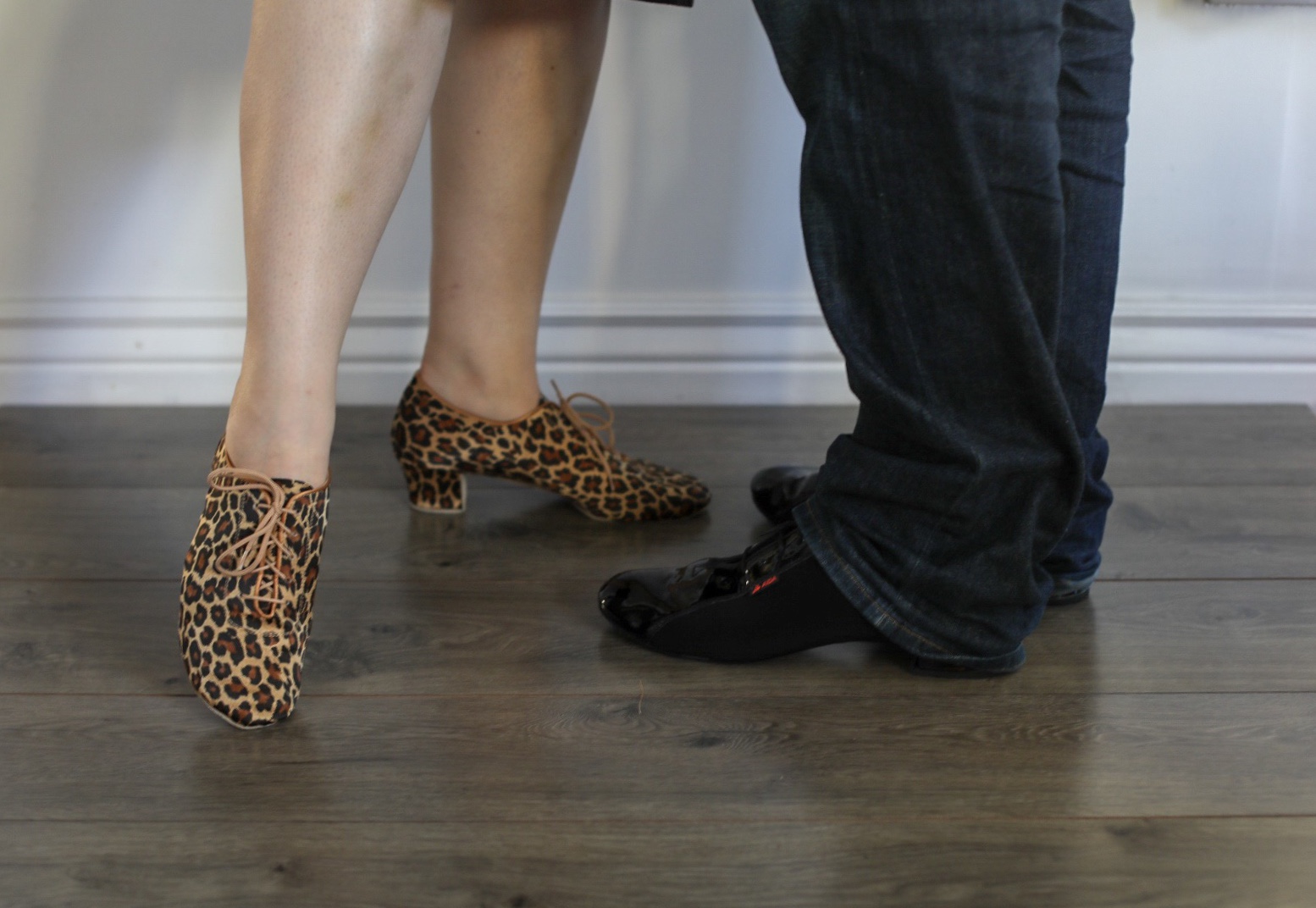 Created in partnership with AIDA Dance Shoes
There are so many pieces to preparing for the big day but one of our favorites has been preparing for our first dance! Back in January, Jon and I started taking dance lessons at First Class Ballroom in Everett. We had originally intended to start taking lessons last October so that we would have a full year of dance lessons under our belt by the time we reached our wedding. But you know how life goes, and October quickly rolled into November and then December. Finally, we looked into nearby places to dance during the last few days of 2017. We narrowed it down to a couple of the closest ones and decided to send an email to First Class Ballroom, since they had an introductory special on private lessons. Our initial goal was just to get comfortable dancing with each other and learn a few different dance styles while we worked on selecting our first dance song and then learning a routine! The expectation was that we would take the introductory private lessons, then find a group class that fit with our schedule that we could attend once a week. Within an hour of sending the email, Natasha, the owner of First Class Ballroom called us and was scheduling our first lesson.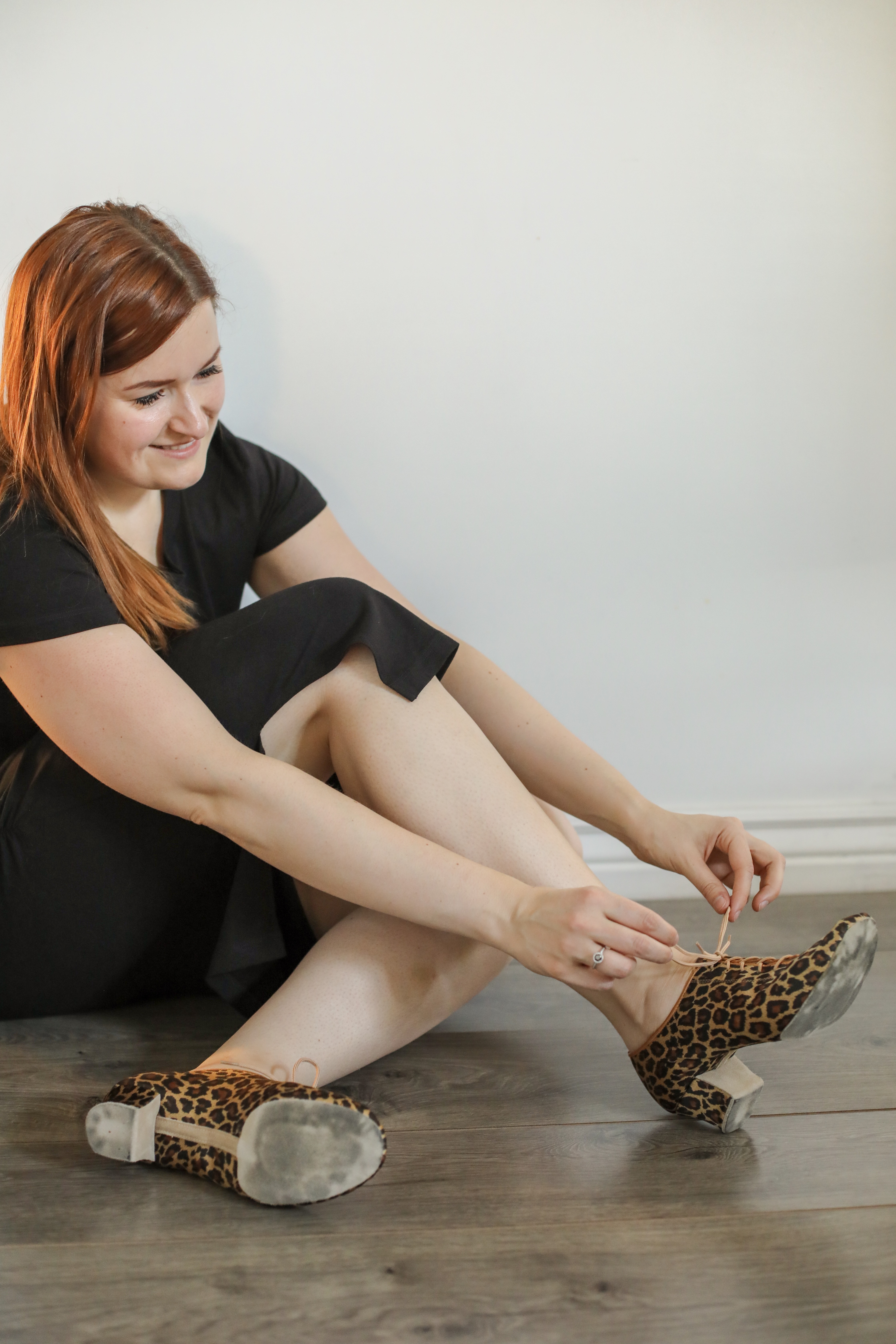 Our first few lessons were fun, but challenging. While I grew up in the dance world, Jon is mostly new to dancing and counting music.  Sure, he had learned the jitterbug in elementary school, square dancing in junior high, and west coast swing in college but, he didn't remember the steps nor could he find a beat. During our first few classes, there was a lot of stepping on feet with our big clunky sneakers and getting stuck to the dance floor because of the rubber treads. Our dance instructor immediately recommended buying a pair of dance shoes so that we could more easily navigate the dance floor and hopefully avoid Jon's two left feet stepping on mine. (Sorry babe, you know it's true 😉 )
While we had intended to switch to group classes after the end of our introductory lessons, we had such a great time during our first few classes that we decided to keep doing the private lessons. They're a bit spendy for our typical budget, but we find them worth it. With Natasha's help, we have quickly made a lot of progress and we also focus a lot on improving our technique, which we likely wouldn't do nearly as much of in a group class.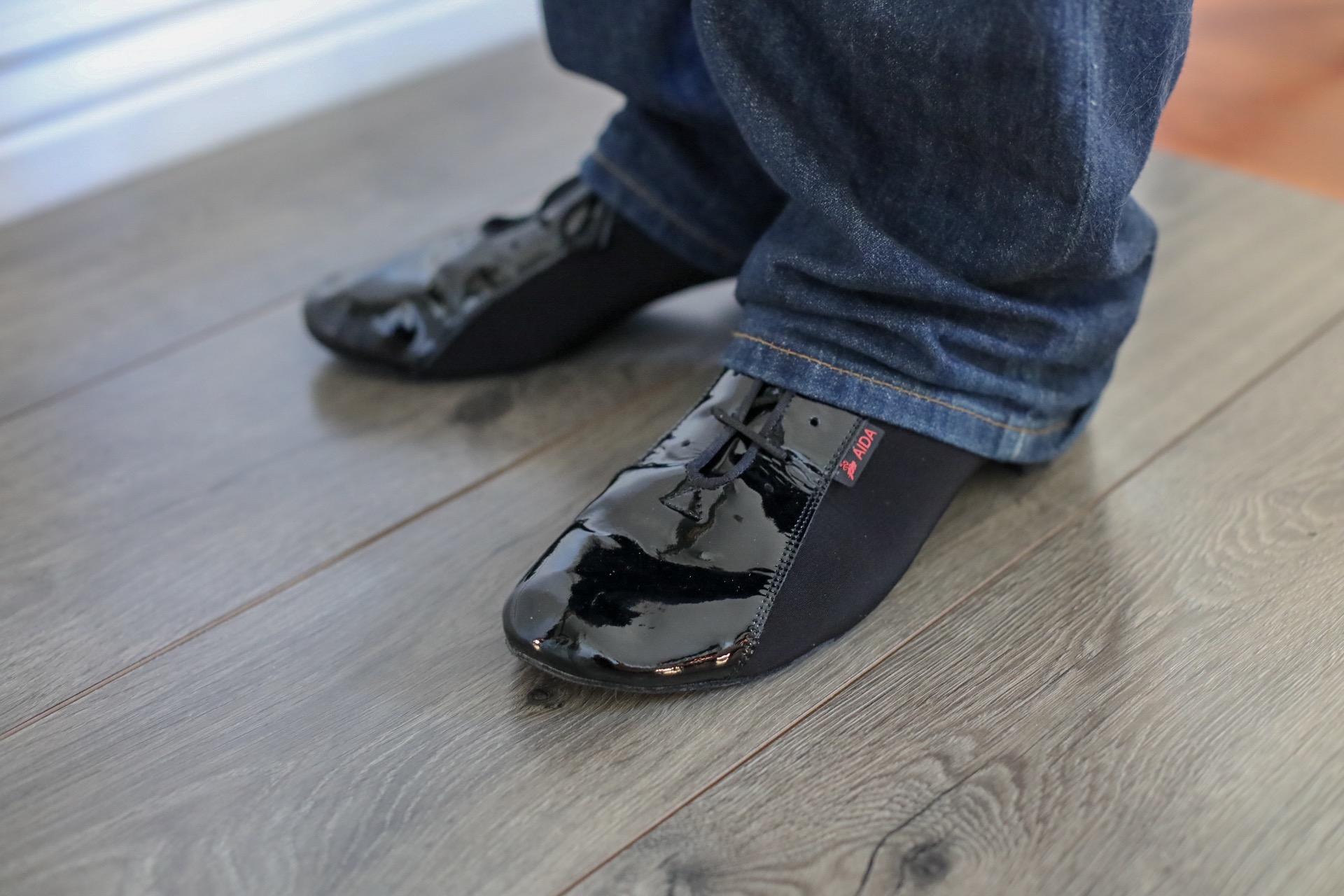 Dance is a sport and a discipline. Since we were spending the extra money to take private lessons, we wanted to get as much out of the classes as we could. It took a couple months for us to finally get to it, but we did eventually get to ordering dance shoes. We'd invested in a great dance studio and instructor, so the right equipment was the next logical step! Why wouldn't we invest in the right equipment to make us the best dancers possible? (Plus, you can never have too many shoes, am I right?)
Our instructor recommended AIDA dance shoes, which provide comfortable high quality practice and performance dance shoes for dancers of all levels and are customizable to your specific needs. They come in different heel heights and materials so you can create a custom shoe made for you and your dance.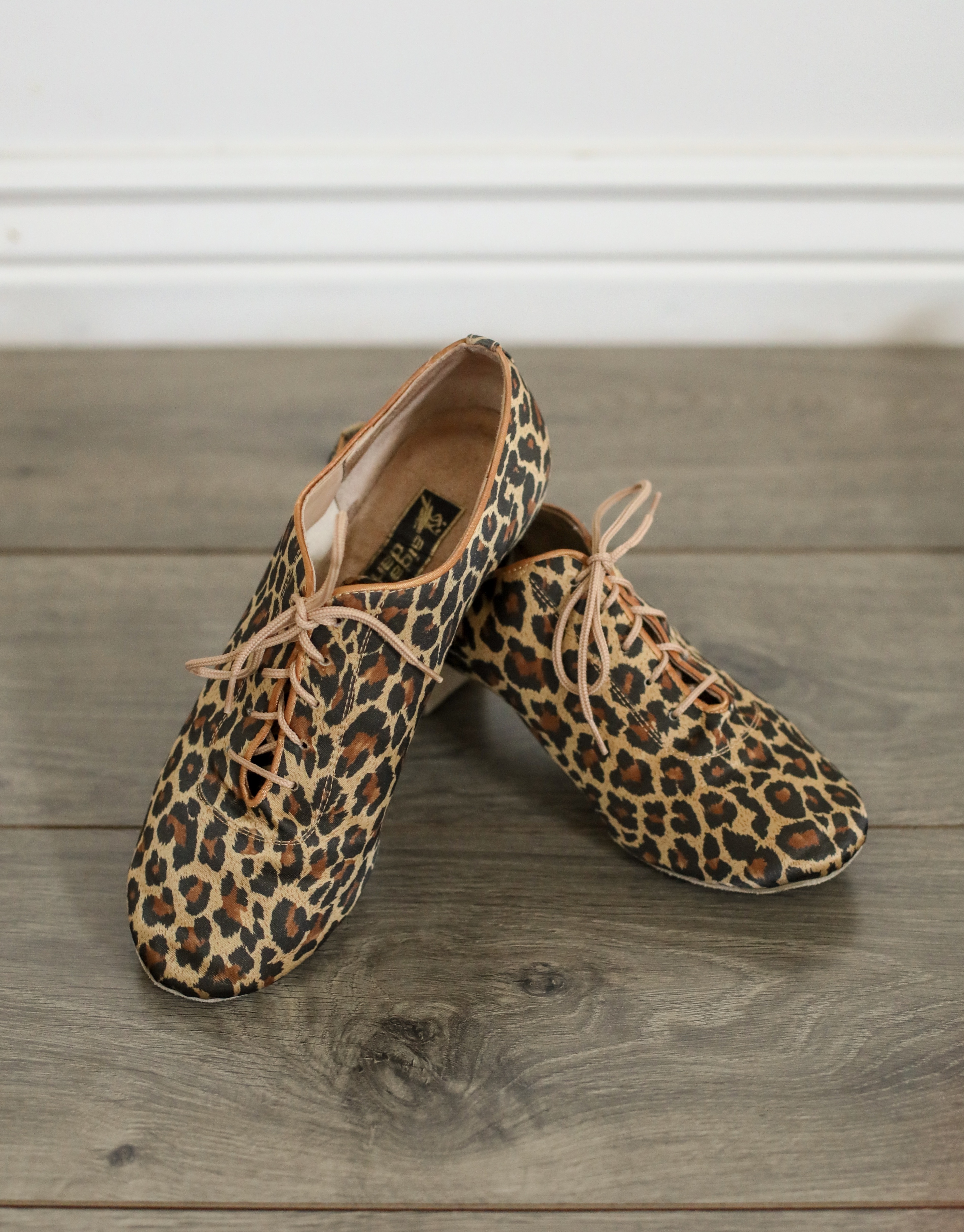 I selected the Jenalyn with a 1.5″ heel in leopard print satin, but they also are available in gold leather, silver leather, denim, black crepe satin, and beige leather. Basically, it was hard to choose! But you know me, I love a good statement shoe and these leopard beauties allow me to show off my personality on the dance floor! I've been practicing in the AIDA Dance Jenalyn for 6 months and I can confirm that they are a comfortable and well-made practice shoe! AIDA has a wide range of women's dance shoes including Latin, Standard, Smooth, and practice shoes.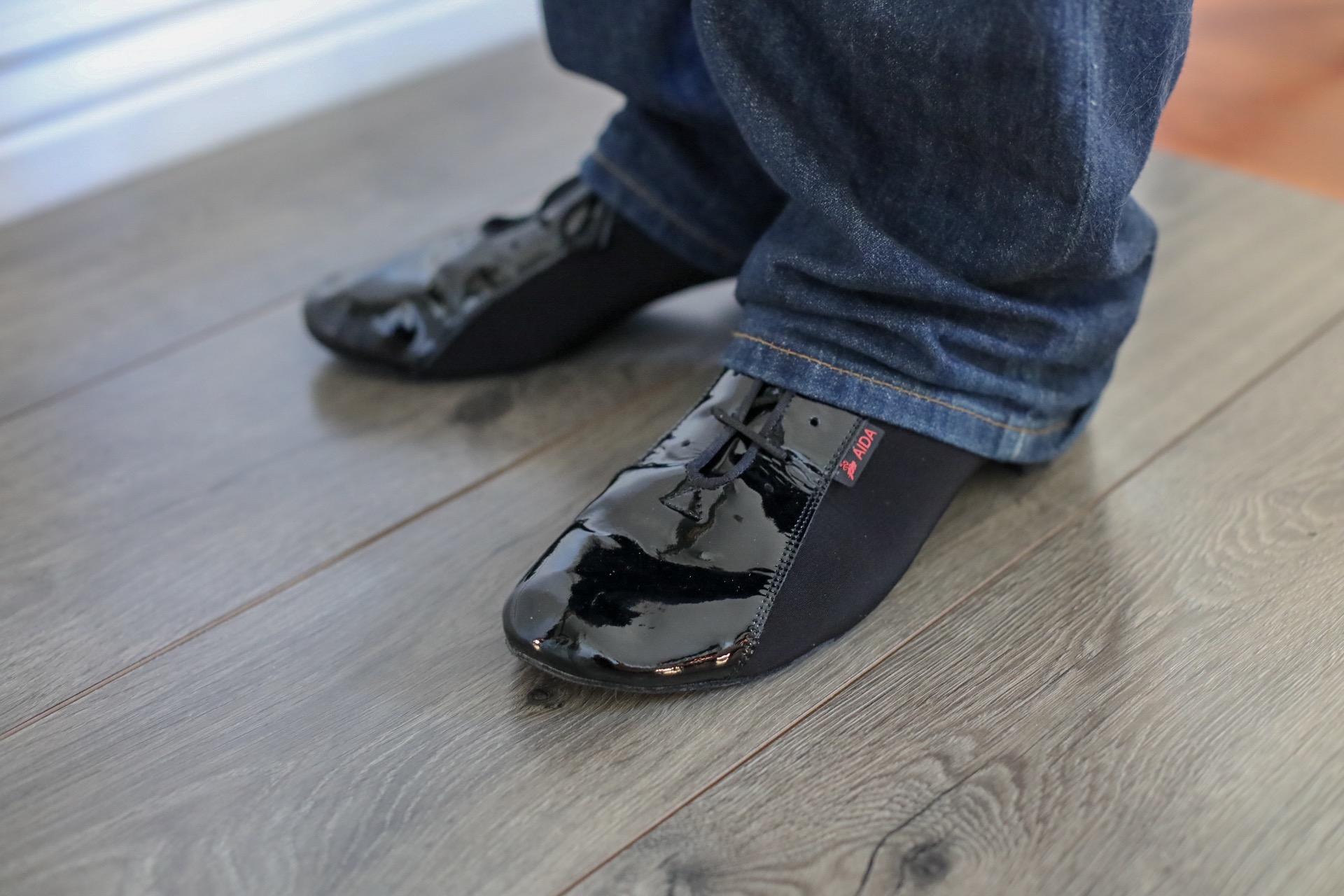 Since Jon didn't have any experience with dance shoes, he took our instructor up on her offer to order shoes for us. He ended up with the Mirko style, a patent leather men's standard ballroom shoe. With a 1″ heel lift it's also a comfortable practice shoe for both new and experienced dancers alike. AIDA offers a large selection of men's dance shoes in Latin and Standard styles.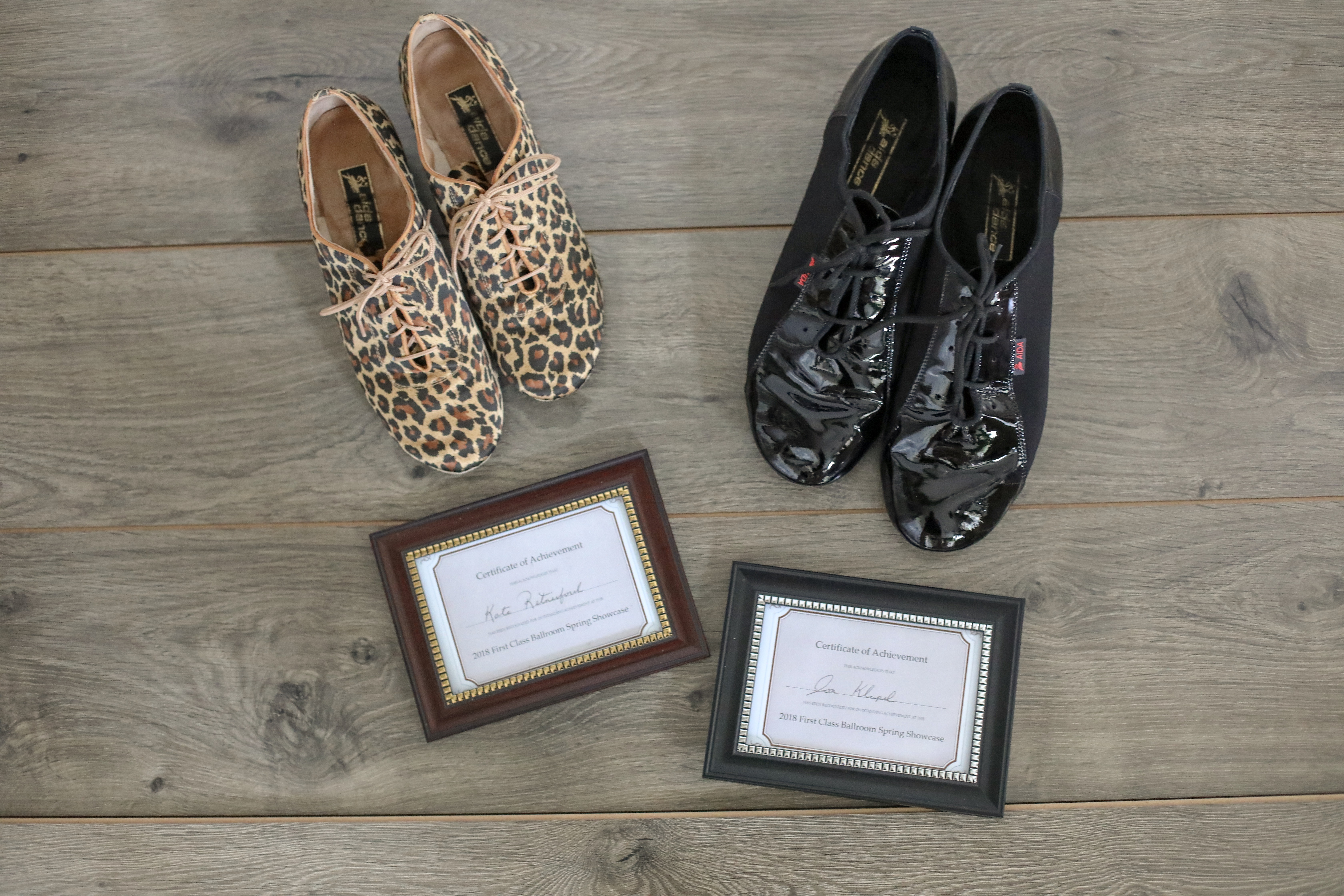 While the shoes unfortunately we're not a magical cure for Jon's two left feet, he is moving around the dance floor a bit better now. (He didn't realize just how hard it was to dance in sneakers until he tried it in dance shoes!) We've become so serious about dancing that we actually participated in our first showcase at First Class Ballroom in April of this year. We had enough confidence in our dancing skills to dance in public after only three months!  (Maybe those shoes did solve Jon's two left feet!)
We performed an American Standard Ballroom dance in a flight, which basically meant we were on the dance floor doing a waltz for a minute and half with two other couples. Luckily, one of those couples was an adorable pair of 10-year olds, so all eyes were on their cuteness and not on our Jon's mistakes. The showcase was a fun experience and definitely pushed us outside our comfort zones. It was also interesting to watch other couples perform out on the dance floor and see what we could potentially look like some day.


After the end of the showcase, we switched from the Waltz to learning the Cha-Cha. While the Waltz felt like a very formal and rigid type of dance, the Cha-Cha feels much more loose. The tempo is also a lot faster. Everyone figured that Jon would be better with the slower and more rigid Waltz, but surprisingly he has impressed our instructor with how quickly he picked up the Cha-Cha. While we liked doing the Waltz, I think we found that we liked doing the Cha-Cha more because it feels a little more fun to us.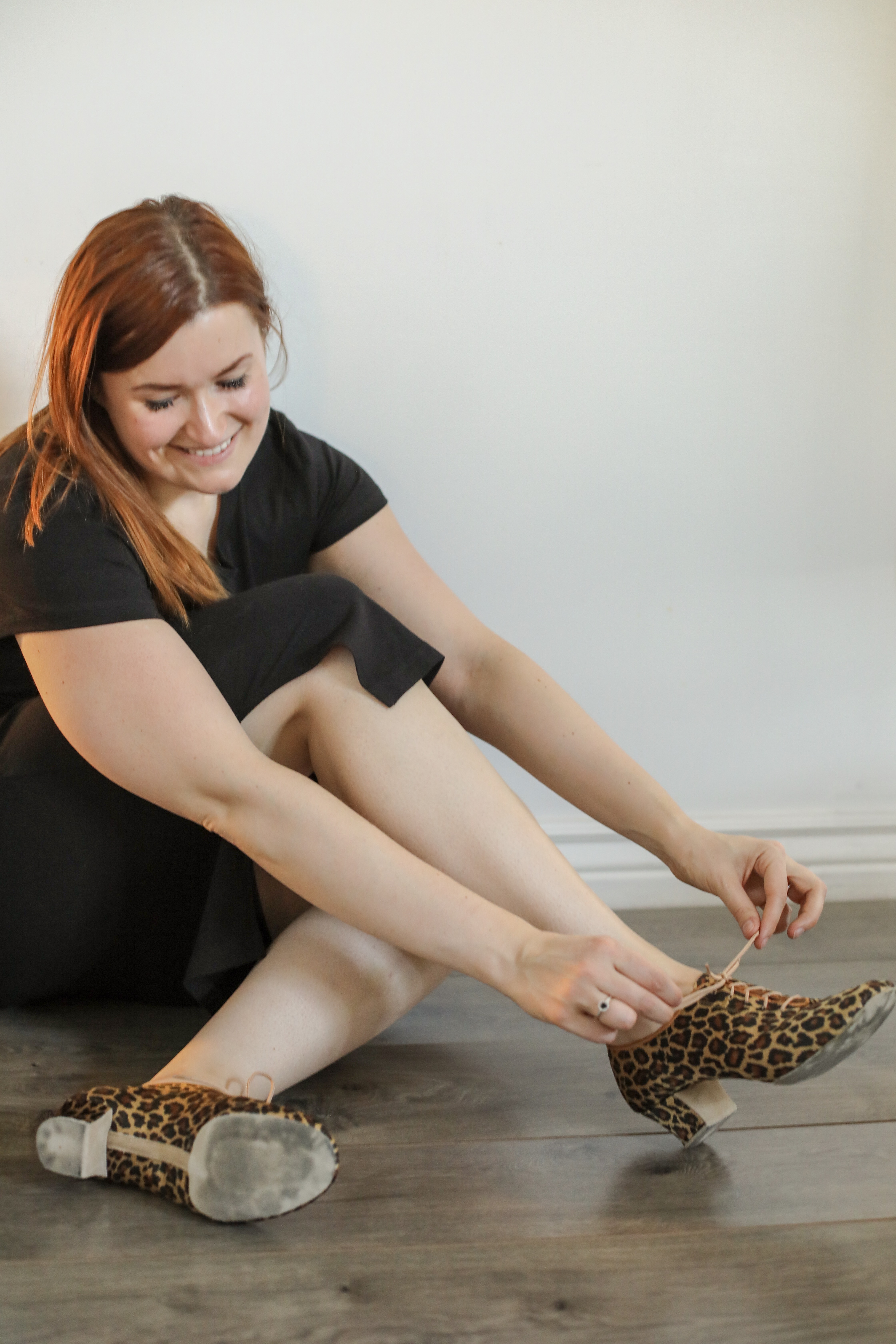 Since starting our classes in January, we look forward to our dance classes every Friday evening. While we have hectic schedules during the rest of the week, for 45 minutes on Friday it is just us focusing on improving how we work together, without interruption. We haven't yet tried going to social dances on Friday nights (we tend to be exhausted from the week by the time 8:00 p.m. hits on Friday night), but we do plan to start going sometime soon. And just this past week, our instructor introduced us to yet another new dance style: East Coast Swing.  It's only been one lesson but we're already having a lot of fun with it and are looking forward to our next lesson.
Created in partnership with AIDA Dance Shoes