Wedding Dress Shopping for the In-Between Bride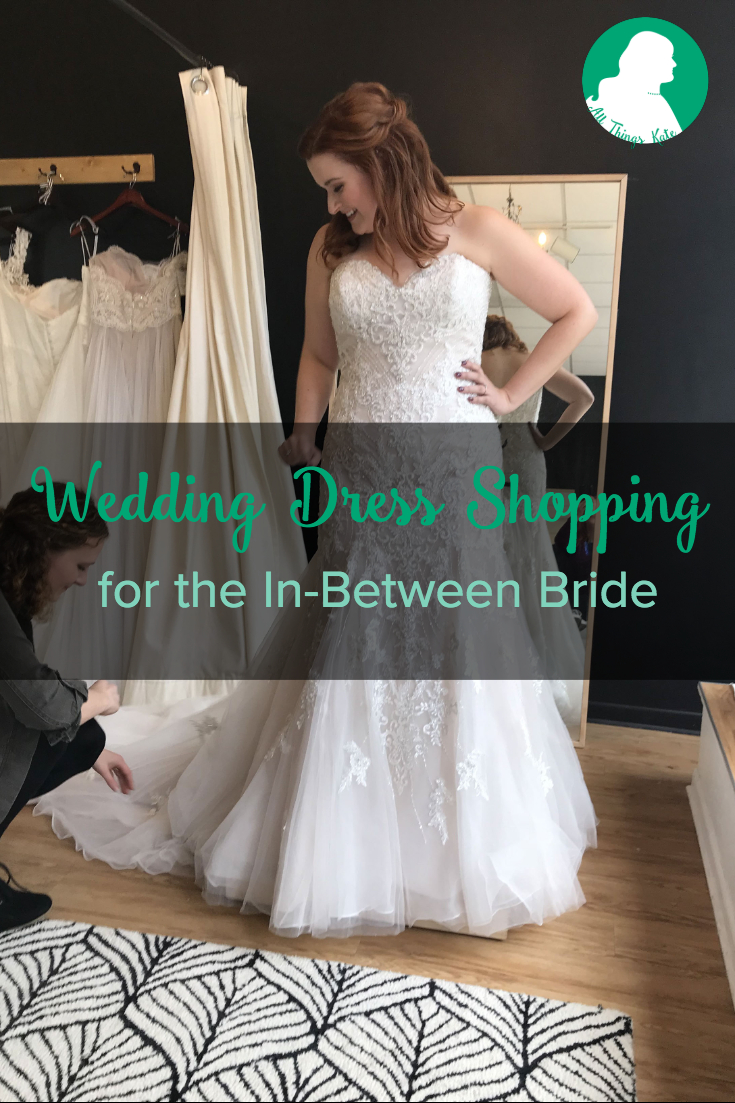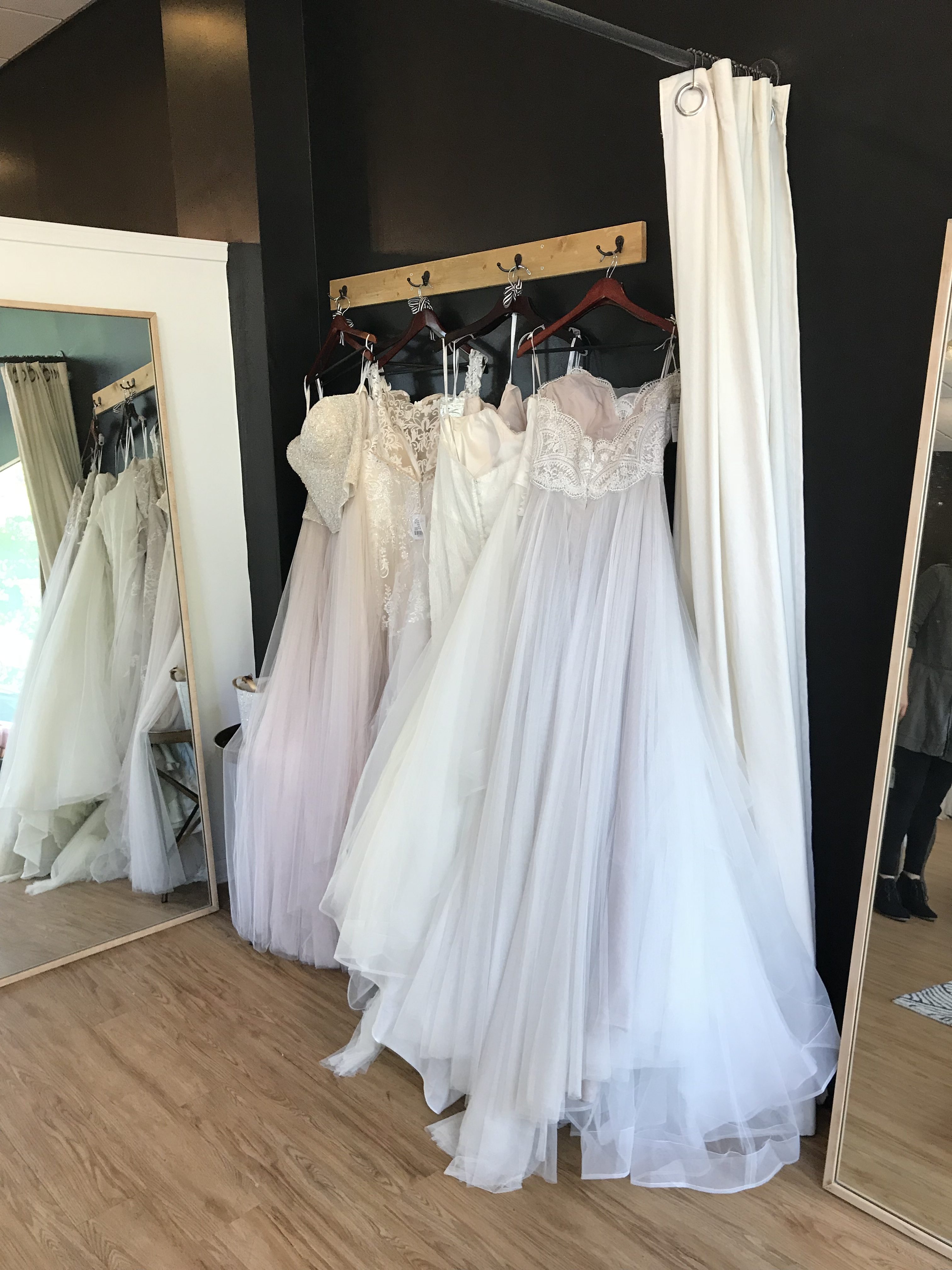 I'm your stereotypical girl in many ways. I've long dreamed of the day that I would pick out my wedding dress. I'd fantasize over big Cinderella ball gowns with lots of sparkle and shimmer, gorgeous high heels, and long, curly hair for days. Basically, childhood Kate wanted to be a Disney princess.
As I grew older, I would still occasionally wonder what my wedding dress would look like and quickly became obsessed with the show Say Yes to the Dress (and admittedly still am). All of it was just a far off dream… And then, Jon proposed. Of course I said yes, and then we were quickly into wedding planning mode!
Naturally, one part of wedding planning that I looked forward to the most was wedding dress shopping. But, I had no idea where to start and oddly enough, put it off. In the brief research I'd done, I'd determined that I would be considered plus size in bridal, which made my search for a bridal gown even more complicated. Most samples in most bridal stores are size 8 and many dresses don't go above a size 12. How would I find the perfect wedding dress?!
They were three things on my checklist for where I wanted to purchase my wedding dress:
I wanted to support a local, woman-owned business,
I wanted the business to have a body-positive perspective with a wide selection of dresses for all shapes and sizes,
I wanted to have an intimate setting with my entourage where we could all feel comfortable and work directly with the stylist.
Luckily for me, just as I had started to feel overwhelmed with the wedding dress shopping experience, Sarah, the owner of Calla Bridal in Seattle, reached out to me and invited me to her shop. Her and her business checked all the boxes – it was a match made in heaven! Finding the right bridal salon for you is so important – make sure you choose wisely!
The Wedding Dress Shopping Experience
Being a Say Yes to the Dress junkie, I knew that there were oodles of designers, styles, cuts, colors, and materials for a wedding dress. I also knew that many times the bride envisions herself in a particular silhouette but ends up liking a totally different style dress, so I wanted to go in to the appointment completely open minded. I'd scanned WeddingWire's wedding dress section to brush up on a few silhouettes I thought I'd like and a few styles I knew I wanted to try on, making a mental checklist of details I wanted, and in some cases, didn't want, in a dress.
On the morning of my appointment, I had my hair and makeup styled by Erin Hunt Makeup. I felt beautiful and confident before heading into my appointment and felt like a rockstar trying wedding dresses on. I definitely recommend this pampering before you head to your bridal appointment, you'll feel like a million bucks and be ready to rock those dresses!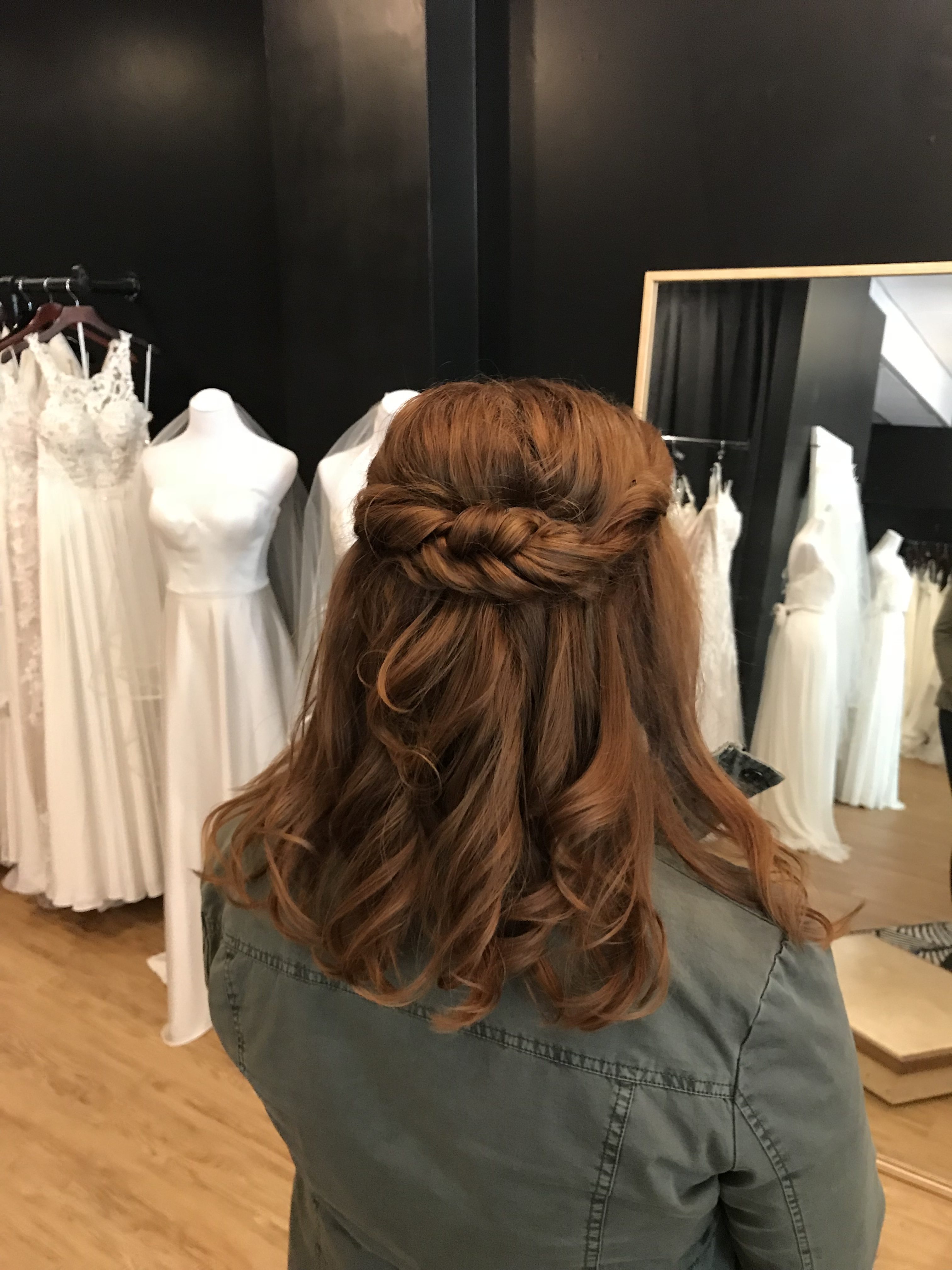 At Calla Bridal, I nervously entered the salon. I couldn't believe the day was finally here! Sarah had me fill out a brief questionnaire including my budget and wedding date. She asked me a few questions about my style and what I was looking for in a dress. We walked the store, Sarah pulling out options and asking me what I thought, letting me and my entourage thumb through the racks selecting options as well. Once we had about 10 different dresses, it was time to hit the dressing room!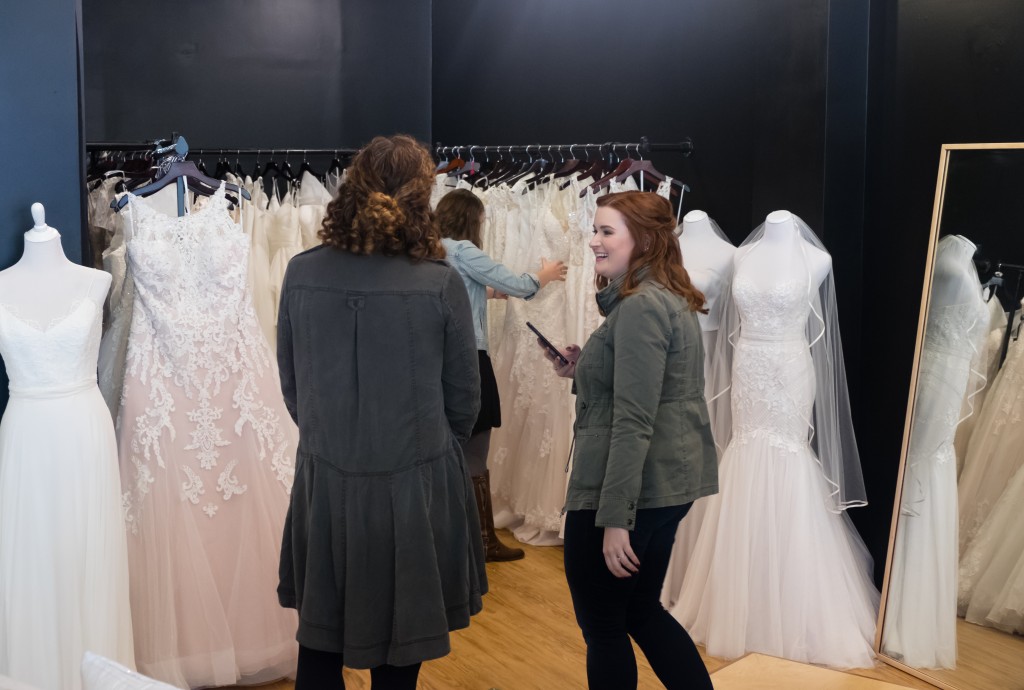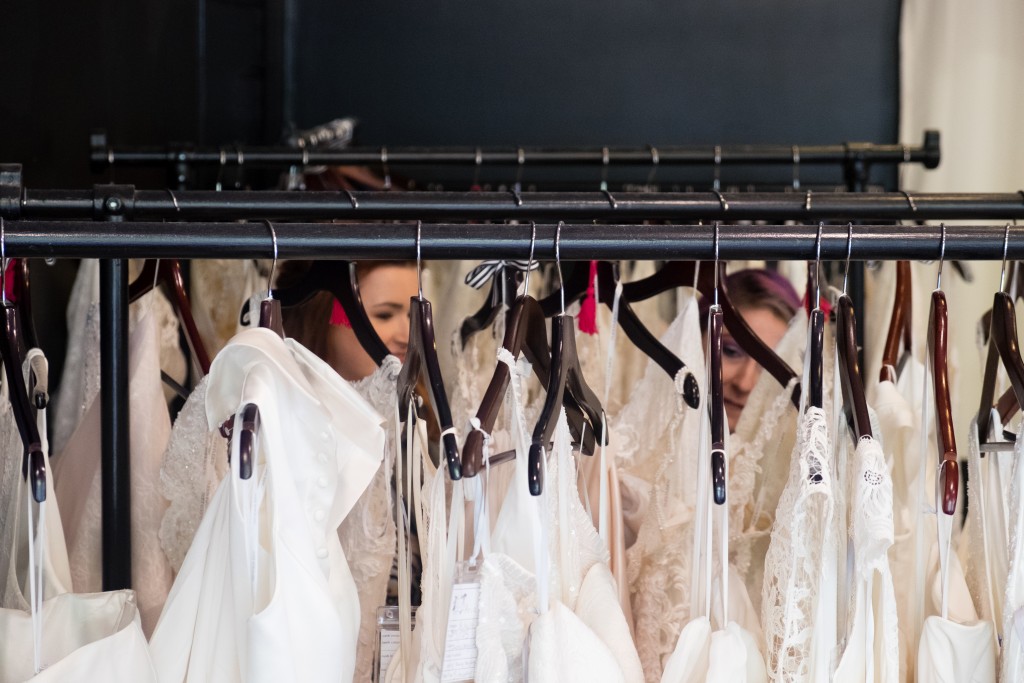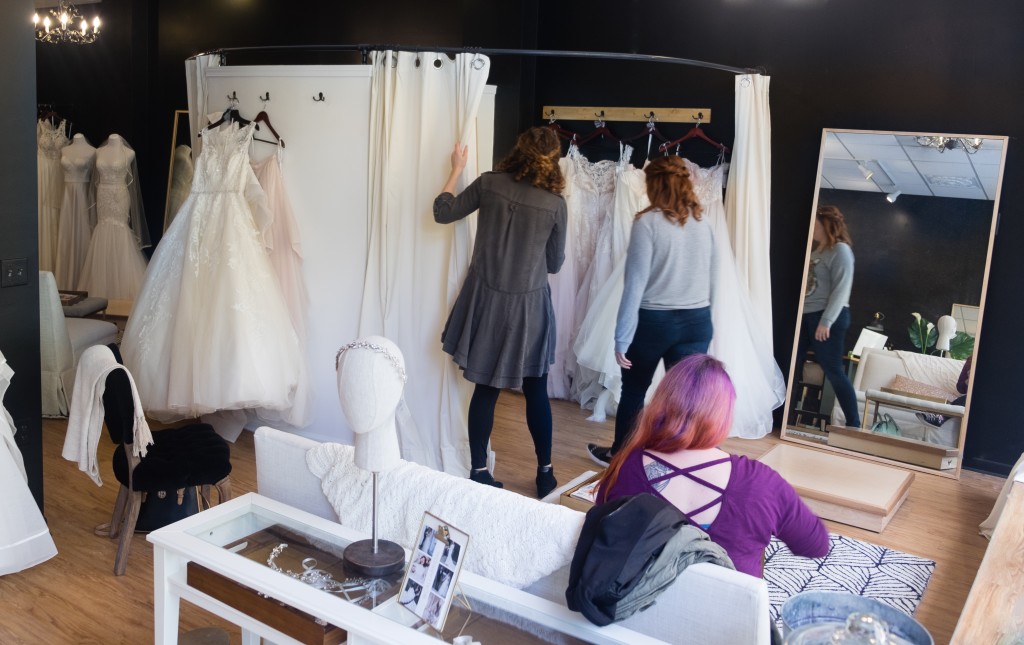 I can't even begin to tell you how weird of an experience it was to try on dresses. It was so weird to finally be there in that moment I'd always dreamed about, and even weirder to walk out and show my friends and family the dresses. But it was oh so much fun!!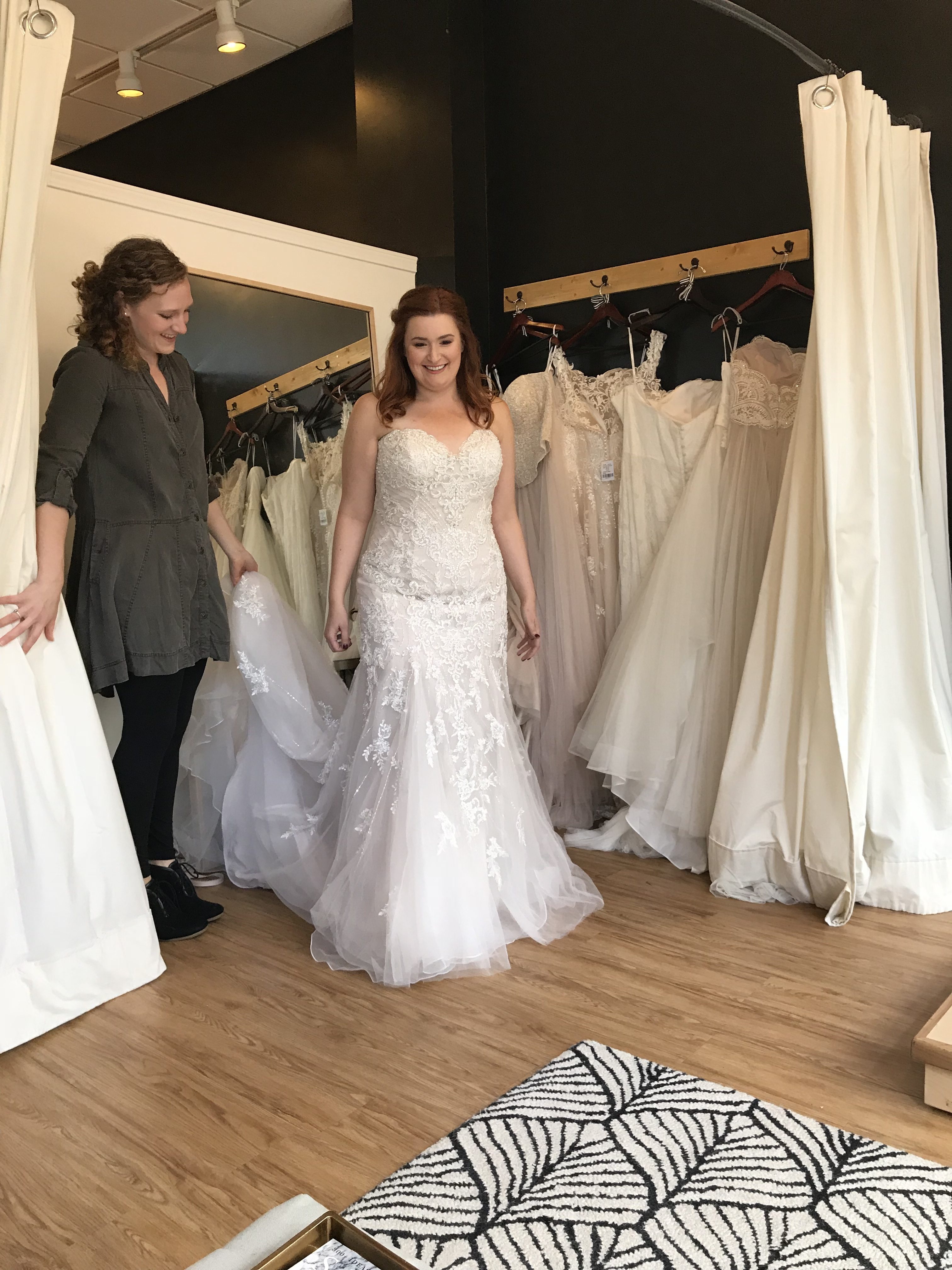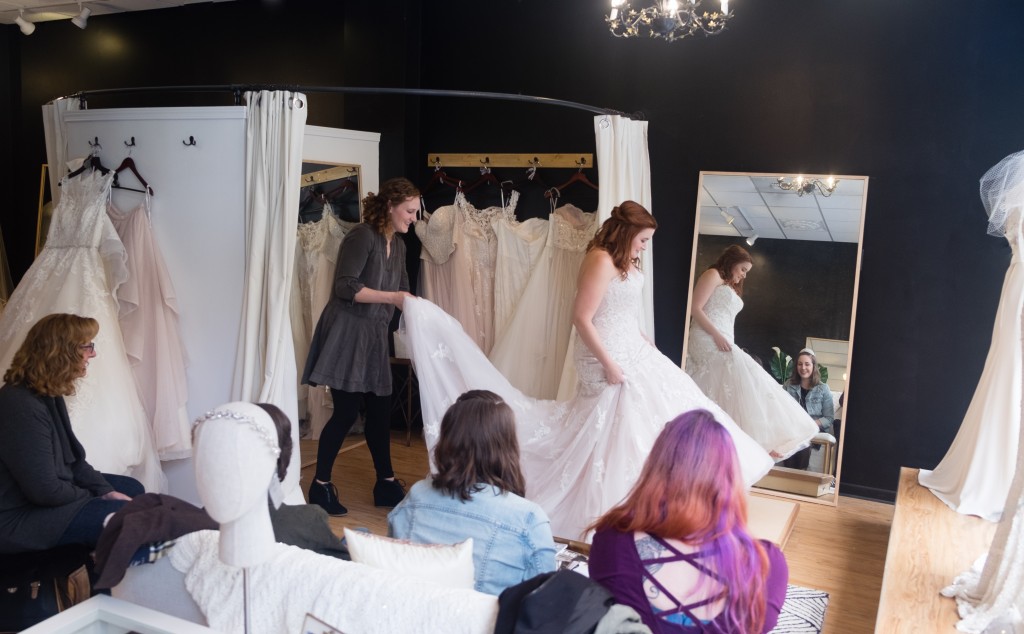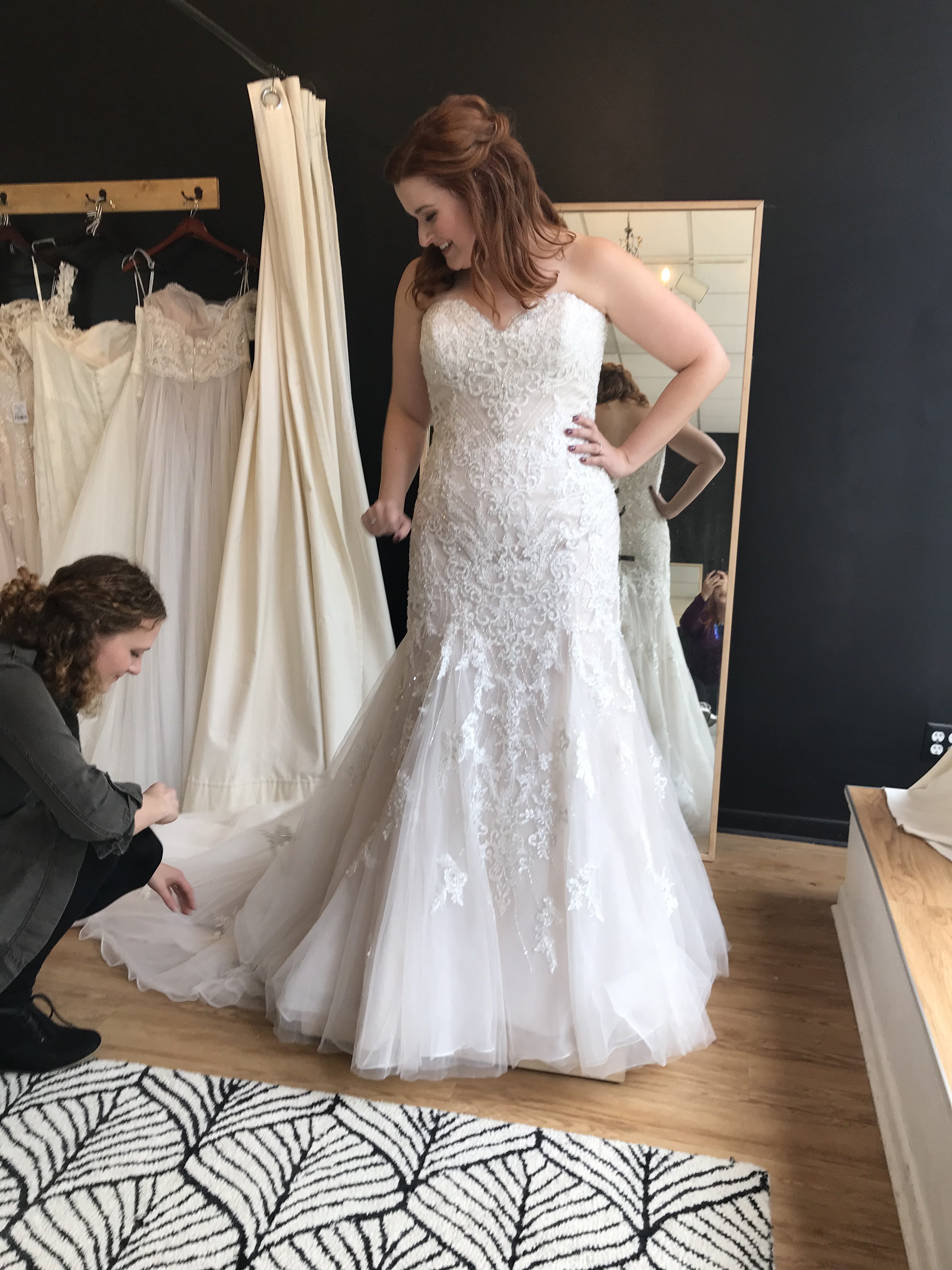 Trying on the dresses was so much fun! Sarah made the experience so comfortable and, since she carries a range of sample size dresses from a street size 10 to 20, I could actually try on and get a good idea of a dress's look and feel on my body. Calla Bridal is the only boutique in Seattle that has a substantial plus size buying program and can order up to a size 32 in Wtoo and up to size 36 from Essence of Australia.
As I tried on more and more dresses and bridal separates, we were able to hone in on elements that I liked in order to narrow down the selection to find my dress.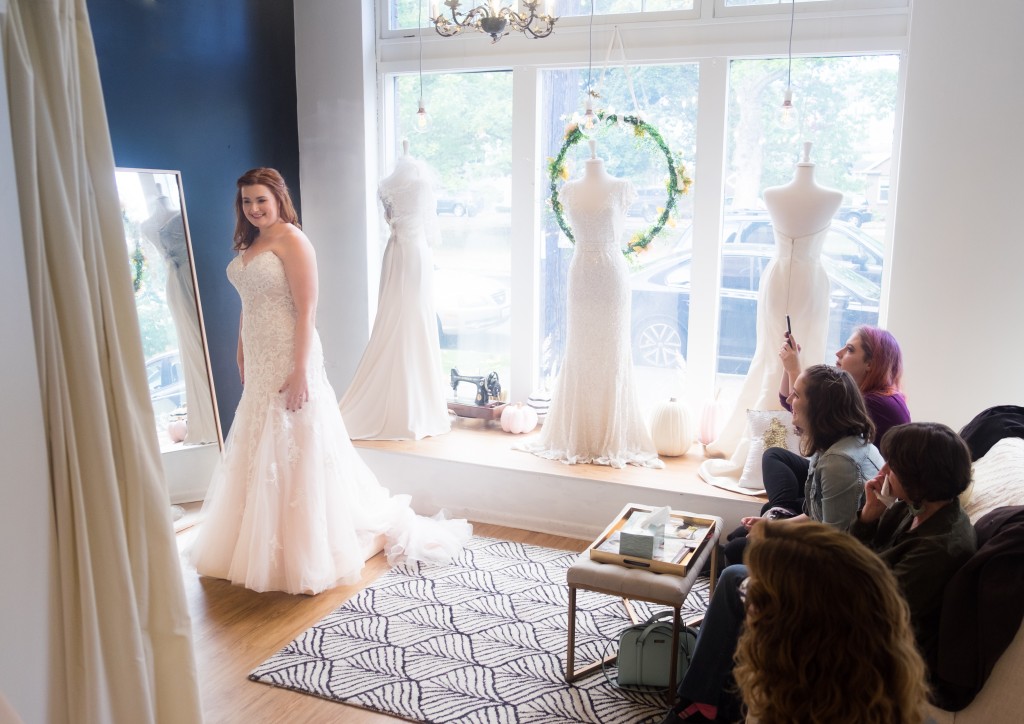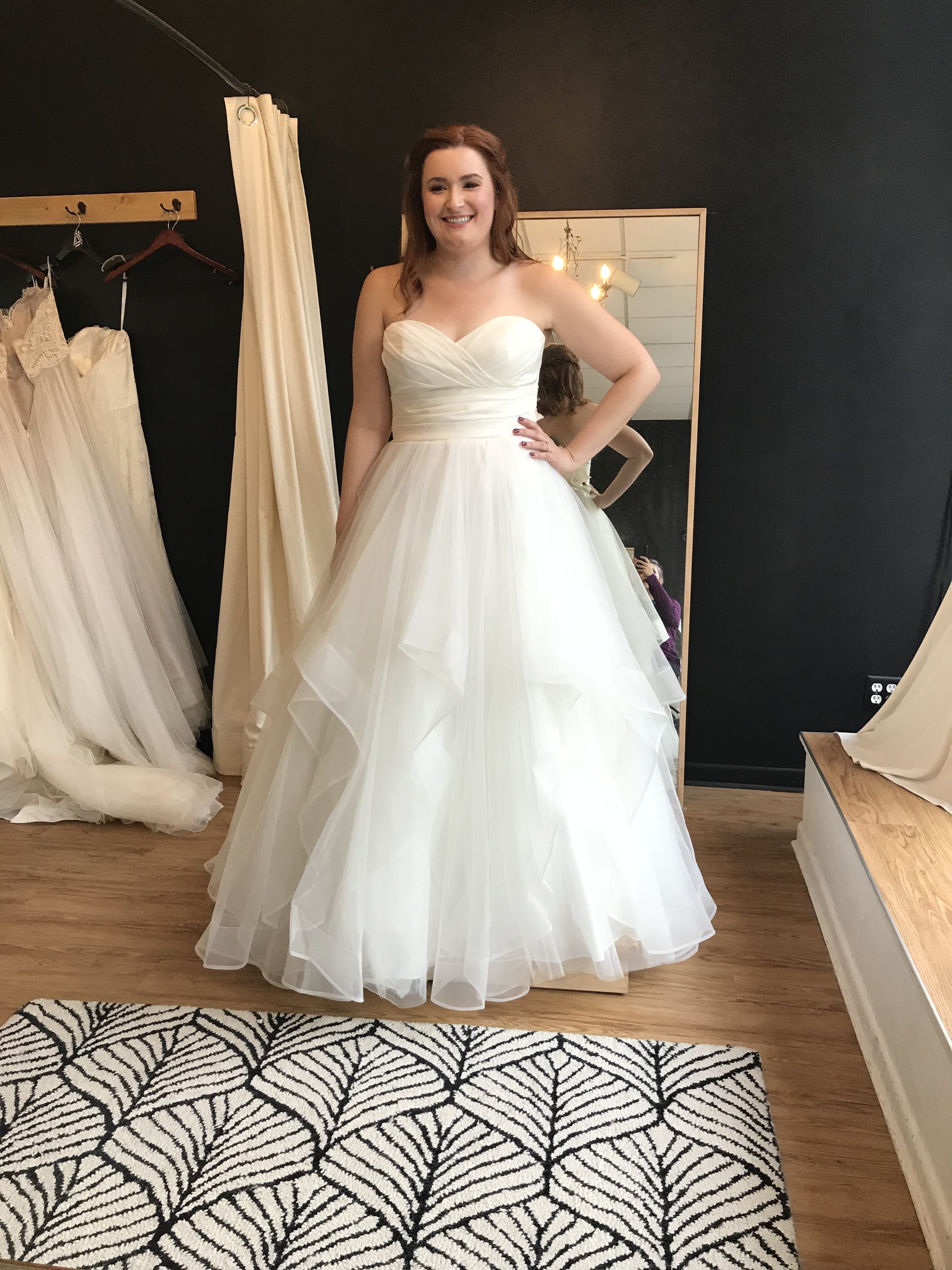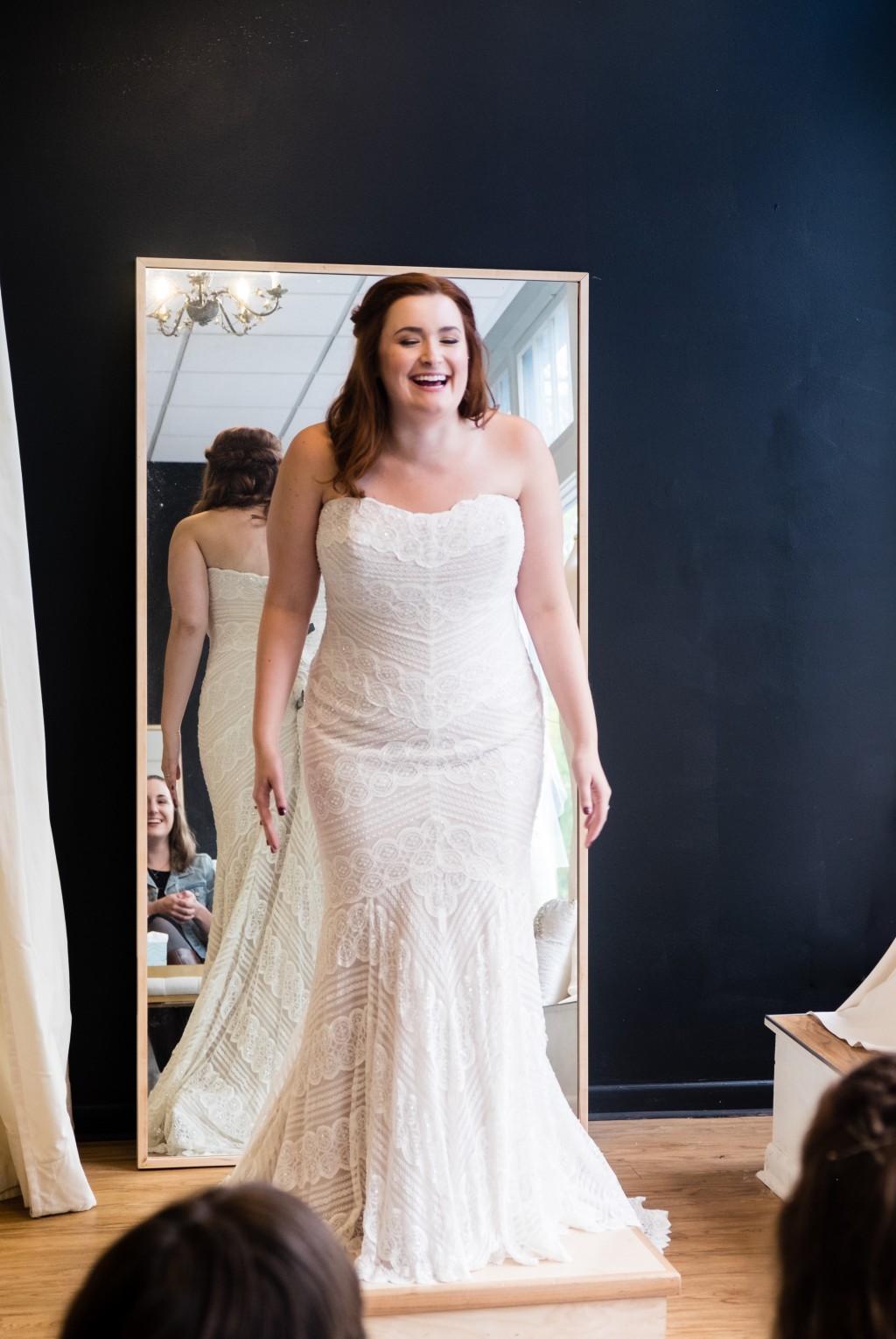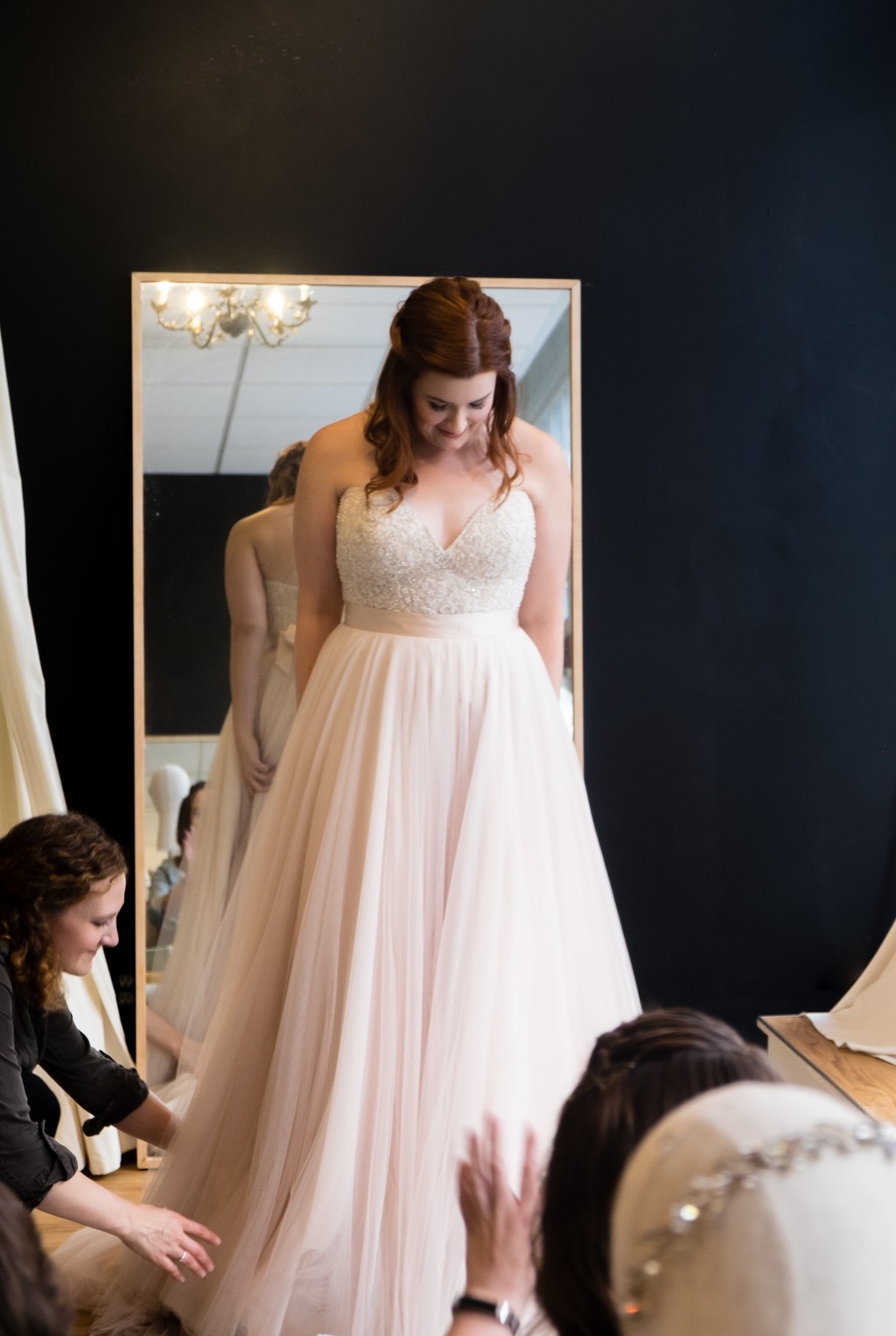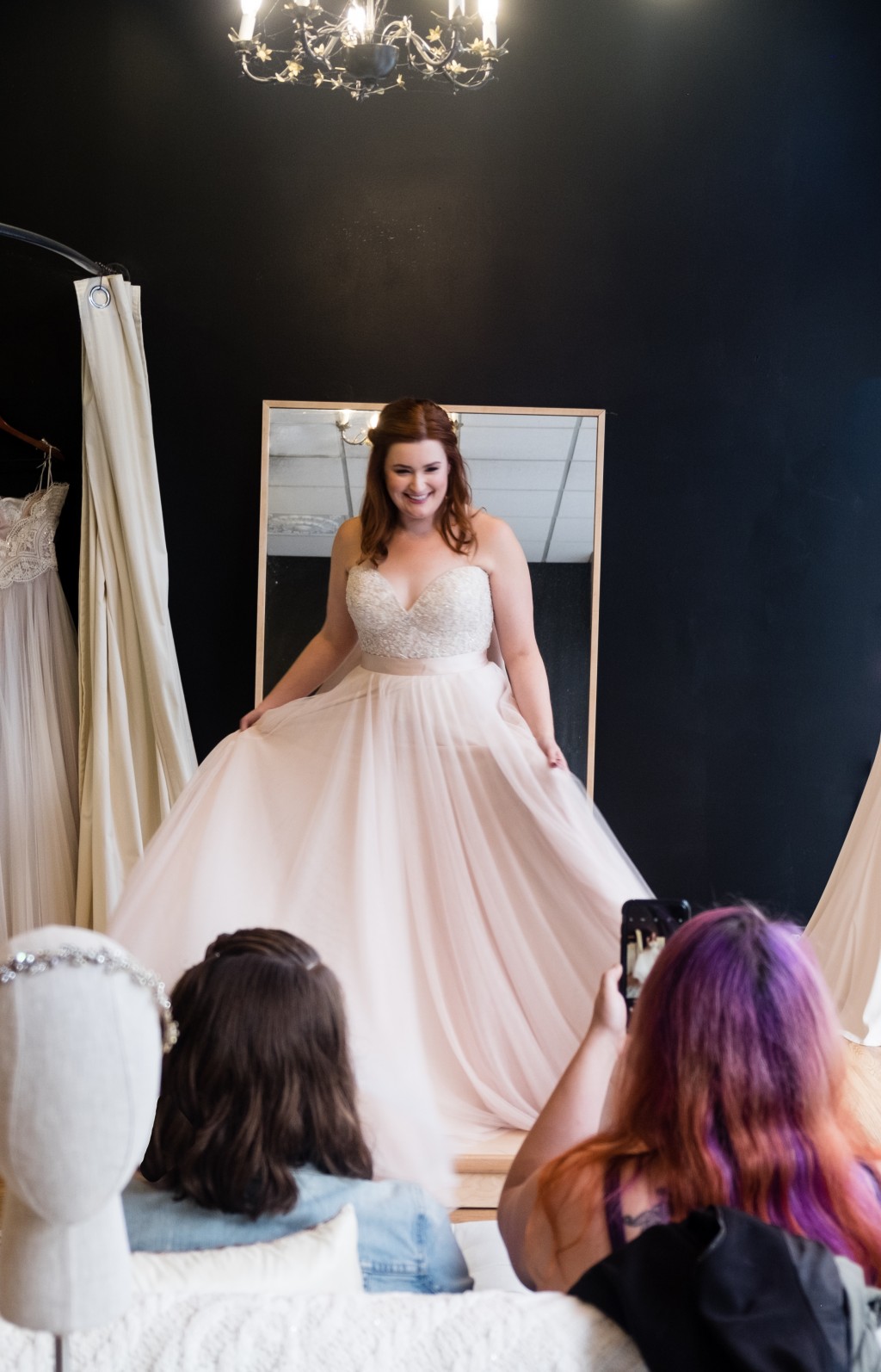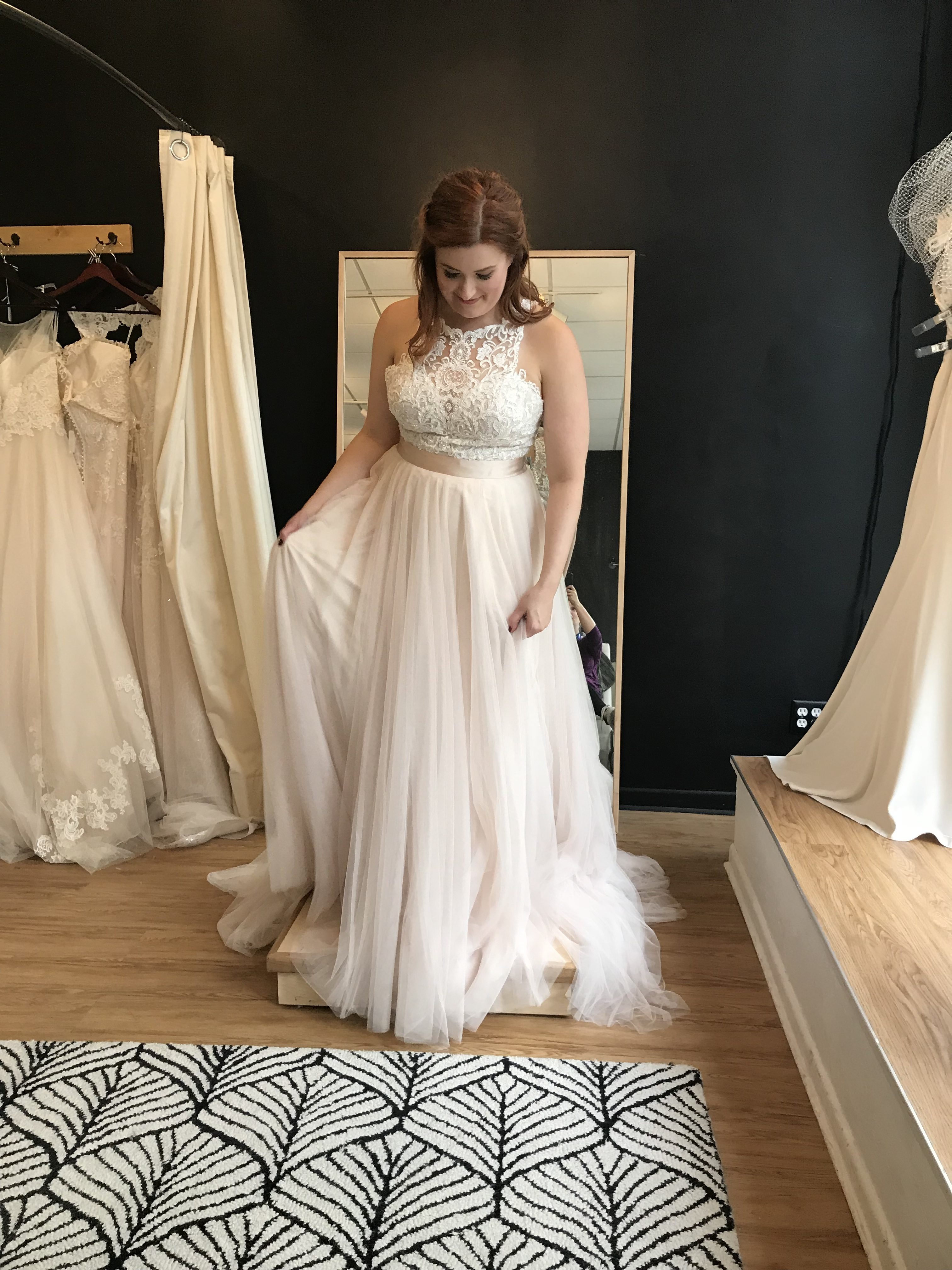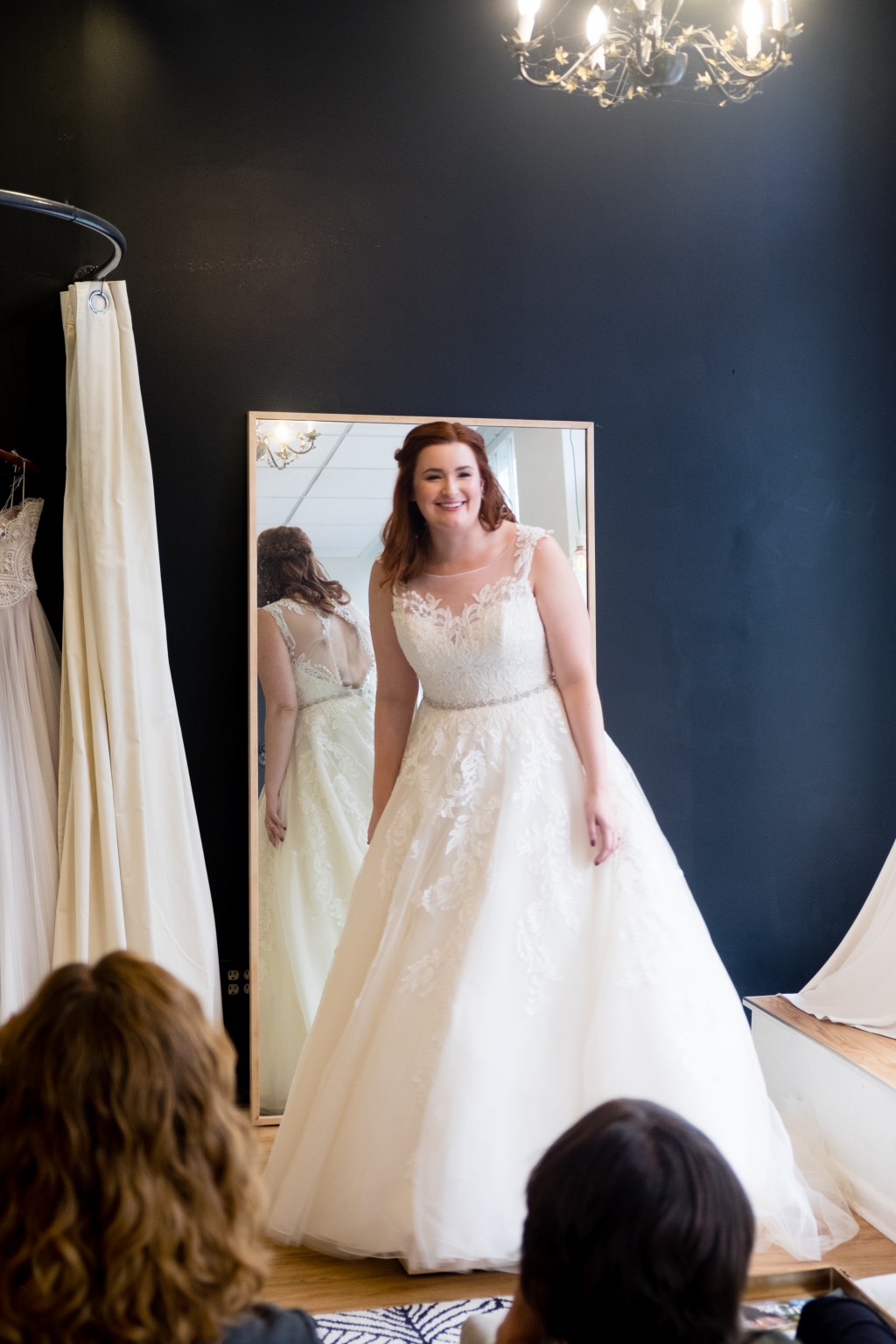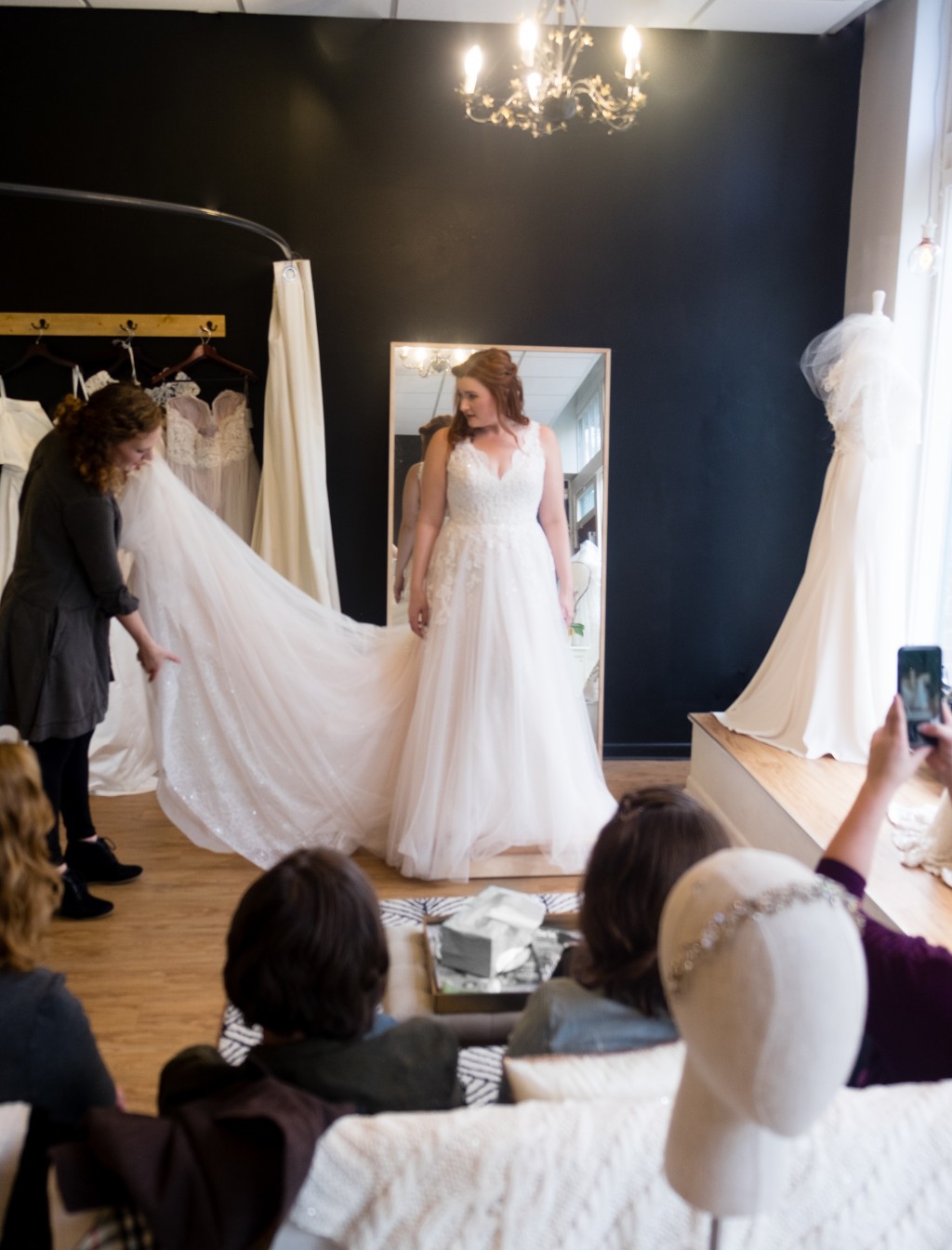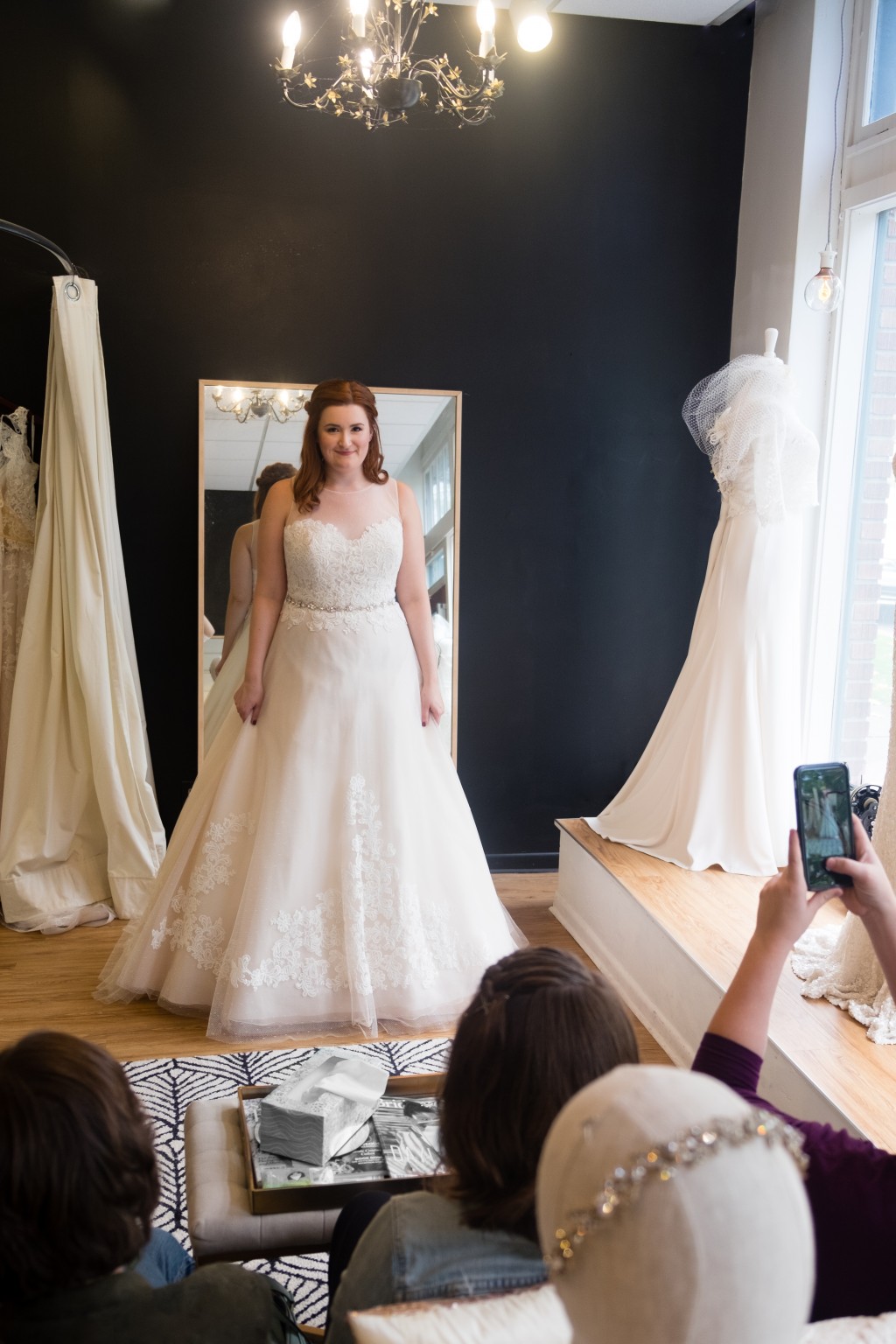 At the end of the appointment, I had two top contenders. Although we had a favorite out of the two, I decided I had to sleep on it before making such a big decision. Sarah wrote down all of the information for me and a few days later I'd made up my mind about which dress I was going to order.
About Calla Bridal
Calla Bridal is owned and operated by Sarah Santosa. Sarah was the store manager at Calla Bridal for a few years before purchasing it outright in 2016 and then giving it a full remodel and rebrand. The first time I met Sarah I was smitten with her and her mission to create an inclusive bridal store. Here's a little bit about Sarah in her own words: I was initially very afraid to work in bridal because I have fluctuated in weight quite a bit, and have always had body image issue and i thought that I would just feel terrible about myself everyday after working with beautiful brides. But instead, working so intimately with so many types of women, it was hammered in to me over and over, that everyone has their own insecurities, and that once we find the right dress, truly everyone becomes the most beautiful bride I have ever seen. Working in bridal has changed the way I see my own body, and instead of succumbing to the photoshopped imagery in bridal magazines as my standard of beauty, I can roll my eyes and fight for something different, because I know first hand just how stunning all sizes of brides can be.
With Sarah's leadership and vision, Calla Bridal's mission has been to expand their sample size range and promote more diversity in ethnicity and body type; same incredible photography, and hip styling, just women of all types! They are the only boutique in Seattle that has a substantial "plus size" buying program. Although some store have a few larger sized samples to try on, it is not a priority in their buying or marketing. Calla Bridal is the only member in Washington state that is a member of the  Every Body Every Bride program with Essense of Australia. Their prices range from $1,100 to $3,500.
If you'd like to shop at Calla Bridal and support a small, local, woman-owned business, request an appointment. You'll always get a personal experience: no more than two appointments overlap and you'll always get to work with a consultant one to one. Who knows, you may even get Sarah as your consultant… She still works as a consultant with brides 2-3 days a week!
Created in partnership with Calla Bridal & WeddingWire
Hair & Makeup by Erin Hunt Makeup