The Proposal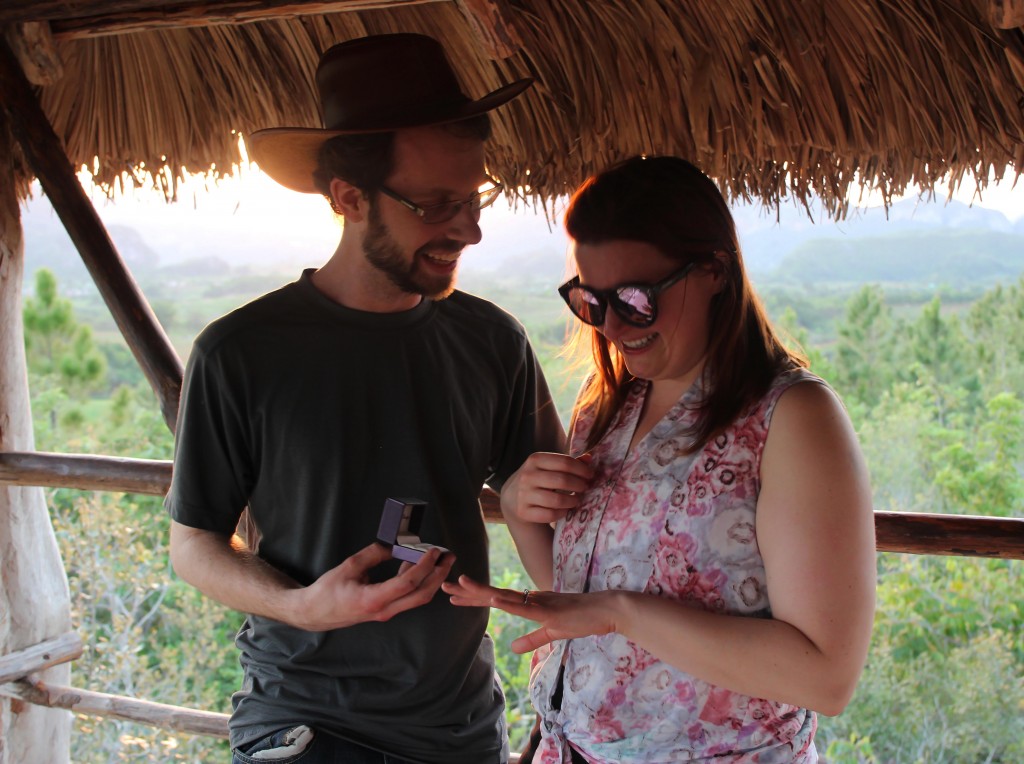 In case you're wondering where I've been lately (besides Cuba)… WE GOT ENGAGED!
It's still so surreal and I really want to share our proposal story, both through my eyes and through Jon's eyes. I hope you enjoy our proposal story as much as we do!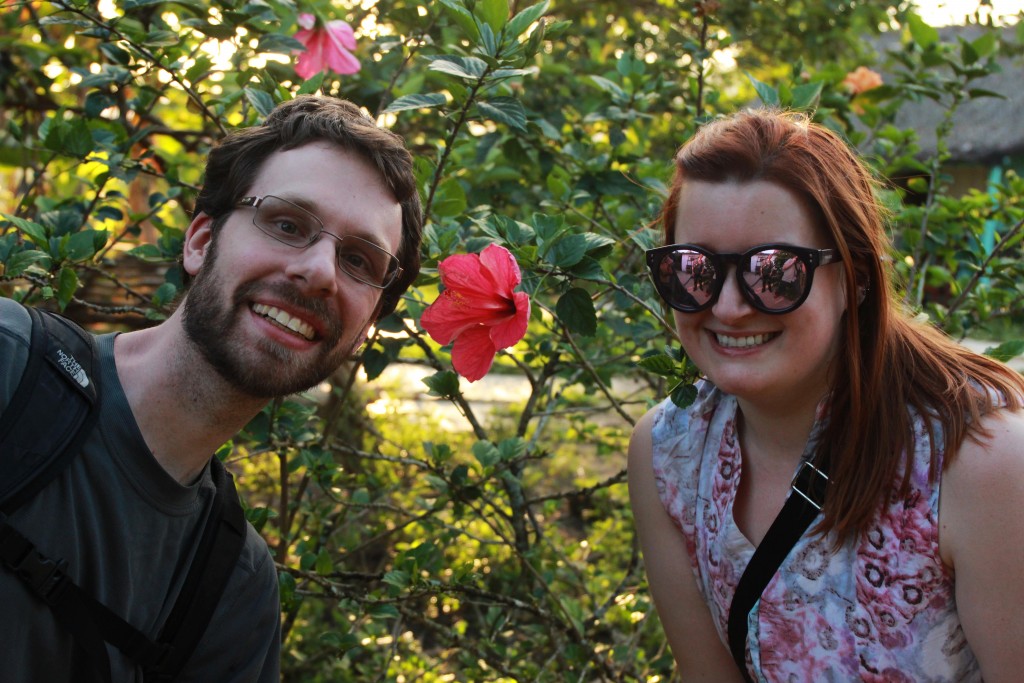 Her Story 
We arrived in Havana, Cuba, on the evening of May 6th, 2017, and met up with our friends, Nancy and Jeff, who were in Cuba on their honeymoon. (We would spend the first week together and the second week we would go our separate ways before meeting up again.) Cuba was so amazing and overwhelming. I was trying to soak all of the sights, sounds, and smells in and not miss a moment. I just couldn't believe we were in Cuba. This was something I had only dreamed about.
On the morning of May 7th, we had breakfast at our casa, wandered the neighborhood, and then met our classic car taxi. The four of us would take this car to Viñales where our trip would really start. I swear I took pictures of everything in the car and most everything on the entire 2-hour trip to Viñales. Again, all I can say was that for me it was surreal and unbelievable; I was in awe. We were sharing the freeway with horse-drawn carriages, new and old cars, and riding around in a classic car ourselves. In true Cuba fashion, car rides can be an adventure, and just before we got to Viñales we got a flat tire! It was a quick fix and before we knew it, we were on our way again.
The small town of Viñales was a breath of fresh air compared to the relative hustle and bustle of touristy Havana. Upon pulling up to our casa, we were immediately greeted by our host, Rosa, and made to feel at home. We settled into our rooms, grabbed a snack, changed clothes, and quickly hurried off to our first Cuban adventure: horseback riding.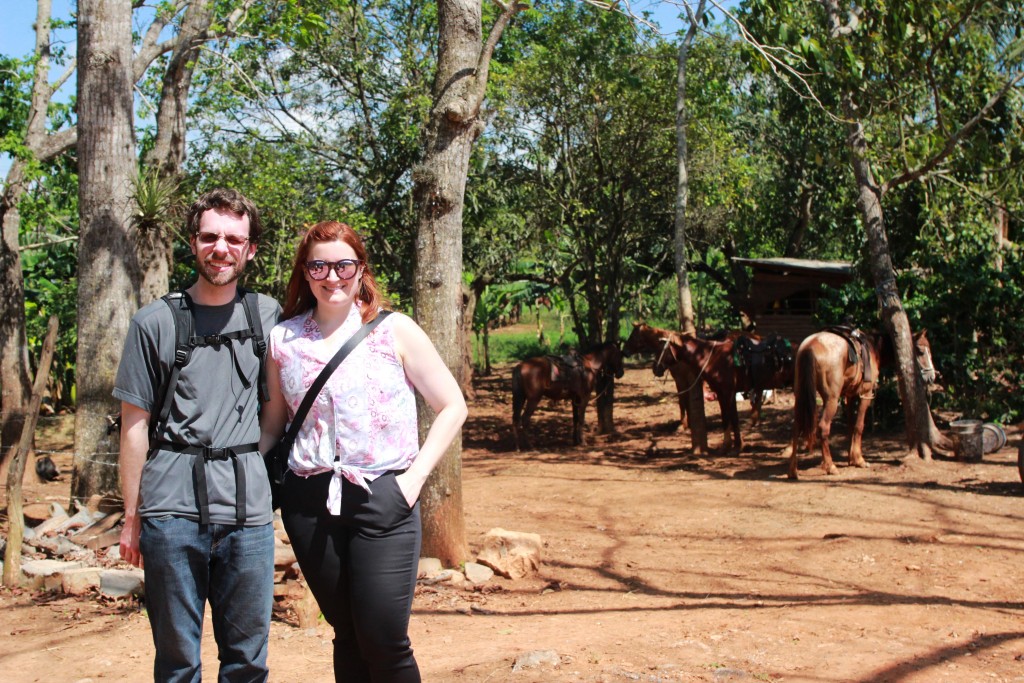 Growing up, I always loved horses, but it's been years since I've ridden. I had been talked into the horseback ride a few months earlier when we were planning our trip with Nancy and Jeff. When I got there, I was suddenly overwhelmed thinking that this was a terrible idea because they are all experienced on horses while I am most definitely not. As everyone was being assigned a horse, I was getting more and more nervous… and said: I don't think I can do this.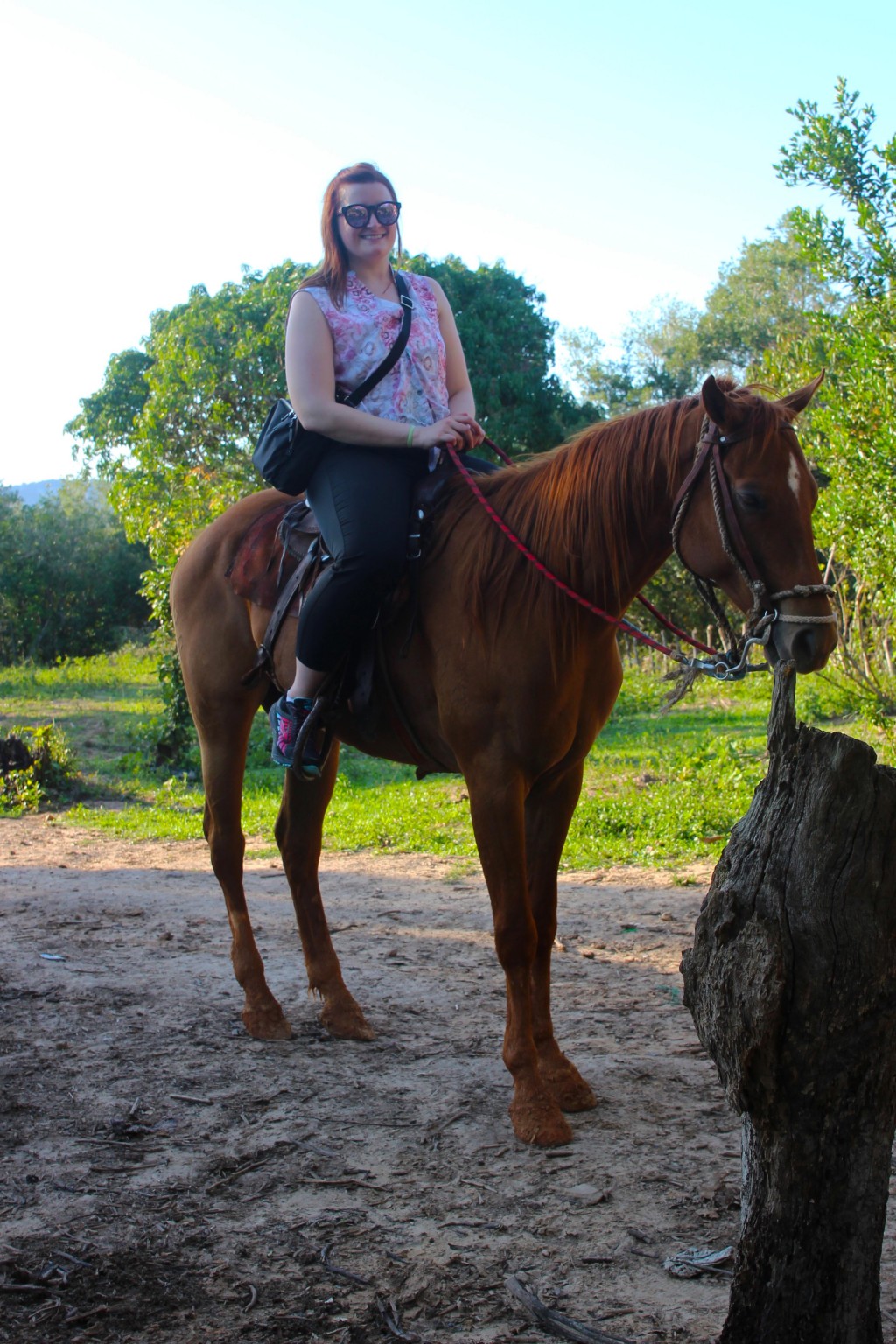 Of course everyone was quick to encourage me and once I got up there and rode for a few hours it wasn't SO bad, but I was still pretty nervous and envisioning my untimely death. (Nancy had a terrible horse accident a few years back and I suddenly couldn't get it out of my head.) I was convinced my horse was being more obnoxious and unruly than the rest and that it would certainly buck me off at some point. Nancy, Jeff, and Jon all kept saying some iteration of: You won't die!
The horseback ride was to take 4-5 hours and we would stop at a coffee farm to learn about the coffee growing and roasting process in Cuba as well as a tobacco farm to learn about the tobacco industry and organic, natural cigars made on the farms. The ride would culminate at sunset overlooking the Valle de Silencio.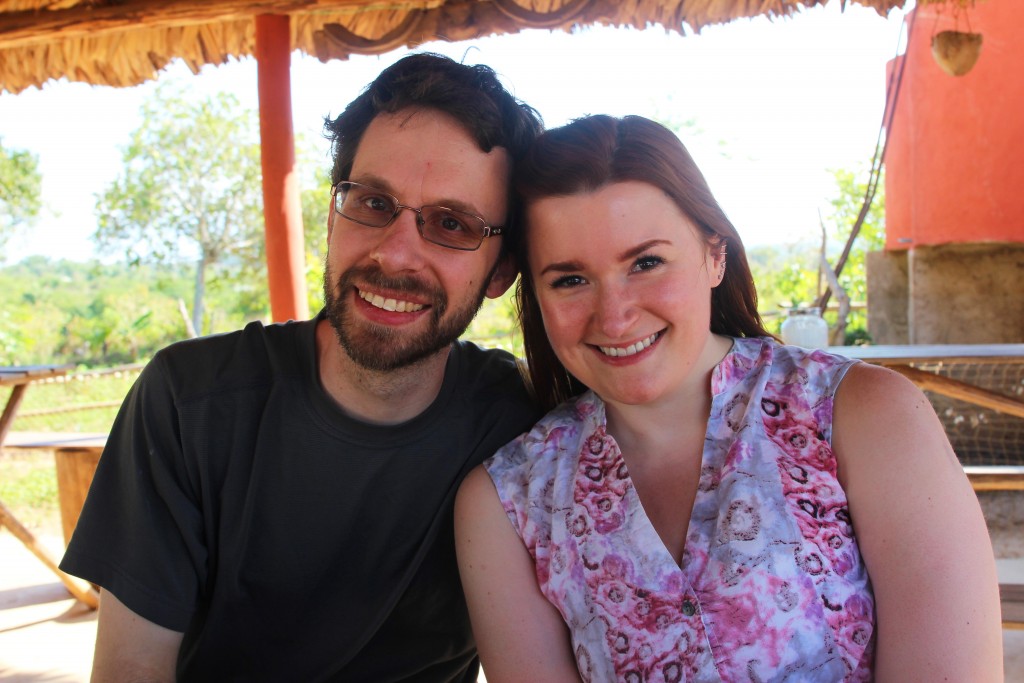 I was stoked when we made it to our first stop: the coffee farm. Not only had I survived thus far, but I got to take a break from riding and be on my own two legs. It was amazing. The coffee farm was great, too! We learned about the process the farm goes through to produce coffee as well as other products, like sugar cane. We had some drinks (coffee, coconut drinks, lemonade, mojitos), I fought off some crazy chickens, Nancy and I used a Cuban outhouse, and before we knew it we were back on the horses again.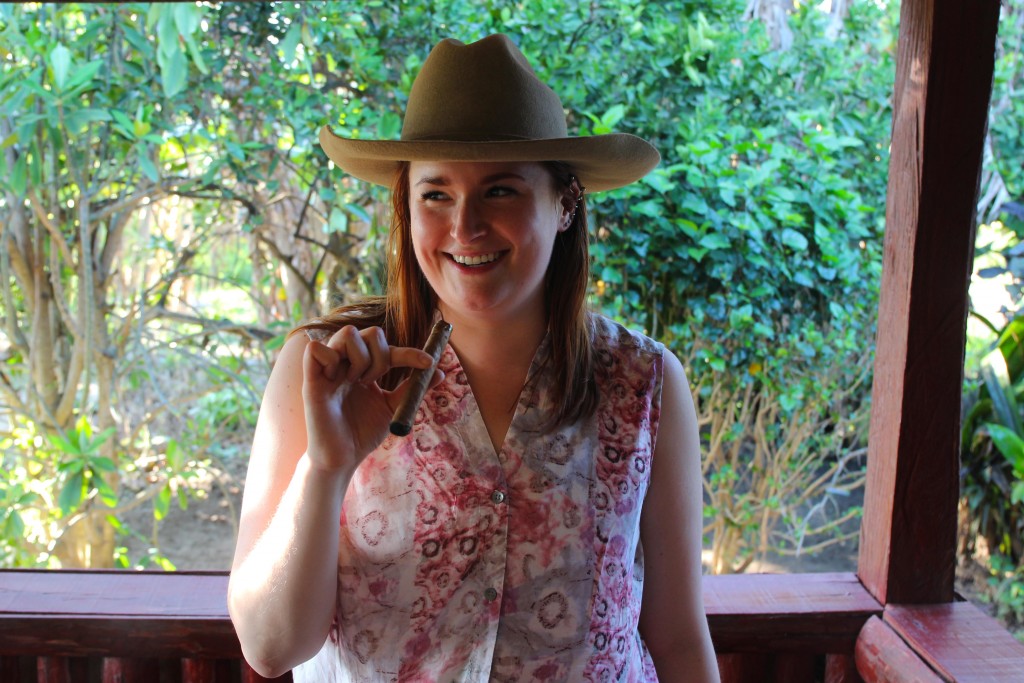 The second stop, the tobacco farm, was not far up the road from the coffee farm. Nancy and I had a quick photoshoot at the outlook, and then we all learned about tobacco farming and cigar rolling. We tried some of the organic cigars rolled on the farm and learned that Jon and I are not naturals when it comes to smoking cigars. Even the cool hat the farmer gave us to wear couldn't help us. We're hopeless.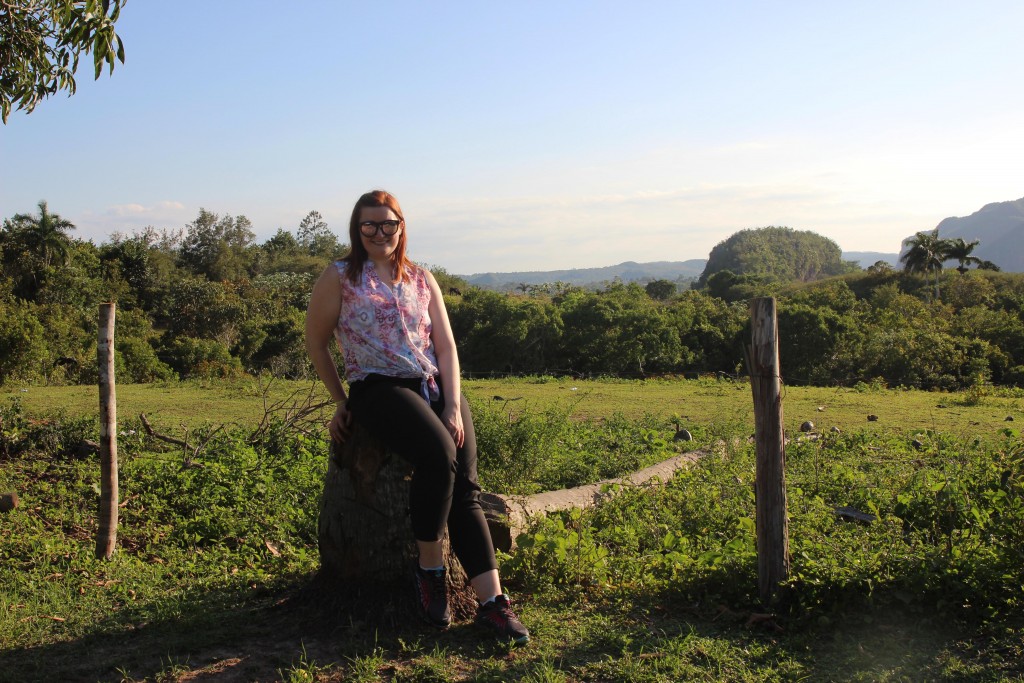 Nancy became very cognizant of the time because she wanted to make sure we were in place to capture the sunset. I didn't think anything of it because if you know Nancy in real life you know that she is always after the best sunset photos. When she got on her horse she took off to get ahead while I was happy bringing up the rear; even after riding the better part of the day I was not ready to go at a run.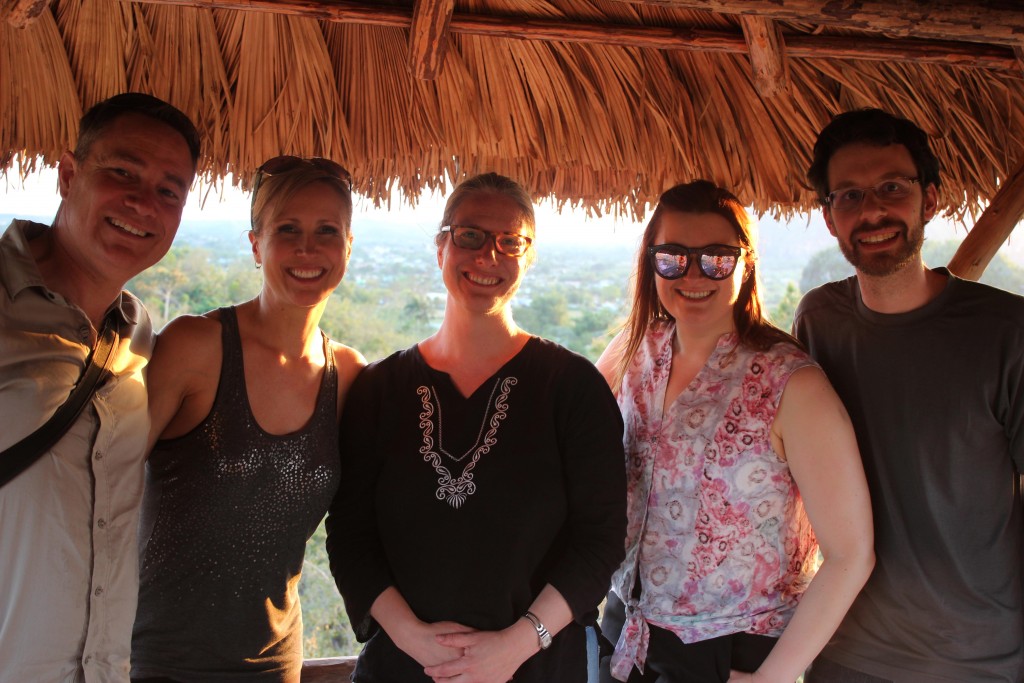 The last stop at the end of our horse ride was the sunset lookout. The lookout for the sunset was more of a watchtower; we had to climb up a structure multiple stories to get to the top. There were a few other folks there, including a gal originally from Seattle. After we chatted a bit, Nancy insisted we get photos and so Jon and I started posing for photos – Nancy with my cell phone and Jeff with my camera. Again, this was nothing unusual to me because I love the camera and wanted as many photos as possible.


After a few photos I felt Jon pulling on my arm a bit and was confused because, hello, I'm over here posing for photos – why are you pulling my hand? I kind of glanced to my right and for some reason saw he was down on the ground – why? – I felt inclined to keep looking and turned ever so slightly. I don't know when it clicked he was down on one knee. He was staring at me very intently and this is the rest of what I remember:
Jon: Kate, it's been 10 years.
Queue more confusion – it's not been 10 years – we've known each other for 10 years but we haven't been together for 10 years.
Jon: And it's been 4 years together.
Okay, this makes more sense. We have been together 4 years.
Jon: < says some other things that don't register >
Crap, he's talking to me and I don't have my body turned completely towards him. *Adjusts stance*
Jon: < more talking >
I think he's proposing. *Queue water works*
Jon: < still talking >
I think he asked if I married him. *Shakes head yes*
Nancy: What are you going to say, Kate?
Kate: Si. Yes. I'm shaking my head yes!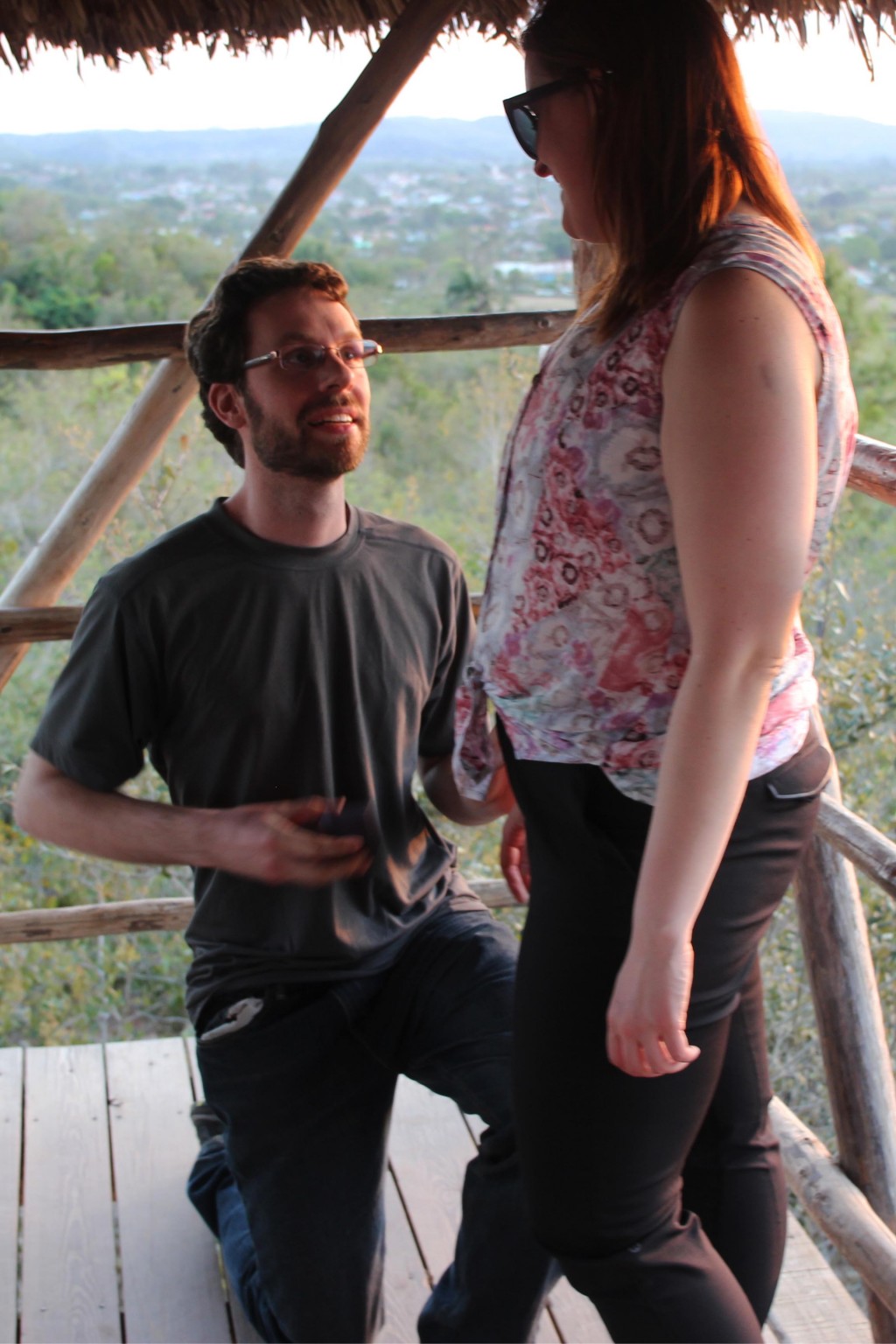 From there, there was lots of tears and laughs, me questioning if it was real or if I was dreaming. It was so surreal!
After we celebrated at sunset, we rode our horses back down and off to our casa for dinner. When our host found out that Jon proposed, she gave us flowers and was so excited for us. She went above and beyond to make our dinner amazing and memorable!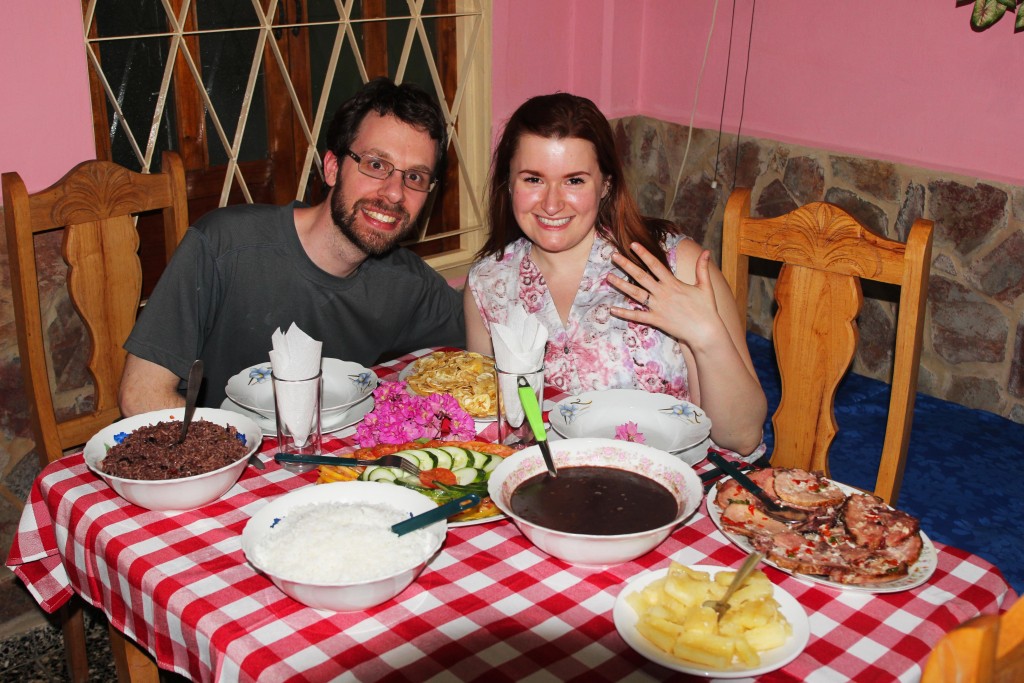 His Story
I didn't know she was the one when I first met her nearly ten years ago. Nor did I know it almost four years ago when we first began to date. I'm not even sure when I did consciously realize it for the first time. With Kate, every defining moment of our relationship has felt, in hindsight, as if it were at the exact right place and at the exact right time.
Sure, there have been many times where we have wanted to skip a few pages and just jump to the next chapter in our saga. The first four months dragged on (I was in grad school in Norway), each of us just counting the days until I would be on a plane to Sea-Tac and we could go on our first dinner date. And six months later, I couldn't write my thesis fast enough to get back home to Kate. The process of finding a rental together and then eventually buying a home seemed as if they dragged on at the time. But looking back now, while those chapters may have been long-winded, they did make for a very good read and I liked all the details.
We (over-)analyzed many different paths we could go down to write our story. Should we spend the money on a wedding or just confess our love to each other personally and never say a formal "I do"? Do we want to experience the joy of children or be each other's joy? But Kate had already written the outline for one chapter of our book: the proposal. Kate wanted a ring as a physical symbol to say "I'm with him" (or maybe "He's with me") and ideally the proposal was to be memorable as well as unique. Oh, and there should hopefully be someone there to take pictures.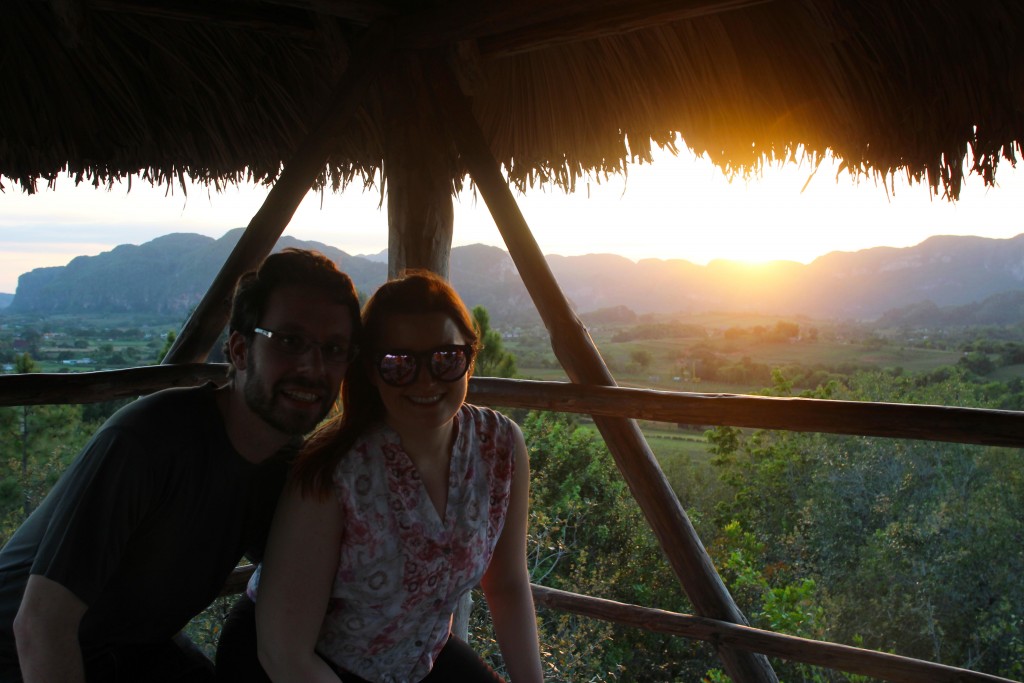 And proposing to Kate felt like the right thing to do. I had been squirreling away money for the ring since the month we started dating. To be honest, asking Kate to be with me forever didn't scare me – I knew that she would say yes. But making the proposal memorable and unique was giving me writer's block. I started thinking about when and where to ask "early on," (relatively speaking anyway – Kate and I know others who have started dating, said "I will," and then said "I do" in a shorter amount of time), but I threw out many drafts as amateur and unremarkable.
I considered doing it in Hawaii, but then the restrictions on Cuba were loosened and Kate insisted on fulfilling her life long "Havana Nights" dream. What place would be more unique than Cuba, especially for Americans? Unfortunately, Cuba turned out to be yet another long-winded chapter in our book.
It was unfortunate that flights to Cuba didn't open up nearly as soon as we had planned. When we gave up on waiting for flights to Cuba to open in Fall 2016 and instead decided to go to England and Scotland, I seriously considered doing it there. I started reading about rings online and spent numerous hours doing comparison shopping at different ring websites. For better or worse, choosing a ring became overwhelming, work had me tied up getting a project done before we left for London, and the British proposal never happened. Kate would unknowingly have to wait longer. (To all significant others reading this blog: I recommend signing your partner up for classes on how to buy an engagement ring immediately after you two start dating.)
Flights to Havana did finally open up and the whirlwind adventure of getting all our plans together started. Somehow, amongst all of that craziness, I had time to go out and look at rings. This time I was a bit smarter about it: I went back to the same helpful jewelry store where Kate and I had looked at jewelry around Christmas. I told them I wanted a ring, told them budget, and told them I had still had no clue what I was doing. (Okay, probably not the smartest plan – a jeweler could have sold me a fake diamond and I would have never known. Again, have that significant other watch some YouTube lessons.)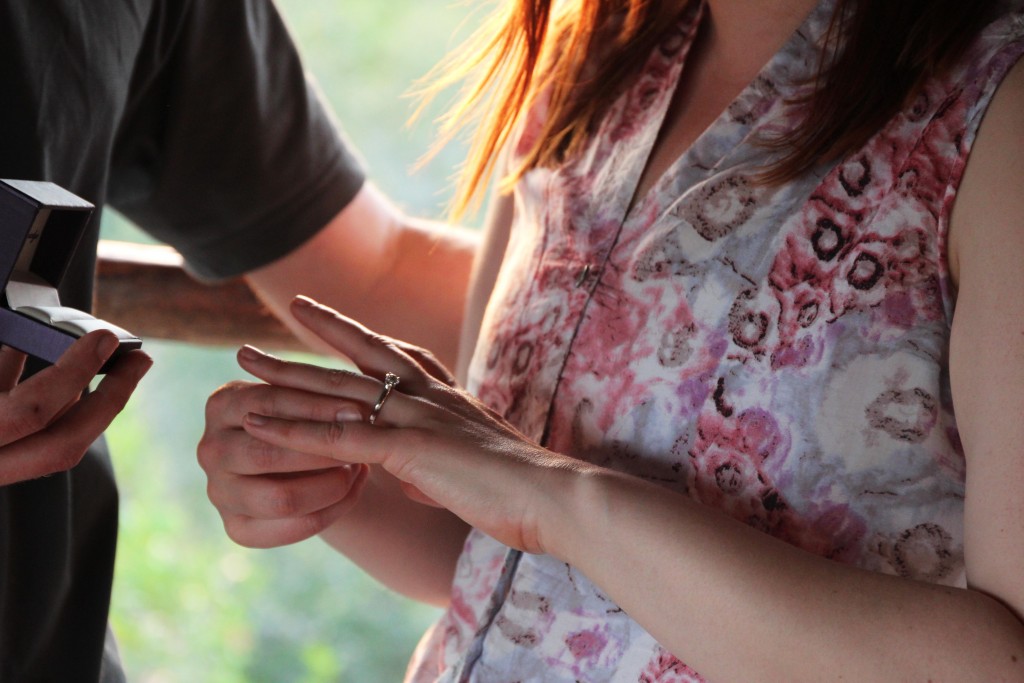 Fortunately, the jeweler was very helpful. (Actually, there were two people assisting me – I probably could have used a third for all the help I needed.) They sat me down and first showed me several different diamonds, walking me through the four C's as well as what was special about their diamonds. Once we had settled on a diamond, they asked what Kate wanted in a band. Despite me asking a few times, Kate had never settled on what kind of band she wanted, and I told the jewelers that. They advised me to go with one of their signature bands for now and told me to come back in with Kate after the trip so we could decide on a band together. A couple hours after I had walked in, I left feeling very good. It was even hard not to show my excitement to Kate that evening. (She even asked if I was feeling alright as I seemed to be in an extra good mood.)
A few days before we hopped on a plane, I asked our friends who shared part of their honeymoon time in Cuba with us if they would be willing to be part of the proposal. I also called Kate's parents to give them a heads up and ask for their blessing, just as I had promised Kate I would do a couple years before. (I also told my own parents of the plan, so they wouldn't find out about it on Facebook in case Kate posted about it right away.)
When the moment of the proposal arrived, it turned out better than I had planned. What would have been better than a sunset horse trek through the green valleys of Viñales on our first full day in Cuba? How about two stories up in a watch tower with clear skies and great views of the red sky over the distant mountains as our new found Cuban friends looked on! As our friends innocently took our picture in the day's last hurrah, I dropped down on one knee.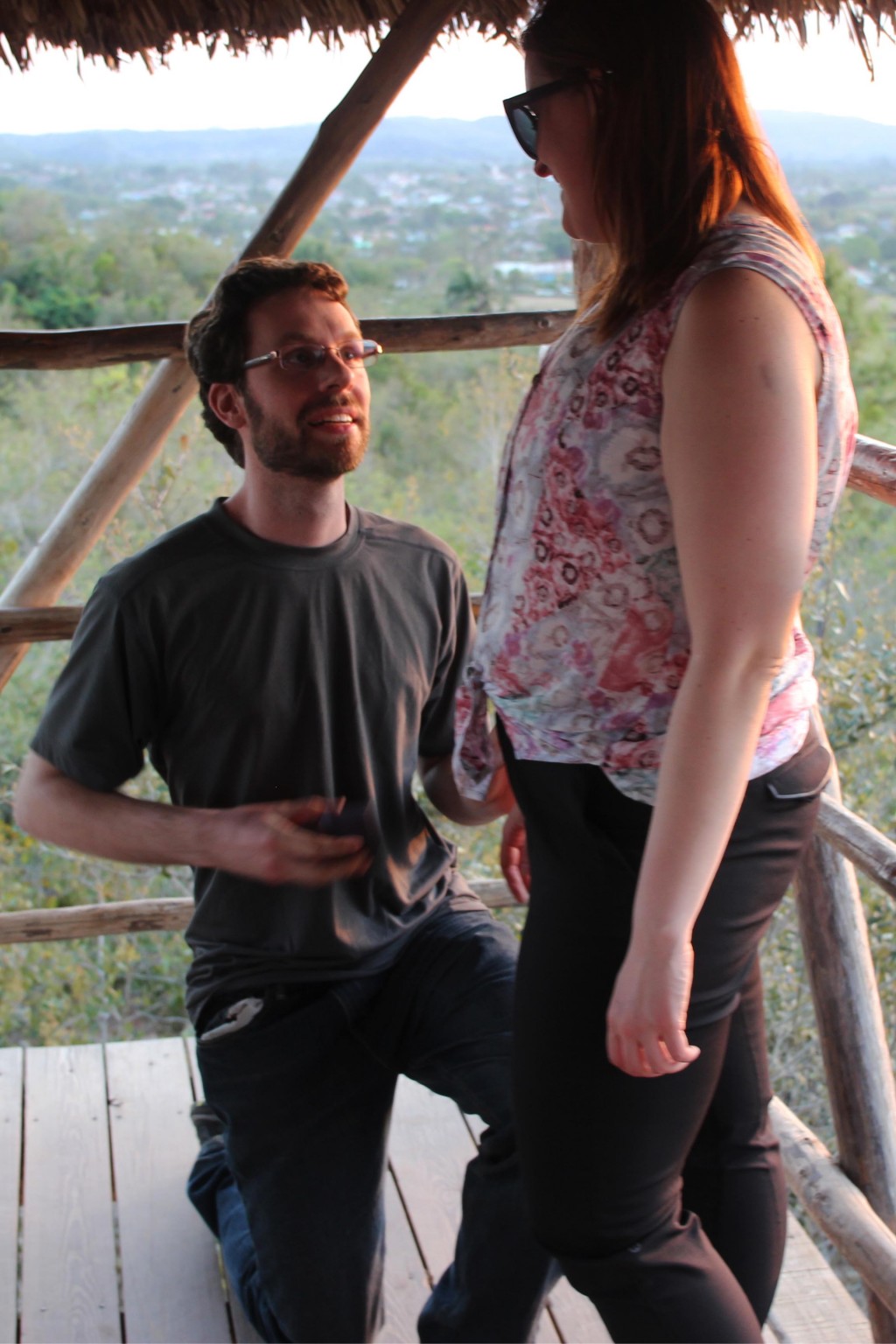 I certainly wasn't as suave as I had hoped, my mouth was dry and the words kind of fell just fell out in bursts. But apparently that didn't matter much because all Kate heard were the first four words before she was in tears and overwhelmed as well. (A tip for the guys: according to an unofficial survey Kate did, 2/3 of women won't remember what the guy says beyond the first four words. So for those 2/3 of guys proposing, I recommend starting off with "<Insert girlfriend's name>, I love you!" and then you can trail off and talk about whatever you want, be it your love for her, the day's events, or the latest YouTube video you watched.)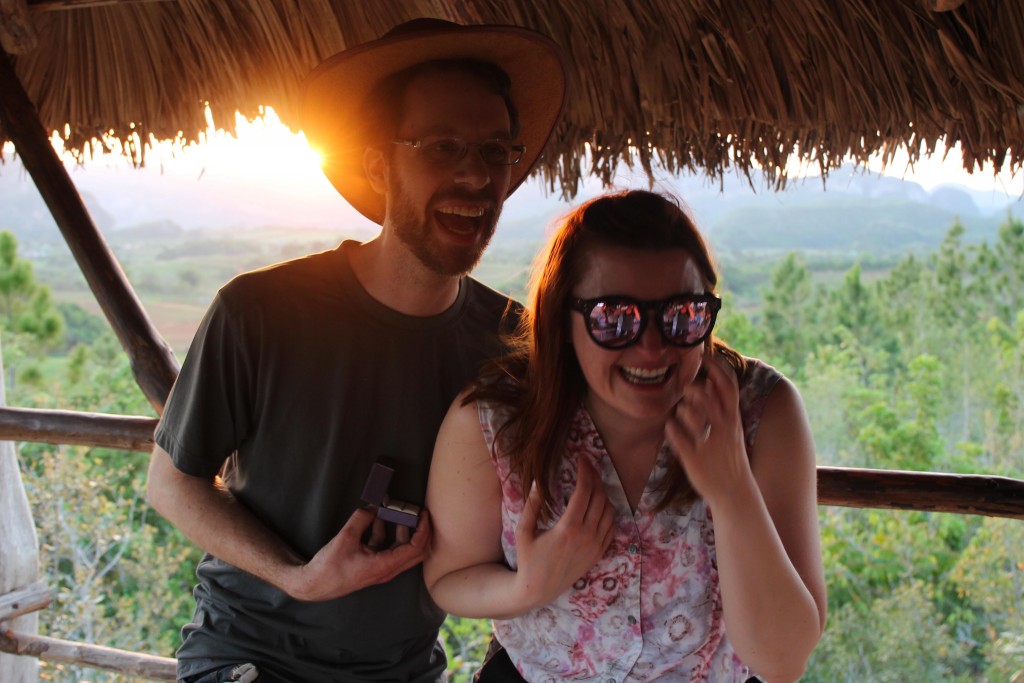 I can't imagine what the rest of our adventure story would have been like if she had said no.  Thankfully for me, she said yes and that certainly was the highlight of the trip for me.  (And that's the truth, even if I am obligated to say that.)