10 Days in Switzerland (Part 2)
The second half of our vacation was much colder than the first half and I'm so glad that I packed layers! Most of my suitcase was hiking/winter type gear – base layers, leggings, flannels, wool socks, gloves, a vest, and a lightweight yet warm scarf (perfect for packing in the hiking backpack). If you're traveling to Switzerland, I definitely recommend packing clothes that you can layer.
And yes, Switzerland has amazing chocolate and cheese! I ate way too much, especially chocolate, but it was vacation, so it was okay. Since we traveled around so much, we got to experience both French Switzerland and German Switzerland, so we had a nice balance of pastries and sausage thrown in as well. All in all, we ate well!
Here's how we spent our last 5 days in the beautiful country of Switzerland! (PS – You can follow along with my Instagram for up-to-date posts on my whereabouts and follow #JetSetKate for my travel posts!)
Day 6
On our last day in the Berner Oberland, the clouds were rolling in and the weather was changing; it was a race against the clock but once again we got lucky. Switzerland is known to be a beautiful hiking area and even though it's not my favorite activity (Jon loves it), I wasn't about to miss out on some breathtaking Swiss hikes.
We started the morning off with a hike to the Bachalpsee in the Grindelwald-First area. As normally turns out with our hikes, we think the hike is much shorter and less hilly than it actually is. About three-quarters of the way through, I may or may not have started complaining about how we were never going to get there, and if we did, the view probably wouldn't be that spectacular. But then, I proverbially put my foot in my mouth when we rounded a corner and found a stunning lake with a gorgeous view of the Alps.
Back in Grindelwald for some lunch, we also ran into a cow festival! It was the coolest thing. All over Switzerland you hear the deep ringing of cow bells on herds of cattle. Nearly all of the cows in the countryside wear varying sizes of cowbells around their necks and the sound is amazing. As I'd been researching the night before, I also read about cow festivals that take place at various times of the year with the farmer's "queen cow" who wears the biggest bell and a flower crown for the festival. Just as we were getting back to Grindelwald, we stumbled upon one ourselves!
We closed out the day by visiting the small village of Gimmelwald (this is where Rick Steves recommended to stay, but we were happier with our choice of Grindelwald as it offered better access to public transportation, and more options in the off season). And then we made a quick jaunt to Mürren, which was a quaint and romantic looking little town.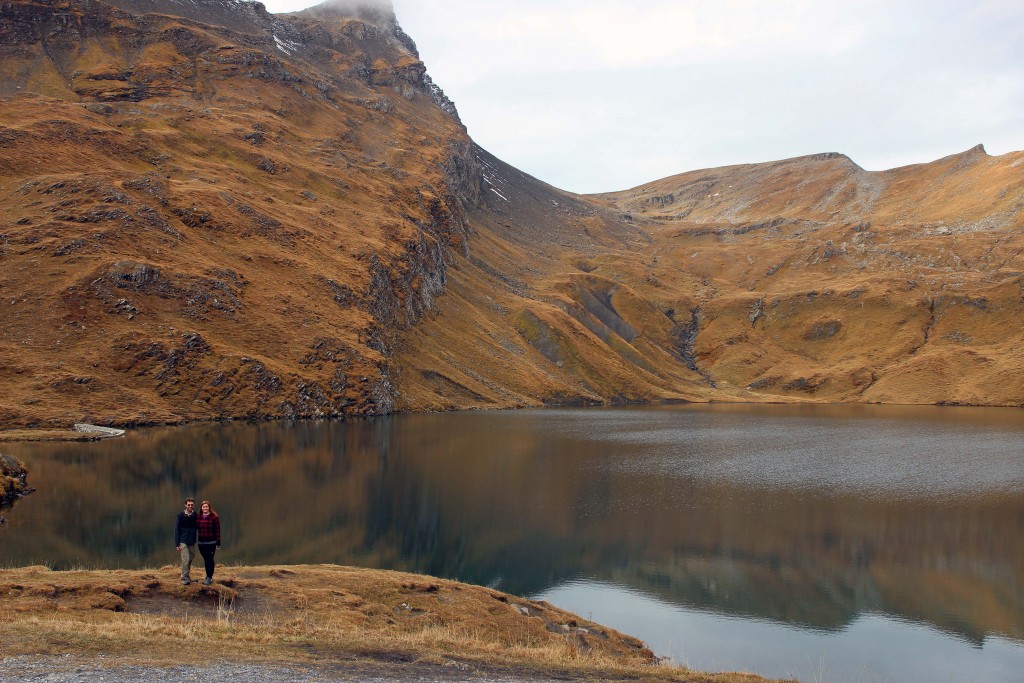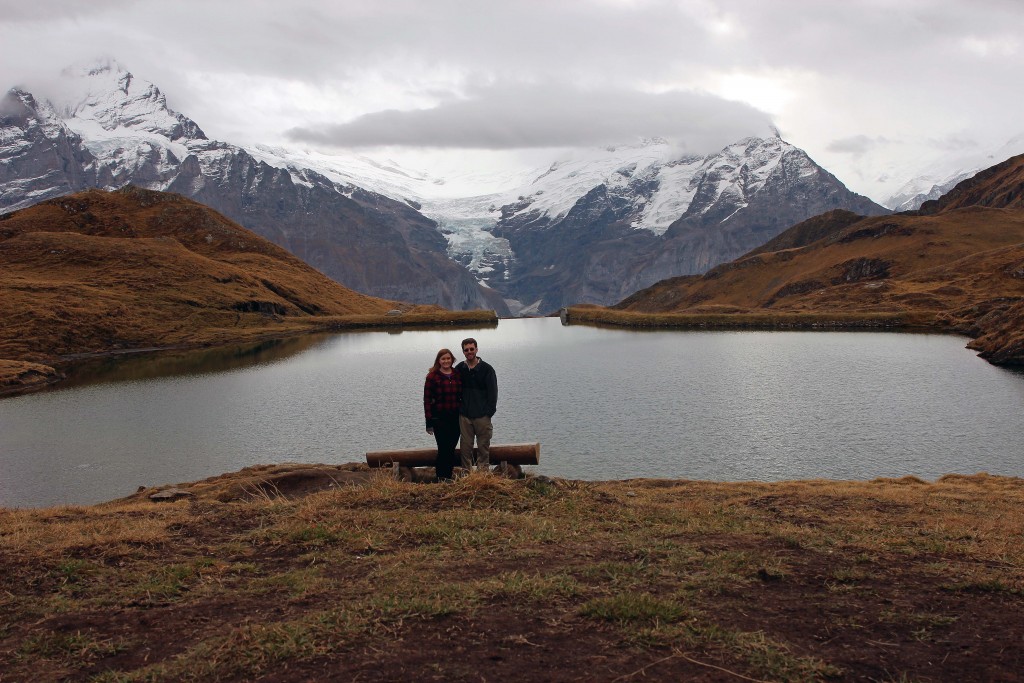 Day 7
I think the whole trip I was anxiously waiting to get to Zermatt. We hadn't originally planned on going to Zermatt but after further thought, how could we go to Switzerland and not see the Matterhorn? It was settled, we'd find a way.
It was oh-so-cold in the Zermatt area and you could tell snow was on its way. I'd done some reading before and since I wanted to get a classic picture of the Matterhorn's craggy peak, Rothorn was the recommended trail. When we got to the top, there was a huge cloud covering the Matterhorn's craggy peak. We kept hiking and turning around to look back. Every so often more of the peak would show through, until finally the full Matterhorn was in view!
We continued to hike around so I could try to get a Matterhorn-reflecting-in-a-lake photo (see my attempt below). And then, Jon being the adventurous one, suggested we try to scooter-bike our way down the mountain. Well, it was certainly an adventure. We scooter-biked through snow, mud and gravel. You picked up so much speed that you were clenching your brakes the entire time while dodging large rocks on the path. Our hands were freezing cold, taking everything we had to keep a grip on the brake. I knew one of us was going to do something stupid when, about halfway down the mountain, I hit a rock and went flying off of my scooter. I somehow managed to twist and turn in the air (like a cat), and ended up running next to my scooter-bike, before I finally let go. I never fell and I landed on my feet (also like a cat). I just wish I'd had it recorded – it was awesome! The scooter bikes were certainly an adventure but they're not for the faint of heart (the giant front, knobby tire, and required helmets should have been our first clue).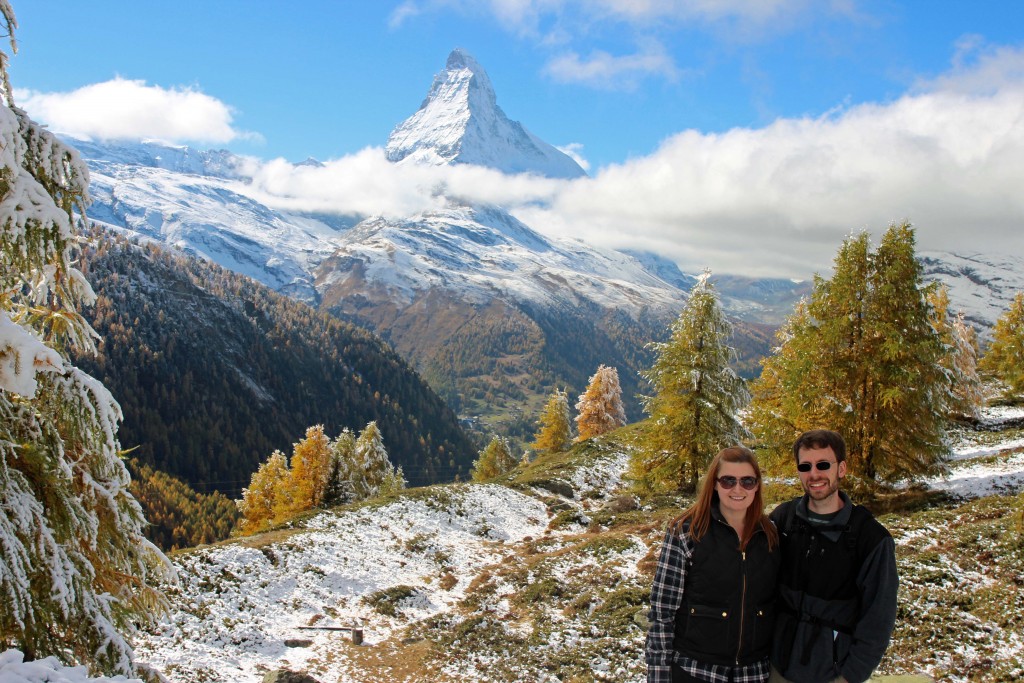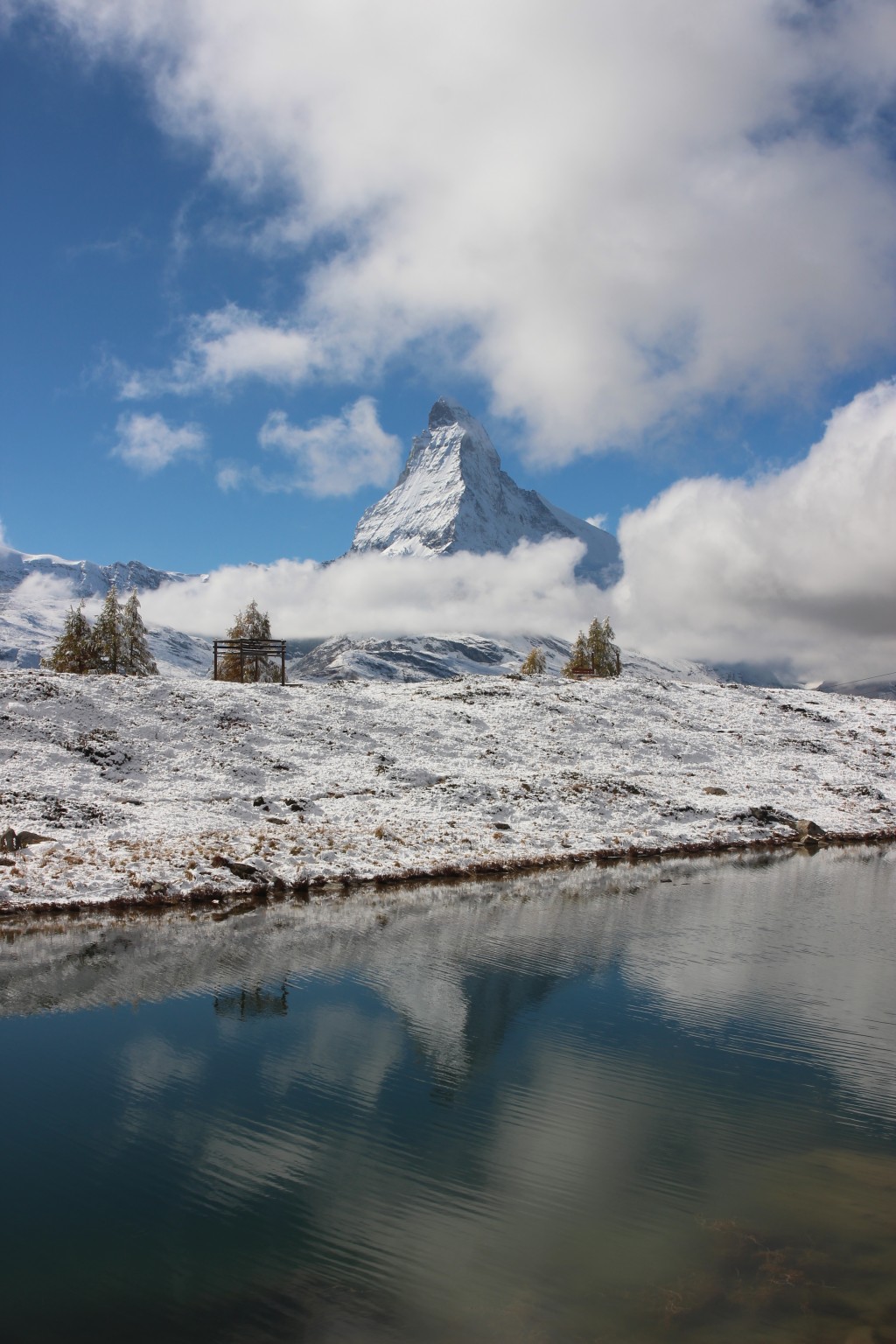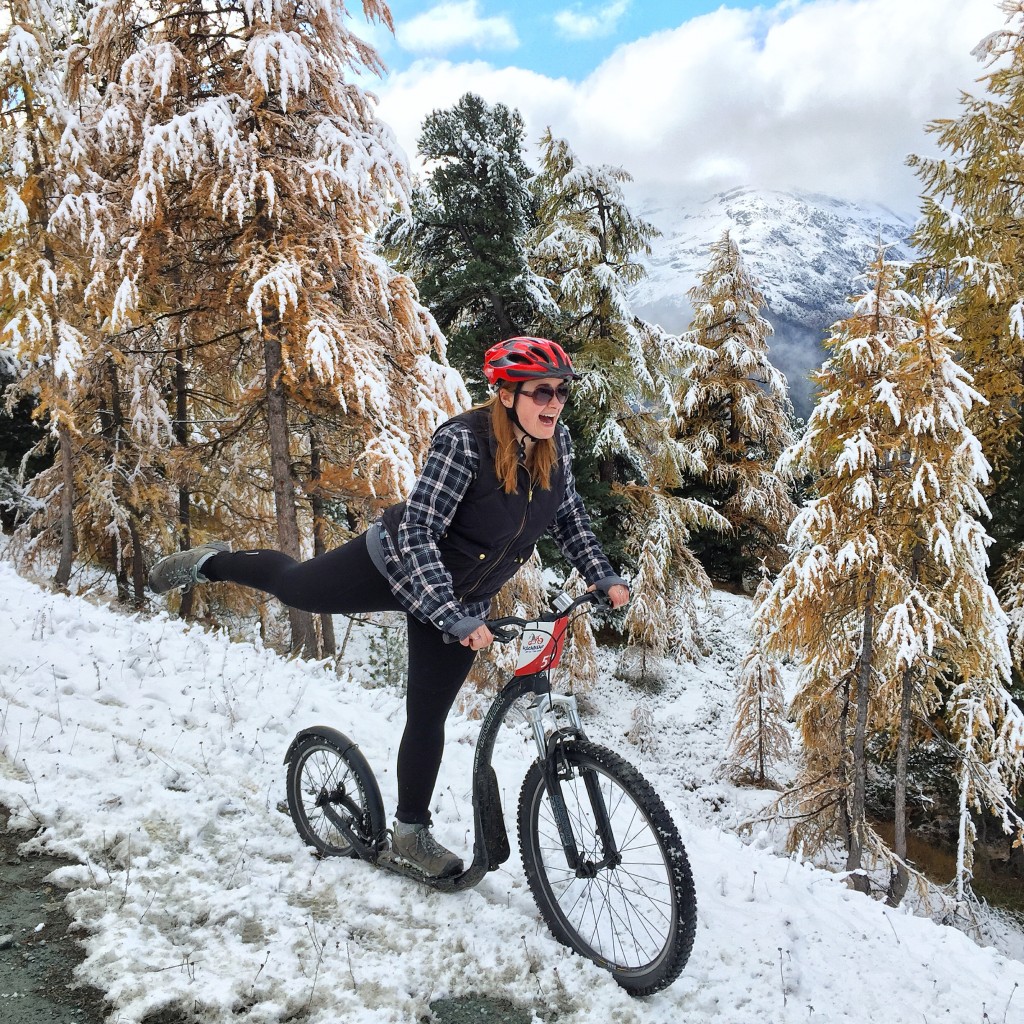 Day 8
Remember how I said the bad weather had been trailing us throughout our Swiss vacation? It finally caught up to us in Zermatt. We woke up to a snowy morning, which showed no signs of letting up. We left Zermatt early on the Glacier Express (which is ironic because it's anything but fast). This train ride is supposed to be a beautiful trek through valleys and mountains but with near white-out conditions, we found it all but impossible to see out the windows at higher elevations. We rode to Andermatt where, once again, the weather was cold and snowy. We grabbed a nice lunch in the train station (great chicken cordon bleu!) and then were on the next train to Luzern.
With about half a day to spare in Luzern before night, we wandered through the Luzern Fall Festival (much like a fair here, but without livestock) and did a walking tour of the city.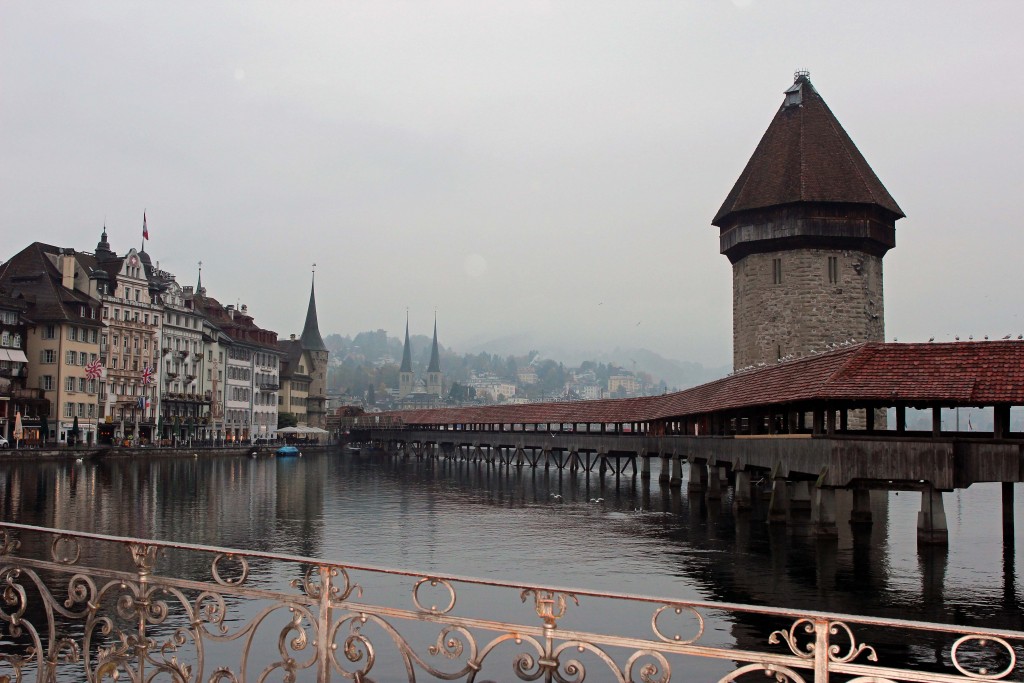 Day 9
Wanting to hike one more day, we had our eyes set on venturing up to Mt. Pilatus via the world's steepest funicular. We made it to the top, but once again, the snowy conditions made it impossible to see anything more than a foot in front of you. I'm sure it would have been gorgeous had the weather been better!
Back down in Luzern, we visited the Swiss Transportation Museum and walked along the old town walls to get a bird's eye view of the city.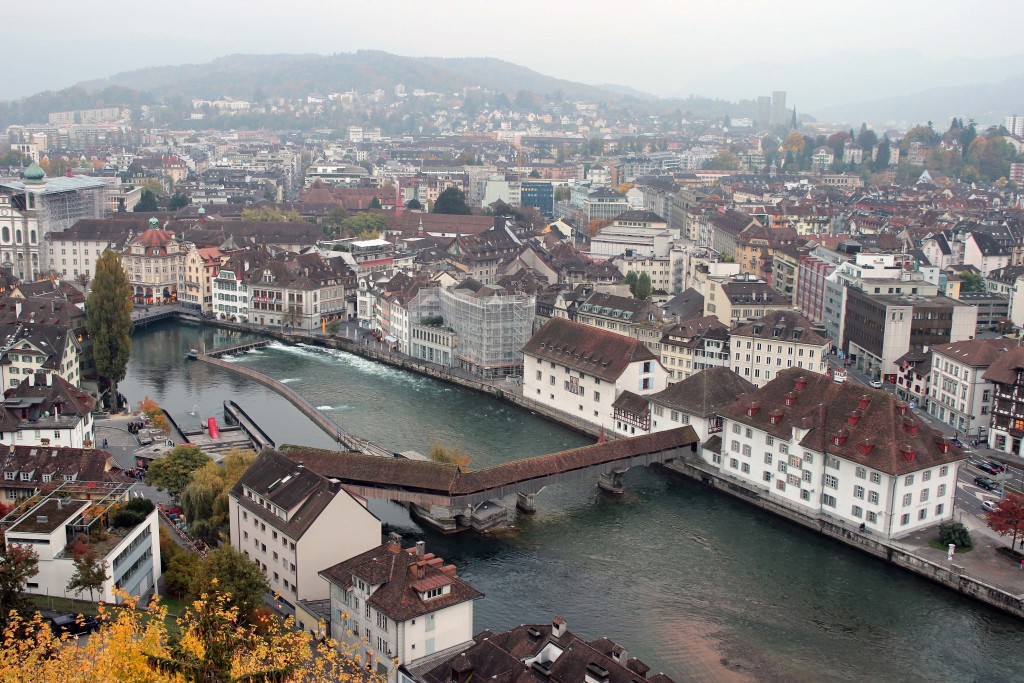 Day 10
Our last day was spent in Zurich doing last minute errands to pick up souvenirs (chocolate) and shop at a local flea market, where we found our souvenir – an authentic Swiss cowbell (I still have no idea where I'm going to put it). Then we got a wild hair to visit Liechtenstein. I love getting passport stamps, so I paid a few Swiss francs to get my passport stamped in this small country. It was fun to say we went, but there honestly wasn't a lot to do there. We ended our stay in Switzerland with an amazing fondue dinner at Le Dezalay.