My Boyfriend's Sweater
If you saw my Instagram a few weeks ago, you're probably wondering how I ended up stealing my boyfriend's sweater…
Do you ever have one of those shopping trips where you try your hardest to find something to buy and you just can't? With a cold snap coming through, I was on the hunt for a cozy sweater. Store after store and I couldn't find anything. As Jon and I wandered through stores, we'd quickly browse the men's department and I'd ask what he liked or didn't like, trying to get a feel for his personal taste in clothes, taking mental notes for Christmas gifts. We found ourselves in Banana Republic where I spotted the perfect men's sweater. I was so excited about it! I begged Jon to try it on and when he obliged and agreed that he liked it, I bought it right then and there, promising to save it as a Christmas gift. The whole way home I could not stop gabbing about that beautiful sweater and how handsome he would look in it.
Well, then we got home, and I decided I liked it so much that I had to try it on… There was no way it would ever fit! And, as they say, the rest is history.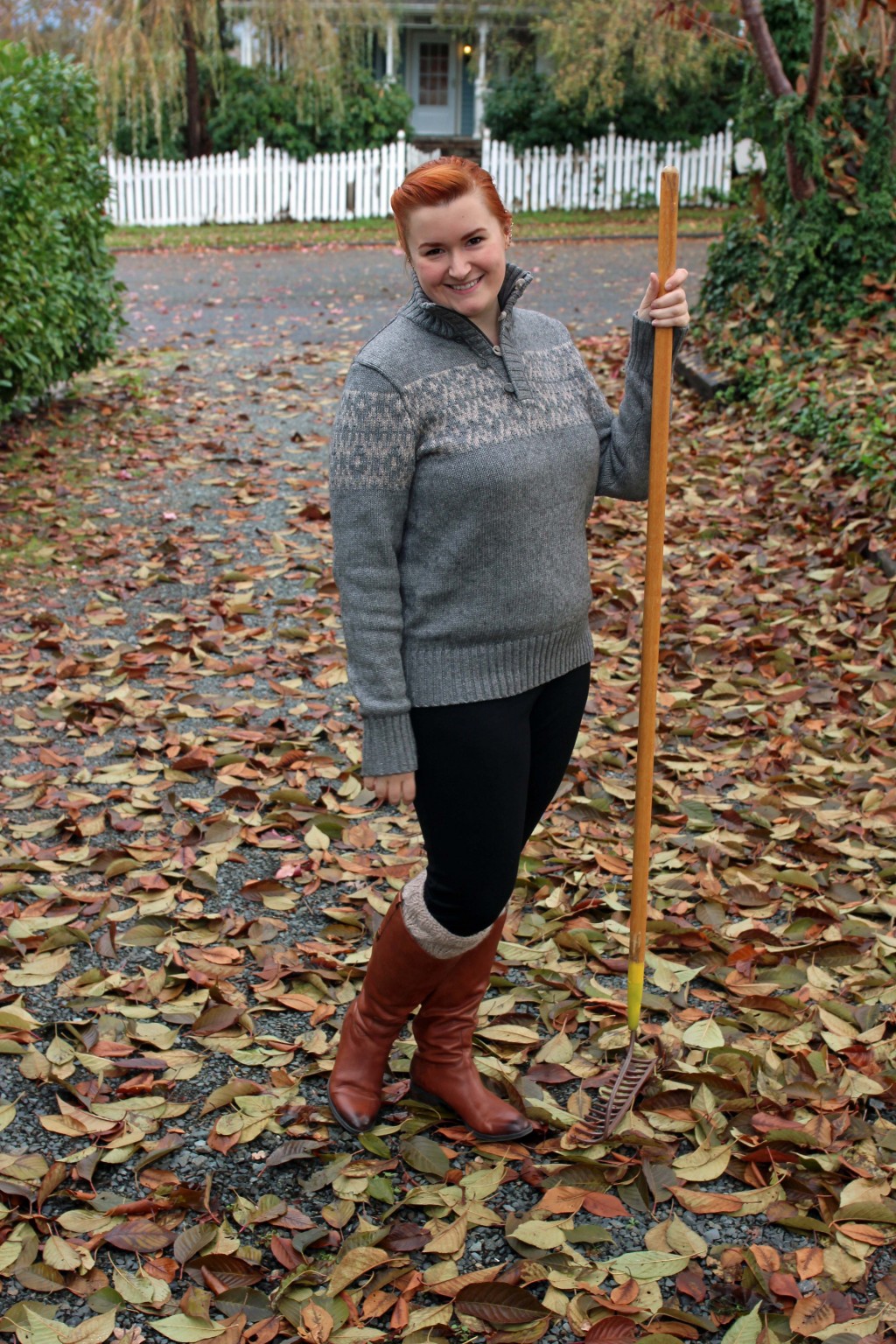 Seriously though, this sweater is SO warm. When it's above freezing, I'm practically sweating in it, but with the winter wonderland we had a few weeks ago, it kept me cozy and warm. Paired with leggings and boots, it's the perfect ensemble! Rounding out the outfit, are these beautiful handmade boot cuffs. Last Christmas, Jon knitted me these beautiful boot cuffs since I could never find any to fit my calves.
Basically, I'm the luckiest girl in the world. My boyfriend cooks, bakes, cleans, knits, and lets me borrow his clothes! Oh, and he also built this site, takes my pictures, and proofreads my posts! (Now I'm starting to feel a little insecure about what I bring to this relationship…!)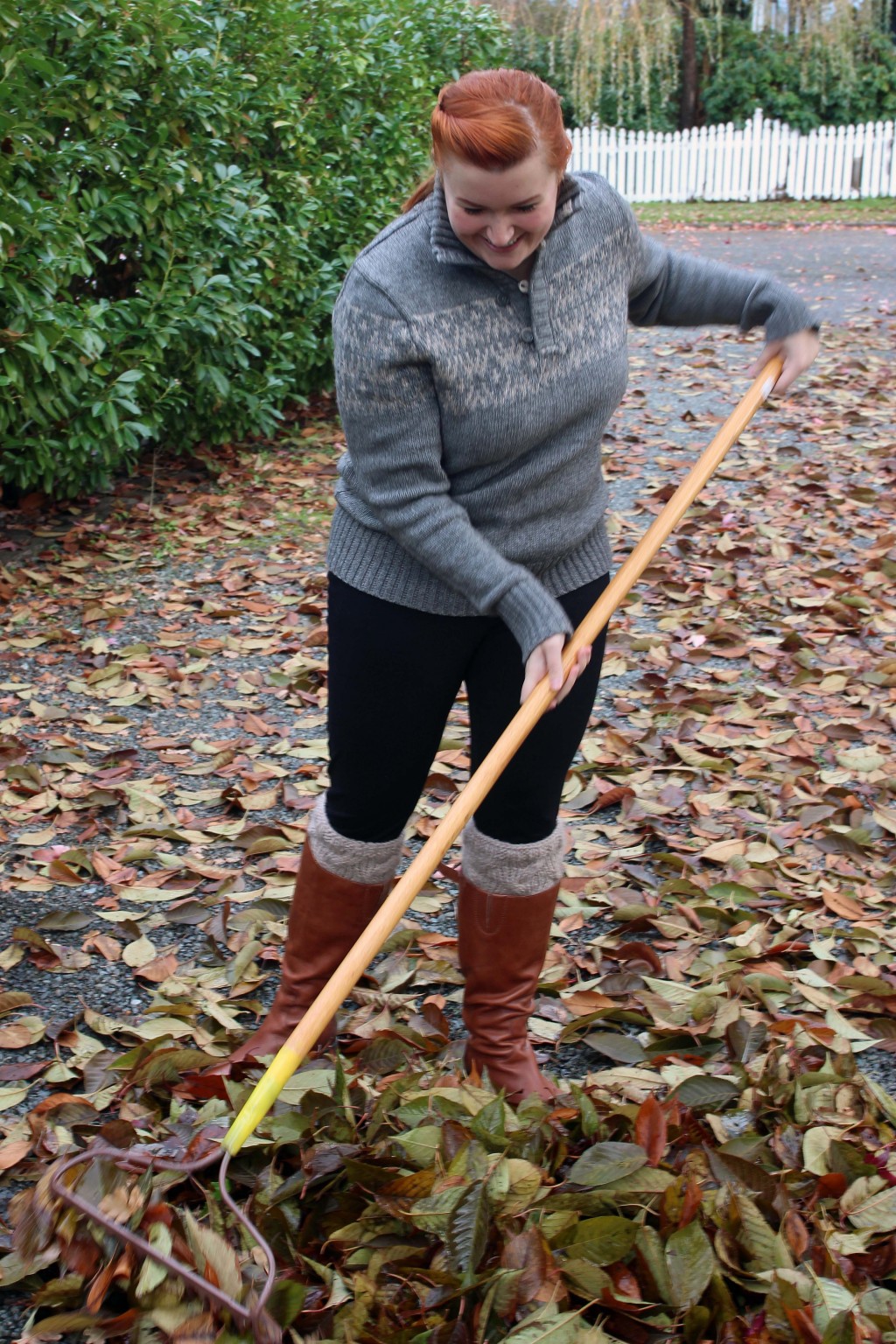 Sweater: [shopsense shopsense_url="http://api.shopstyle.com/action/apiVisitRetailer?url=http%3A%2F%2Fbananarepublic.gap.com%2Fbrowse%2Fproduct.do%3Fcid%3D28663%26vid%3D1%26pid%3D130535002″ original_url="http://bananarepublic.gap.com/browse/product.do?cid=28663&vid=1&pid=130535002″ save_to_store="true"]Banana Republic (Men's)[/shopsense], [shopsense shopsense_url="http://api.shopstyle.com/action/apiVisitRetailer?url=http%3A%2F%2Fbananarepublic.gap.com%2Fbrowse%2Fproduct.do%3Fcid%3D77996%26vid%3D1%26pid%3D179075002″ original_url="http://bananarepublic.gap.com/browse/product.do?cid=77996&vid=1&pid=179075002″ save_to_store="true"]similar in Women's[/shopsense]; Leggings: [shopsense shopsense_url="http://api.shopstyle.com/action/apiVisitRetailer?id=452634562″ original_url="http://www1.macys.com/shop/product/inc-international-concepts-skinny-leg-pull-on-ponte-pants?ID=1508145&CategoryID=3481&LinkType=#fn=DEPARTMENT_TYPE%253DPants%2526sp%253D1%2526spc%253D54″ save_to_store="true"]INC International Concepts Skinny-Leg Pull-On Pants[/shopsense]; Boot Cuffs: Handmade, similar [shopsense shopsense_url="none" original_url="http://www.graceandlace.com/all/cable-knit-boot-cuffs/" save_to_store="true"]here[/shopsense]; Boots: [shopsense shopsense_url="http://api.shopstyle.com/action/apiVisitRetailer?id=434740303″ original_url="http://shop.nordstrom.com/s/sam-edelman-penny-boot-wide-calf-women/3596173?origin=PredictiveSearch-personalizedsort&contextualcategoryid=0&fashionColor=Whiskey+Extended+Calf&resultback=1286&cm_sp=personalizedsort-_-searchresults-_-1_4_B" save_to_store="true"]Sam Edelman 'Penny' Boot (wide calf)[/shopsense]