Goodwill Style: Mended Coat
First up on my Goodwill Style series is a fabulous mid-length minty-blue coat I discovered. I always love a piece with a story and this lightweight coat certainly has one.
Whenever I thrift shop, I go over my items meticulously to ensure that I'm getting an undamaged piece – no rips, tears, stains, etc. I spent probably 15 minutes holding this coat up in different lights and angles, running my hands over it. This time I even asked the gal at the register if she noticed anything wrong with it; for $15 this find seemed too good to be true! It turns out it was. The minute I got it home to show my mom my lucky find, I immediately found a large tear at the bottom of the jacket, about four inches long.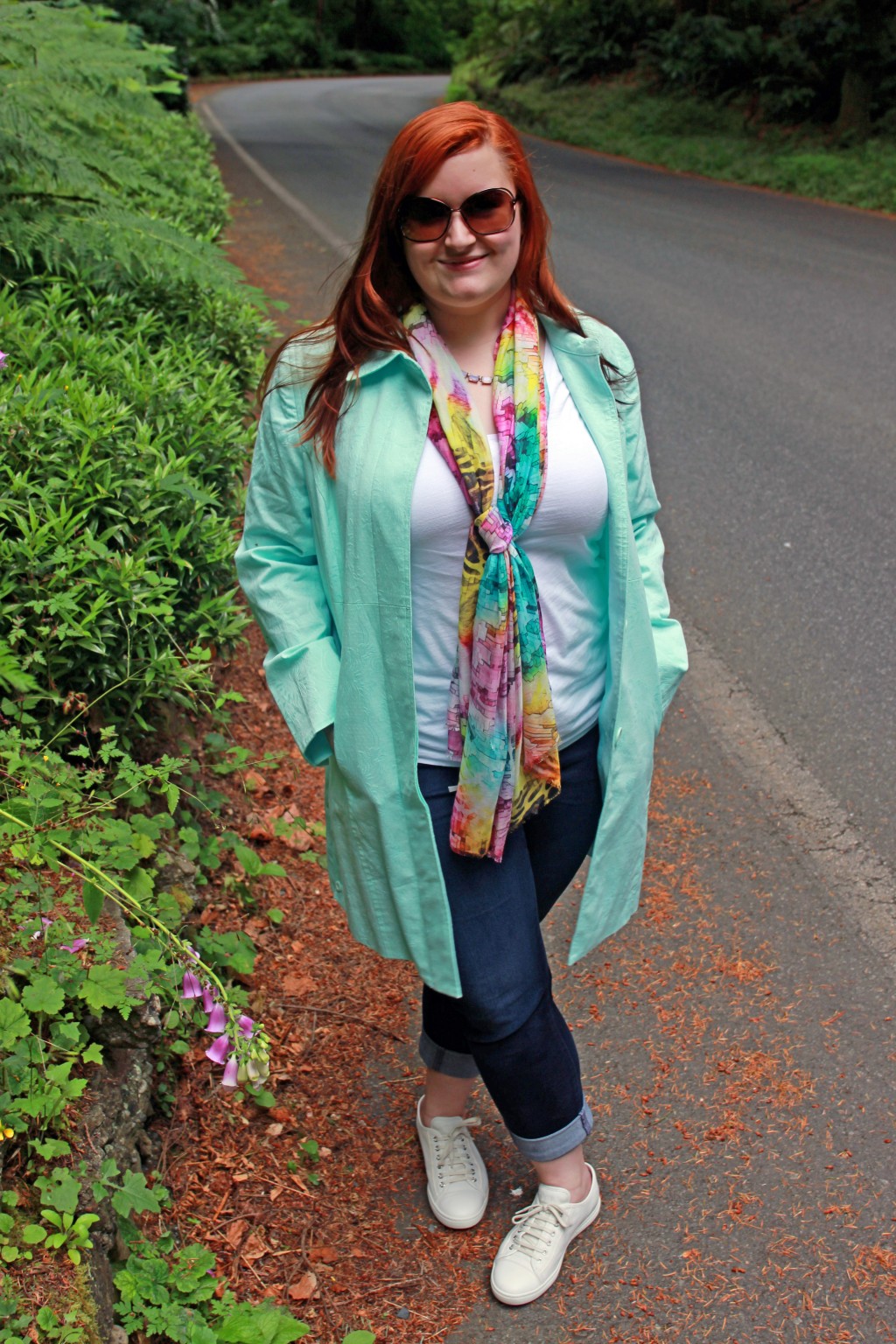 Instead of tossing it back in the donation pile, I decided to take it to my seamstress and see if she could mend it. There is a light embroidery pattern on the jacket and she was able to sew the tear shut and blend it into the jacket perfectly! As I mentioned in my interview with Goodwill, having a trusted seamstress to mend your pieces or restructure them in a new way is a great way to bring new life to previously donated clothing.
After having the jacket repaired, styling this coat in the middle of summer proved a bit tricky. I ended up going with a casual Friday wear-to-work appropriate ensemble. Thrown together with a simple pair of jeans, white t-shirt, tennis shoes, and some bright colored accessories, the coat tops the outfit off perfectly for breezy spring and summer evenings.
Want to win a $25 gift card to Goodwill? Enter my contest!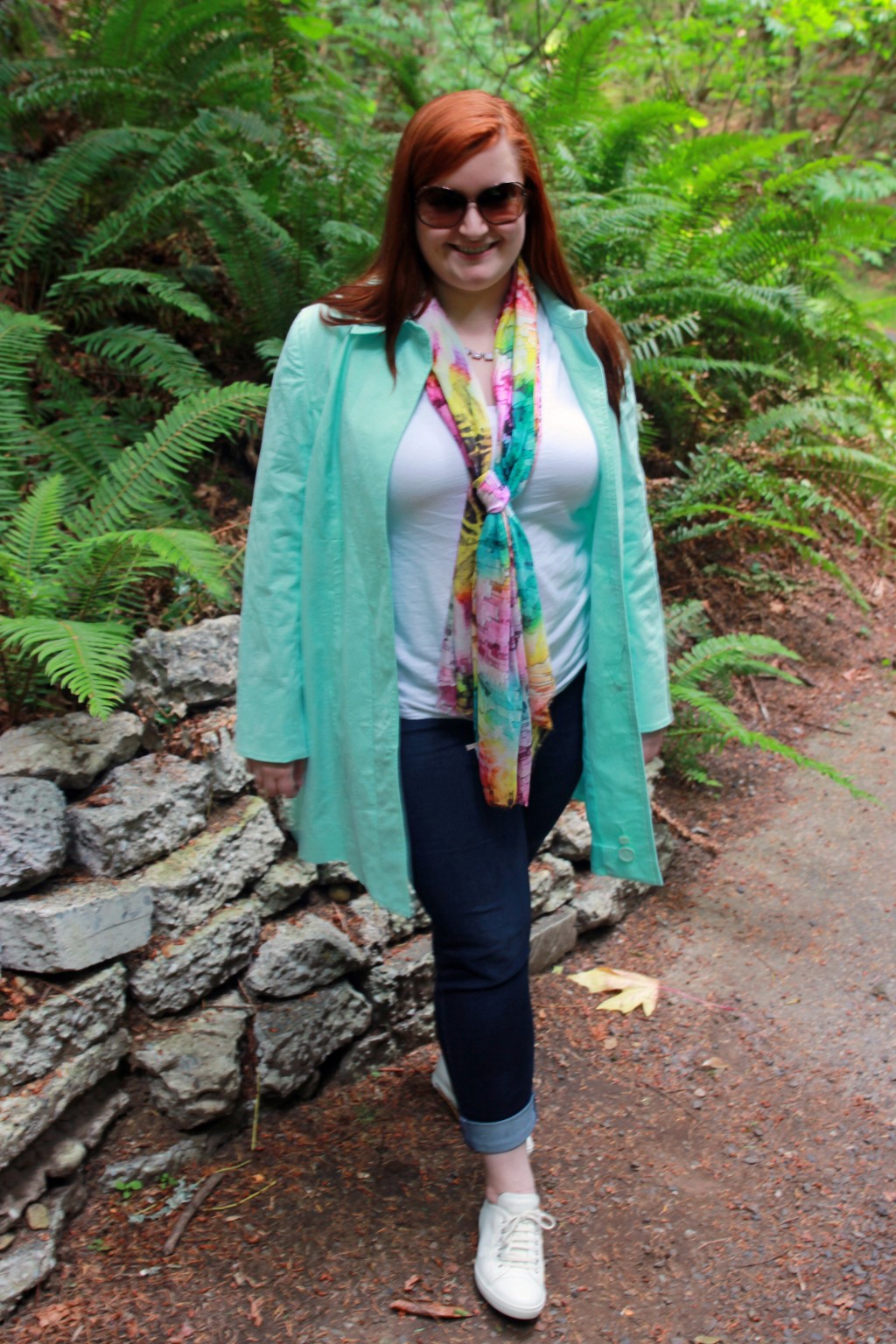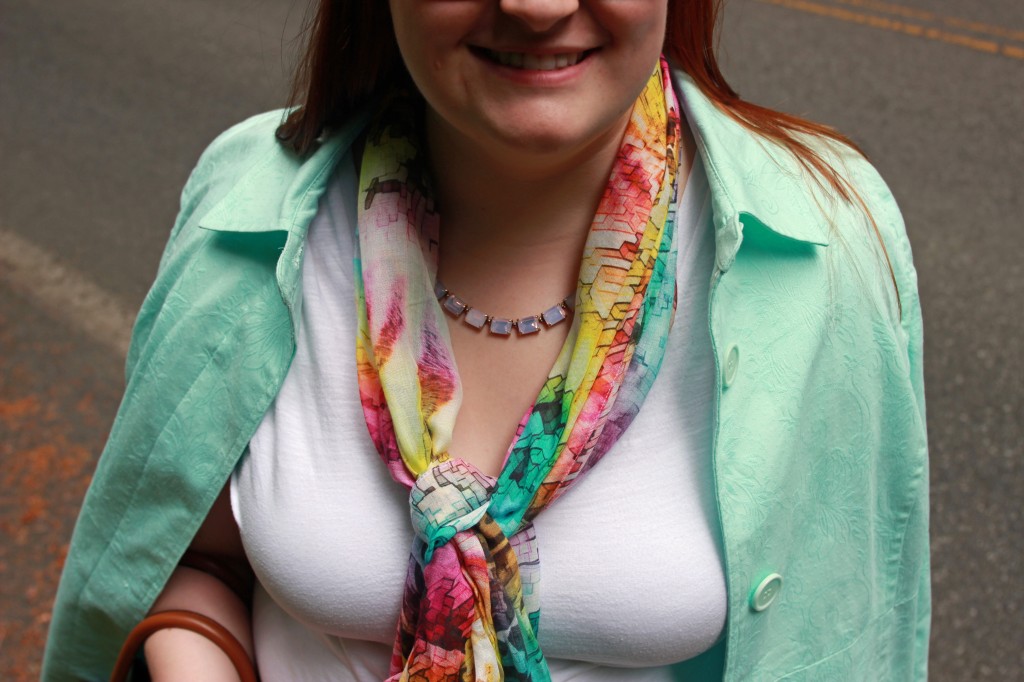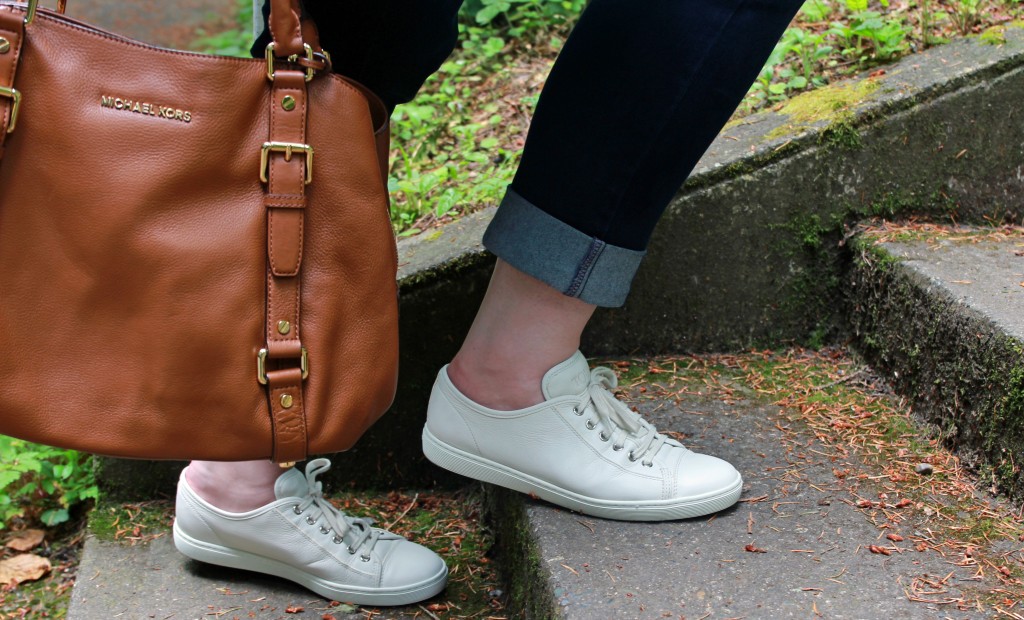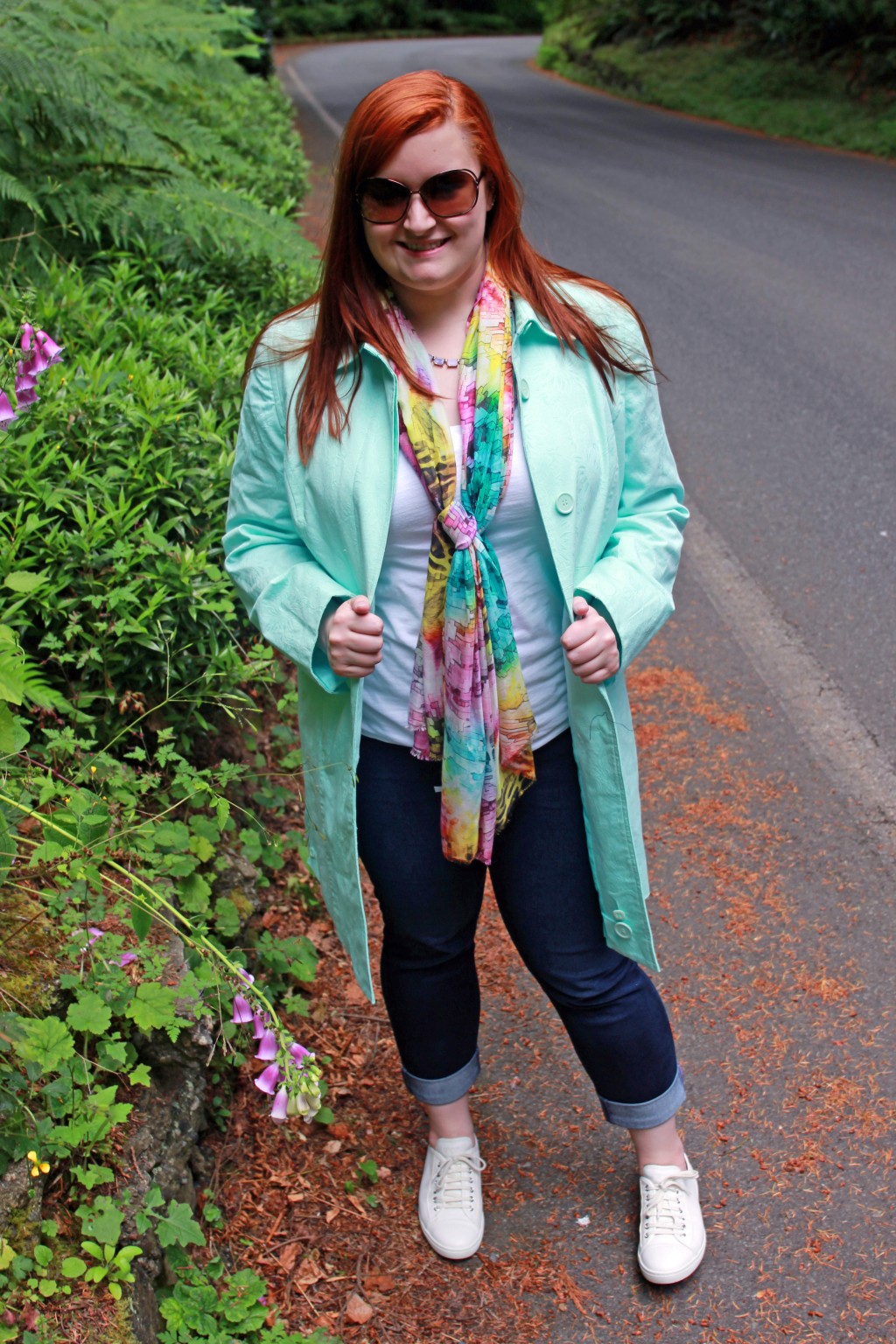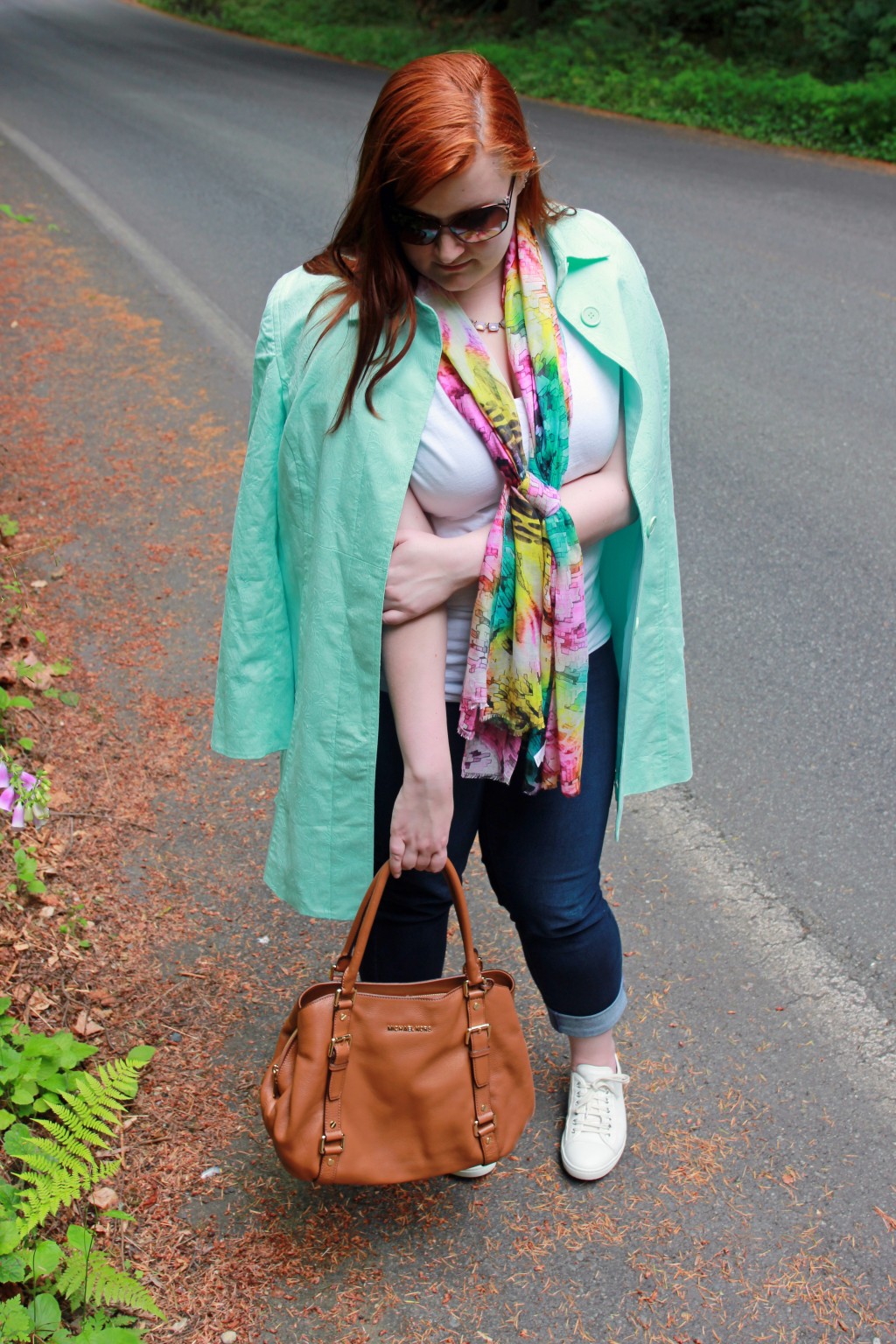 Jacket: Apostrophe c/o Goodwill; Shirt: American Eagle c/o Goodwill; Scarf: [shopsense shopsense_url="http://api.shopstyle.com/action/apiVisitRetailer?url=http%3A%2F%2Fshop.nordstrom.com%2Fs%2Fmissoni-ann-triangle-scarf%2F3740197%3Forigin%3Dcategory-personalizedsort" original_url="http://shop.nordstrom.com/s/missoni-ann-triangle-scarf/3740197?origin=category-personalizedsort&contextualcategoryid=0&fashionColor=Black%2F+Green&resultback=2647&cm_sp=personalizedsort-_-browseresults-_-1_6_C" save_to_store="true"]Nordstrom (similar by Missoni)[/shopsense]; Jeans: [shopsense shopsense_url="http://api.shopstyle.com/action/apiVisitRetailer?url=http%3A%2F%2Fshop.nordstrom.com%2Fs%2Fnydj-leann-stretch-boyfriend-jeans-clarkston-regular-petite%2F3725183%3Forigin%3Dcategory-personalizedsort" original_url="http://shop.nordstrom.com/s/nydj-leann-stretch-boyfriend-jeans-clarkston-regular-petite/3725183?origin=category-personalizedsort&contextualcategoryid=0&fashionColor=&resultback=364&cm_sp=personalizedsort-_-browseresults-_-1_1_A" save_to_store="true"]NYDJ (similar)[/shopsense]; Shoes: [shopsense shopsense_url="http://api.shopstyle.com/action/apiVisitRetailer?id=451268353″ original_url="http://shop.nordstrom.com/s/tods-sport-cassetta-sneaker/3742362?origin=category-personalizedsort&contextualcategoryid=0&fashionColor=&resultback=3784&cm_sp=personalizedsort-_-browseresults-_-1_12_A" save_to_store="true"]Tod's Sneaker (similar in black)[/shopsense]; Bag: [shopsense shopsense_url="http://api.shopstyle.com/action/apiVisitRetailer?id=434160075″ original_url="http://shop.nordstrom.com/s/michael-michael-kors-bedford-large-satchel/3588228?origin=related-3588228-2375500-1-2-home_page.HP-RR&PageCategoryId=HOME%20PAGE" save_to_store="true"]Michael Kors Bedford-Large Satchel in Luggage[/shopsense]; Necklace: [shopsense shopsense_url="http://api.shopstyle.com/action/apiVisitRetailer?id=448574259″ original_url="https://www.jcrew.com/womens_category/jewelry/necklaces/PRDOVR~A8642/A8642.jsp" save_to_store="true"]J. Crew Rectangle Gem Necklace[/shopsense]; Sunglasses: [shopsense shopsense_url="http://api.shopstyle.com/action/apiVisitRetailer?id=311523586″ original_url="http://shop.nordstrom.com/s/tom-ford-carla-66mm-oversized-round-metal-sunglasses/3218478?cm_cat=datafeed&cm_ite=tom_ford_%27carla%27_66mm_oversized_round_metal_sunglasses:389313&cm_pla=eyewear:women:sunglasses&cm_ven=Linkshare&siteId=J84DHJLQkR4-5Nb6Xe1.mGRqByTo7eYtqw" save_to_store="true"]Tom Ford (similar)[/shopsense]