Summer Style with Goodwill + Giveaway!
There are times when it's super hard to keep a secret and this was one of those times! I love a good day of thrift shopping and coming across some AMAZING finds, and I'm excited to finally announce a project I've been working on with Bellevue Goodwill for a while!
Over the last few weeks I've spent many-an-hour diving into the racks and curating some of my favorite finds from the Goodwill racks. I've probably spent nearly as much time mending, recreating, and styling my finds into the outfits I'm giving you a sneak peak of today! I know, I know, who knew I had this patience? Well, I'll let you in on a little secret – I actually love thrift shopping and the thrill of the hunt for that perfect treasure!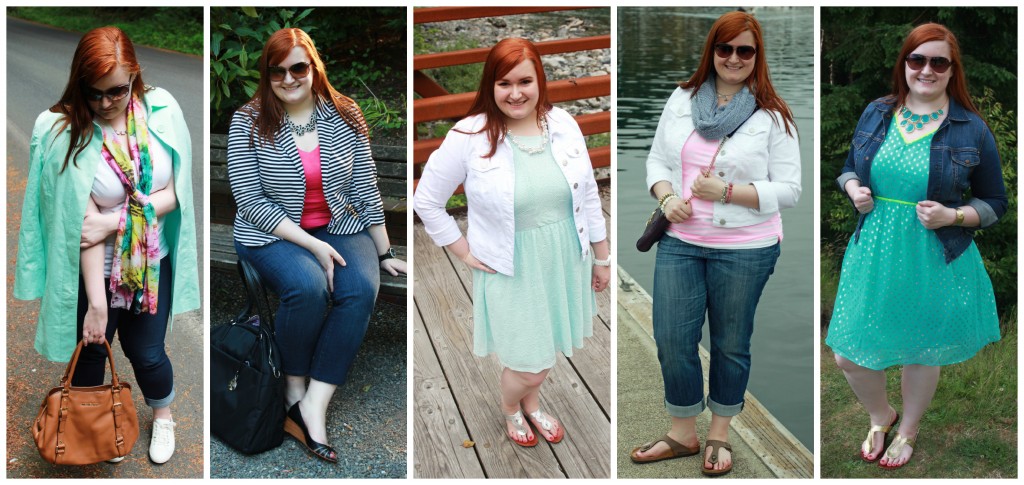 Items from Goodwill include:
From left to right: (1) blue coat, (2) striped blazer and black peep toe wedges, (3) blue lace dress, (4) pink tank top, (5) blue polka dot dress

Here's the finished product! I'm wearing at least one item purchased at Bellevue Goodwill retail location in each outfit. I definitely gravitated towards the minty-blues and pinks in these ready-for-summer ensembles! All told, I spent less than $100 on all of the pieces pictured above, and paid well below retail. Each week I'll be sharing an in-depth look at my outfits styled above and show how you can recreate a similar look. But, if you can't wait, peek at my interview with Goodwill where I share some of my favorite thrift tips, tricks, and finds!
As part of my excitement over searching the racks, I'm giving away a $25 gift card to one lucky reader! Simply enter below!
[rafflecopter 378a2411]
And if that's not enough, Goodwill is kicking off the launch of their Instagram with a contest! To enter, follow @SeattleGoodwill on Instagram and head to one of their 24 retail locations to go treasure hunting! Once you've found that love-at-first-sight thrifted treasure, snap a picture of it and post it to Instagram with the tags @SeattleGoodwill and #SummerThrift. It can be clothes, trinkets, furniture, accessories, toys, kitchen appliances—or whatever floats your boat! Enter each week, July 1 – August 8, to be eligible for that week's drawing, and feel free to enter multiple times—once for every treasure you find! Check out the Seattle Goodwill blog for more information.
Goodwill is a nonprofit organization focused on enhancing the dignity and quality of life of individuals and families by strengthening communities, eliminating barriers to opportunity, and helping people in need reach their full potential through learning and the power of work. Last year alone Goodwill helped over 8,500 individuals. Just in Western Washington there are 10 job training centers, 24 retail stores, and 38 donation sites. The Goodwill's commitment to the community, and reducing, reusing, and recycling, is a great example for us all!