Feelin' Fresh
The wait is over… Summer is finally here! Even though I graduated 3 years ago, I think this is the first year it's really hitting me that I will never get a summer like I did while I was in school. Some days it's really hard to get up for work when I'm remembering all the days of sleeping in and goofing around that used to take place. I guess it's just all part of growing up, right?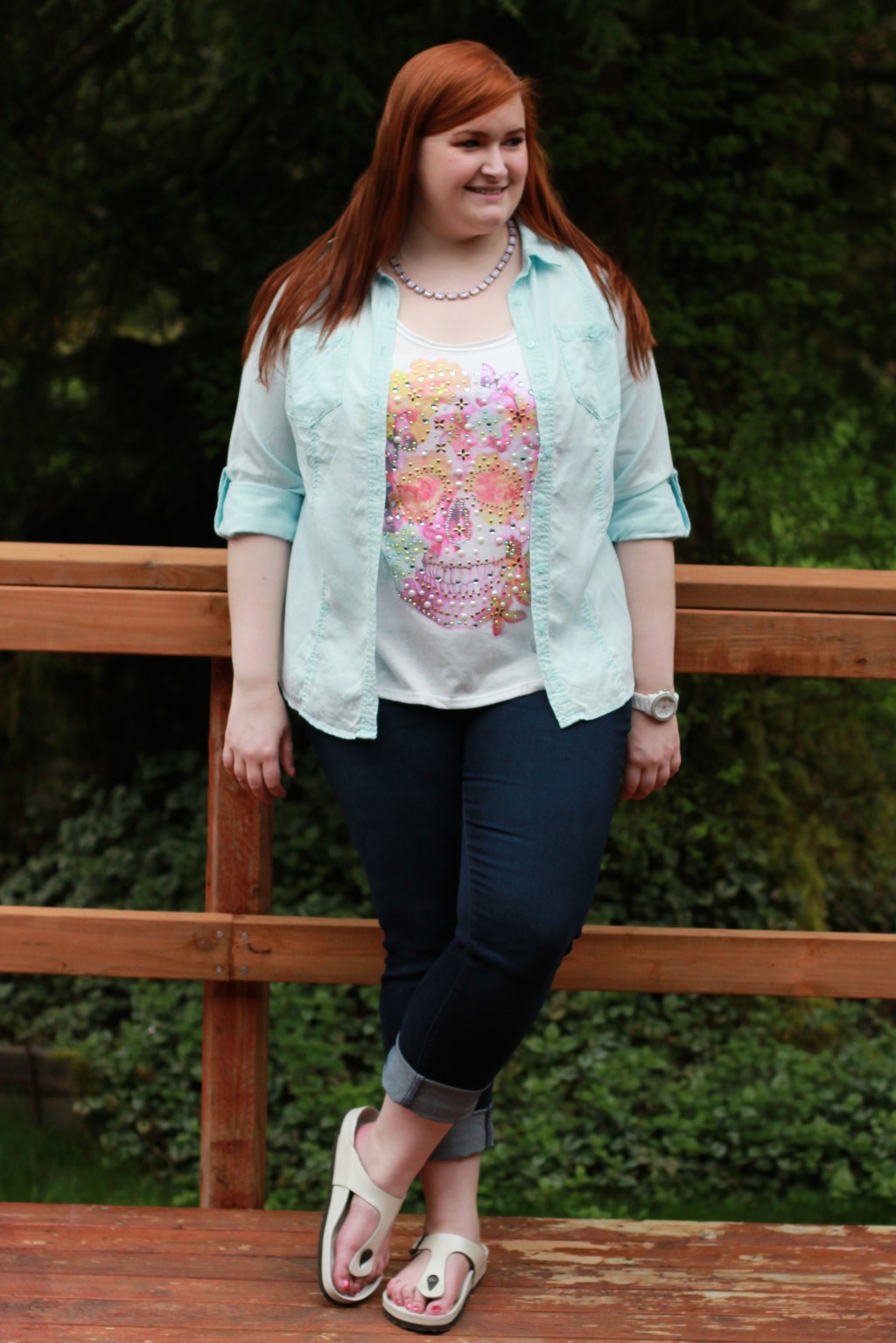 A few weeks ago I was shopping with a friend (I know, shocking) and went into [shopsense shopsense_url="http://api.shopstyle.com/action/apiVisitRetailer?url=http%3A%2F%2Fwww.lanebryant.com%2F" original_url="http://www.lanebryant.com/" save_to_store="false"]Lane Bryant[/shopsense]. I haven't been in there for a while because I don't typically find pieces that I like and that fit well, but I found this bedazzled skull tank top and blouse and fell in love! I love the bright colors and sparkles; it makes for a happy summer outfit. It's the perfect easy, breezy outfit for a casual weekend whether garage saling or BBQ-ing.
Also, if you note my sandals, it's another proud find of mine in Paris. I'm really glad that the "ugly sandal" (aka Birkenstock) is in this season. Not only are they now considered stylish, they're supportive and comfortable!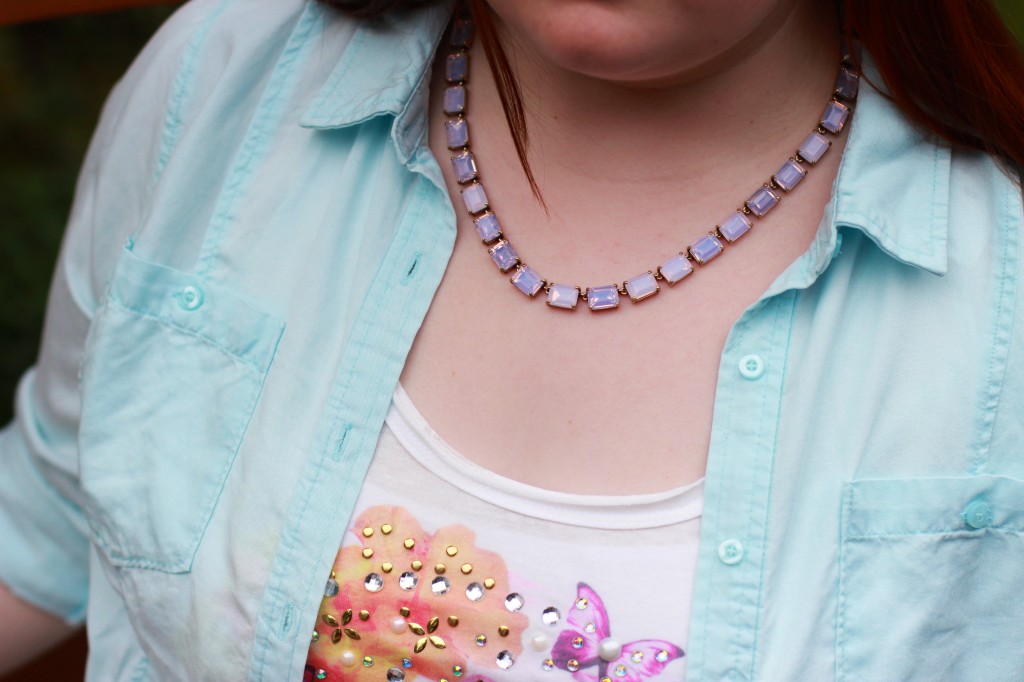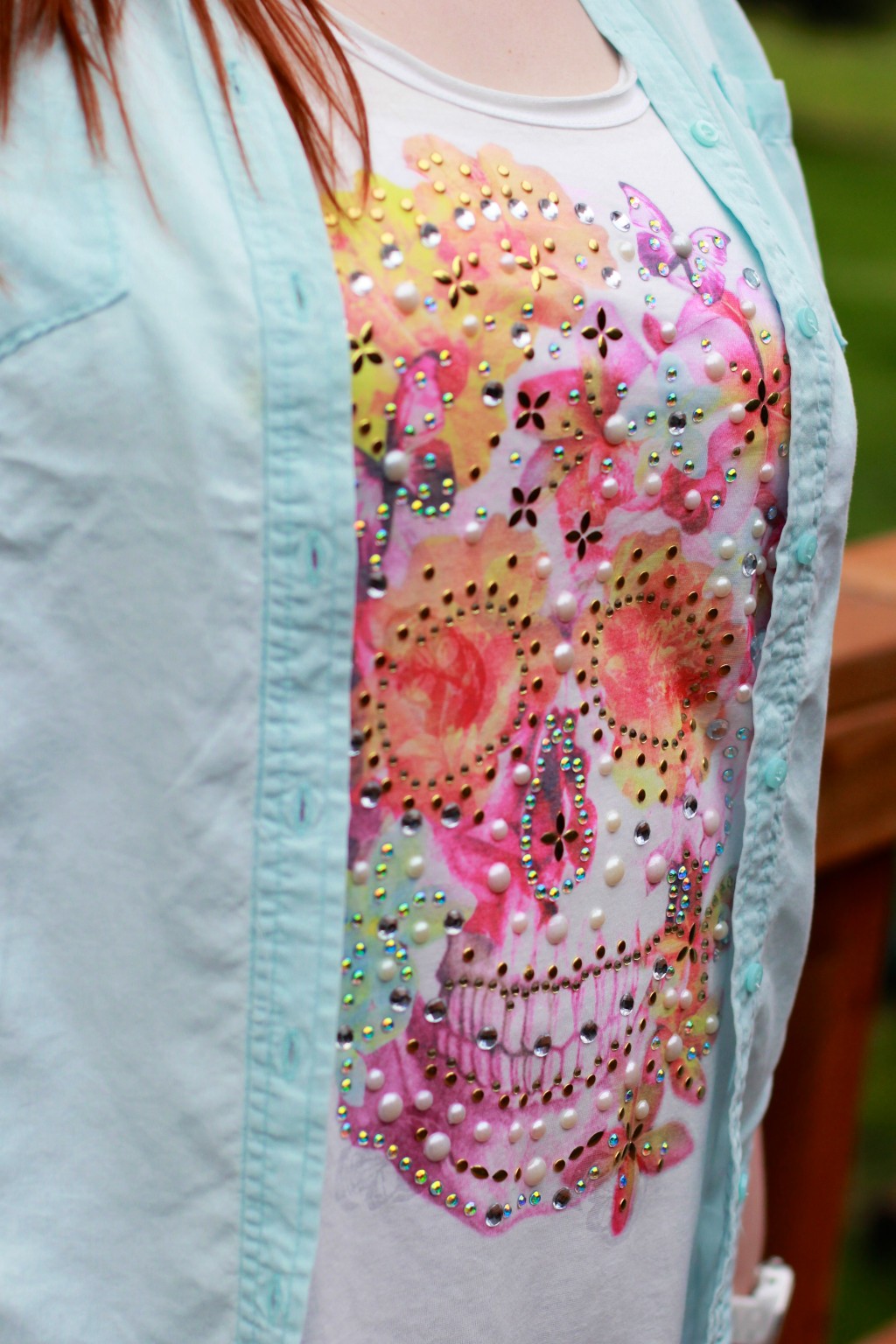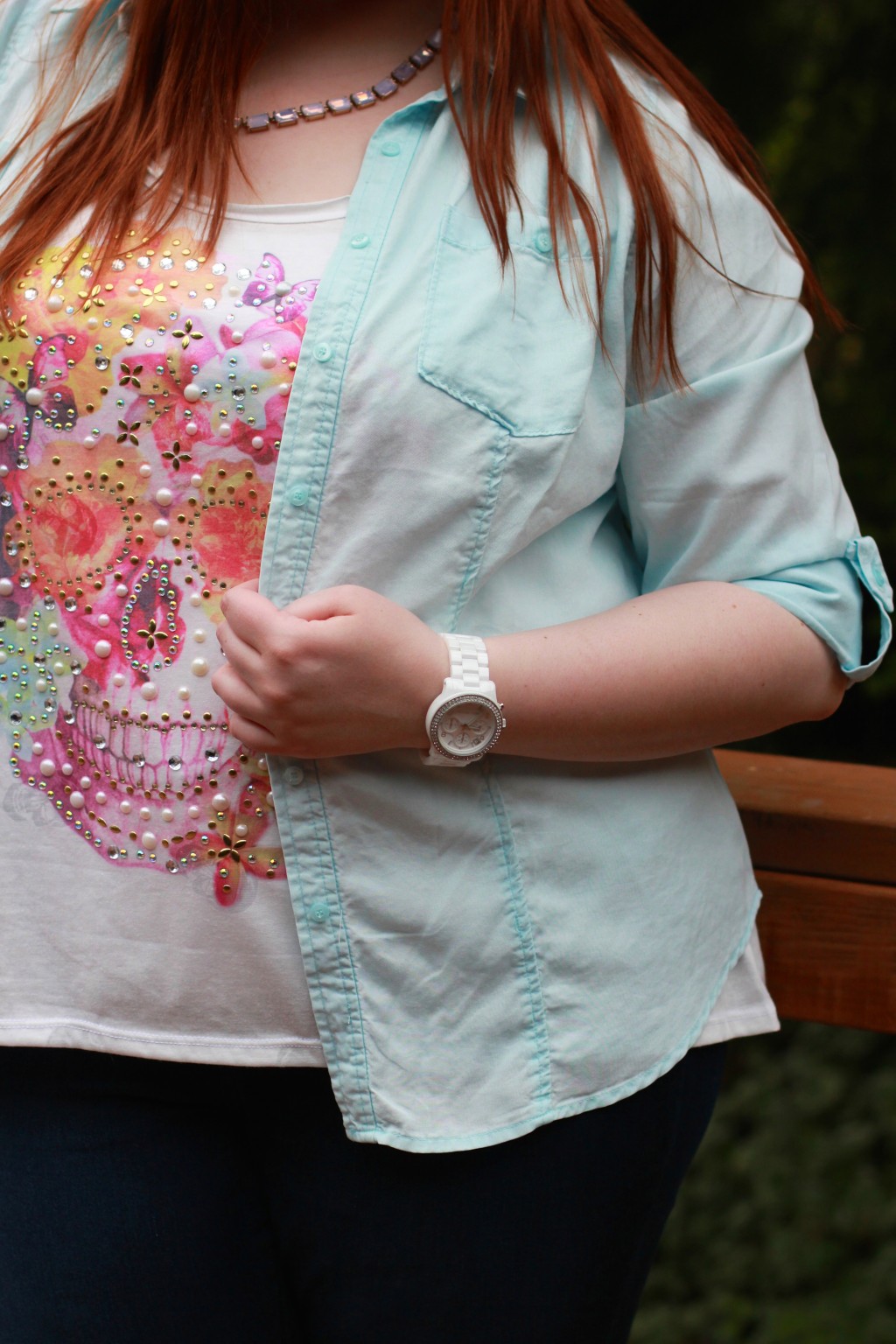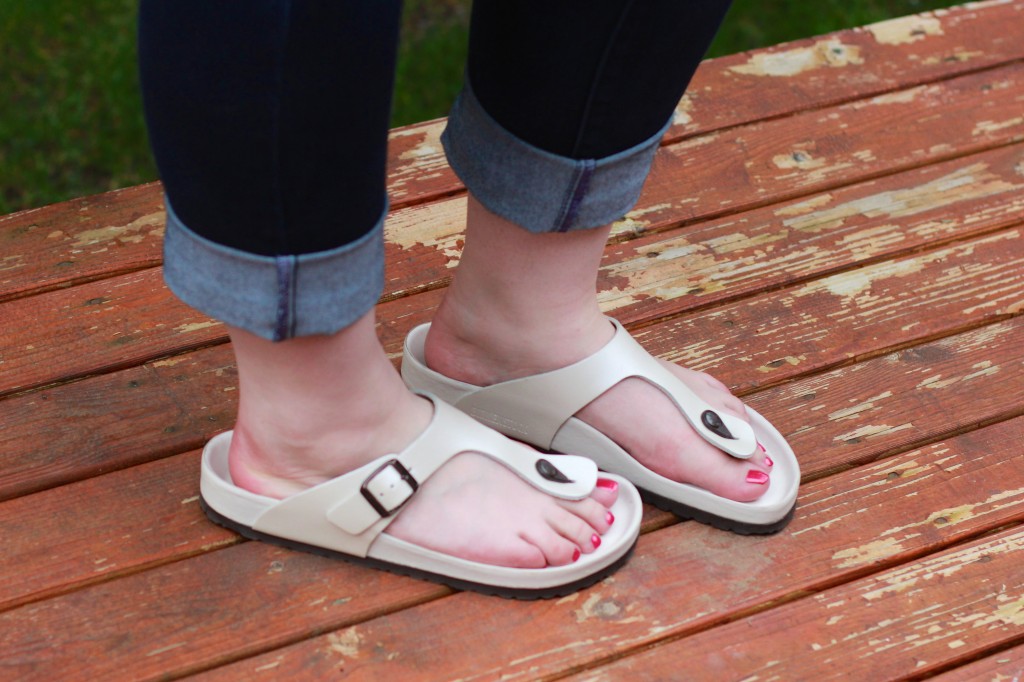 Tank Top: Lane Bryant Skull Tank Top (similar [shopsense shopsense_url="http://api.shopstyle.com/action/apiVisitRetailer?url=http%3A%2F%2Fwww.lanebryant.com%2Fplus-size-tops%2Ftees-knit-tops%2Fskull-high-low-tee%2F4019c68p208480%2Findex.pro%3FselectedColor%3DWhite" original_url="http://www.lanebryant.com/plus-size-tops/tees-knit-tops/skull-high-low-tee/4019c68p208480/index.pro?selectedColor=White&selectedSize=None%20selected" save_to_store="true"]here[/shopsense]); Blouse: Lane Bryant ([shopsense shopsense_url="http://api.shopstyle.com/action/apiVisitRetailer?url=http%3A%2F%2Fwww.lanebryant.com%2Fplus-size-tops%2Fshirts-blouses%2Fthe-perfect-shirt-with-covered-placket%2F4019c90p207137%2Findex.pro%3FselectedColor%3DParakeet" original_url="http://www.lanebryant.com/plus-size-tops/shirts-blouses/the-perfect-shirt-with-covered-placket/4019c90p207137/index.pro?selectedColor=Parakeet&selectedSize=None%20selected" save_to_store="false"]similar[/shopsense]); Jeans: [shopsense shopsense_url="http://api.shopstyle.com/action/apiVisitRetailer?id=406453163″ original_url="http://shop.nordstrom.com/s/nydj-audrey-stretch-ankle-skinny-jeans-plus-size/3463313?origin=PredictiveSearch-personalizedsort&contextualcategoryid=2375500&fashionColor=&resultback=962&cm_sp=personalizedsort-_-searchresults-_-1_3_B" save_to_store="false"]NYDJ Stretch Ankle Pant (similar)[/shopsense]; Shoes: [shopsense shopsense_url="http://api.shopstyle.com/action/apiVisitRetailer?id=439527745″ original_url="http://shop.nordstrom.com/s/birkenstock-gizeh-birko-flor-thong/3653772?origin=PredictiveSearch-personalizedsort&contextualcategoryid=0&fashionColor=Antique+Lace&resultback=316&cm_sp=personalizedsort-_-searchresults-_-1_1_B" save_to_store="true"]Birkenstock Gizeh (similar)[/shopsense]; Watch: [shopsense shopsense_url="http://api.shopstyle.com/action/apiVisitRetailer?id=292898716″ original_url="http://shop.nordstrom.com/s/michael-kors-large-runway-silicone-wrap-watch/3026601?origin=PredictiveSearch-personalizedsort&contextualcategoryid=0&fashionColor=&resultback=297&cm_sp=personalizedsort-_-searchresults-_-1_2_B" save_to_store="true"]Michael Kors Ceramic Watch (similar)[/shopsense]; Necklace: [shopsense shopsense_url="http://api.shopstyle.com/action/apiVisitRetailer?id=448574259″ original_url="https://www.jcrew.com/womens_category/jewelry/necklaces/PRDOVR~A8642/A8642.jsp" save_to_store="true"]J. Crew Rectangle Gem Necklace in Ballet Pink [/shopsense] (Get 30% off with code HISUMMER)