Fashion Flashback: Louis Vuitton
Today we think of Louis Vuitton as a brand, a provider of luxury, designer goods, with its traditional LV monogram adorning the majority of its products. Named one of the most valuable luxury brands, it's hard not to think of this French fashion house as synonymous with the elite lifestyle. But prior to the LV brand rising to the top, Louis Vuitton was a man in France working as an apprentice to a box-maker and packer.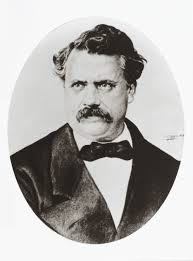 Louis Vuitton was born August 4, 1821, in Anchay, France, to a working class family. His father, Xavier Vuitton, was a farmer and his mother, Corinne Galliard, who died when he was 10, a milliner. After his mother's death, his father quickly remarried. Unhappy with his stepmother and tired of provincial life, at 13, Vuitton left home for Paris. The 292-mile journey took him two years on foot, and upon arrival in Paris in 1837, at the age of 16, he became an apprentice at a successful box-making and packing workshop, working under the tutelage of Monsieur Marechal, an established and well respected box maker. The art of box-making was a sophisticated craft at the time and required the individual to custom-make all boxes to fit the customer's items for storage or shipping. Within a few short years Vuitton had gained a reputation as one of the best in his field amongst the fashionable elite in Paris.
Sixteen years later, Napoleon Bonaparte staged a coup d'etat and one year later became the Emperor of the Second French Empire. In 1853, Vuitton was appointed the personal box-maker and packer to the Empress of France, Eugenie de Montijo, Napoleon's wife. The Empress charged Vuitton with beautifully packaging her clothes for transportation between the Tuileres Palace, the Château de Saint-Cloud and various seaside resorts. The position solidified Vuitton's impact on the box-making world.
In 1854 Vuitton married Clemence-Emilie Parriaux and together they would have son Georges Vuitton. Shortly after marrying, Vuitton left the shop he had apprenticed for and opened his own box-making and packing workshop in Paris. In 1858, he introduced a new trunk made of canvas instead of leather, separating LV from the competition by providing the advantage of being hard-wearing and waterproof. The key differentiation between Vuitton's trunks was that they were in a new rectangular, stackable shape, a true innovation in a market of round-top trunks, and arguably the foundation for modern luggage.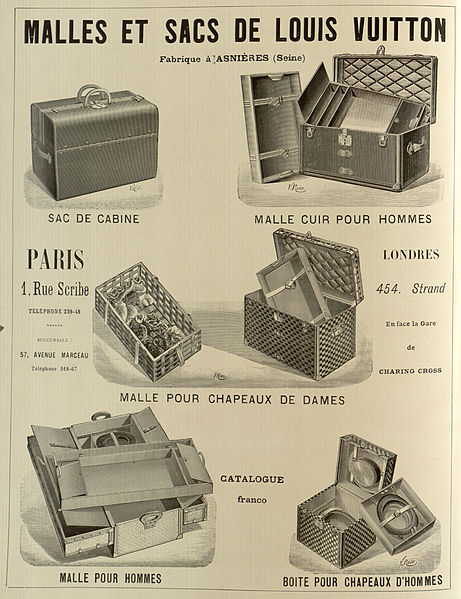 The new and improved trunks were an immediate commercial success, and advancements in transportation increased demand. In 1859, to fulfill the requests placed for his luggage, he expanded into a larger workshop in Asnieres, a village outside Paris. Business was booming, and Vuitton received personal orders not only from French royalty but also from Isma'il Pasha, the Khedive of Egypt.
With the outbreak of the Franco-Prussian War in 1870, Vuitton's business was interrupted. The subsequent siege of Paris gave way to a bloody civil war that destroyed the French Empire. When the siege finally ended on January 28, 1871, Vuitton returned to Asnieres to find the village in ruins, his staff dispersed, his equipment stolen and his shop destroyed.
Vuitton immediately devoted himself to the restoration of his business. Within months he had built a new shop at a new address, 1 Rue Scribe, in the heart of new Paris, with a renewed focus on luxury. In 1872, Vuitton introduced a new trunk design featuring beige canvas and red stripes. The simple, yet luxurious, new design appealed to Paris's new elite and marked the beginning of the Louis Vuitton label's modern incarnation as a luxury brand.
For the following 20 years, Vuitton would continue to work out of 1 Rue Scribe until death on February 27, 1892. Upon his death, he left control of the company to his son, Georges Vuitton.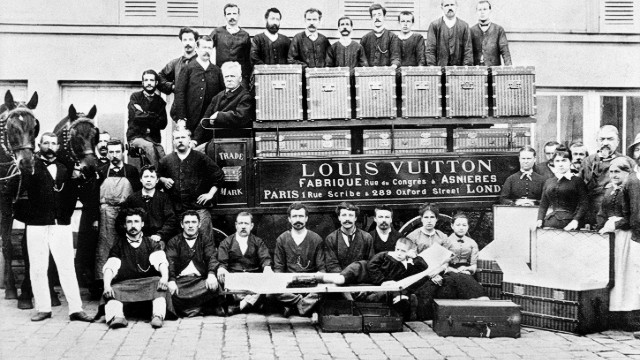 Under Georges, the famous LV monogram canvas was created featuring diamonds, circles and flowers, to distinguish the brand's products and to address copying of the brand's patterns. Georges and future generations of Vuitton, the Louis Vuitton brand would grow into the world-renowned luxury leather and lifestyle brand it remains today.