Greetings from Portland!
Okay, so the title may be a little misleading. I'm not actually in Portland right now, but I was, and these photos were taken there. If I hadn't told you, you probably wouldn't know the difference though, seeing as Washington looks very similar to Oregon…
In any case, I went to Oregon this weekend with two of my best friends, Liz and Dolly. We were picking up Liz's new car and celebrating Dolly's 25th birthday, and I was just along for the ride! Well, actually I drove them out there and figured it was only fitting to ask for outfit pictures in return.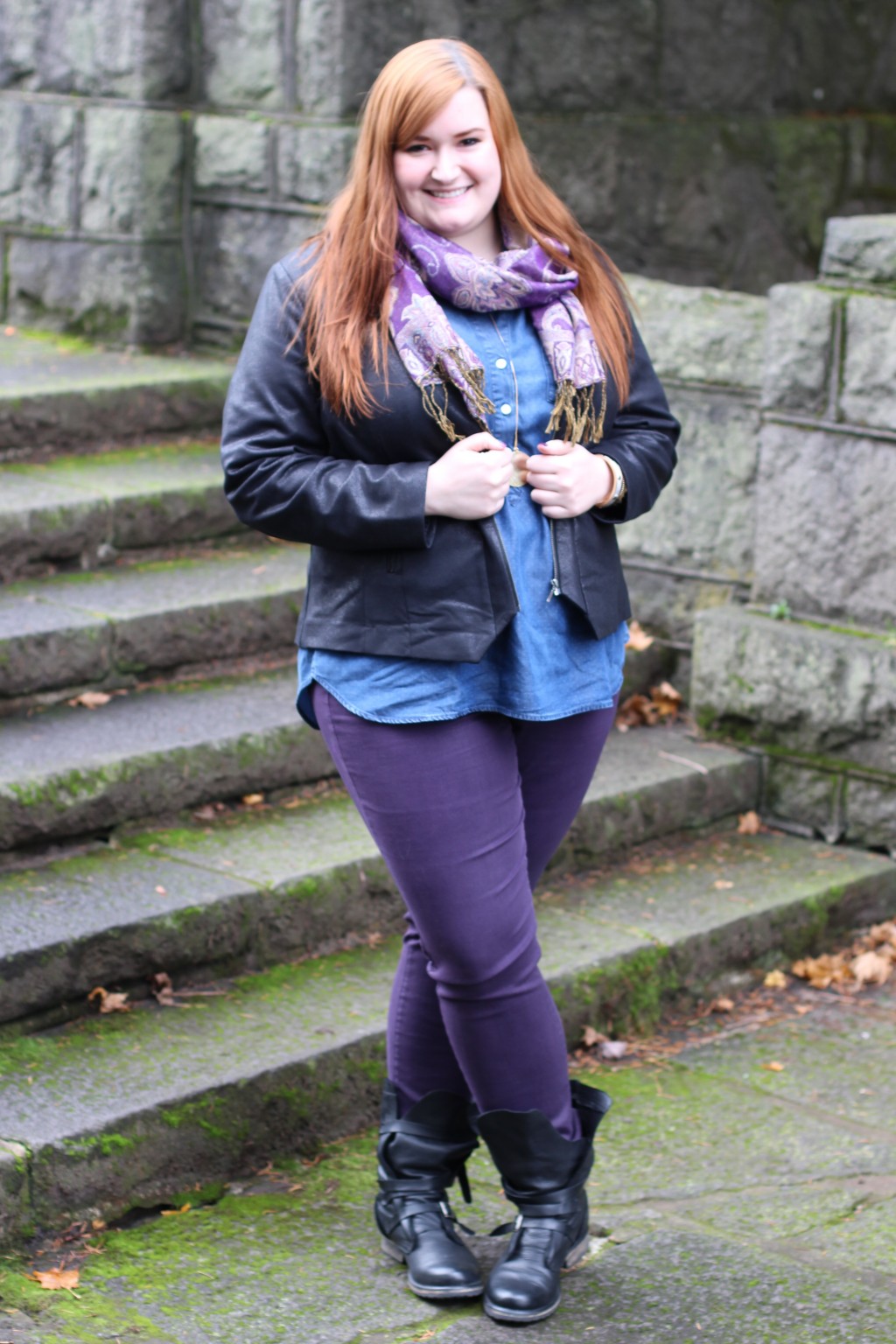 I felt inspired to be bold and wear my purple pants again. And, I know I'm a little late to the party, but I finally got a chambray shirt. I was (am?) the biggest naysayer of chambray. Every time I'd look at them hanging in stores I'd critique it and swear I'd never get one. Well, here we are. I picked up this one at the Nordstrom Half-Yearly Sale a few weeks ago and I've been waiting for the right outfit to wear it with. I sized up on this shirt so that it was longer and looser to wear with leggings or skinny jeans. What really sold me on the piece was how soft the material is, the polka dots, the loose fitting collar, and that it's only a half button-down. It's a little wrinkled in these pictures but I had been sitting in a car all day so please forgive me!
Moving on to my accessories, my favorite part of any outfit, I experimented with mixing silvers and golds. I'm usually not one to mix metals or metallics but with this outfit it works so well! The threading on the scarf is gold and silver, both my pants and my jacket have a silver luster to them, and my jewelry incorporates elements of both silver and gold.
This outfit has been a blend of things I thought I'd never wear (chambray) or something I thought I'd never try (mixing metals). It's fun to see how this blog has inspired me to try out new things and how my own personal style has developed over time. I wonder where I'll be a year from now!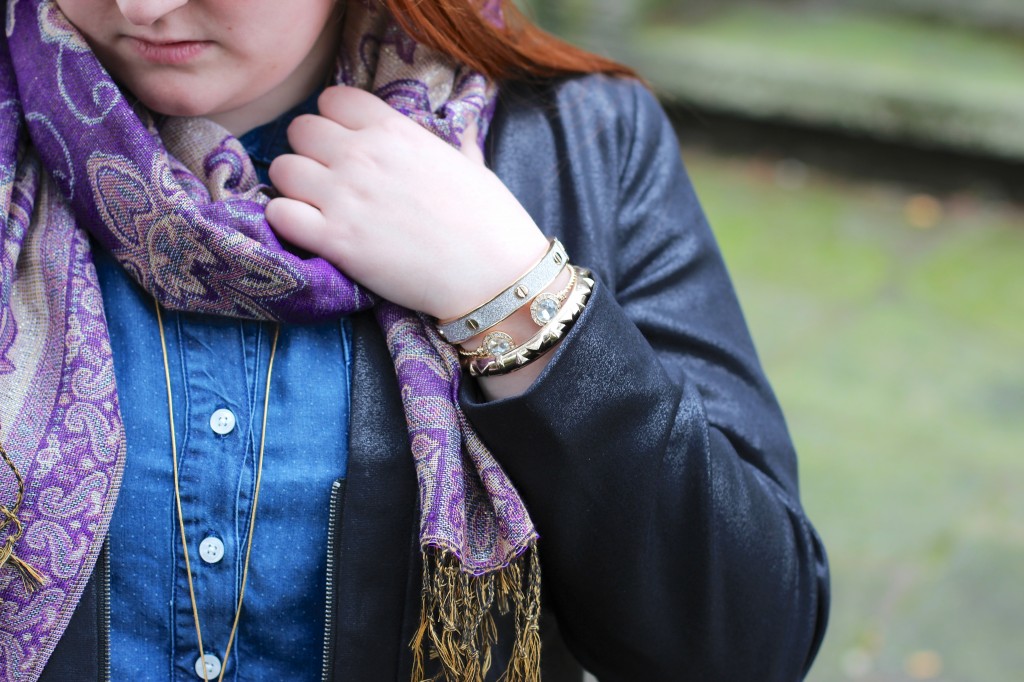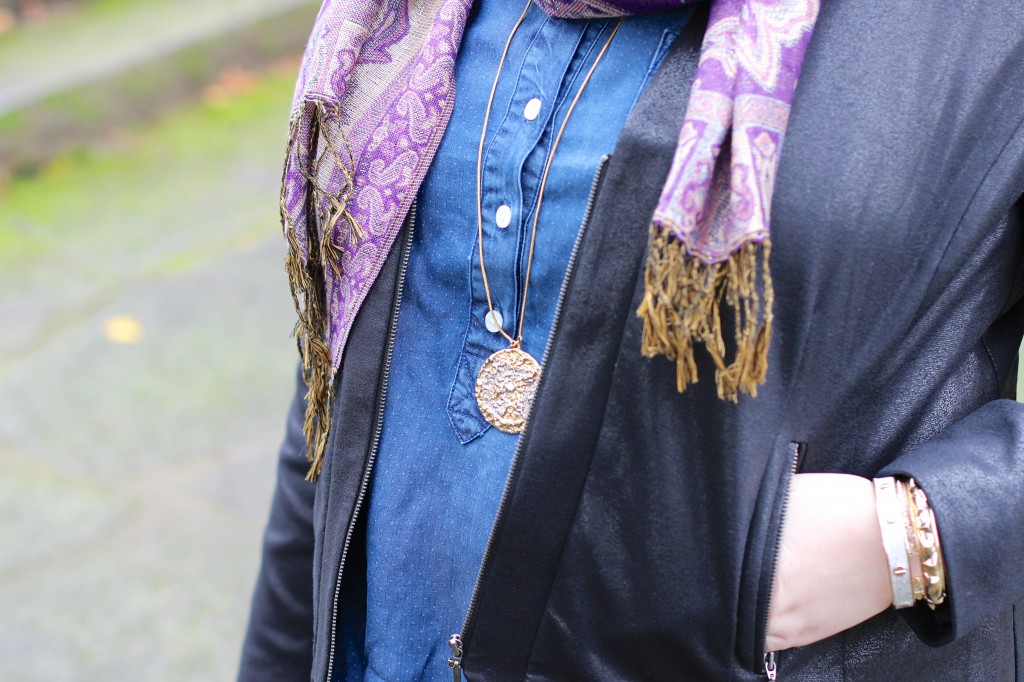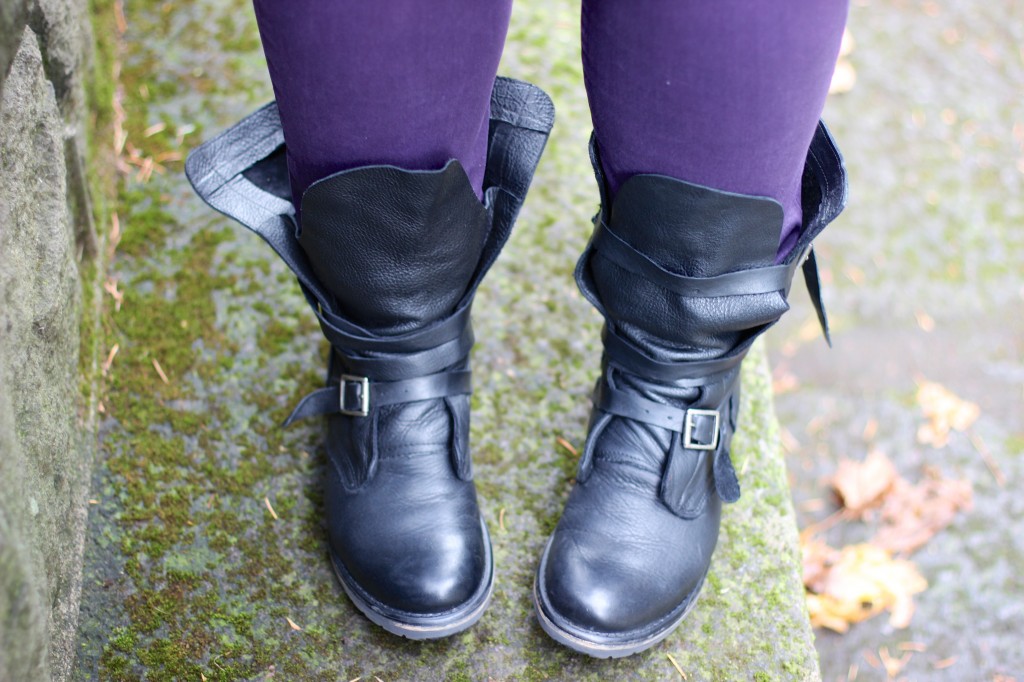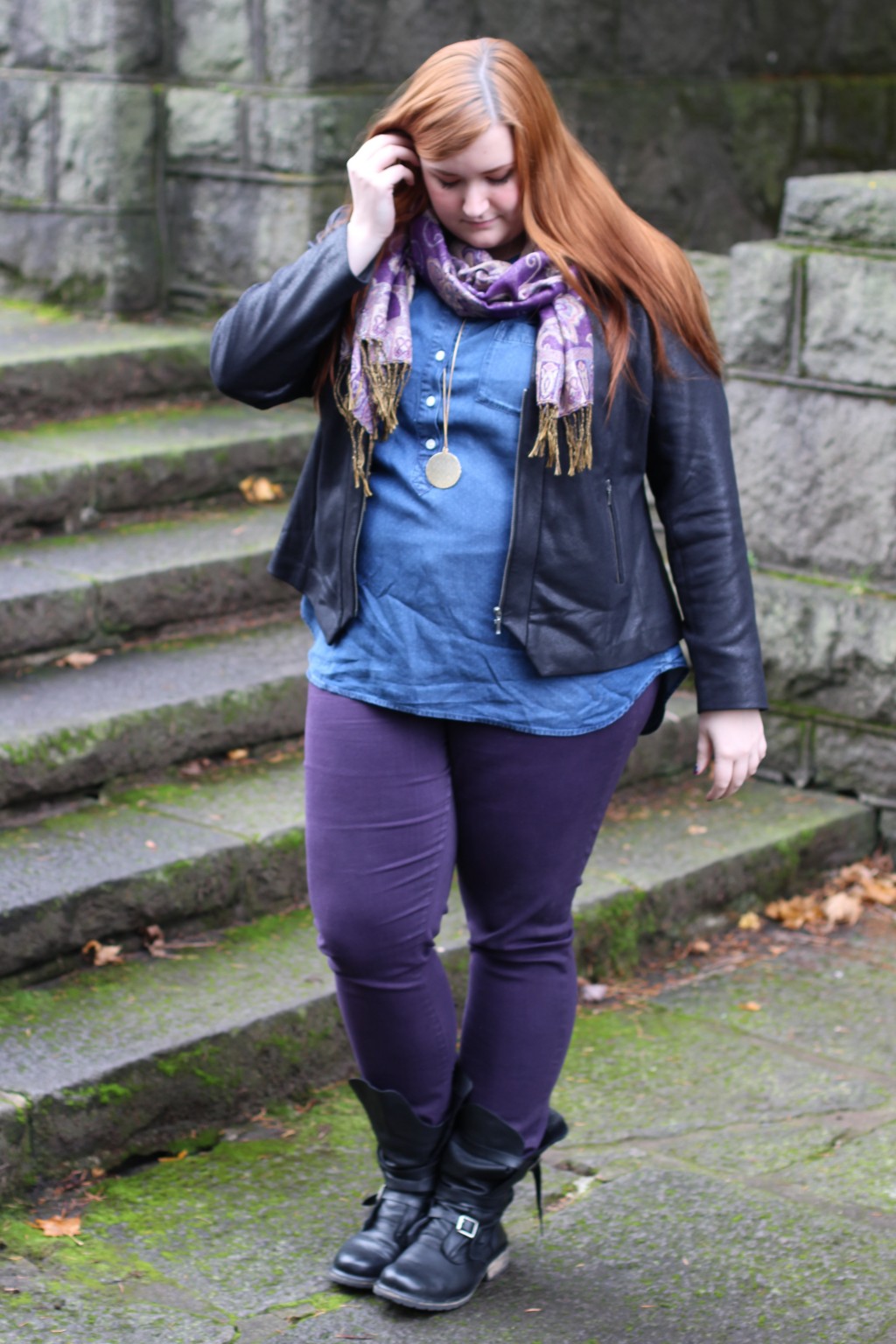 Jacket: [shopsense shopsense_url="http://api.shopstyle.com/action/apiVisitRetailer?id=439918034″ original_url="http://shop.nordstrom.com/s/sejour-foiled-ponte-zip-jacket-plus-size/3554931?origin=keywordsearch-personalizedsort&contextualcategoryid=0&fashionColor=&resultback=6917&cm_sp=personalizedsort-_-searchresults-_-1_18_A" save_to_store="true"]Sejour Foiled Ponte Zip Jacket[/shopsense]; Top: [shopsense shopsense_url="none" original_url="http://www.luckybrand.com/charleigh-popover/7Q10091.html?dwvar_7Q10091_color=430#start=14&cgid=s-womens-plus" save_to_store="true"]Lucky Brand Charleigh Pop Over[/shopsense] (similar [shopsense shopsense_url="http://api.shopstyle.com/action/apiVisitRetailer?id=439699220″ original_url="http://shop.nordstrom.com/S/lucky-brand-chambray-tuxedo-shirt-plus-size/3588200?origin=PredictiveSearch-personalizedsort&contextualcategoryid=2375500&fashionColor=&resultback=1399&cm_sp=personalizedsort-_-searchresults-_-1_5_D" save_to_store="false"]here[/shopsense]); Pants: NYDJ Coated Skinnies; Boots: [shopsense shopsense_url="http://api.shopstyle.com/action/apiVisitRetailer?id=408962642″ original_url="http://shop.nordstrom.com/s/steve-madden-brewzzer-boot/3460656?origin=PredictiveSearch-personalizedsort&contextualcategoryid=2375500&fashionColor=Black+Leather&resultback=3930&cm_sp=personalizedsort-_-searchresults-_-1_10_A" save_to_store="true"]Steve Madden[/shopsense]; Necklace: Marrin Costello 'Marissa' Pendant; Bracelets: [shopsense shopsense_url="none" original_url="http://www.charmingcharlie.com/jewelry/bracelets/lock-n-roll-bracelet.html#color=gold" save_to_store="true"]Charming Charlie Lock 'n' Roll Bracelet[/shopsense] (c/o) & [shopsense shopsense_url="none" original_url="http://www.charmingcharlie.com/sale/jewelry-on-sale/starburst-cuff.html#color=gold/clear" save_to_store="true"]Charming Charlie Cuff [/shopsense](similar) (c/o) & [shopsense shopsense_url="http://api.shopstyle.com/action/apiVisitRetailer?id=436301567″ original_url="http://shop.nordstrom.com/S/sequin-hinged-bangle/3588796?origin=PredictiveSearch-personalizedsort&contextualcategoryid=2375500&fashionColor=GOLD%2F+CLEAR+CRYSTAL&resultback=295&cm_sp=personalizedsort-_-searchresults-_-1_2_C" save_to_store="true"]Sequin Bangle (similar)[/shopsense]