An Outfit in Outtakes
Yesterday as I took my seat on my flight to Florida, a woman sitting in my row struck up a conversation with me. She asked me what my profession was and eventually we began discussing my blog. I was almost embarrassed to mention that I have a style blog. I was an absolute mess and she probably didn't think I knew an ounce about style as I dumped my gigantic carry-on in the seat next to me, falling haphazardly into my chair, hair everywhere. Would she even believe I knew anything about style and fashion?
As a fashion blogger, I find that I'm expected to look perfect. Whether it's for my blog photos or attending an event, I feel this pressure. Is it self-imposed? Possibly. I'm sure there are parts of it that come from striving to create a perfect image of myself and my blog, but also looking up to all the perfectly poised and just-so fashion bloggers that there are out there. When I attend an event where I know I'll run into other bloggers I feel even more pressure to make sure that I look just right, often times bringing multiple outfits with me and panicking on what to wear for fear of wearing the "wrong" thing.
Now I'm not sure if other fashion bloggers feel this way or if it's just me. I'm inclined to say that there are many style bloggers out there who have these same feelings of anxiety – and that's what makes us just like everyone else, just like you. We're not perfect and the truth is we get poppyseeds stuck in our teeth and our hair gets tangled and windblown just like the rest of the world. It's important that you know this – that fashion bloggers everywhere are not immune to this. While we put our best foot forward in our blogs, the truth is we have hundreds of outtake photos, showing us laughing, making funny faces, a double chin, a belly roll, an awkward pose.
Often times I hear my friends, family, or my readers comment on how I always look perfect, so pulled together and put together, not a hair out of place. So here's a bunch of photos that I normally wouldn't share because they do show all of those awkward moments, which subsequently are probably the photos that I have the most of. It takes hundreds of photos to get those perfect 5-7 that I share with you. So here's some that don't make the cut and I haven't edited them in any way.
But instead of picking apart the flaws and imperfections that I see in myself or that you may see in me, I'm going to see the beauty in these outtakes, how perfect they are in that they're just me enjoying myself. It might be at an unflattering angle, but all in all, both the flattering and the unflattering make up everything that is me.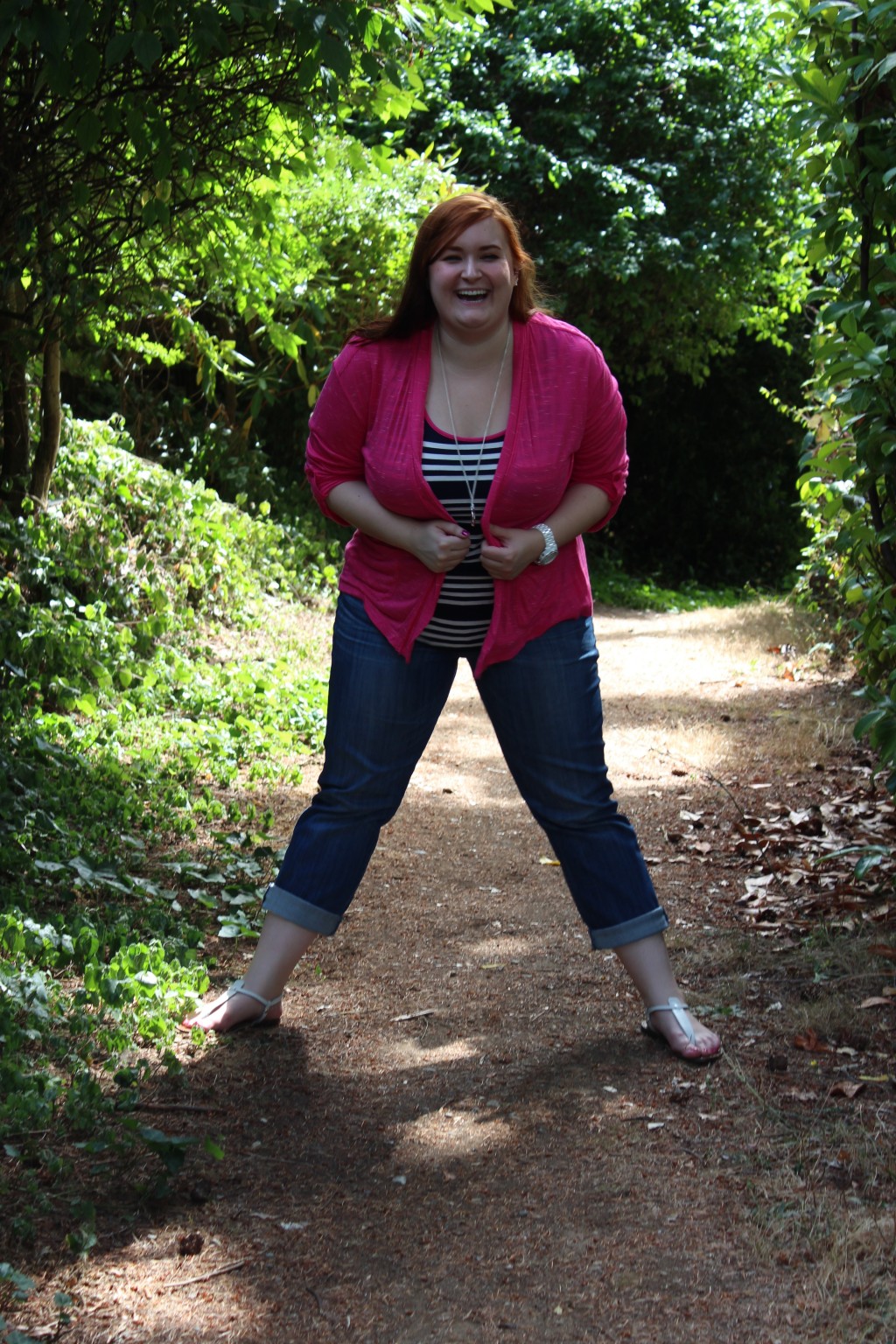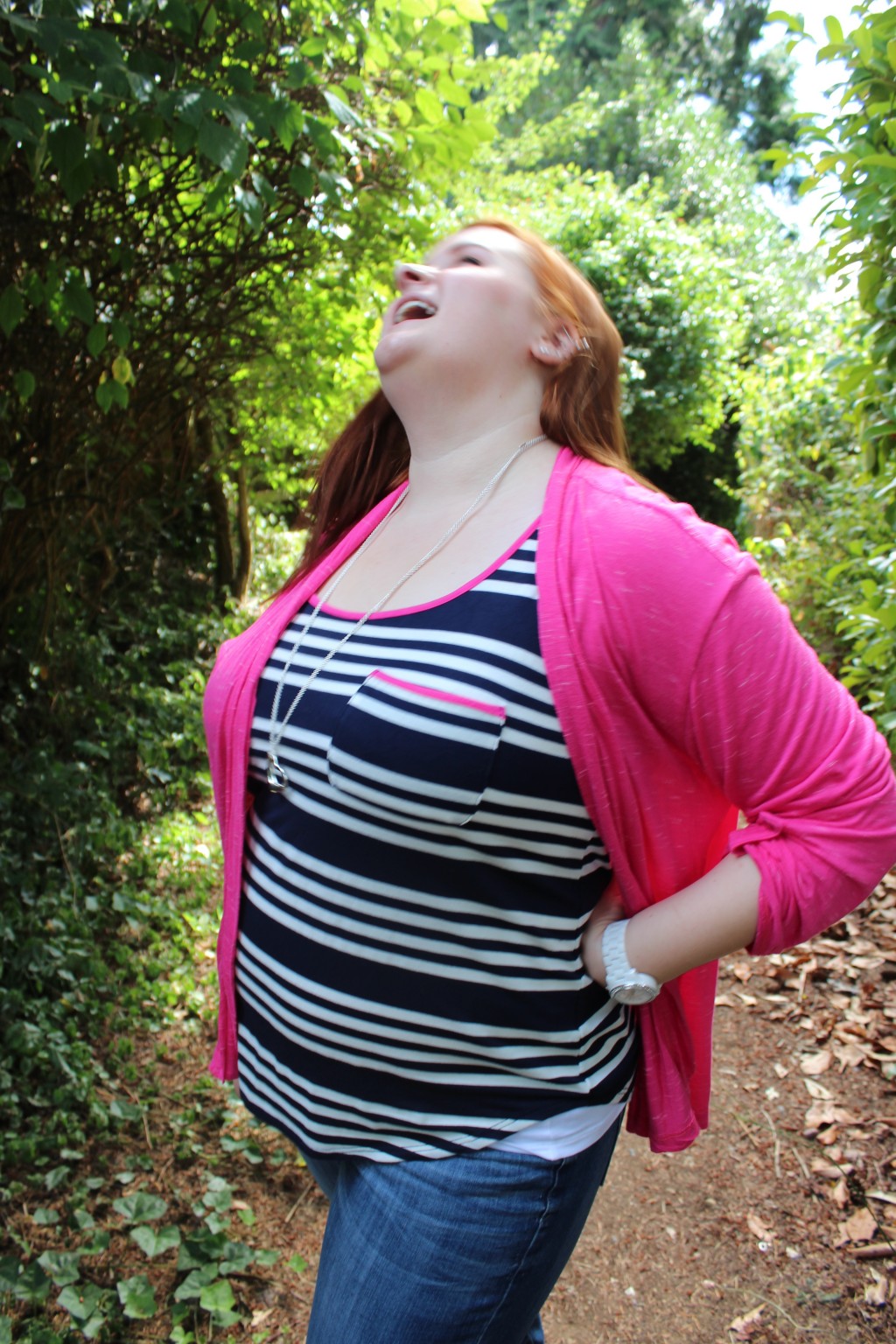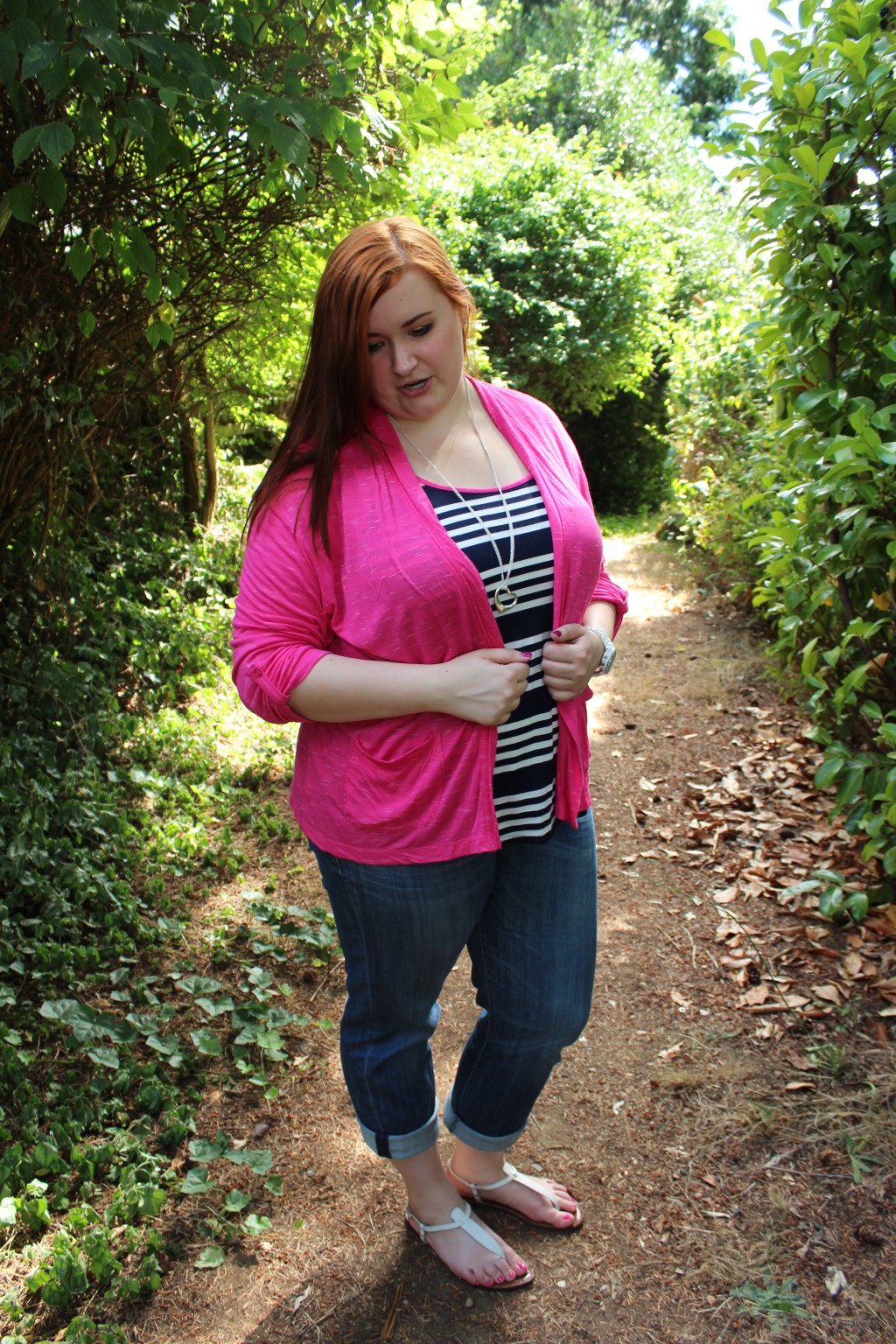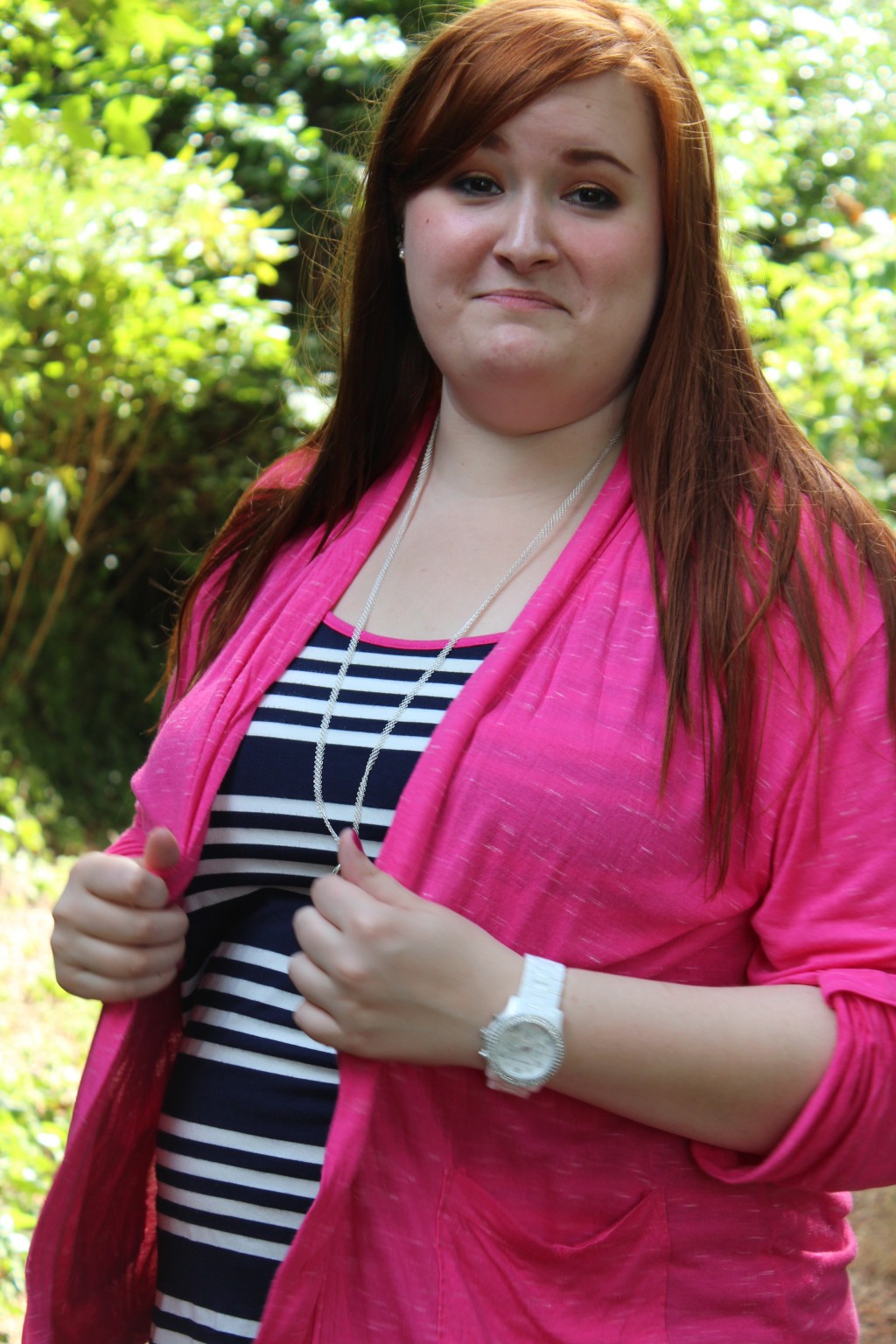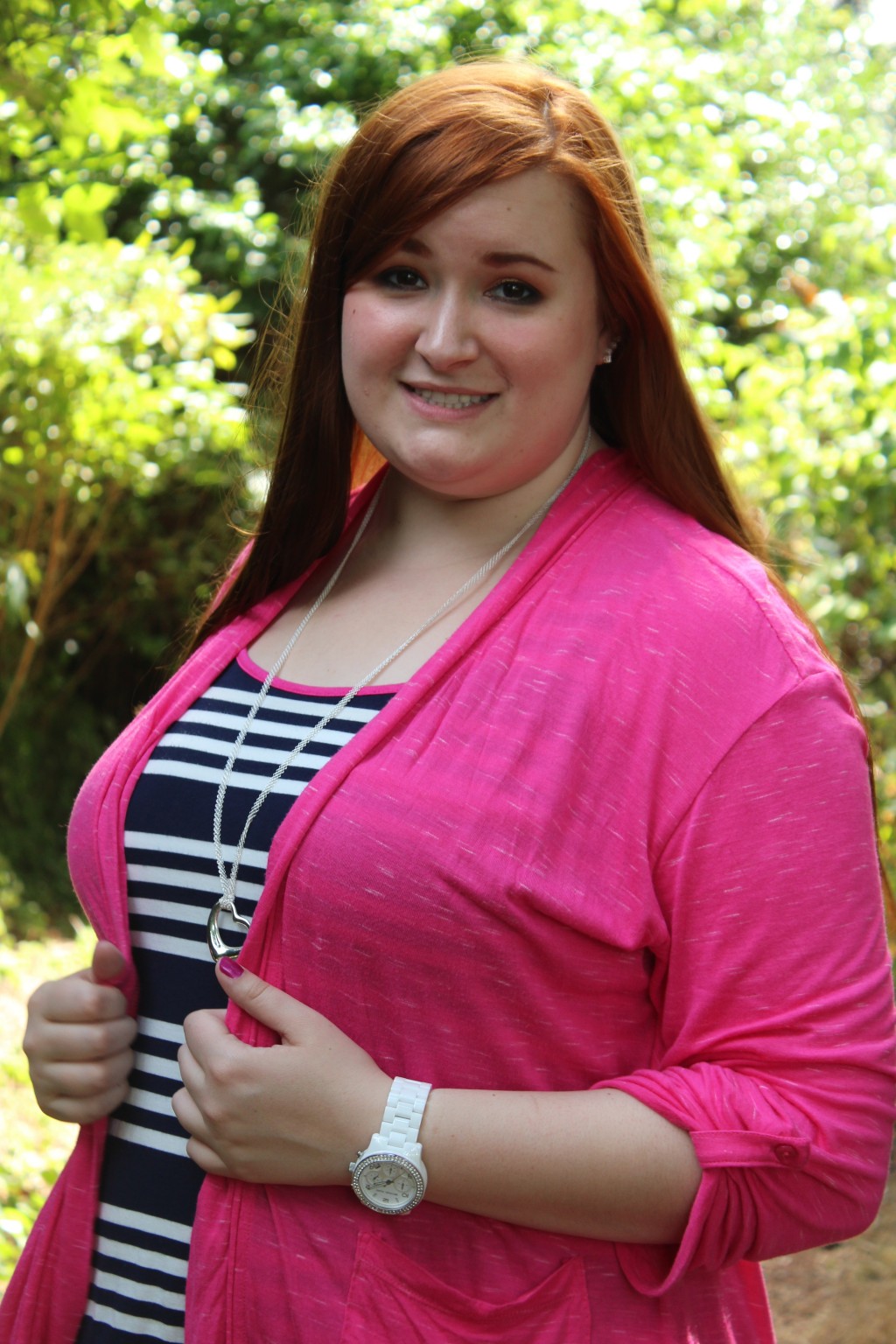 And in case you still want to know what it is I'm wearing, here are the details:
Shirt: [shopsense shopsense_url="http://api.shopstyle.com/action/apiVisitRetailer?url=http%3A%2F%2Fshop.nordstrom.com%2FS%2Folivia-moon-stripe-tank-plus-size%2F3547100%3Forigin%3Dcategory-personalizedsort" original_url="http://shop.nordstrom.com/S/olivia-moon-stripe-tank-plus-size/3547100?origin=category-personalizedsort&contextualcategoryid=0&fashionColor=BLACK%2F+IVORY+W%2F+LIME&resultback=214&cm_sp=personalizedsort-_-browseresults-_-1_1_B" save_to_store="true"]Olivia Moon[/shopsense]; Sweater: [shopsense shopsense_url="http://api.shopstyle.com/action/apiVisitRetailer?url=http%3A%2F%2Fshop.nordstrom.com%2FS%2Fsejour-space-dye-roll-sleeve-cardigan-plus-size%2F3488884%3Forigin%3Dcategory-personalizedsort" original_url="http://shop.nordstrom.com/S/sejour-space-dye-roll-sleeve-cardigan-plus-size/3488884?origin=category-personalizedsort&contextualcategoryid=0&fashionColor=BLUE+LAGOON%2F+WHITE+COMBO&resultback=1809&cm_sp=personalizedsort-_-browseresults-_-1_6_B" save_to_store="true"]Sejour[/shopsense]; Jeans: [shopsense shopsense_url="http://api.shopstyle.com/action/apiVisitRetailer?url=http%3A%2F%2Fshop.nordstrom.com%2Fs%2Fkut-from-the-kloth-catherine-slim-boyfriend-jeans%2F3445626%3Forigin%3DPredictiveSearch-personalizedsort" original_url="http://shop.nordstrom.com/s/kut-from-the-kloth-catherine-slim-boyfriend-jeans/3445626?origin=PredictiveSearch-personalizedsort&contextualcategoryid=2372949&fashionColor=&resultback=5874&cm_sp=personalizedsort-_-searchresults-_-1_15_B" save_to_store="true"]KUT from the Kloth[/shopsense]; Sandals: [shopsense shopsense_url="http://api.shopstyle.com/action/apiVisitRetailer?url=http%3A%2F%2Fshop.nordstrom.com%2FS%2Fsam-edelman-gigi-sandal%2F3033428%3Forigin%3Dcategory-personalizedsort" original_url="http://shop.nordstrom.com/S/sam-edelman-gigi-sandal/3033428?origin=category-personalizedsort&contextualcategoryid=0&fashionColor=SILVER+SNAKE+PRINT&resultback=236&cm_sp=personalizedsort-_-browseresults-_-1_2_B" save_to_store="true"]Sam Edelman[/shopsense]; Necklace: [shopsense shopsense_url="none" original_url="http://www.tiffany.com/Shopping/Item.aspx?fromGrid=1&sku=24806057&mcat=148206&cid=288187&search_params=s+5-p+32-c+288187-r+101287465-x+-n+6-ri+-ni+0-t+" save_to_store="true"]Elsa Peretti Open Heart Pendant[/shopsense]; Watch: [shopsense shopsense_url="http://api.shopstyle.com/action/apiVisitRetailer?url=http%3A%2F%2Fshop.nordstrom.com%2FS%2Fmichael-kors-runway-ceramic-watch-40mm%2F3063628%3Forigin%3DPredictiveSearch-personalizedsort" original_url="http://shop.nordstrom.com/S/michael-kors-runway-ceramic-watch-40mm/3063628?origin=PredictiveSearch-personalizedsort&contextualcategoryid=0&fashionColor=&resultback=539&cm_sp=personalizedsort-_-searchresults-_-1_3_B" save_to_store="true"]Michael Kors[/shopsense]