Kut Out for Casual
This morning when I woke up I could tell the seasons are starting to change. No longer does blindingly bright sun burst through my window when I wake up, instead it's darker and harder to get up in the morning. While I'm sad that the summer sun will be leaving us shortly I am excited for fall and winter – my two favorite seasons. But until the season fully switches over, there's a little bit of time left for lighter transition pieces, especially with the humidity we've had recently.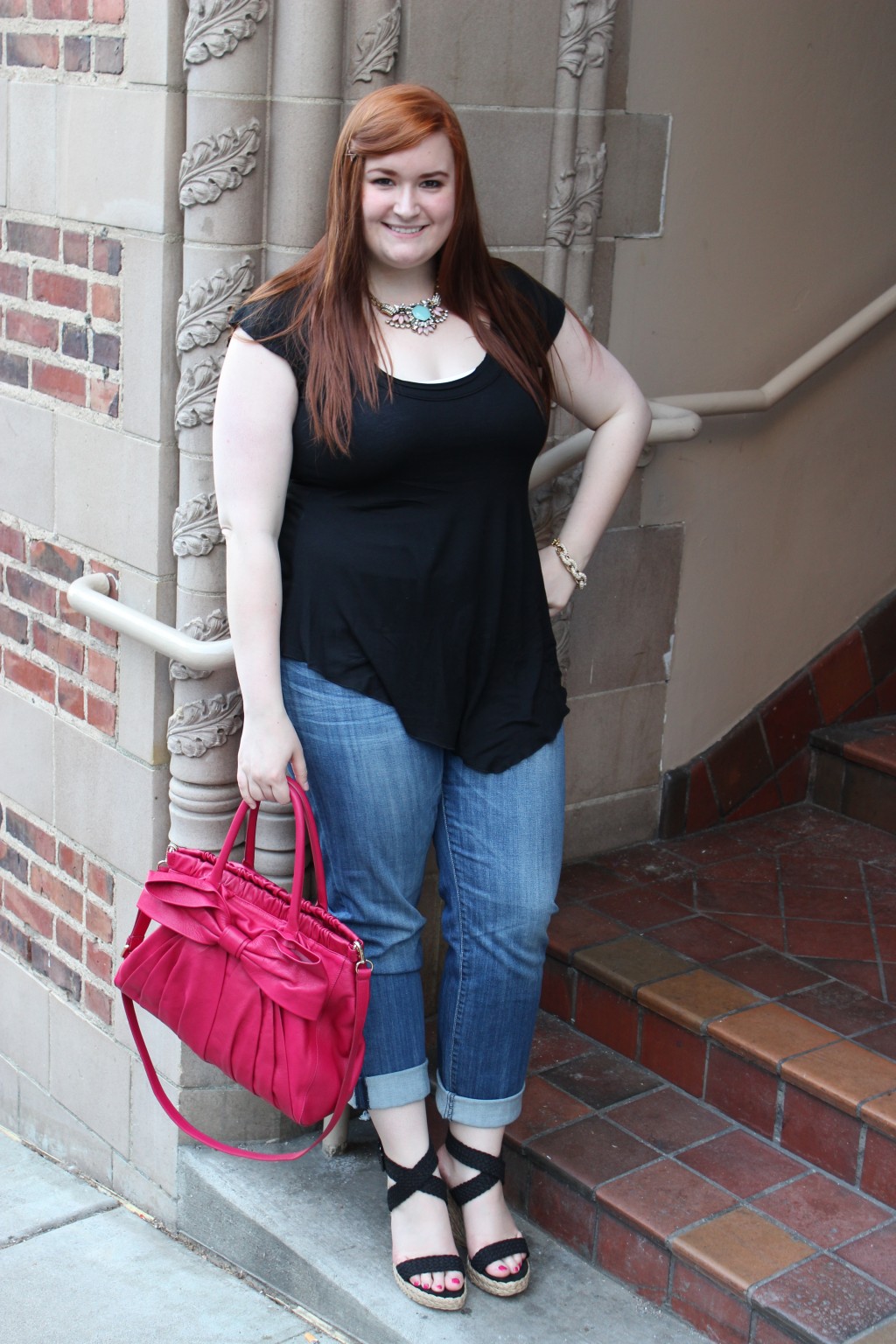 I can't get enough of my KUT from the Kloth crop jeans. I wear them at least once a week, and in reality probably more often. They're stretchy, lightweight and comfortable, so naturally they've been my go-to jean this season. I didn't want to look too dressed up, so the lighter wash is perfect for creating a more casual look when paired with wedges, sparkly jewelry, and a fun colored bag.
One of the best parts about this outfit is that with a few changes it can easily be altered for fall. Simply change the wedges for booties or flats and add a sweater for the changing weather.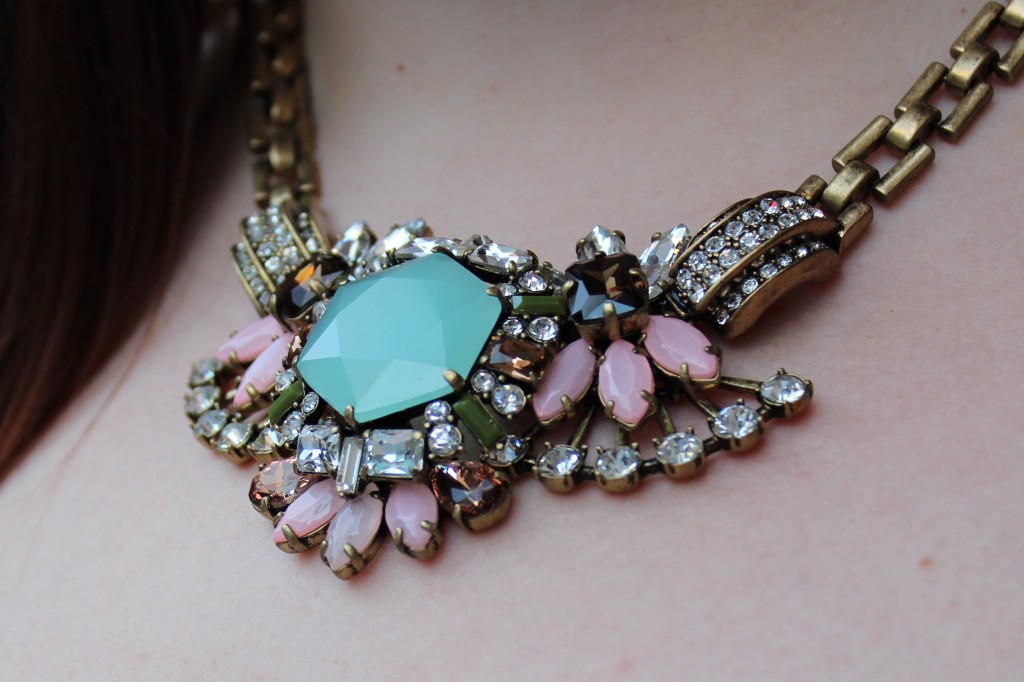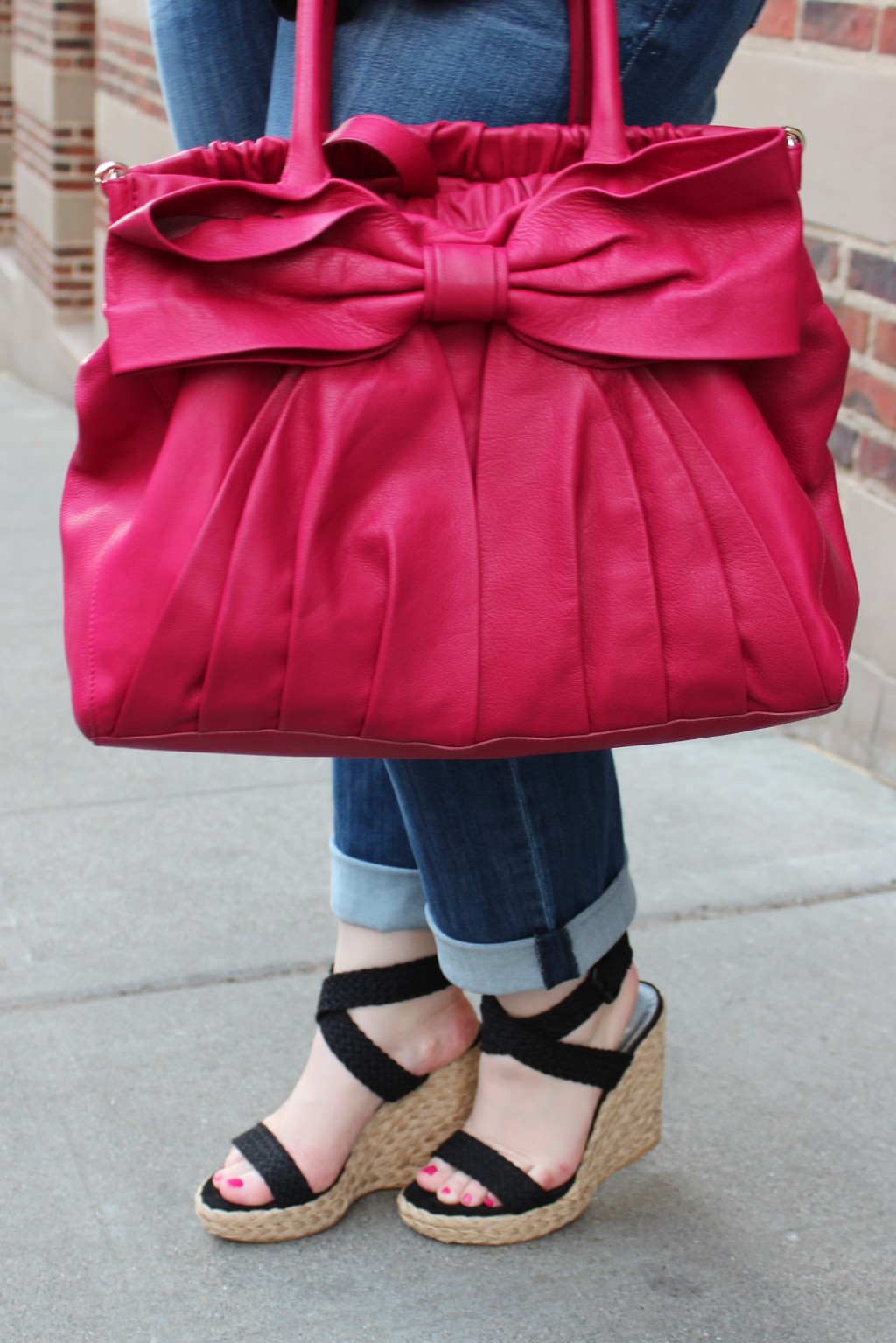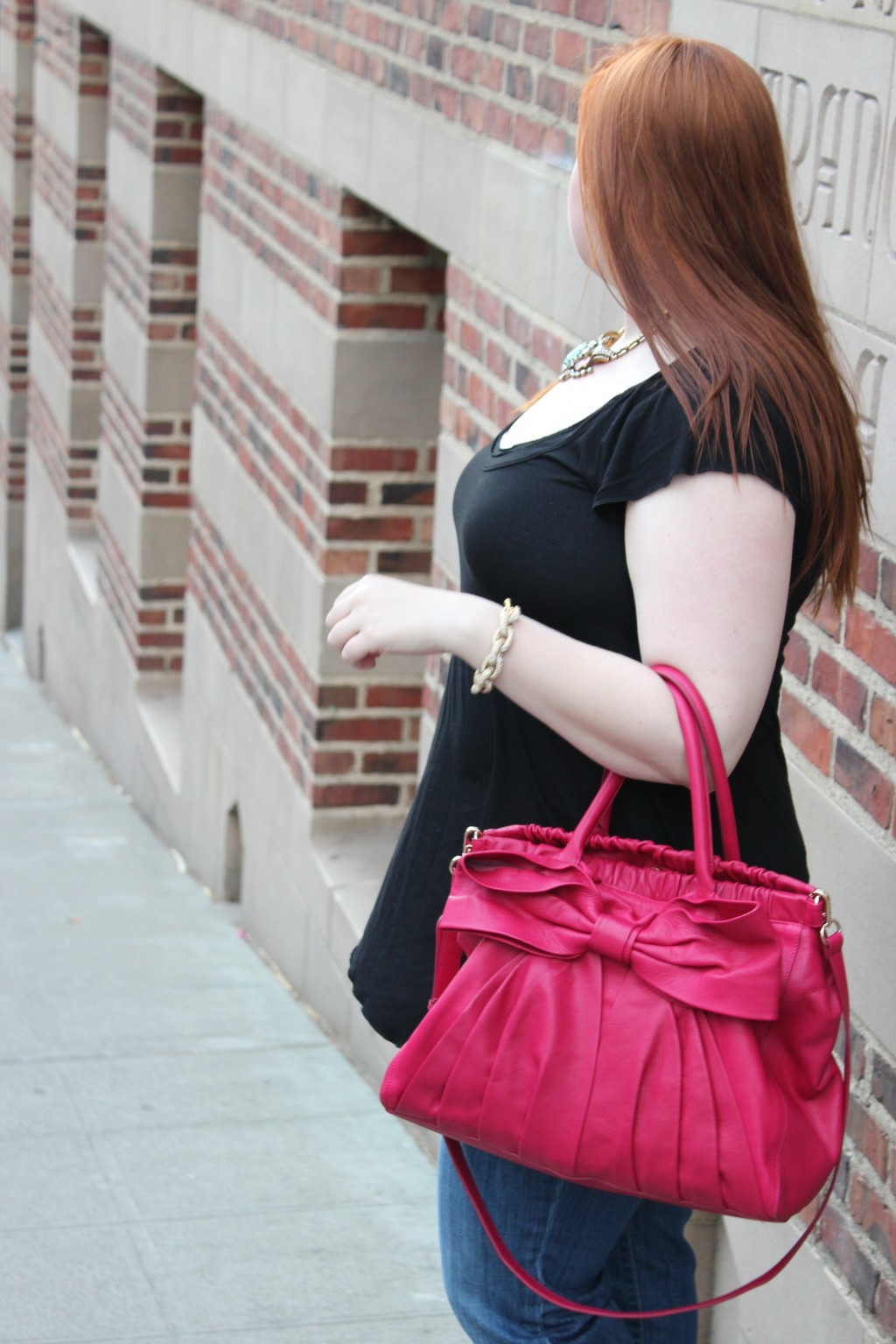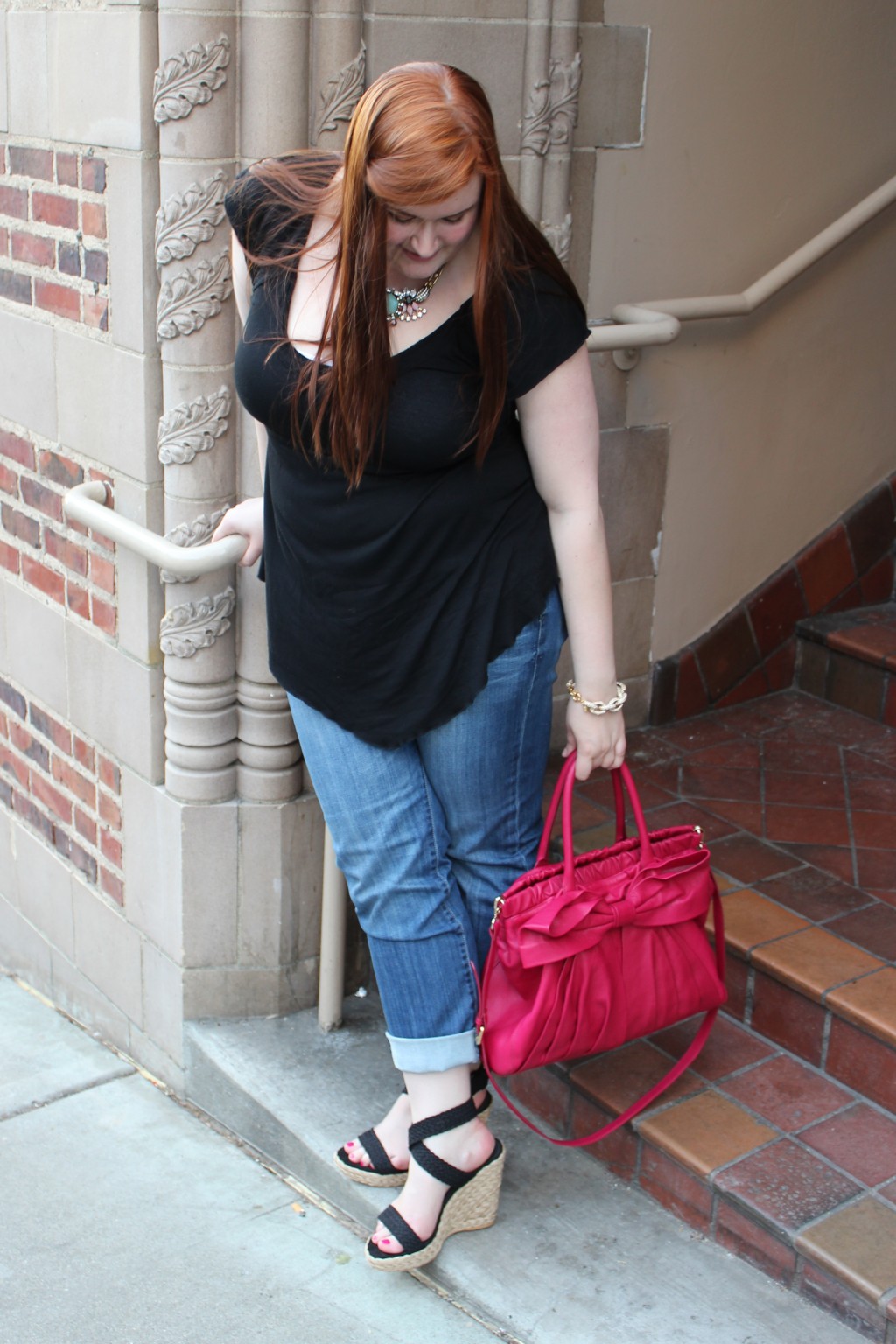 Shirt: H&M; Jeans: [shopsense shopsense_url="http://api.shopstyle.com/action/apiVisitRetailer?url=http%3A%2F%2Fshop.nordstrom.com%2Fs%2Fkut-from-the-kloth-catherine-slim-boyfriend-jeans%2F3445626%3Forigin%3DPredictiveSearch-personalizedsort" original_url="http://shop.nordstrom.com/s/kut-from-the-kloth-catherine-slim-boyfriend-jeans/3445626?origin=PredictiveSearch-personalizedsort&contextualcategoryid=2375500&fashionColor=&resultback=2046&cm_sp=personalizedsort-_-searchresults-_-1_6_A" save_to_store="true"]KUT from the Kloth[/shopsense]; Necklace: J. Crew; Bracelet: J. Crew; Bag: RED Valentino (similar [shopsense shopsense_url="http://api.shopstyle.com/action/apiVisitRetailer?url=http%3A%2F%2Fshop.nordstrom.com%2FS%2Fred-valentino-bow-large-leather-crossbody-bag%2F3381168%3Forigin%3Dcategory-personalizedsort" original_url="http://shop.nordstrom.com/S/red-valentino-bow-large-leather-crossbody-bag/3381168?origin=category-personalizedsort&contextualcategoryid=0&fashionColor=&resultback=1714&cm_sp=personalizedsort-_-browseresults-_-1_5_A" save_to_store="true"]here[/shopsense]); Shoes: Stuart Weitzman (similar [shopsense shopsense_url="http://api.shopstyle.com/action/apiVisitRetailer?url=http%3A%2F%2Fshop.nordstrom.com%2FS%2Fstuart-weitzman-metalmania-wedge-sandal%2F3422467%3Forigin%3DPredictiveSearch-personalizedsort" original_url="http://shop.nordstrom.com/S/stuart-weitzman-metalmania-wedge-sandal/3422467?origin=PredictiveSearch-personalizedsort&contextualcategoryid=6024190&fashionColor=&resultback=1198&cm_sp=personalizedsort-_-searchresults-_-1_4_C" save_to_store="true"]here[/shopsense])