Polka Dots & Roses
Having a personal style blog has been an adventure for me and it's allowed me so many opportunities that I would never have encountered otherwise. I've been able to meet with so many wonderful men and women, attend events, and even make new friends!
One thing I did not anticipate was how my blog has challenged me to grow and develop my personal style. It might seem silly, but over our lifetime our style changes multiple times based on where we're working, who our friends are, etc. If you look at my posts from when I first started my blog, while my style was still similar, it's changed a bit in that I accessorize more and blog about more than just dresses (because I do wear pants!). Today's outfit is a perfect example of how far my personal style evolution has come, as I never thought I'd be rocking a look like this!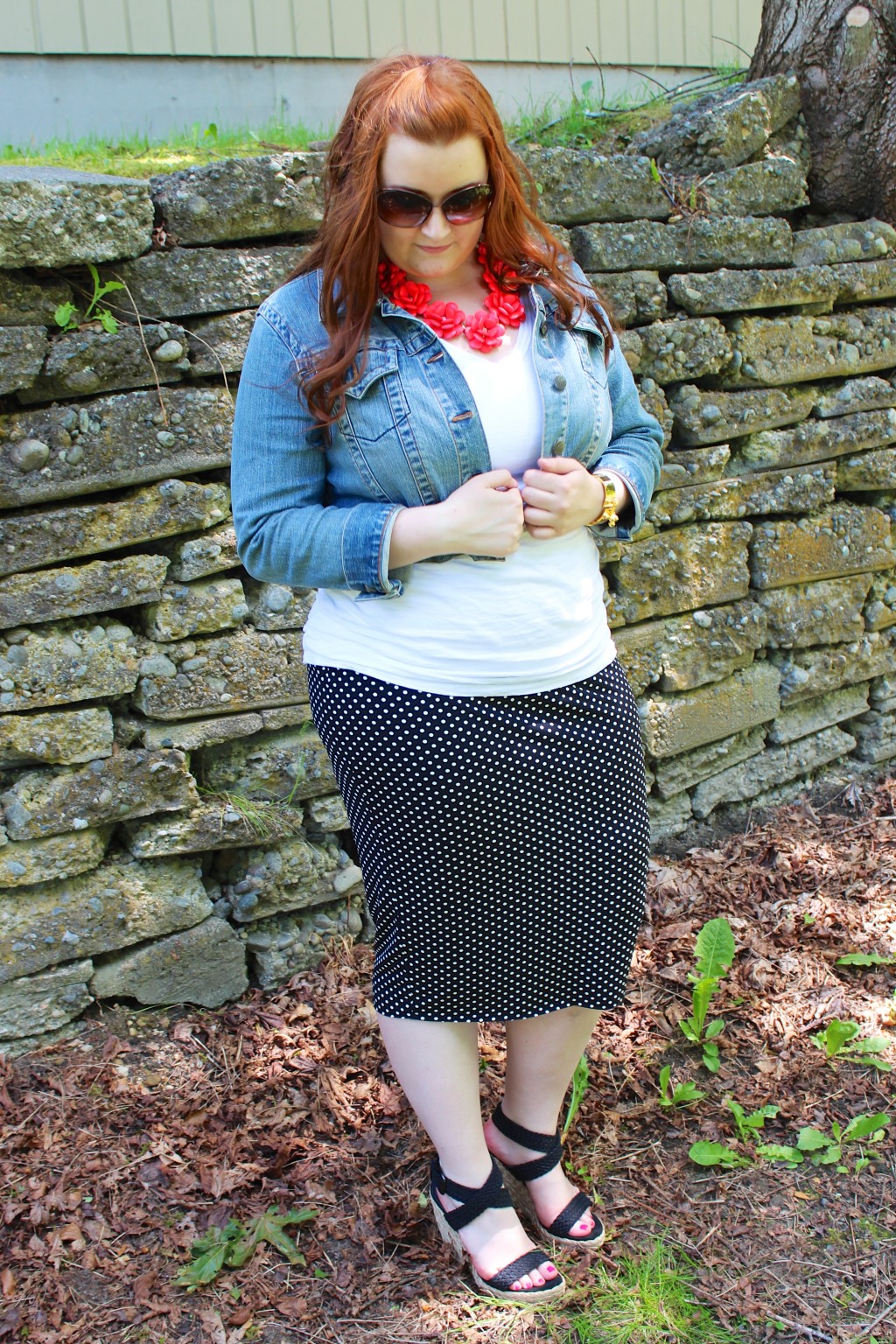 Everytime I look at this outfit it just makes me smile. It's so bright and happy, but also basic, quick and easy. I started with this [shopsense shopsense_url="http://api.shopstyle.com/action/apiVisitRetailer?url=http%3A%2F%2Fshop.nordstrom.com%2Fs%2Fvince-camuto-midi-tube-skirt%2F3530452%3Forigin%3Dkeywordsearch-personalizedsort" original_url="http://shop.nordstrom.com/s/vince-camuto-midi-tube-skirt/3530452?origin=keywordsearch-personalizedsort&contextualcategoryid=2375500&fashionColor=Black+Polka+Dot&resultback=573&cm_sp=personalizedsort-_-searchresults-_-1_2_B" save_to_store="true"]polka dot Vince Camuto midi-tube skirt[/shopsense] from Nordstrom. I've always been apprehensive about these skirts because they are stretchy and whenever I've tried on the solid color version it's always shown every unflattering ripple or ounce of cellulite I may or may not have. But you know me, I can't stay away from polka dots, so when I found this skirt I decided to give it one last try, and I love it! The pattern on the skirt hides any unflattering imperfections, and is just an all-around fun summer skirt. Basically, this is the skirt version of yoga pants. It's stretchy and comfortable and doesn't even feel like you're wearing a skirt.
Finishing off the outfit, I paired it with a casual shirred V-neck t-shirt, also from Nordstrom. These are my absolute favorite t-shirts and I have one in just about every color they make. I highly recommend these Caslon shirts for anyone looking for an update to their basic t-shirt collection. They're perfect! Adding a cropped denim jacket over the top adds a perfect casual cool look, and completes the ensemble in an effortless way. For a pop of color I added this J. Crew rosette necklace and for a touch of shine I'm wearing an Eddie Borgo gold cuff. And last but not least, my fabulous Stuart Weitzman wedges that I picked up at Nordstrom Rack for a fraction of the cost!
How has your style evolved over the years?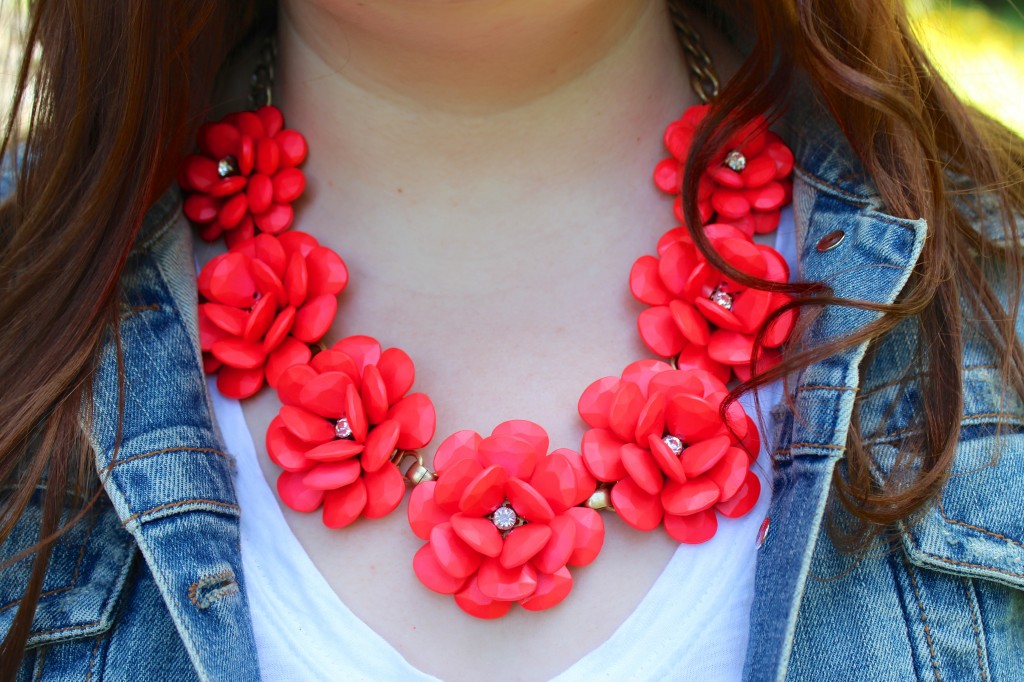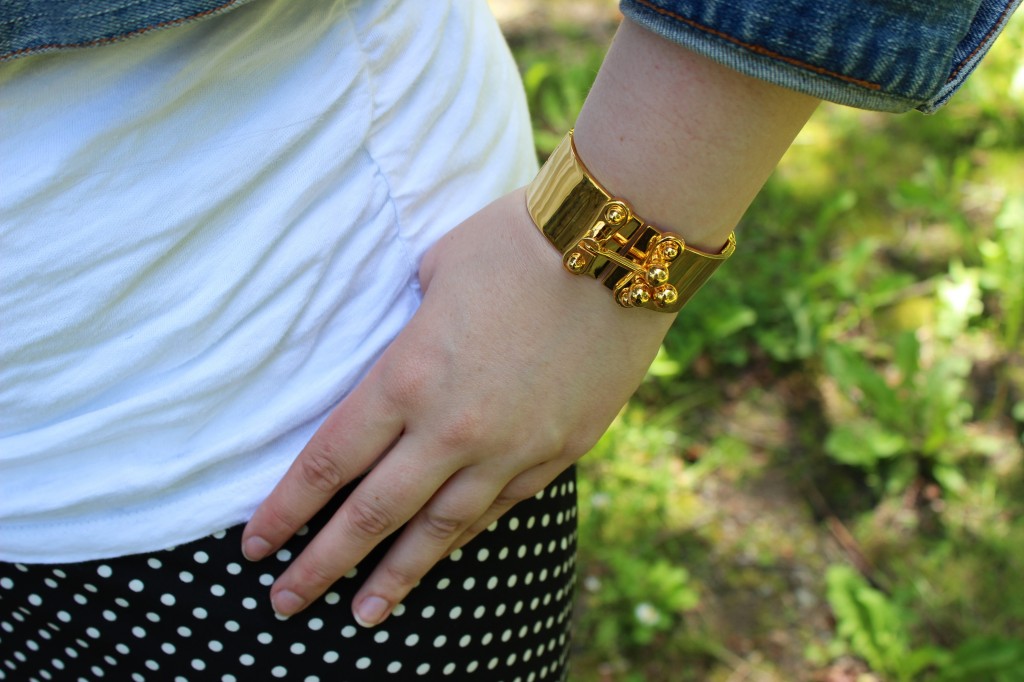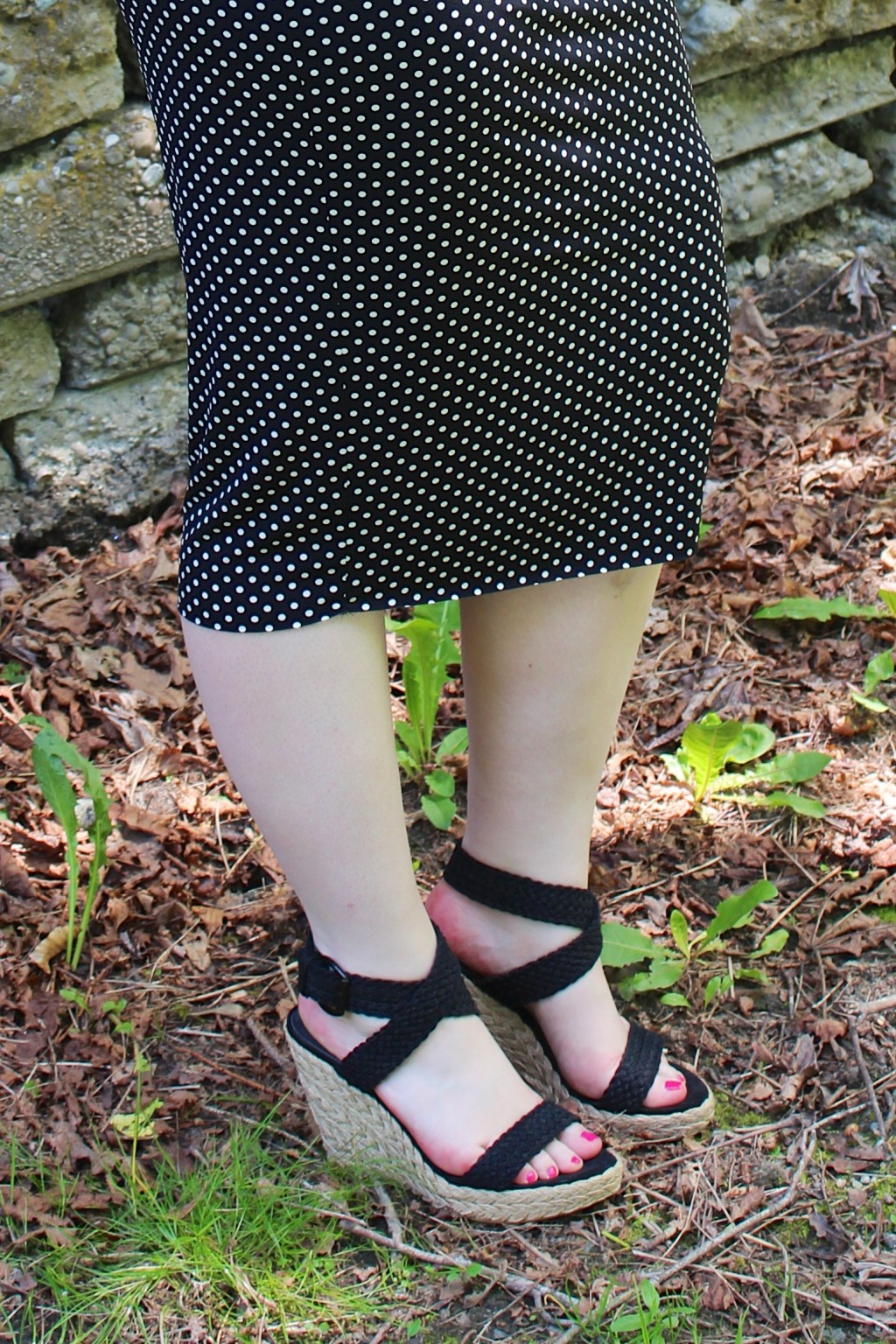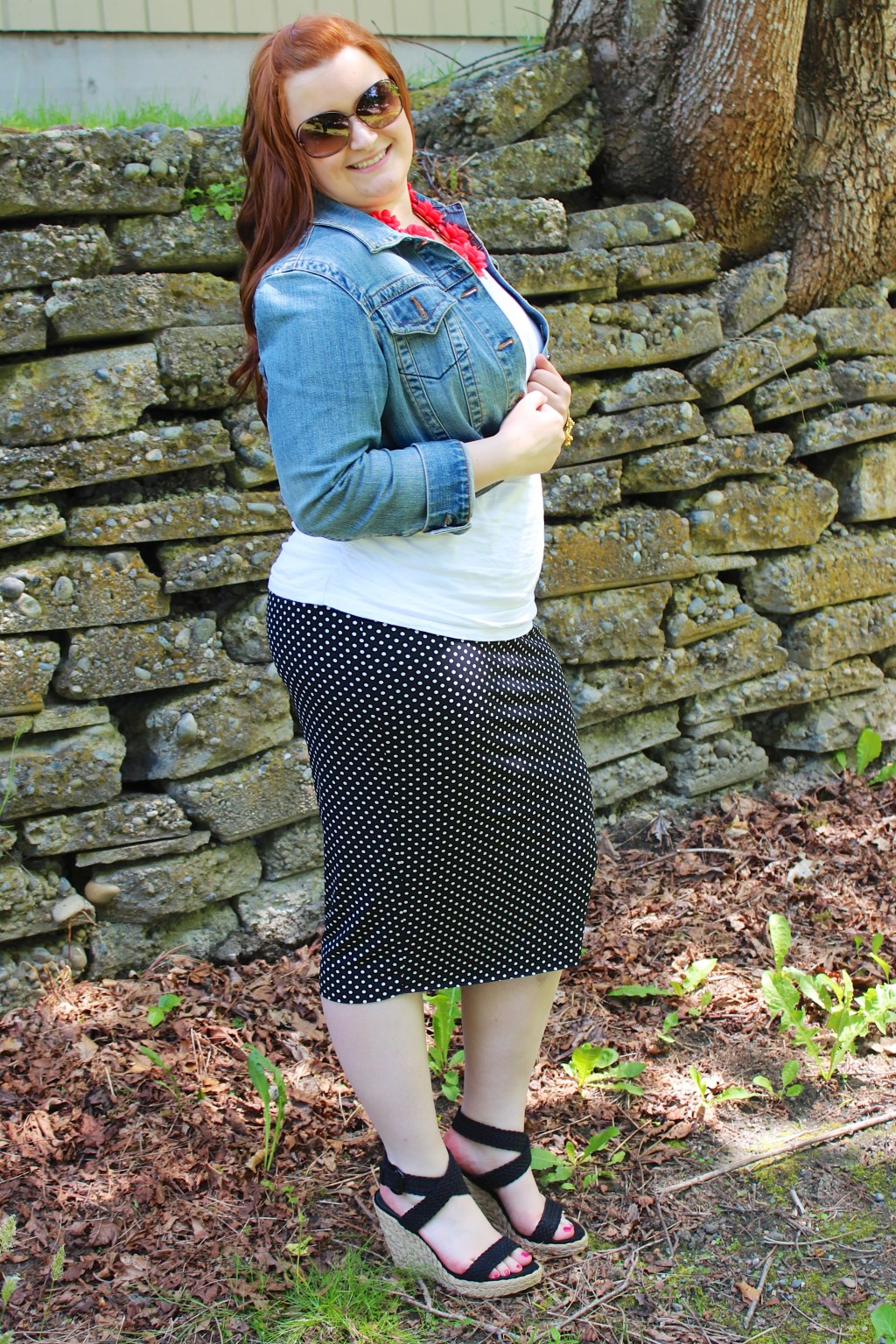 T-shirt: [shopsense shopsense_url="http://api.shopstyle.com/action/apiVisitRetailer?url=http%3A%2F%2Fshop.nordstrom.com%2Fs%2Fcaslon-shirred-v-neck-tee%2F3132547%3Forigin%3Dkeywordsearch-personalizedsort" original_url="http://shop.nordstrom.com/s/caslon-shirred-v-neck-tee/3132547?origin=keywordsearch-personalizedsort&contextualcategoryid=2375500&fashionColor=Washed+Purple+Flower&resultback=123&cm_sp=personalizedsort-_-searchresults-_-1_1_A" save_to_store="true"]Caslon[/shopsense]; Jacket: Venezia; Skirt: Vince Camuto ([shopsense shopsense_url="http://api.shopstyle.com/action/apiVisitRetailer?url=http%3A%2F%2Fshop.nordstrom.com%2Fs%2Fvince-camuto-midi-tube-skirt%2F3530452%3Forigin%3Dkeywordsearch-personalizedsort" original_url="http://shop.nordstrom.com/s/vince-camuto-midi-tube-skirt/3530452?origin=keywordsearch-personalizedsort&contextualcategoryid=0&fashionColor=Black+Polka+Dot&resultback=1564&cm_sp=personalizedsort-_-searchresults-_-1_5_C" save_to_store="true"]regular[/shopsense] & [shopsense shopsense_url="http://api.shopstyle.com/action/apiVisitRetailer?url=http%3A%2F%2Fshop.nordstrom.com%2Fs%2Fvince-camuto-polka-dot-midi-tube-skirt-plus%2F3482300%3Forigin%3Dkeywordsearch-personalizedsort" original_url="http://shop.nordstrom.com/s/vince-camuto-polka-dot-midi-tube-skirt-plus/3482300?origin=keywordsearch-personalizedsort&contextualcategoryid=0&fashionColor=&resultback=187&cm_sp=personalizedsort-_-searchresults-_-1_1_C" save_to_store="true"]plus[/shopsense]); Necklace: J. Crew; Cuff: Eddie Borgo c/o PG Beauty (similar [shopsense shopsense_url="http://api.shopstyle.com/action/apiVisitRetailer?url=http%3A%2F%2Fwww.neimanmarcus.com%2Fp%2FEddie-Borgo-Buckle-Bracelet-Gold%2Fprod153940165_cat39010731__%2F%3Ficid%3D" original_url="http://www.neimanmarcus.com/p/Eddie-Borgo-Buckle-Bracelet-Gold/prod153940165_cat39010731__/?icid=&searchType=EndecaDrivenCat&rte=%252Fcategory.service%253FitemId%253Dcat39010731%2526pageSize%253D30%2526No%253D0%2526refinements%253D&eItemId=prod153940165&cmCat=product" save_to_store="true"]here[/shopsense]); Shoes: Stuart Weitzman; Sunglasses: [shopsense shopsense_url="http://api.shopstyle.com/action/apiVisitRetailer?url=http%3A%2F%2Fshop.nordstrom.com%2Fs%2Ftom-ford-eugenia-64mm-open-temple-sunglasses%2F3432376%3Forigin%3Dkeywordsearch-personalizedsort" original_url="http://shop.nordstrom.com/s/tom-ford-eugenia-64mm-open-temple-sunglasses/3432376?origin=keywordsearch-personalizedsort&contextualcategoryid=0&fashionColor=&resultback=5325&cm_sp=personalizedsort-_-searchresults-_-1_14_D" save_to_store="false"]Tom Ford[/shopsense]