Keep Calm & Stay Cool
This may come as a surprise to those of you who don't know me, but I absolutely hate the heat. The last few days in the Seattle area have been bloody hot (in my opinion) and we aren't even truly to summer yet. My chapstick has been melting in my car, my clothes have been sticking to me and if I ever ventured out in the sun for more than 5 minutes I'm sure I would be as red as a lobster.
Don't get me wrong, I do like the sun. It's happy and full of joy, but the overly hot part is what I don't like. Besides the fact that it makes me uncomfortable, I don't like that suddenly everyone and their brother busts out their string bikinis and short shorts. Frankly I think that there are much better ways to stay cool (and protect your skin) while it's warm out. While dresses are my go-to for the summer, it isn't always practical and sometimes you just need a change.
I've never been a fan of oversized tops because I've always felt that they make me lose my shape or make me look bigger than I am. However I stumbled upon this one at [shopsense shopsense_url="http://api.shopstyle.com/action/apiVisitRetailer?url=http%3A%2F%2Fshop.nordstrom.com%2Fc%2Fnordstrom-rack%3Forigin%3Dbreadcrumb" original_url="http://shop.nordstrom.com/c/nordstrom-rack?origin=breadcrumb" save_to_store="true"]Nordstrom Rack[/shopsense] a few weeks ago and I immediately fell in love. I'd already tried on everything and here this was, just sitting on the rack, just waiting to be picked up and taken to a new loving home. Naturally I couldn't leave this beauty hanging on the rack one more night by itself, so I snatched it up.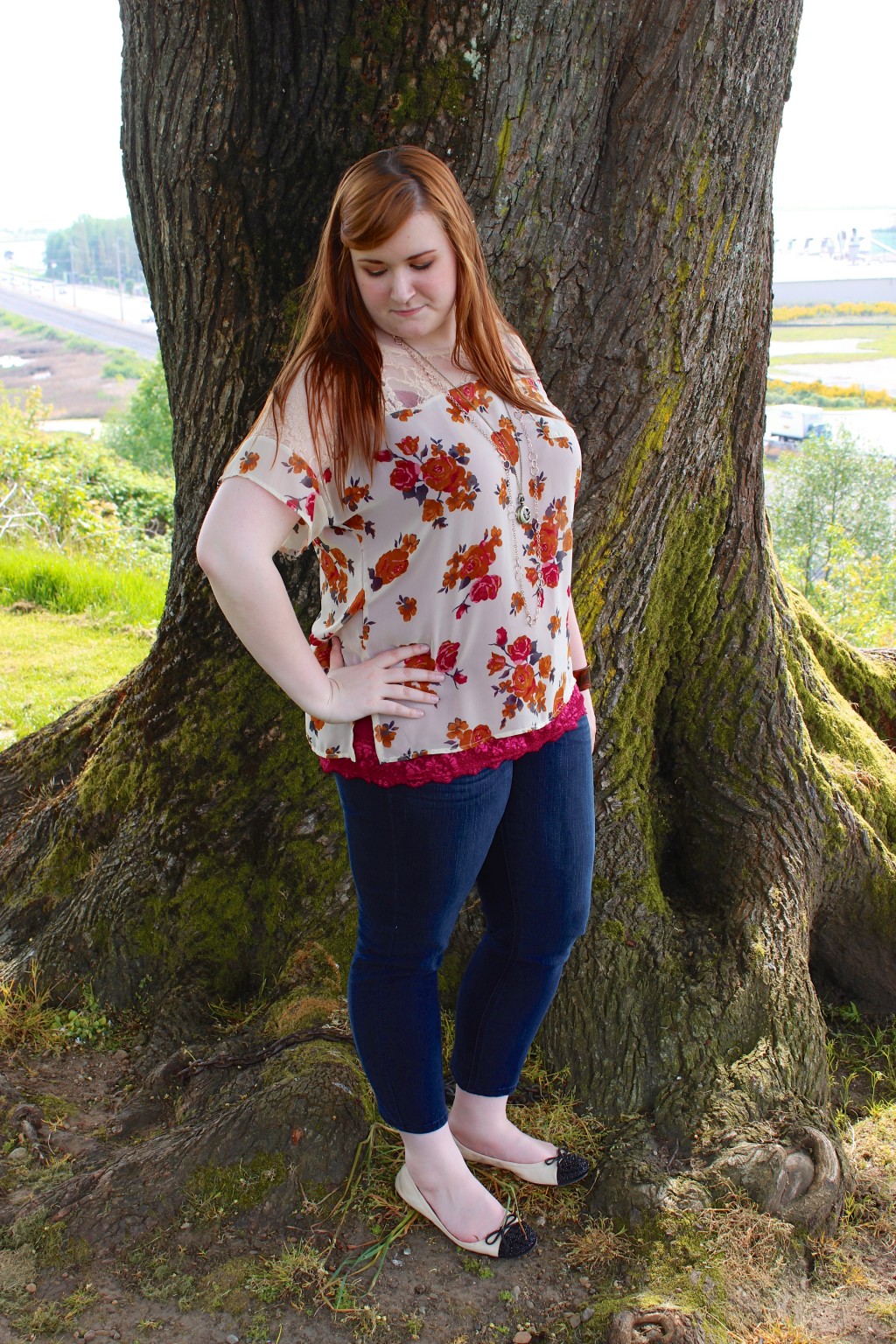 Clearly it was meant to be. I'm so in love with the lace details at the top, the floral pattern, the sheerness, even the little pocket. Each time I wear this top I've received nothing but compliments, which is something I never expected from a top like this! Oh, and did I mention that it's incredibly lightweight and perfect for a warmer temperatures?
When styling the top it was important to me that I not end up looking like a box, so I opted for a fitted maroon cami underneath to tie together the color scheme as well as show that I do have some shape. Because the top is already so wide and flowy, wearing skinny jeans also helps to show off my shape and make me not look heavier.
Lastly, the accessories! Probably my favorite part of any outfit. In my never-ending quest for unique jewelry, I happened upon this [shopsense shopsense_url="none" original_url="http://flirtyduets.bigcartel.com/product/mokingjay-inspired-pocket-watch-necklace" save_to_store="true"]mockingjay-inspired pocket watch necklace[/shopsense]. Yes, it's actually a little working clock in there! I paired it with a rose gold chain necklace, and while I'm not typically one for mixing metals, I really love how this turned out. Last but not least is my fabulous cuff from L. Erickson,one of the luxury brands from The Finest Accessories. Just like their fabulous headbands it's made from cellulose acetate which means that it's extremely comfortable and ever-so-slightly pliable to expand or contract for smaller or bigger wrists (or heads if you have one of their headbands.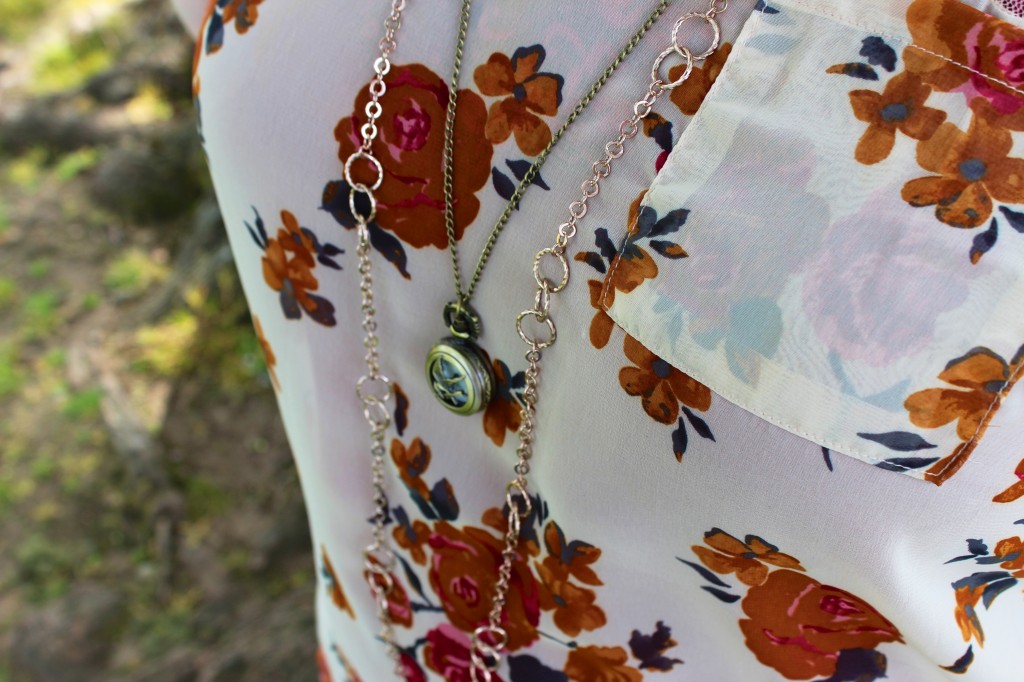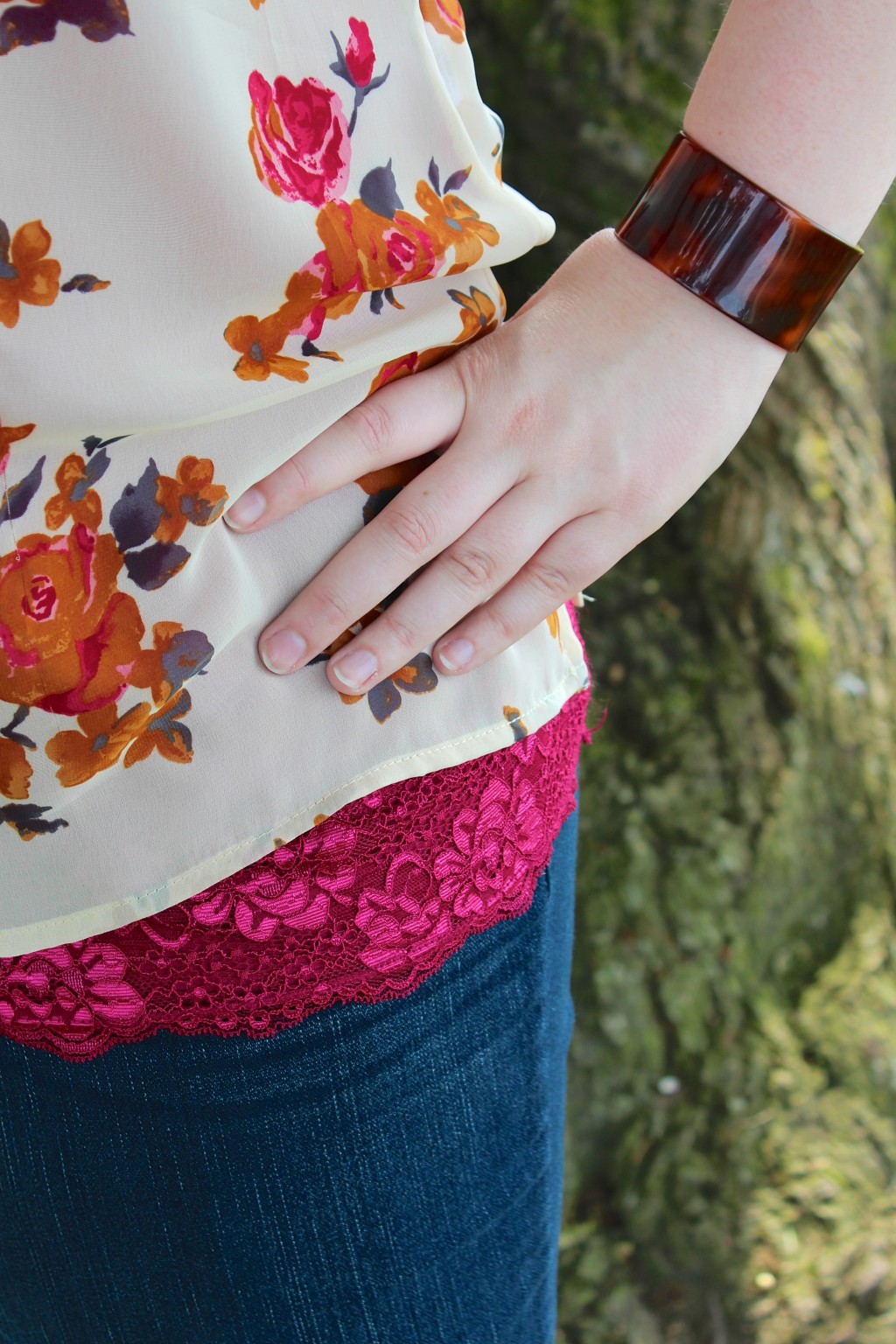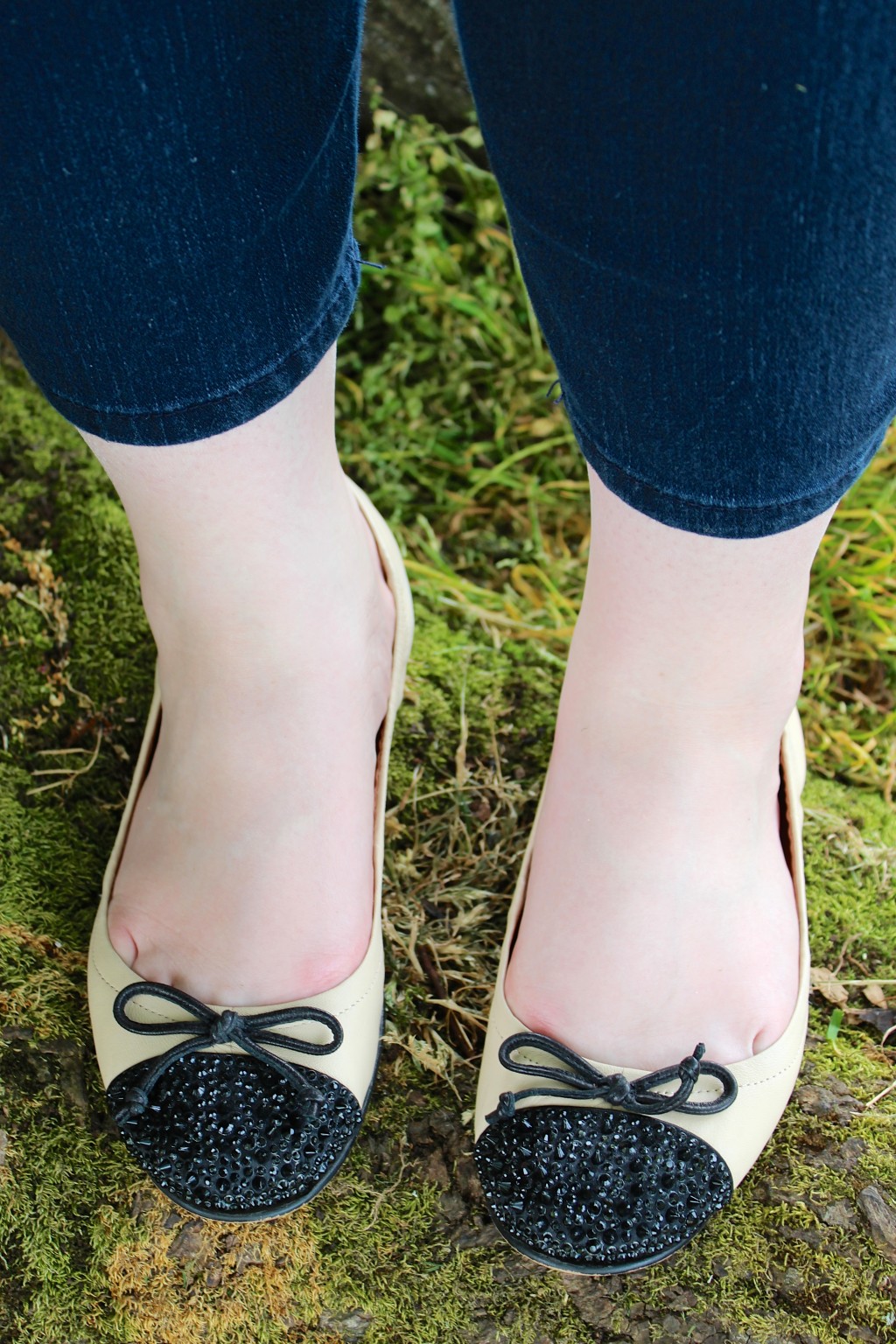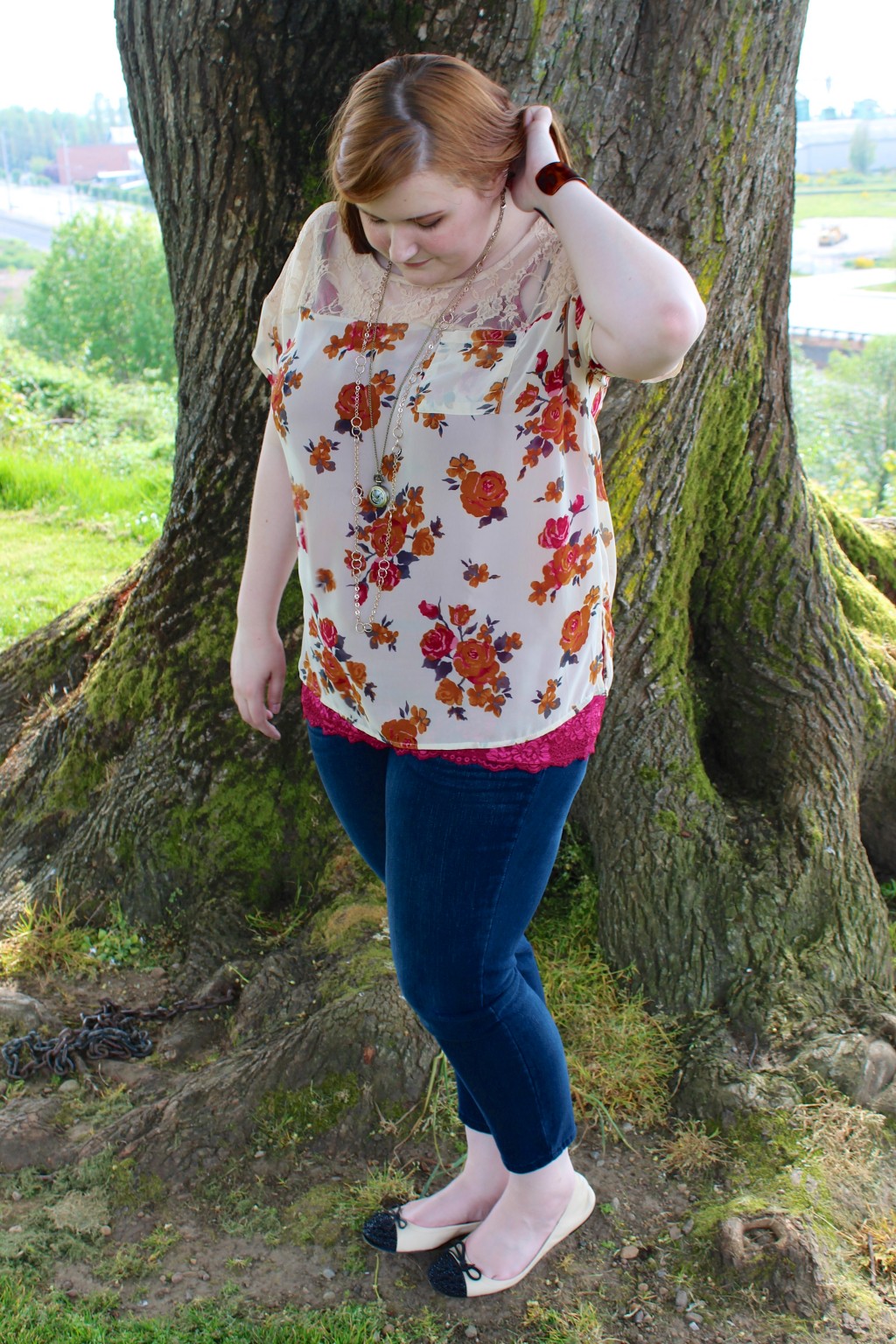 Top: Bobeau (similar by [shopsense shopsense_url="http://api.shopstyle.com/action/apiVisitRetailer?url=http%3A%2F%2Fshop.nordstrom.com%2FS%2Fpleione-scoop-neck-short-sleeve-blouse%2F3437928%3Forigin%3Dcategory" original_url="http://shop.nordstrom.com/S/pleione-scoop-neck-short-sleeve-blouse/3437928?origin=category&contextualcategoryid=0&fashionColor=CORAL+BOW+PRINT&resultback=1316″ save_to_store="true"]Pleione[/shopsense]); Cami: [shopsense shopsense_url="http://api.shopstyle.com/action/apiVisitRetailer?url=http%3A%2F%2Fwww.lanebryant.com%2Fplus-size-tops%2Fcamis-tanks%2Fessential-lace-trim-cami%2F4019c335p140885%2Findex.pro%3FselectedColor%3DNone+selected" original_url="http://www.lanebryant.com/plus-size-tops/camis-tanks/essential-lace-trim-cami/4019c335p140885/index.pro?selectedColor=None%20selected&selectedSize=None%20selected" save_to_store="true"]Lane Bryant[/shopsense]; Jeans: KUT from the Kloth; Shoes: [shopsense shopsense_url="none" original_url="http://www.samedelman.com/collection/shoes/flats1/beatrix2/" save_to_store="true"]Sam Edelman[/shopsense]; Mockingjay Pendant: Flirty Duets; Rose Gold Necklace: [shopsense shopsense_url="http://api.shopstyle.com/action/apiVisitRetailer?url=http%3A%2F%2Fshop.nordstrom.com%2FS%2Fnordstrom-long-circle-link-necklace%2F3123787%3Forigin%3Dcategory" original_url="http://shop.nordstrom.com/S/nordstrom-long-circle-link-necklace/3123787?origin=category&contextualcategoryid=0&fashionColor=SILVER&resultback=2089″ save_to_store="true"]Nordstrom[/shopsense]; Cuff: c/o [shopsense shopsense_url="none" original_url="http://www.franceluxe.com/pc/JY2011/Bracelets/index.html" save_to_store="true"]L. Ericksen Vera Cuff[/shopsense]