Limitless Color
Throughout my blog you see me wearing a number of different types of clothing (mostly dresses), yet they're in all different shapes, cuts, and colors. I would say that 80% of my closet consists of blues, greens, and purples with a healthy dose of pink. Much more scarce in my closet are shades of red, orange, and yellow. Why is that?
I've a heard a number of natural and "by choice" redheads say that they just can't wear any of those three colors because it just looks so terrible with their coloring, and I used to be one of them. For years I would not allow any of those colors into my closet, let alone wear them in public. As my personal style has continued to evolve and I've become more adventurous in my fashion choices, I've realized that by saying "I can't wear red, orange, or yellow" just limits my options. There's no rule that says I can't wear those colors! Red hair is no more limiting than certain skin tones or body shapes. By this I mean that just because I have hips doesn't mean I can't wear shorts, and just because I have boobs doesn't mean I can't wear a tank top. Having pale skin doesn't mean I can't wear pastels, and just because I'm tall doesn't mean I shouldn't wear heels.
There are a few other redheads in my family and they've echoed the same sentiment over the years. Even my mom, who has dark brown hair and much more color in her complexion, will complain of not being able to wear yellow or orange. Last year I wore a red dress to a gathering that my cousin (who is also a redhead) held, and she told me that she wishes she could wear red and that I should feel so lucky that I can. But here's the thing, it's not about wearing every shade of red in the book, it's about finding the shade that works for you. You probably won't see me in fire engine red, neon yellow or traffic-cone orange. Instead you'll find me wearing somewhat more muted shades and styling them in a way that tones down the intensity of the colors. Which brings me to this dress, featuring all three colors I previously believed I couldn't wear.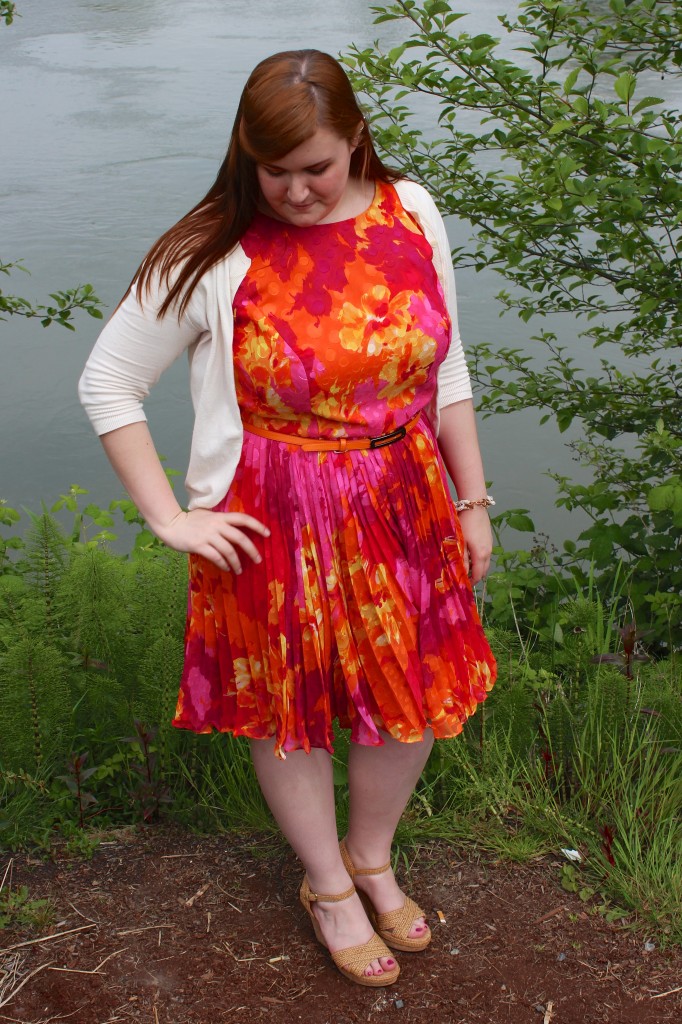 I'd been staring at this dress for a while on Nordstrom's website. I wasn't too sure about it because it was three colors I was hesitant about wearing. But when I saw it go [shopsense shopsense_url="http://api.shopstyle.com/action/apiVisitRetailer?url=http%3A%2F%2Fshop.nordstrom.com%2Fs%2Fadrianna-papell-print-fit-flare-dress-plus%2F3423403%3Forigin%3Dcategory-personalizedsort" original_url="http://shop.nordstrom.com/s/adrianna-papell-print-fit-flare-dress-plus/3423403?origin=category-personalizedsort&contextualcategoryid=0&fashionColor=&resultback=3756&cm_sp=personalizedsort-_-browseresults-_-1_9_B" save_to_store="true"]on sale[/shopsense], I decided to order it and give it a shot. When I received it in the mail I was still on the fence about it. The colors were intense and much brighter than I typically wear. The burnout polka dots on the fabric in addition to the overwhelmingly bright pattern seemed to be a lot going on for such a little dress. What made me decide to keep the dress was my twirl test. Once I gave it a whirl and saw how the chiffon skirt fanned out so beautifully I was sold.
I styled the dress minimally. The orange belt came with the dress and then I added a cream colored sweater and a pave link bracelet. I was tempted to tone down the colors even more by instead accessorizing with camel colored shoes, belt and jewelry, so if you're looking to do something similar with a bright colored dress like this I'd suggest opting for camel or brown accessories!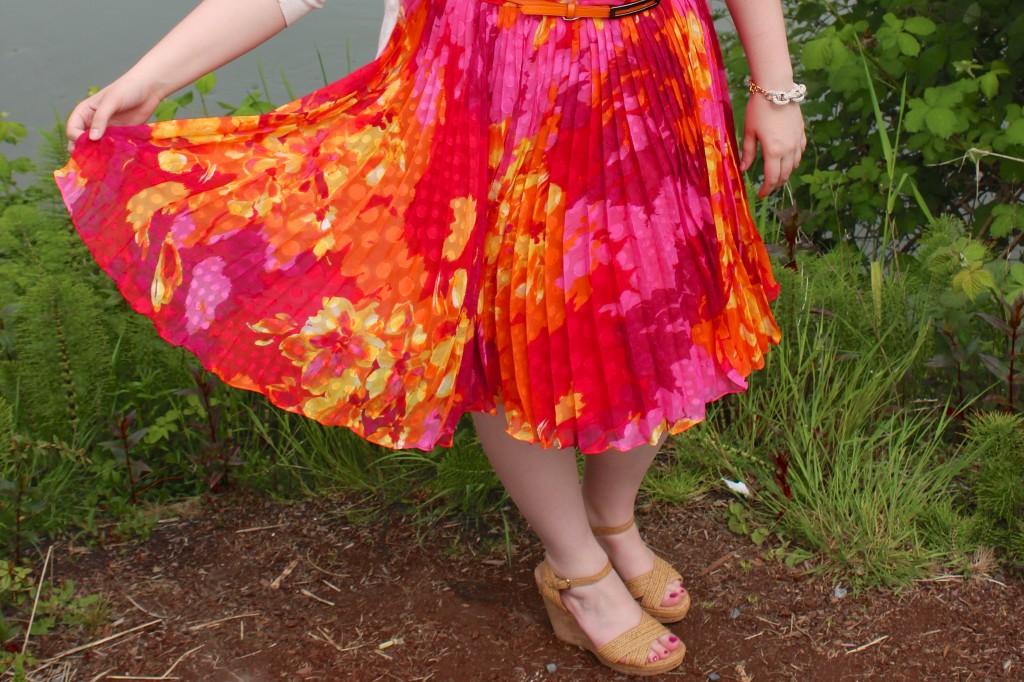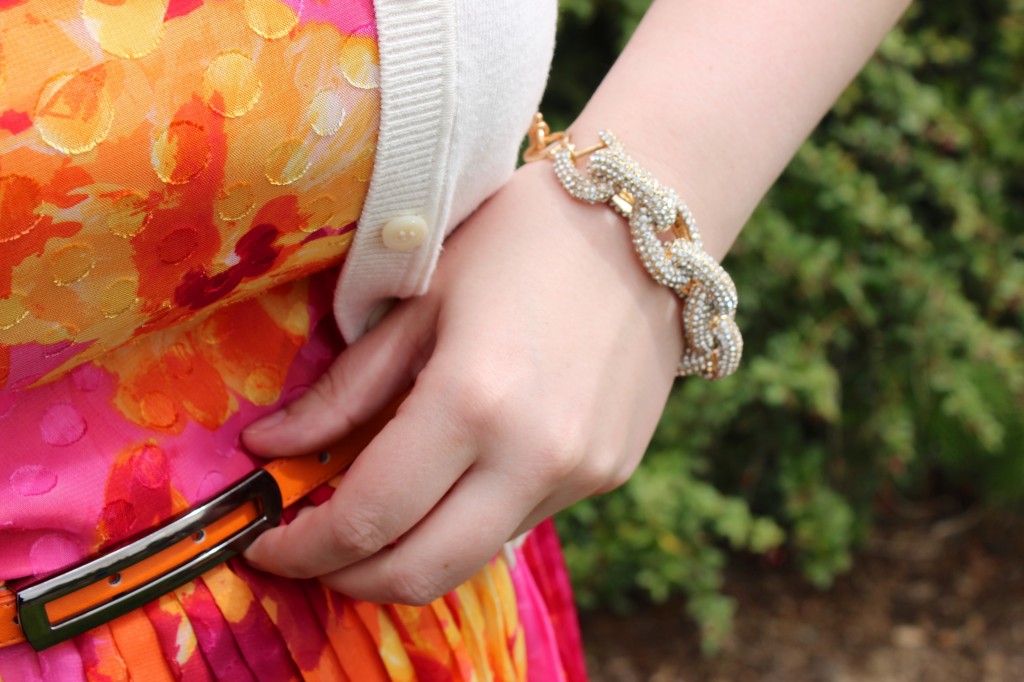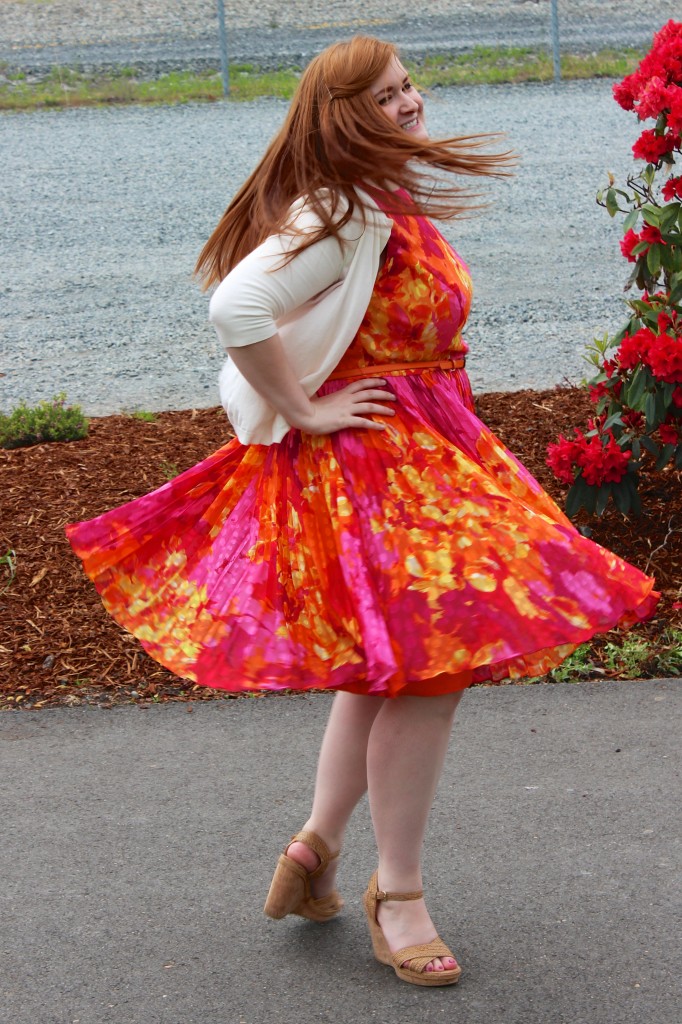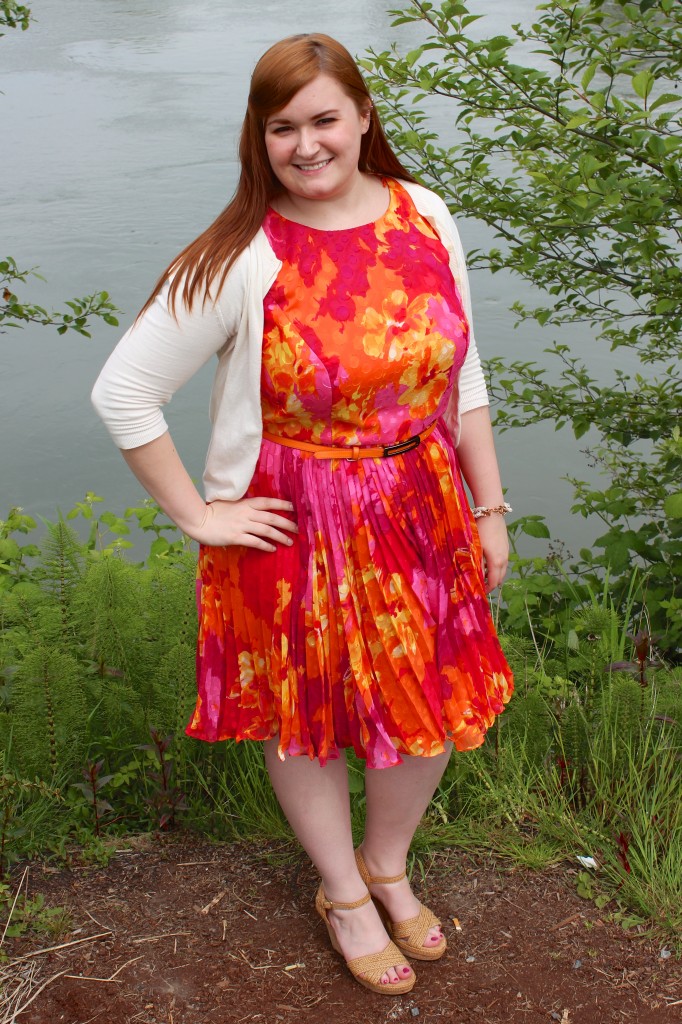 Dress: [shopsense shopsense_url="http://api.shopstyle.com/action/apiVisitRetailer?url=http%3A%2F%2Fshop.nordstrom.com%2Fs%2Fadrianna-papell-print-fit-flare-dress-plus%2F3423403%3Forigin%3Dcategory-personalizedsort" original_url="http://shop.nordstrom.com/s/adrianna-papell-print-fit-flare-dress-plus/3423403?origin=category-personalizedsort&contextualcategoryid=0&fashionColor=&resultback=3756&cm_sp=personalizedsort-_-browseresults-_-1_9_B" save_to_store="false"]Adrianna Papell[/shopsense]; Shoes: Stuart Weitzman (similar [shopsense shopsense_url="http://api.shopstyle.com/action/apiVisitRetailer?url=http%3A%2F%2Fshop.nordstrom.com%2Fs%2Fstuart-weitzman-reins-sandal%2F3359638%3Forigin%3DPredictiveSearch-personalizedsort" original_url="http://shop.nordstrom.com/s/stuart-weitzman-reins-sandal/3359638?origin=PredictiveSearch-personalizedsort&cm_ven=Linkshare&cm_cat=partner&cm_pla=10&cm_ite=1&siteId=J84DHJLQkR4-V0UYIATdRKCfnSM.8GQPMw" save_to_store="false"]here[/shopsense]); Sweater: [shopsense shopsense_url="http://api.shopstyle.com/action/apiVisitRetailer?url=http%3A%2F%2Fshop.nordstrom.com%2FS%2Fbp-classic-crewneck-cardigan-juniors%2F3506373%3Forigin%3Dkeywordsearch-personalizedsort" original_url="http://shop.nordstrom.com/S/bp-classic-crewneck-cardigan-juniors/3506373?origin=keywordsearch-personalizedsort&contextualcategoryid=0&fashionColor=PINK-+BUBBLES&resultback=436&cm_sp=personalizedsort-_-searchresults-_-1_2_D" save_to_store="false"]B.P.[/shopsense]; Bracelet: [shopsense shopsense_url="none" original_url="http://www.ilycouture.com/ILY_COUTURE_p/1000.htm" save_to_store="false"]ILY Couture[/shopsense]