Fashion Flashback: Saddle Shoes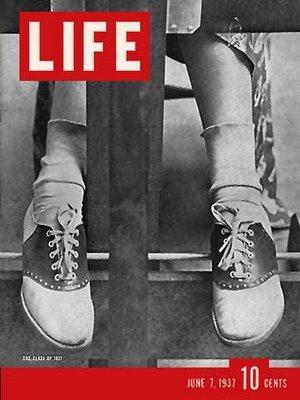 Saddle shoes are a traditional part of any poodle skirt Halloween costume, so as I was preparing my Halloween costume this year I made it my goal to acquire a pair of black & white saddle shoes for the occasion. The journey to find a pair of authentic saddle shoes was a long one, but I was able to eventually locate and purchase a pair. Along the way I found some great information on the history of saddle shoes that I'd love to share.
History of Saddle Shoes
Saddle shoes, sometimes referred to as saddle oxfords, soared to popularity in the 1950s, but had been common years before as athletic shoes for boys and men who play basketball, baseball, and football. Young girls, teenagers, and cheerleaders enjoyed wearing saddle shoes with bobby socks and dresses as they created a more casual look. (Though my mother says she hated wearing hers!).
Saddle shoes are traditionally lace-up, leather oxfords with red clay-colored rubber soles. They have a plain toe and a contrasting saddle shaped panel over the middle of the foot. Of course the most popular color combination was black & white, but they came in many color combos including white & red and white & navy.
Finding Saddle Shoes
I searched high and low online to find traditional black and white saddle shoes but most online retailers such as ShoeBuy, Se
ars, and others, either no longer carry the black & white or only have limited sizes such as size 4 or 5. In the end, I reached out directly to Willits Shoes based out of Pennsylvania to purchase the saddle shoes.
Currently it is difficult to find traditional-style saddle shoes for men and women as Willits is going out of business, but you can purchase similar styles from Bass Shoes. Children's saddle shoes are still common and of course, many golfers wear saddle shoe golf cleats.