25 Faces: Rita Hibbard
[25faces_intro]
Rita has worked as a reporter and editor in the print, online and broadcast platforms for most of her career. She feels extraordinarily lucky to have worked as a newswoman during some of the most exciting and fulfilling times in the field. She joined the staff of the Seattle Post-Intelligencer newspaper as a reporter, and later went on to become assistant business editor, metro editor, assistant managing editor and editor of the investigative team. As news organizations transformed, Rita saw an opportunity in online, multi-platform news, and in 2009 co-founded InvestigateWest, a regional investigative news organization. In 2011, with Rita as Executive Director and Editor, InvestigateWest's work resulted in 3 new laws being enacted by the State Legislature. Rita's career has been about making change happen, and she is particularly proud of that work.
Rita felt a calling to another kind of change when she began working for Companis in 2013, a Seattle nonprofit organization that connects skilled professionals with nonprofits in need of staff resources they cannot afford. At Companis, she feels she recharged by the incredible people she meets every day.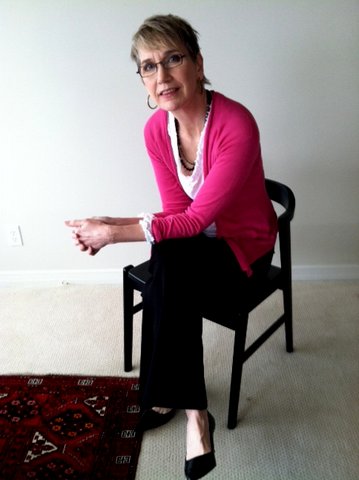 Kate: What was it like working at the Seattle PI, especially when the PI left print media?
Rita: The P-I was a fantastic news organization that put a lot of resources into covering the Puget Sound and the Northwest in ways that held our public servants accountable. Our newsroom was a talented, original and irreverent cast of characters that cared about informing, entertaining and educating the public.
It was wonderful to be part of that work, and in general, to work in journalism when newspapers made significant investments in the communities they covered. When the P-I shed all but a handful of staff and became an online-only news site that was a real loss to Seattle. That was not so much because of loss of the print product, but more crucially, loss of resources devoted to key beats like the environment, schools, local politics, investigations, the arts and business.
K: How did your work at the PI and passion for journalism in general lead you to starting your own non-profit?
R: For me, it's all about making change. When I led the P-I's local news team, that was my mission with wonderful support from a very talented group of writers, editors and visual artists. The P-I staff put an incredible amount of work into keeping people in this area well-informed about community events, key news developments and trends, as well as producing powerful investigative journalism that changed lives and improved the lives of everyone here. When that model began to change as the business model for newspapers crashed and burned in the recession and fueled by the move toward different news consumption habits and platforms, I saw a new opportunity.
K: After the PI left the print industry you founded InvestigateWest. How has InvestigateWest improved upon Journalism?
R: I worked with a group of journalists to found InvestigateWest, which I led for three years as Executive Director and Editor. Because we were a scrappy start-up, I was also the grant writer, deal-maker and IT staff! But we did some amazing journalism that was available in print, online and on radio and TV stations that won awards, and ultimately resulted in real, beneficial change for the people of Washington. Specifically, laws making workplaces safer, crucial tracking cause of death by occupation and banning a carcinogenic products were passed directly because of our work in the 2011 Legislature.
K: Now that InvestigateWest has taken off, you've moved on to working for Compassionate Action Network International and Companis, which seems like a change in direction for you. What brought you to these organizations and how has it been a positive experience for you?
R: Change is becoming a theme here, isn't it? Yes, although I felt I had accomplished a lot in journalism, I began looking for new challenges to make positive change in the community. In 2009 had begun volunteering for Companis, which like a Seattle Peace Corps places professionals in vital nonprofit agencies that have staffing needs they cannot afford. In 2012, Companis asked me to take on a role as interim executive director for Compassionate Action Network, a Seattle-based, international organization devoted to changing the world by increasing compassionate action in schools, cities, organizations, businesses, places of worship, nations, etc. That was a great opportunity and I thoroughly enjoyed helping stabilize and grow the organization. When Companis asked me to join the staff in January of 2013, I was ecstatic. As a volunteer and supporter of Companis, I had watched this little organization do incredibly big work by placing skilled professionals in many different organizations bringing human services and social justice to our area. In fact, Companis placed 67 individuals with 45 organizations in 2013! And 94 percent of our placements complete their 1-year service commitment! A key component of Companis is the support we bring to our professionals in their placements. We provide regular group meetings to reflect on that service, and offer retreats and networking opportunities. We attract amazing people, some retired and looking to give back, and others seeking additional work experience or wanting to try out a different field. Our current age range is 25-86! Being part of that is a good reason to celebrate every day.
K: Do you have any advice for those interested in working for non-profits or even starting their own?
R: Starting your own nonprofit is a lot of work! But the rewards can be awesome, because you have the chance to dream a vision and make it happen. I would advise anyone interested in the nonprofit world to find and interview others working in their field. And of course, if they have questions about Companis, feel free to contact me at [email protected], like our Facebook page, or see our website at Companis.org.