25 Faces: Molly Helmuth
[25faces_intro]
I am forever inspired by remarkable women who refuse to let their age or sex dictate what they can and can't do. I was introduced to Molly through work, and the first thing that struck me about this incredible young woman was how, at 18, she is not only a great racecar driver, but is in college, managing her racing schedule, her business, and is working with corporate sponsorships. At 18 she has many more accomplishments under her belt than most, and I am excited to see where life will take her.
Molly Helmuth began racing go karts at the age of 11, traveling all around the northwest in the IFK Gold Cup series. She moved into full size stock cars at the age of 14, racing in the Mini Stock division at Evergreen Speedway for two years. At 15, she added the Pro4 Truck series, racing in eastern and western Washington. During her 16th year, Molly made her debut in Super Late Models as well as racing a Ford Focus Midget for Ron Sutton's Winner's Circle. Molly continues to race in the Super Late Model division and enjoys driving anything as long as it has a motor!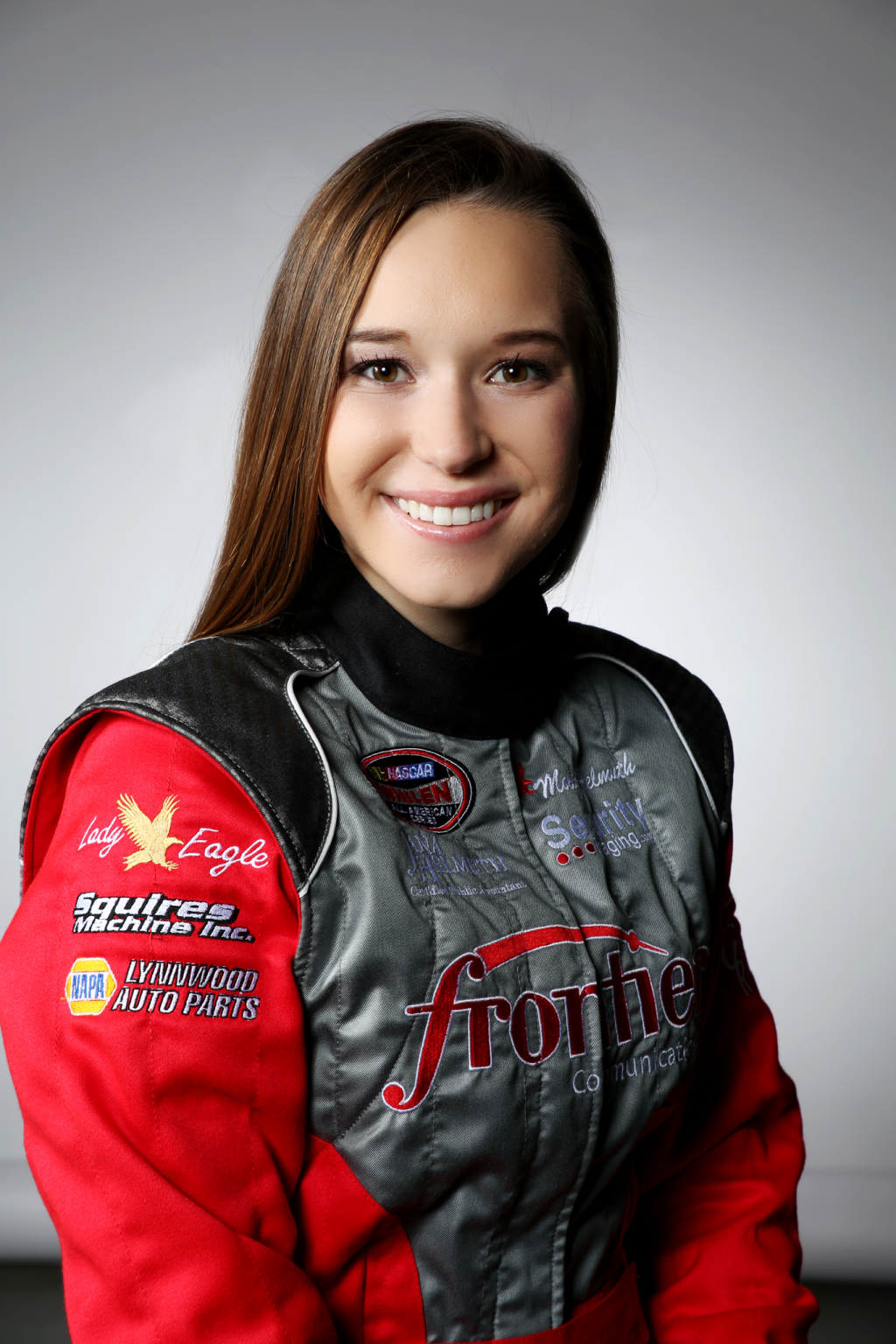 Kate: What initially got you interested in racing?
Molly: I was around racing from a young age and everything about the sport intrigued me. The sounds of the motors, the speed of the cars, the fans, the announcing; just everything about the experience that I had at the race track, made me realize that making a career for myself in motorsports was what I wanted to do.
K: Do you think that the other racers accepted you right away, or do you feel like it was harder to be taken seriously because you are a woman?
M: When I first started out I wasn't the best racer and many people never thought that I would be the driver that I am today. Due to the fact that I am a female in a male dominated sport and especially being younger than most of my competition, I had to really focus on gaining the respect from the other drivers in various different ways to show them that I do in fact belong on the track with them. I still have to work on gaining respect from some drivers, but I do feel like I am relatively welcomed in the racing community.
K: What are some of the challenges that you face in the racing world?
M: Being a petite woman I really have to work ten times harder to gain the muscle strength that my competition has. The sport is very physically demanding, therefore it is important for me to work out during the week to prepare myself for long endurance races. Also, dealing with all of the negative comments from people within the sport that don't believe females should be competing in it. I have had to grow a thick skin to learn how to deal with the negative people in my life, but all of the negative people have helped me push harder because one day I want to look them in the eye and say "I made it."
K: Is there a particular driver or person that inspires you?
M: My Uncle is my role model because he was the person that really got me interested in motorsports. He is the person that picked my head up when I wanted to quit and makes sure to always be there for me when times are tough.
K: A lot goes into preparing for race day, from getting the car ready to run to seeking out sponsorship money to pay for everything. Can you give me an idea of what the process is like to get you on the track?
M: The major factor is sponsorship. Without sponsorship then we don't have the money to pay for the tools we need in order to get the car ready to go to the track. Once we get to the track money is still a factor because we need to pay for all sorts of things including tires, fuel, race passes, etc. However if we take out money as an issue, I have a hard working team that dedicates themselves during the week to get the car ready for me to race on Saturday nights. Without my team and my sponsors there would be no way for me to do what I love to do, race.
K: You've tried out a few different types of racing. What's your favorite?  Is there something else (for instance, drag racing) that you'd like to try?
M: I've done road courses and ovals, and my favorite would have to be oval track racing. No particular reason, because I do indeed miss racing on road courses, but my heart is racing on oval tracks. I think it'd be a lot of fun to do drag racing, but I would also like to try out racing on dirt instead of asphalt.
K: What's next for you?
M: My goal for this year is to get a pole position (qualifying in first place) and a win. After that, then its just more baby steps to hopefully be racing in the K&N series and soon, NASCAR. I am so close to achieving my goal of racing in NASCAR, but it's just staying dedicated and strong while bringing sponsorships along to help back me.