Layered Up
In the hype of the Super Bowl, you may have missed that Punxsutawney Phil saw his shadow and forecast six more weeks of winter. While I hear that Phil's wrong most of the time, it's still pretty darn cold here in Seattle, so layers have been my best friend.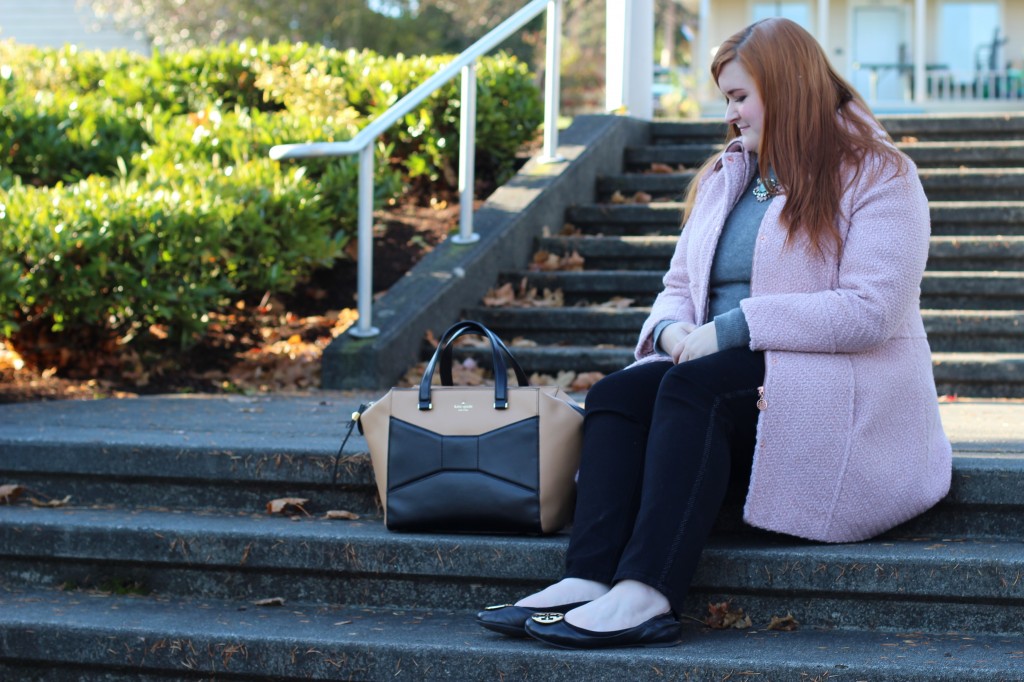 This outfit is actually a few style "firsts" for me: a blush-colored walker coat and layering a collared shirt with a sweater. I've really been loving different colored coats this season and probably have way too many for my own good. When I tried this blush colored coat on at Macy's, immediately a number of women around me went "OH!" and so I knew I had to get it. Because of the uniqueness of the coat, I really wanted to coordinate every part of my outfit to match and play off of its great color.
I've always been leery of layering a collared shirt with a sweater but I'm really happy with how this turned out. I always want the tail of the shirt to cutely pop out underneath the sweater and to wear a beautiful statement necklace under the collar but over top of the sweater, basically like any J.Crew catalog. Overall, this outfit is the perfect blend of casual and professional and is the perfect wear-to-work option!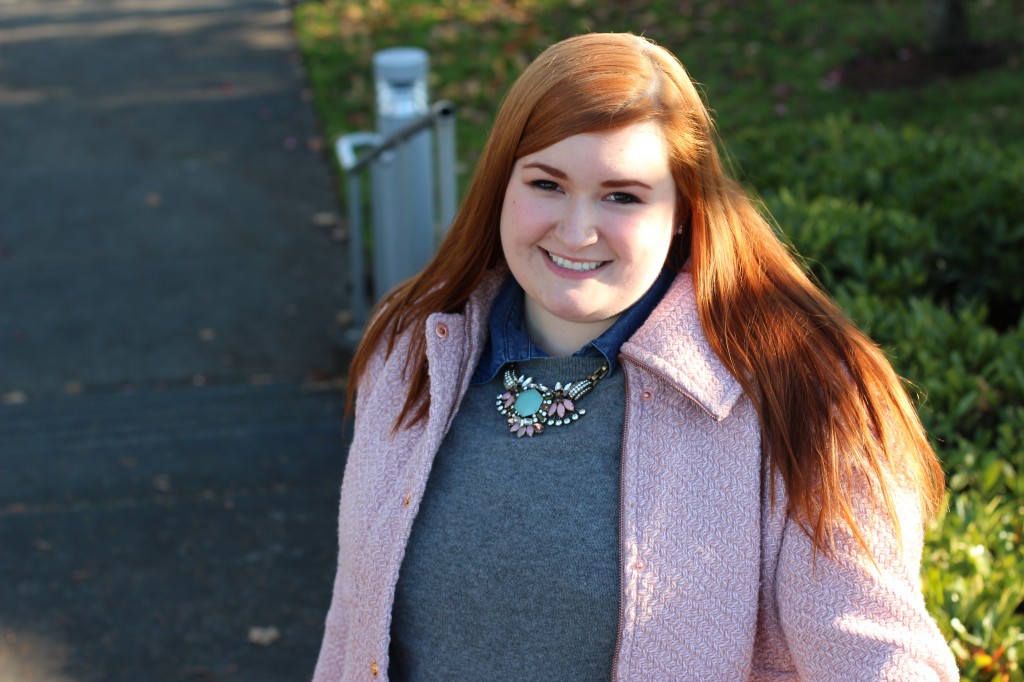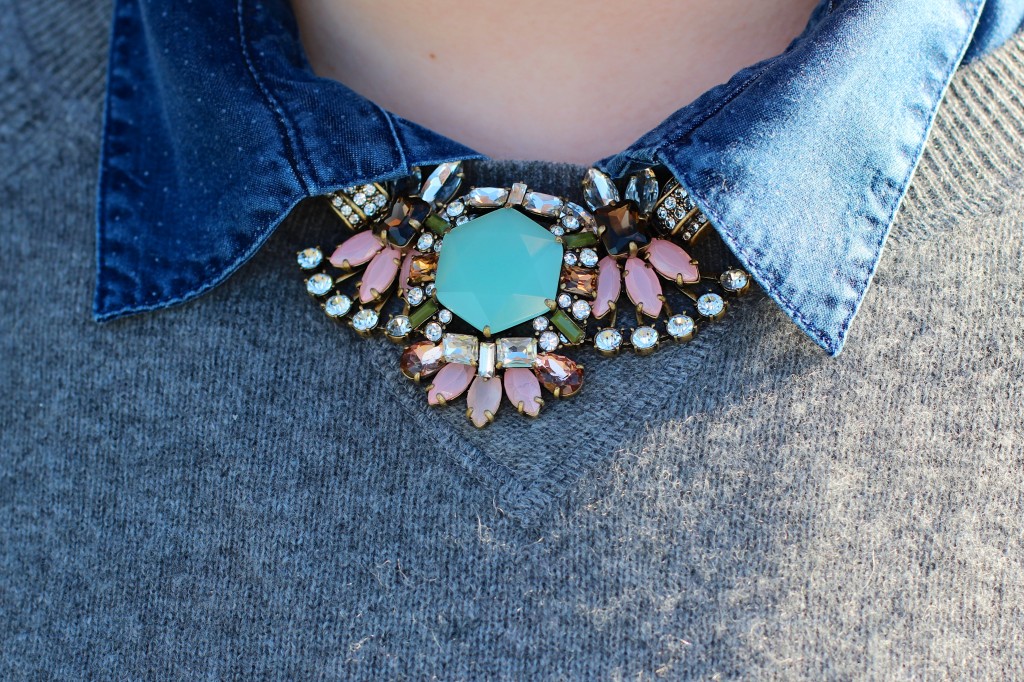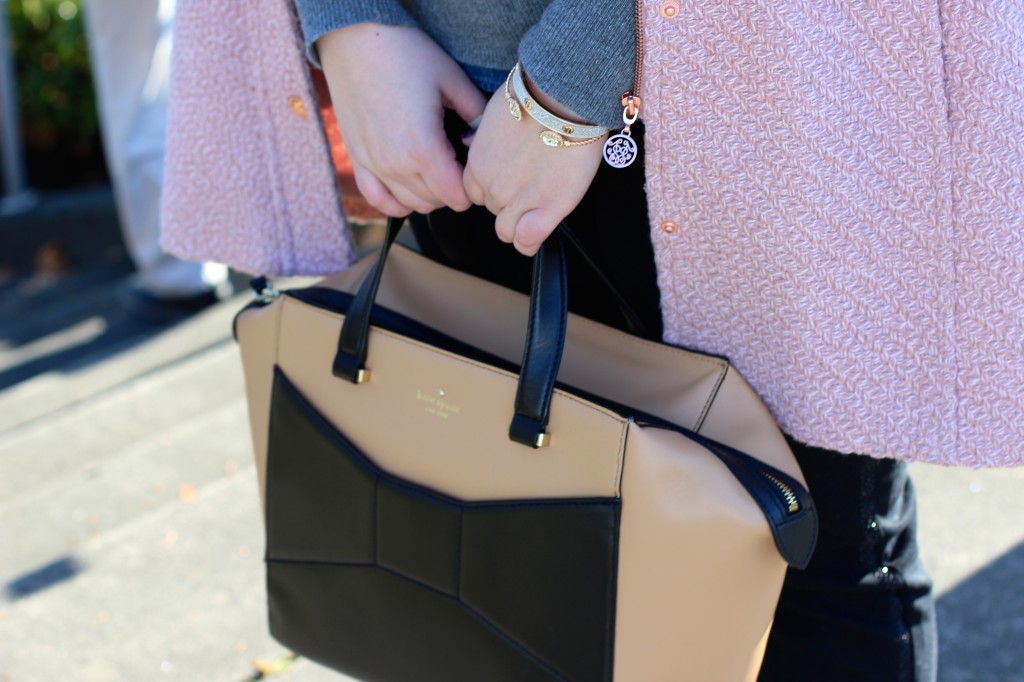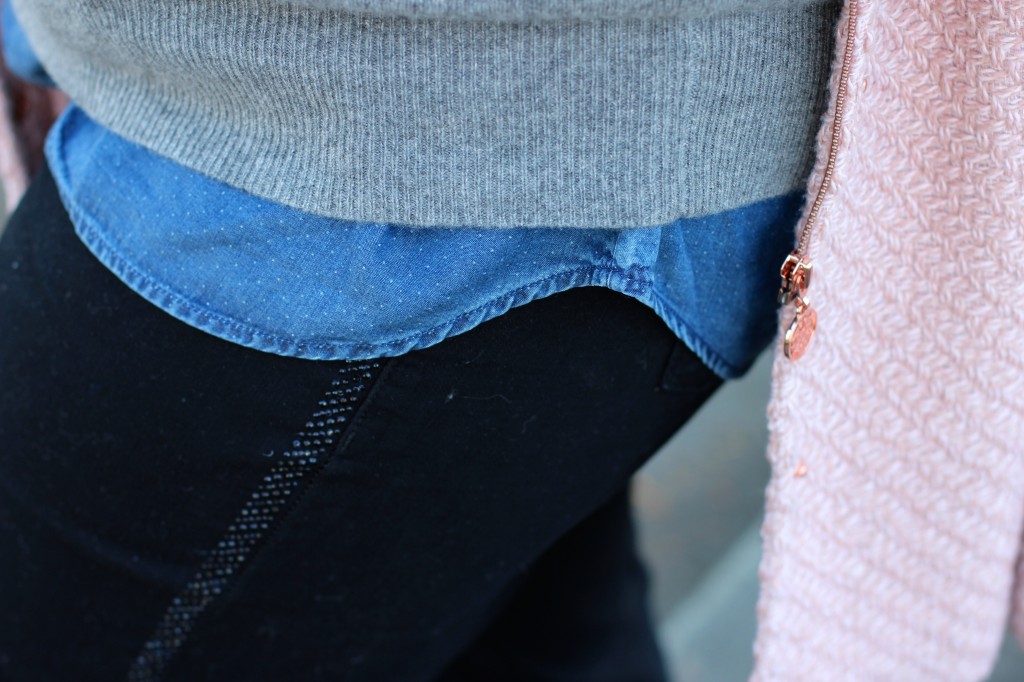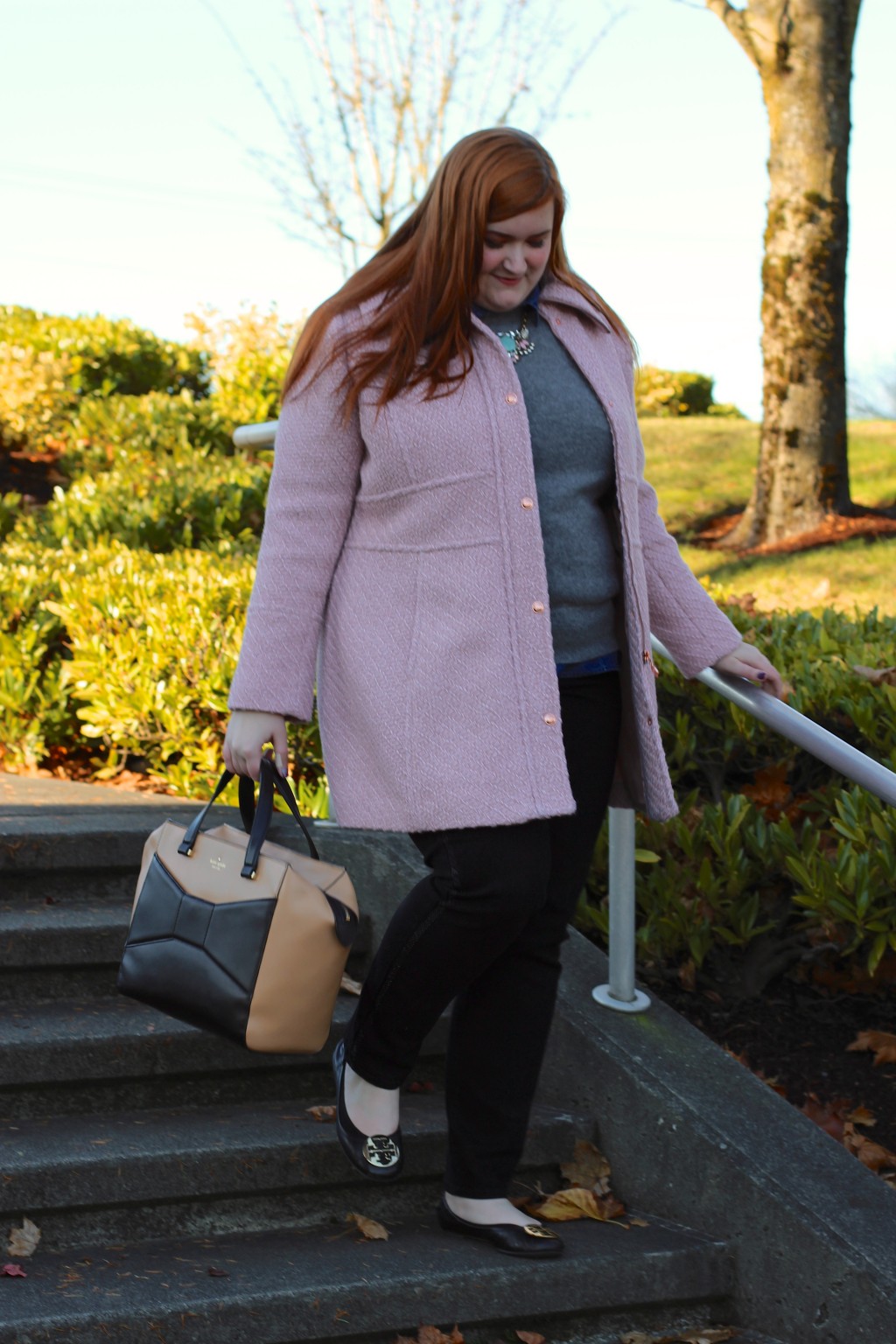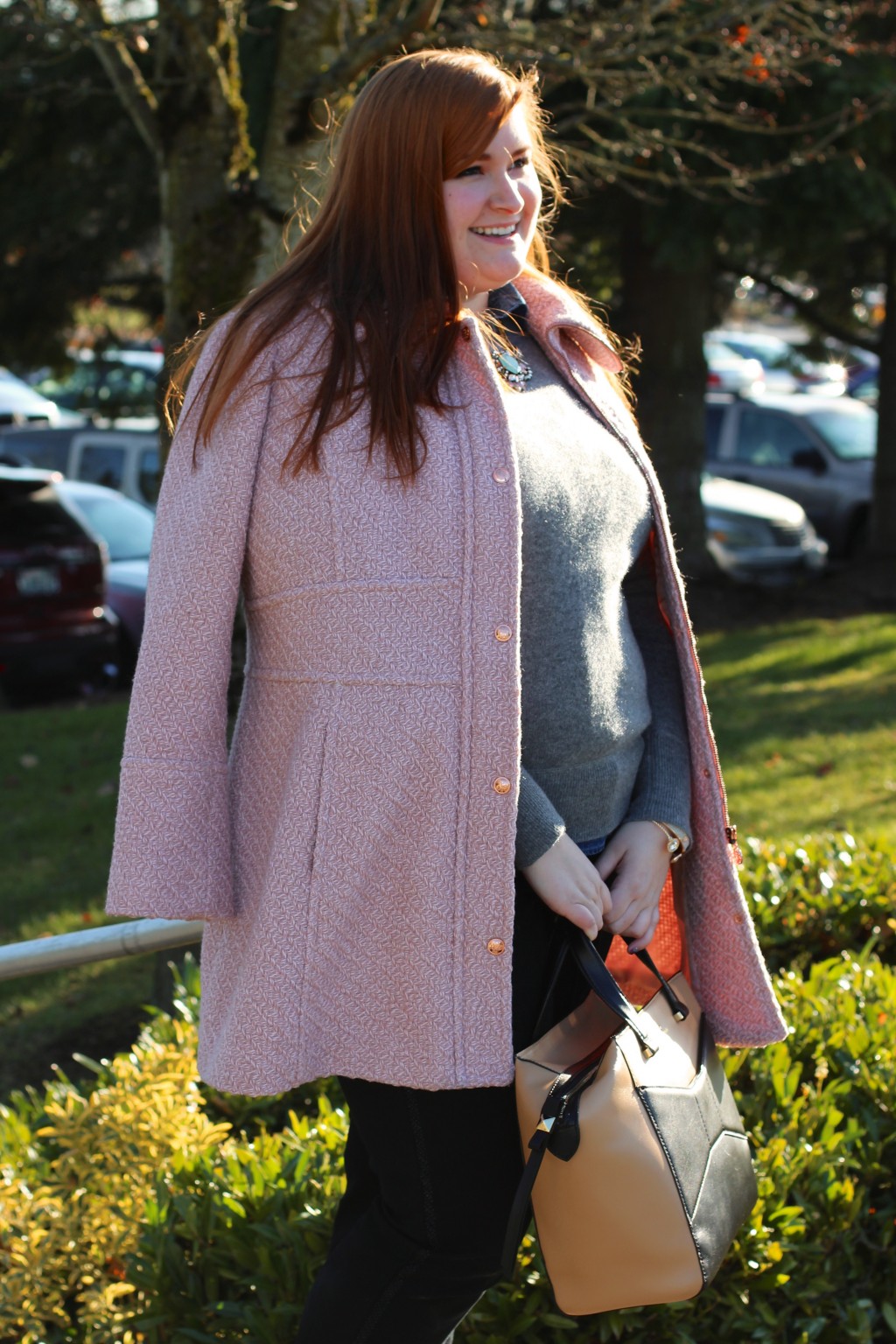 Jacket: [shopsense shopsense_url="http://api.shopstyle.com/action/apiVisitRetailer?id=434368434″ original_url="http://www1.macys.com/shop/product/jessica-simpson-plus-size-braided-a-line-walker-coat?ID=839275&CategoryID=34049#fn=COAT_STYLE%3DWalker%26sp%3D1%26spc%3D17%26ruleId%3D72%26slotId%3D4″ save_to_store="false"]Jessica Simpson Plus Size Braided A-Line Walker Coat[/shopsense]; Sweater: Only Mine (similar by [shopsense shopsense_url="http://api.shopstyle.com/action/apiVisitRetailer?id=439336537″ original_url="http://shop.nordstrom.com/S/halogen-long-sleeve-crewneck-cashmere-sweater-regular-petite/3506927?origin=category-personalizedsort&contextualcategoryid=0&fashionColor=BLUE+AZURE&resultback=566&cm_sp=personalizedsort-_-browseresults-_-1_2_D" save_to_store="true"]Halogen[/shopsense]); Shirt: [shopsense shopsense_url="none" original_url="http://www.luckybrand.com/charleigh-popover/7Q10091.html?dwvar_7Q10091_color=430#start=12&cgid=s-womens-plus" save_to_store="false"]Lucky Brand Charleigh Popover[/shopsense]; Necklace: [shopsense shopsense_url="http://api.shopstyle.com/action/apiVisitRetailer?id=444071225″ original_url="https://www.jcrew.com/womens_category/jewelry/necklaces/PRDOVR~A5905/A5905.jsp?color_name=sheer-pink" save_to_store="false"]J. Crew (similar)[/shopsense]; Bracelets: Charming Charlie Cuff (c/o) (similar) & Charming Charlie Lock 'n' Roll Bracelet (c/o); Pants: [shopsense shopsense_url="http://api.shopstyle.com/action/apiVisitRetailer?id=441749351″ original_url="http://shop.nordstrom.com/S/nydj-marilyn-embroidered-pocket-stretch-straight-leg-jeans-enzyme-plus-size/3583092?origin=category-personalizedsort&contextualcategoryid=0&fashionColor=&resultback=2189&cm_sp=personalizedsort-_-browseresults-_-1_7_A" save_to_store="false"]NYDJ (similar)[/shopsense]; Shoes: [shopsense shopsense_url="http://api.shopstyle.com/action/apiVisitRetailer?id=25790928″ original_url="http://shop.nordstrom.com/s/tory-burch-reva-ballerina-flat/2936593?origin=keywordsearch-personalizedsort&contextualcategoryid=6007060&fashionColor=&resultback=172&cm_sp=personalizedsort-_-searchresults-_-1_1_C" save_to_store="false"]Tory Burch Reva Flats[/shopsense]; Bag: [shopsense shopsense_url="http://api.shopstyle.com/action/apiVisitRetailer?id=434979787″ original_url="http://www.katespade.com/2-park-avenue-beau-bag/PXRU4458,en_US,pd.html?dwvar_PXRU4458_color=677&dwvar_PXRU4458_size=UNS&cgid=ks-handbags-view-all#start=87&cgid=ks-handbags-view-all" save_to_store="false"]Kate Spade Beau Bag[/shopsense]