A Lady in a Red Dress
With fall here it's certainly time to start wearing more appropriate-for-fall dresses which means adding in tights, sweaters, or scarves, darker colors and warmer materials. I'm sure it comes as no surprise that I'm wearing a dress, but this one is definitely more of fall style both in color and material. The dress is a heavier material and is definitely warm and cozy for chilly fall temperatures. The contrasting flower detailing on the dress is in velvet, and adds the perfect amount of pop to the red russet color of the dress.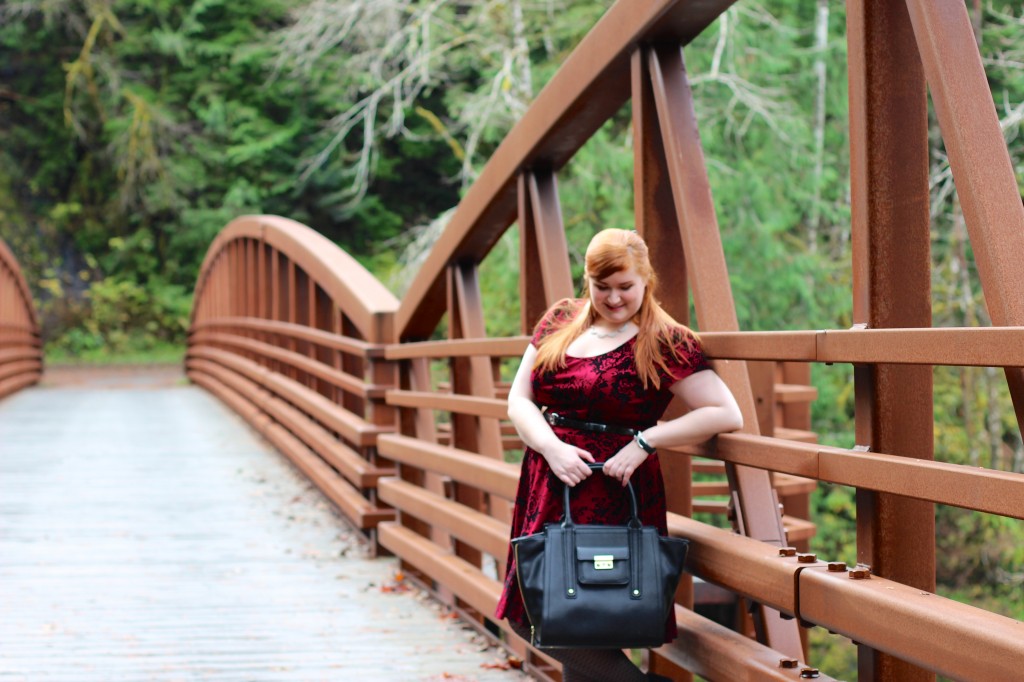 For someone who loves wearing dresses I'm always apprehensive about adding tights into the mix. Let's be honest, tights are pretty uncomfortable and I find that the waistband rolls awkwardly and I'm always trying to discreetly fix them. But today was different – you might think I'm wearing tights, but actually, I'm wearing thigh-highs! I've actually never owned a pair of thigh-highs and was very excited to try them out. I do love the way they feel, the way they look, and they actually stay up! At least for me, I actually feel good about wearing them, they aren't uncomfortable and don't require much adjustment throughout the day. This updated fishnet style pattern was the perfect subtle addition to my dress, and incorporates a bit of pattern mixing to the look! Simple accessories and a solid color shoe and bag perfectly complete this outfit.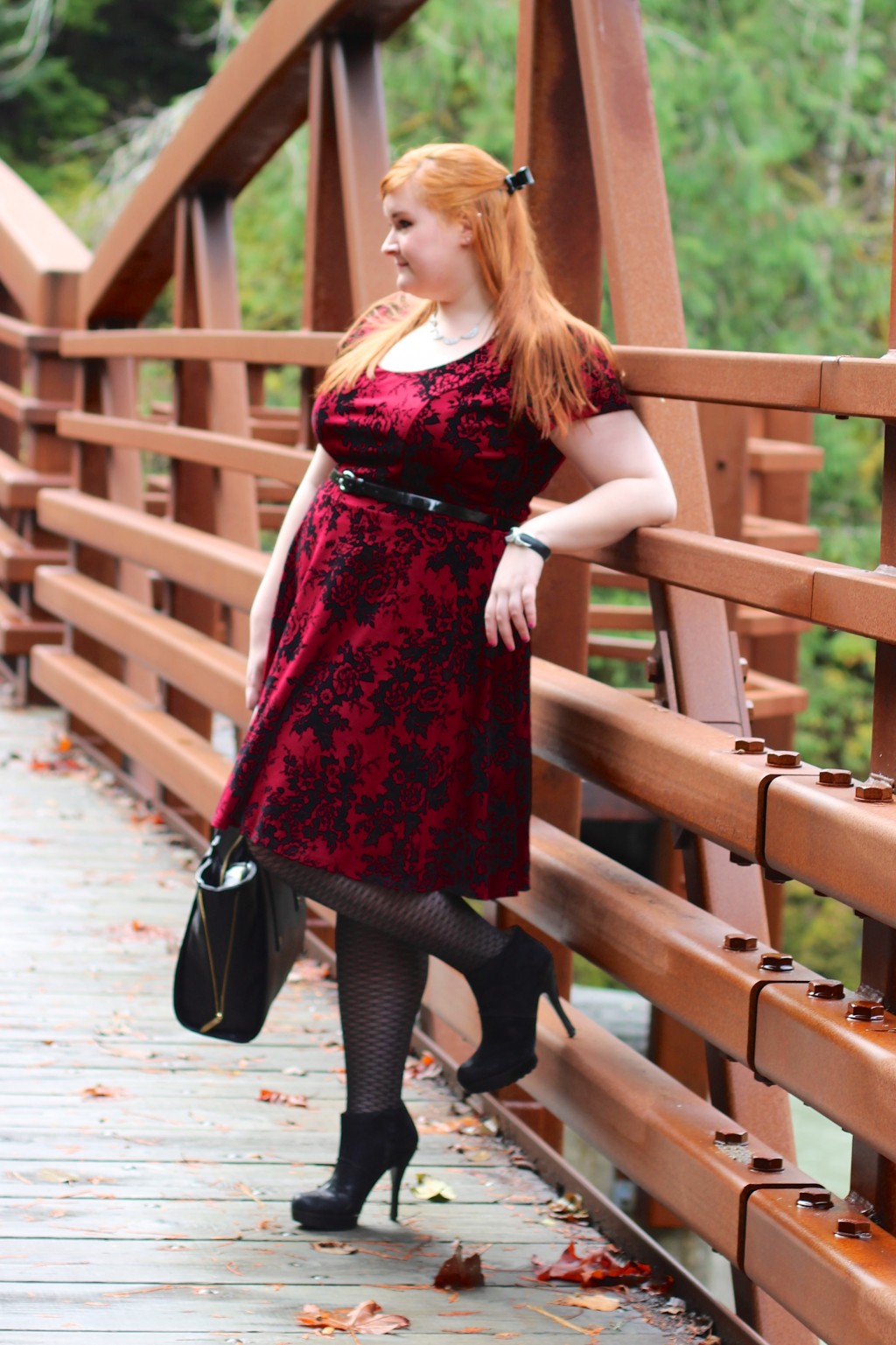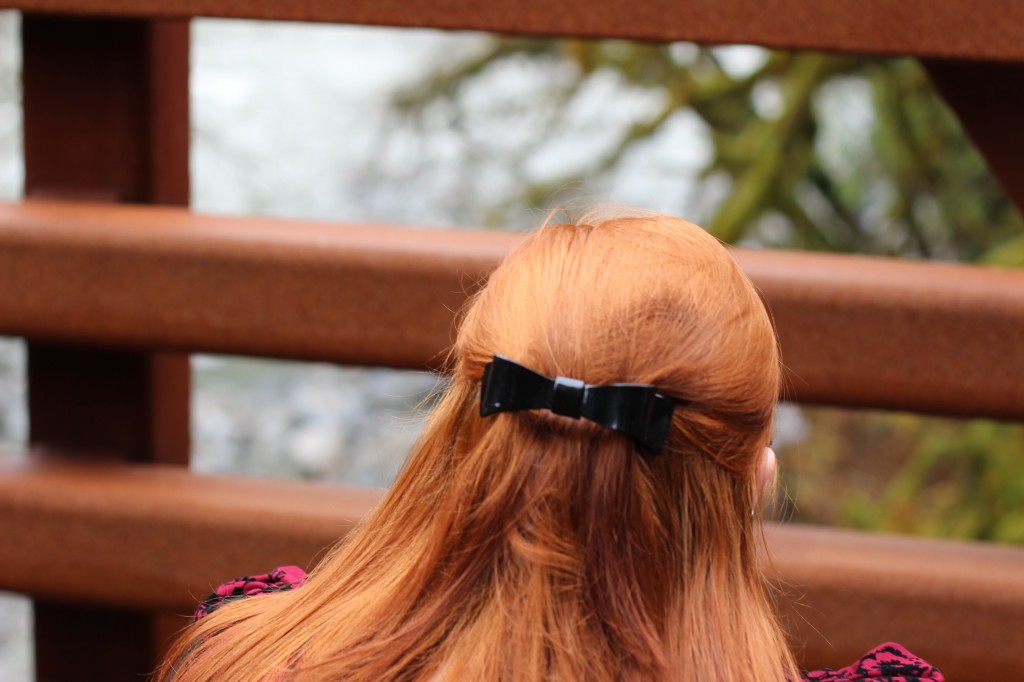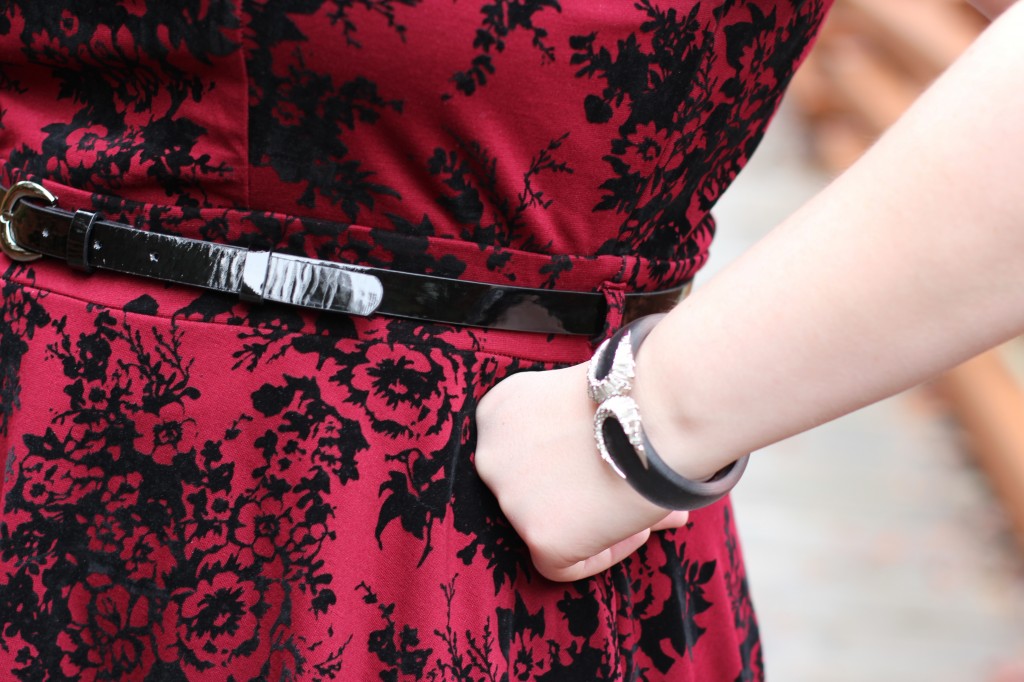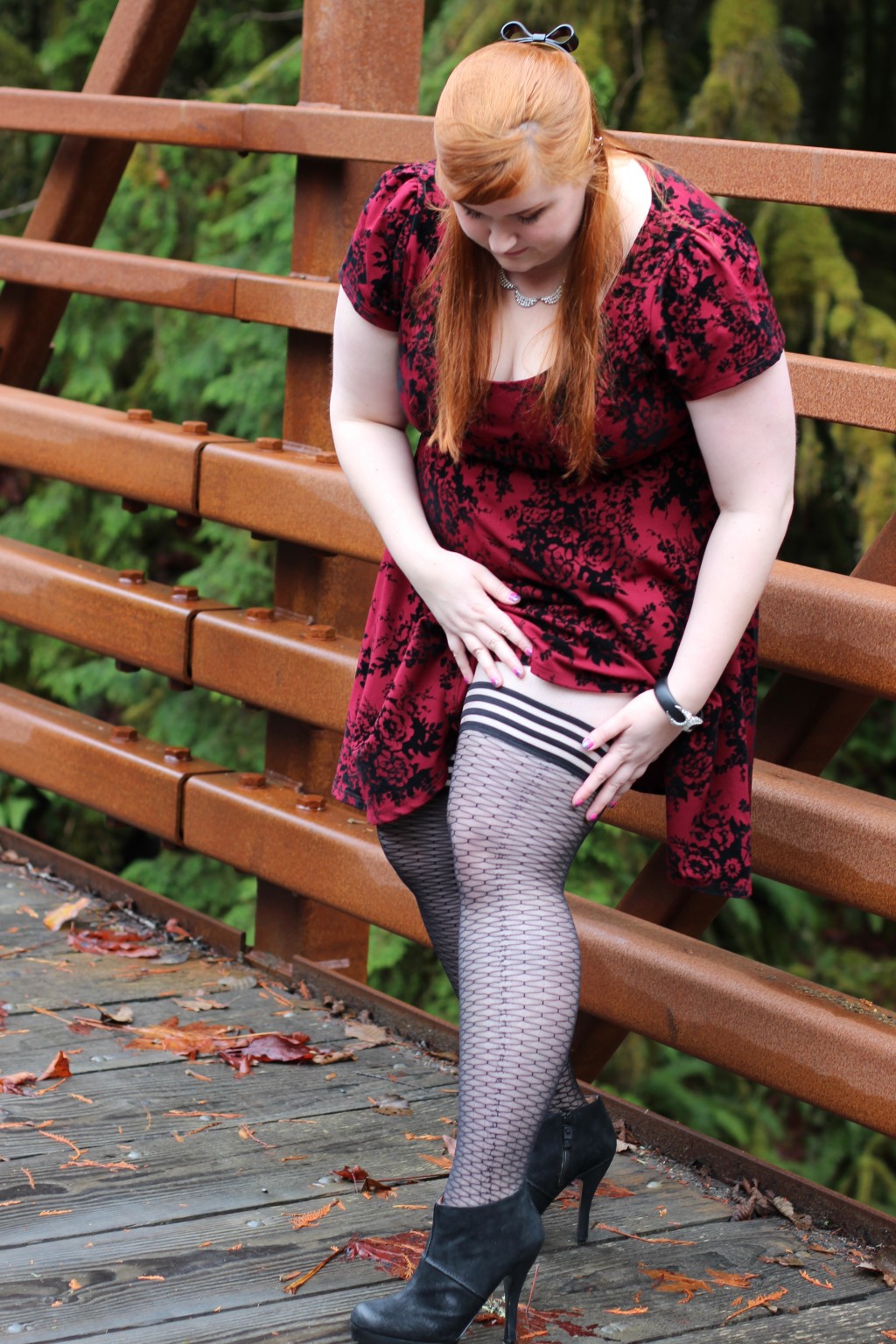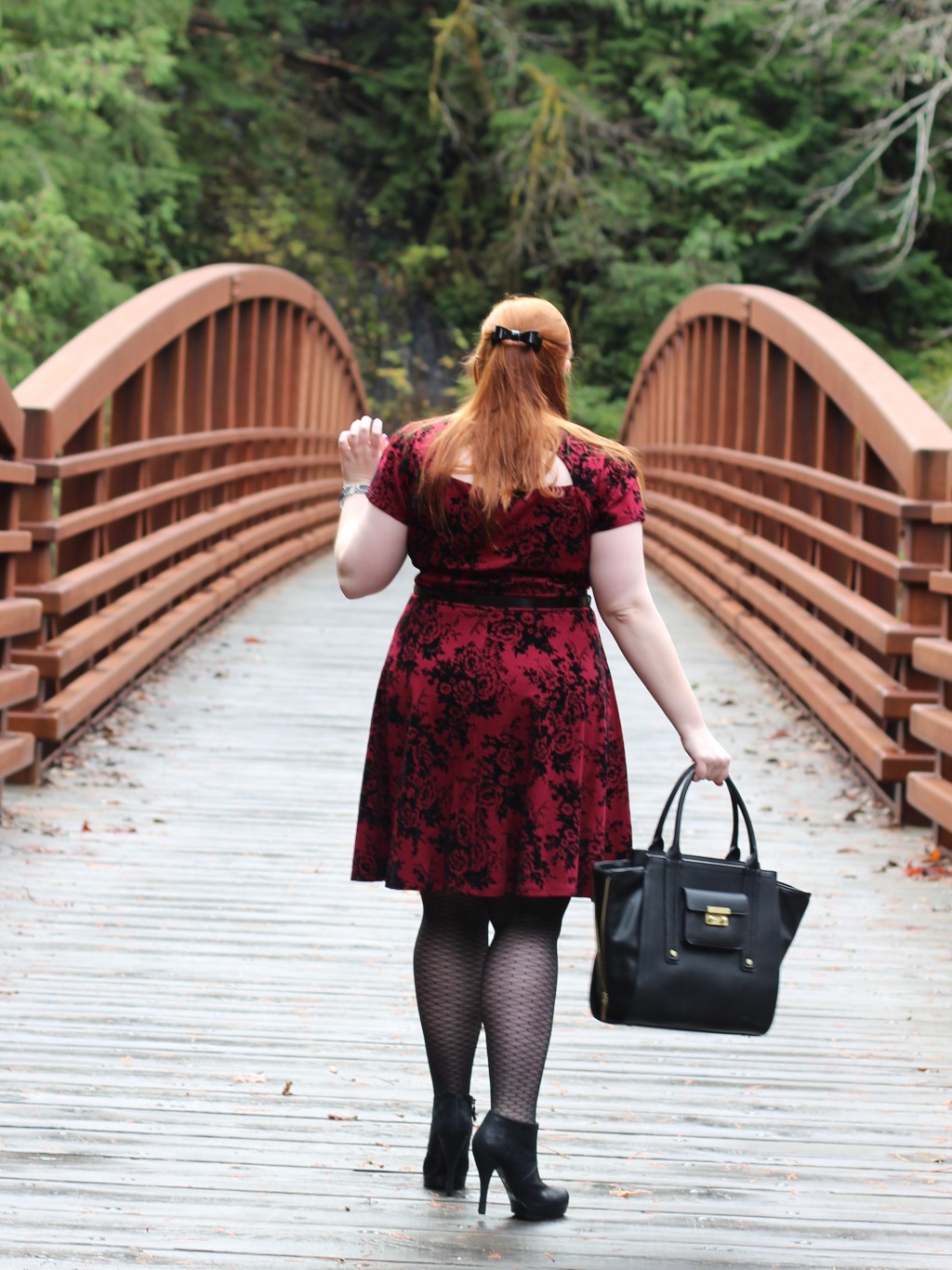 Dress: [shopsense shopsense_url="none" original_url="http://www.citychiconline.com/oriental-flocked-skater-dress.html" save_to_store="true"]City Chic[/shopsense]; Tights: Kixies Thigh Highs (c/o); Shoes: Modern Vintage; Bag: 3.1 Phillip Lim for Target; Necklace: [shopsense shopsense_url="http://api.shopstyle.com/action/apiVisitRetailer?id=437262962″ original_url="http://www.baublebar.com/silver-crystal-curve-pendant.html" save_to_store="true"]Bauble Bar[/shopsense]; Bracelet: [shopsense shopsense_url="http://api.shopstyle.com/action/apiVisitRetailer?id=438130199″ original_url="http://shop.nordstrom.com/S/alexis-bittar-lucite-winter-deco-hinged-bracelet/3613489?origin=category-personalizedsort&contextualcategoryid=0&fashionColor=&resultback=1028&cm_sp=personalizedsort-_-browseresults-_-1_3_C" save_to_store="true"]Alexis Bittar[/shopsense]; Barrette: France Luxe (similar)