Menswear Inspired
Happy Monday! In honor of the start of a new work week (even though it's a holiday for many of you), I'm bringing you a menswear inspired look. Though I tend to dress very feminine in lots of pretty colors and dresses, I do try to expand and evolve my style. Today's outfit forced me out of my comfort zone a little, but overall I was pleased with the look. I hope to incorporate a little more of my menswear inspired jacket into my wardrobe down the road!
I see many petite women incorporate menswear – whether a collared shirt, a blazer, high-waisted trousers, or all of the above – into their wardrobe without even batting an eyelash. Of course it all looks absolutely fantastic on them, but whenever I try to incorporate just one of those elements it never seems to look as adorable, it just seems to look awkard. As a curvier woman I've tended to stay away from anything that makes me look larger or boxier than I already am, which is why I don't regularly adopt the menswear look into my wardrobe. I do love the look of a fitted blazer, so I used this as the item to build from for this outfit. Naturally I didn't want to ditch my more girly style entirely, so I opted for adding my signature statement jewelry, a frilly blouse, and a small braid in my hair.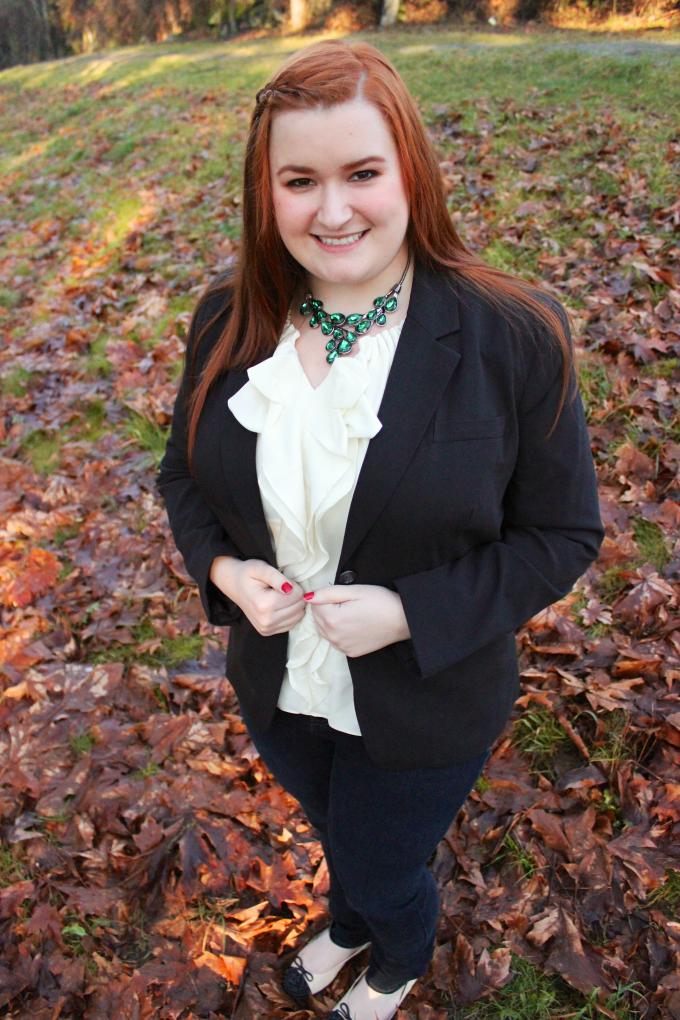 I'm really pleased with how this look came out and most importantly I was comfortable wearing it even though it was outside of my comfort zone to style an outfit this way. Everyone has their comfort zone and stepping out of those can be difficult and challenging for most of us. This is even true with fashion. Your personal style defines who you are and stepping out into a new style or wearing something you normally wouldn't can make you feel uncomfortable. My advice is that when you are attempting to branch out and incorporate a new style into your wardrobe, pick one piece or one element of the style and build from. For me, I knew I wanted to jazz up my wardrobe with a menswear piece, and this fitted blazer was the perfect way to go about it.
Building from the blazer, I opted for a cream-colored frilly blouse to incorporate feminine elements. Dark wash jeans were the perfect way to make this outfit slightly more casual, though I opted for skinny jeans, boot cut jeans would worked just as well. To finish off the outfit I opted for Sam Edelman flats – I love the spikes at the toe that give these shoes an extra edge – and my newest statement necklace from Bauble Bar. I am absolutely loving how emerald is showing up everywhere!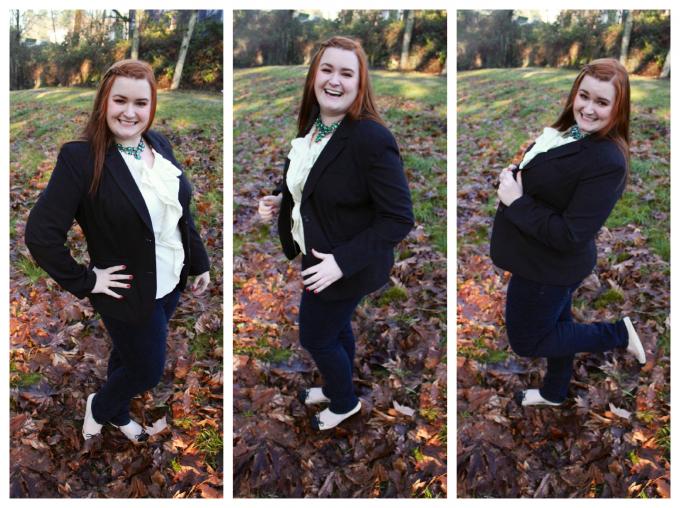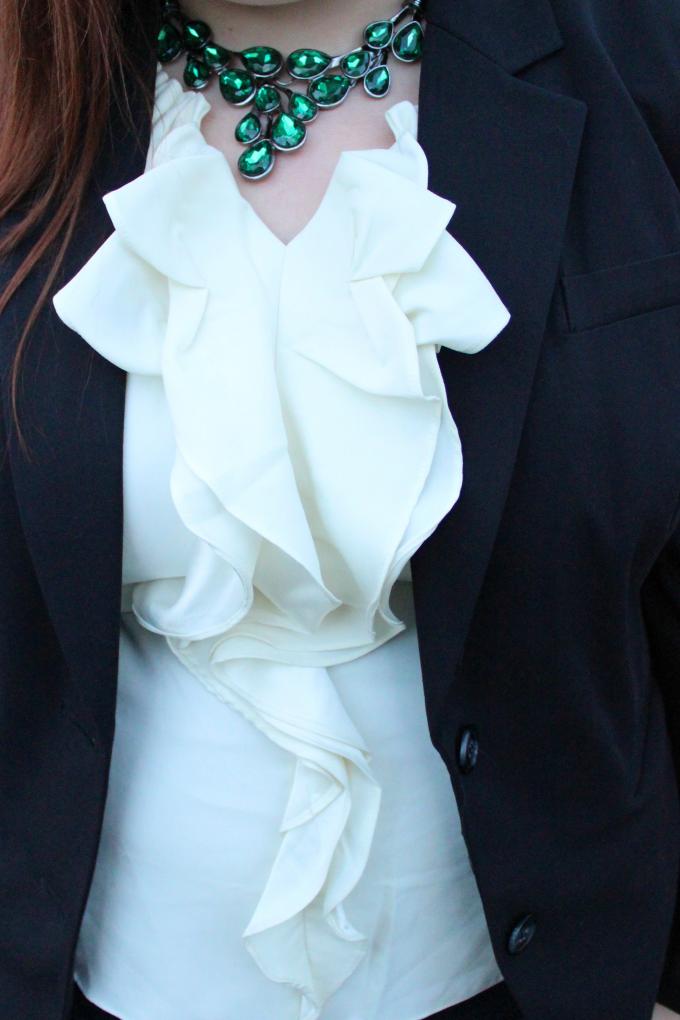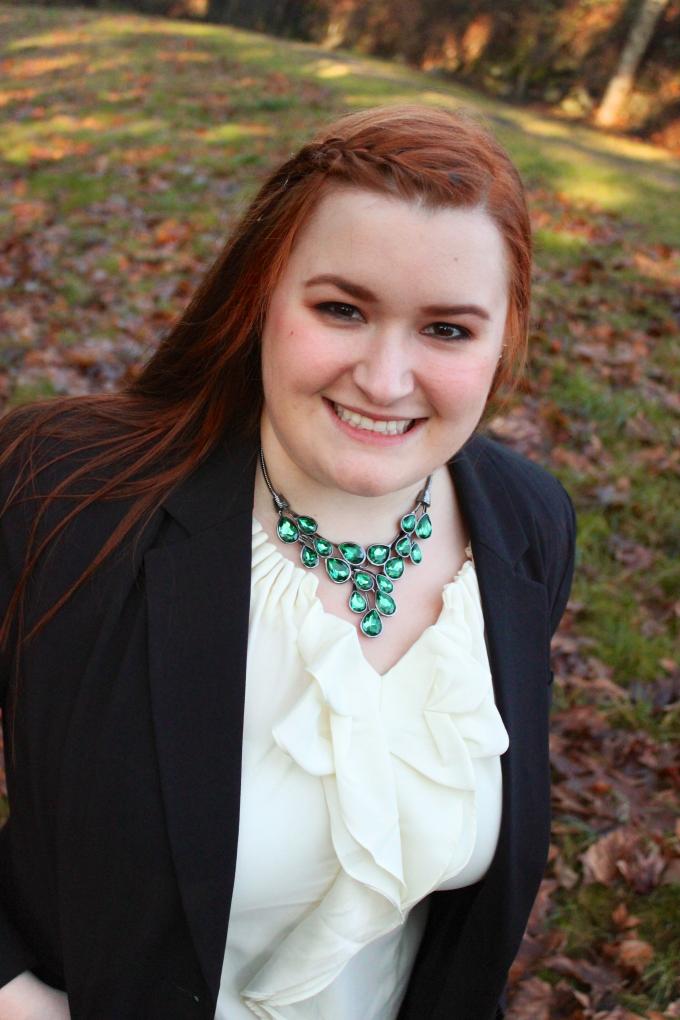 Blazer: Worthington; Blouse: Mikarose; Jeans: Kut from the Kloth; Necklace: Bauble Bar; Shoes: Sam Edelman