Emerald Audrey
Tis the season for shimmer, sparkles, and shine. Holiday dressing is so fun and unique from other times of the year – you can easily pull off wearing glittery ensembles, sequined accessories, iridescent materials, and rich colors.
The holidays are officially in full swing. With only a few short weeks left in the holiday shopping season and just a few short weekends left to celebrate with family and friends, I'm sure you're starting to worry about what to wear to that holiday party you were invited to! I'm very excited to share with you over the next few weeks some unique looks on what to wear to your holiday party! So make sure to check back!
Of course I am a fan of all things dresses, so my first look features this emerald green dress I picked up at Macy's. I opted for green because many holiday dresses come in your traditional black, grey, and red.


I strive to keep my style timeless and classic, so many times I channel my inner Audrey Hepburn when creating a look. Even when I'm wearing a trendier piece or season color I want to make keep my style elegant and understated. I felt this A-line emerald green dress and pearl collar necklace would be a great way to pay homage to the one-and-only Audrey Hepburn, with a modern twist of course.
Because of the classic cut and styling of the dress I wanted to keep the accessorizing minimal to really focus on the color and texture of the dress. I opted for a Kate Spade pearl & diamond collar necklace and Kate Spade polka dot pumps. Both the necklace and the shoes were two great investment pieces for my closet. I've found I can wear the necklace either on the beautiful pearl side or flip it to a solid gold, while the pumps are incredibly comfortable despite their height, and they're a great twist on a classic black pump.
Remember, you can recreate my look for your own holiday party with this simple formula:
Holiday Dress + Statement Necklace + Great Heels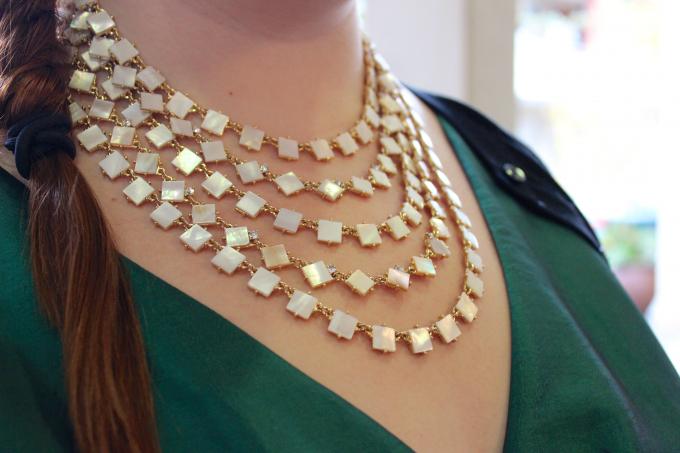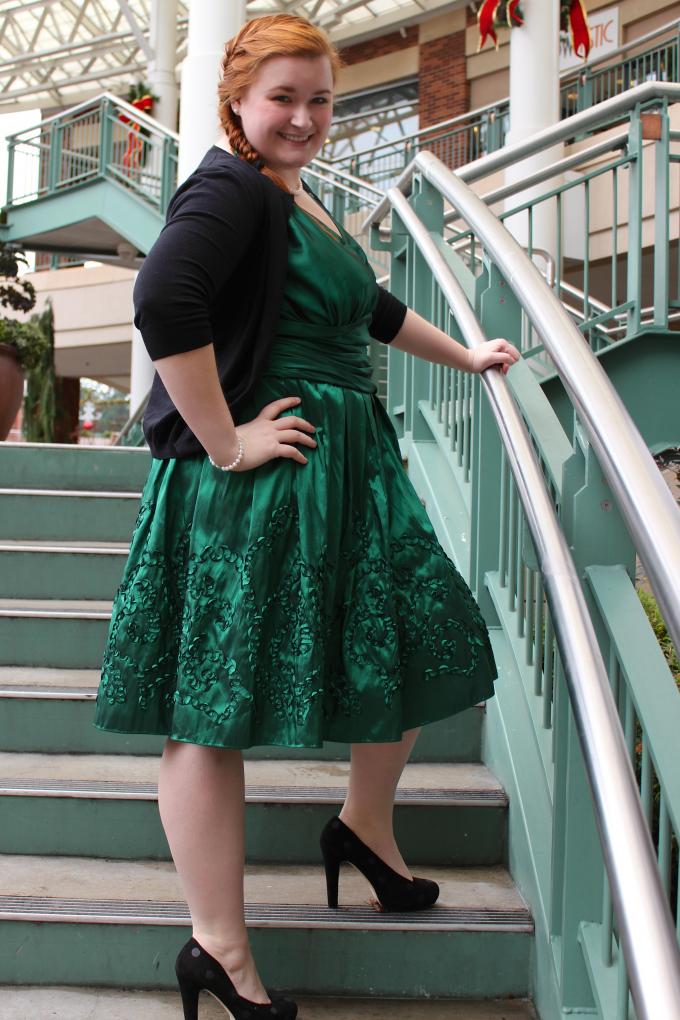 Dress: Macy's (similar here and here); Sweater: B.P.; Necklace: Kate Spade; Shoes: Kate Spade 'Loire' Polka Dot Pump
This post is featured in IFB's Project #73: Show Off Your Holiday Party Style.