Fashion Flashback: All Stars
One of my favorite shoes of all time is the Chuck Taylor All Star. I can remember my first pair as if it was yesterday – cream colored hi-tops with the red and blue converse insignia. I wore them until the soles literally fell off of them. It wasn't until junior high that I'd adopt another pair into my closet. And this is where I got a little carried away with my collection… Here's my senior picture from high school (and I have even more now):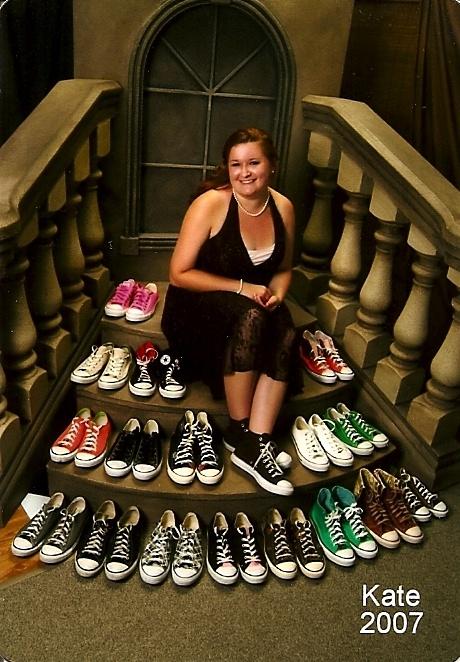 I might not be as obsessed with Converse anymore, though they are still my go-to casual shoe. Today as I was lacing up my Converse (on Fridays I like to pretend that I work for Google or Apple), it occurred to me that I didn't know too much about the history of chuck taylors. So here is a very brief look at the legendary sneakers.
The Converse Rubber Corp is the original creator of the All Star Sneaker which was introduced in 1917. In 1921 the basketball player Chuck Taylor joined the Converse team and traveled around promoting and selling the shoe. During World War II the Converse Corporation made a number of items for American troops including boots, parkas, and other types of protective footwear, setting the stage for a successfull business in the postwar. In the 1940s & 50s the shoe was popular for athletes to wear and has become iconic of that period. For a more detailed on the history of the company itself, check here.
Throughout the years the Converse Corporation has been on the brink of bankruptcy, and despite changing hands a number of times over the years, the classic shoe maker is still around. In the 1980s Converse made the transition to the athletic shoe company that we know and love today. They still make their traditional All-Star shoe while adding many other stylish sneakers to their lineup in a number of fun colors and designs. They're a timeless shoe that the likes of Richie Cunningham in Happy Days, Sylvester Stalone in Rocky, and James Dean have sported over the years as well as musicians like Bruce Springsteen and Kurt Cobain. Even Andy Warhol immortalized the All-Star in art as well.
Vintage Converse Shoe Ad
James Dean wearing Converse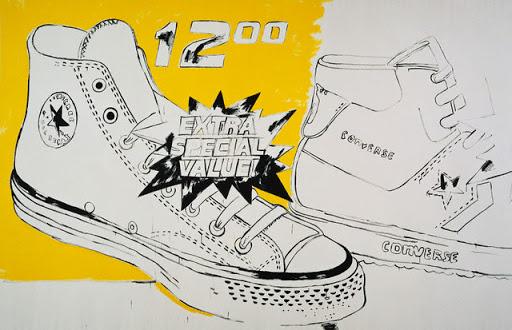 Andy Warhol's Converse Special